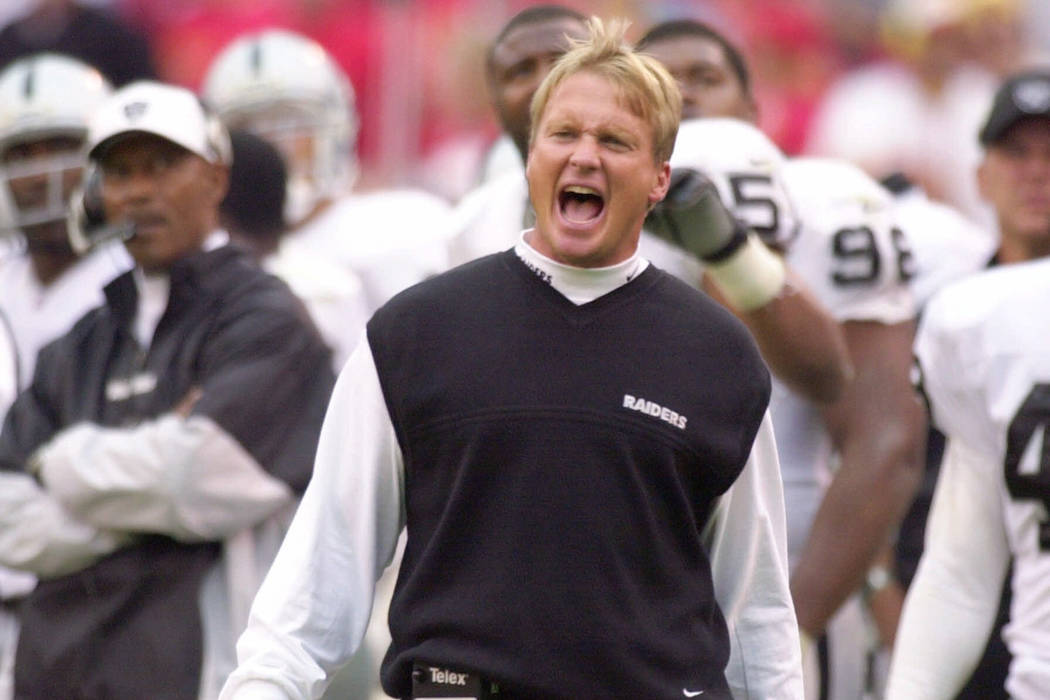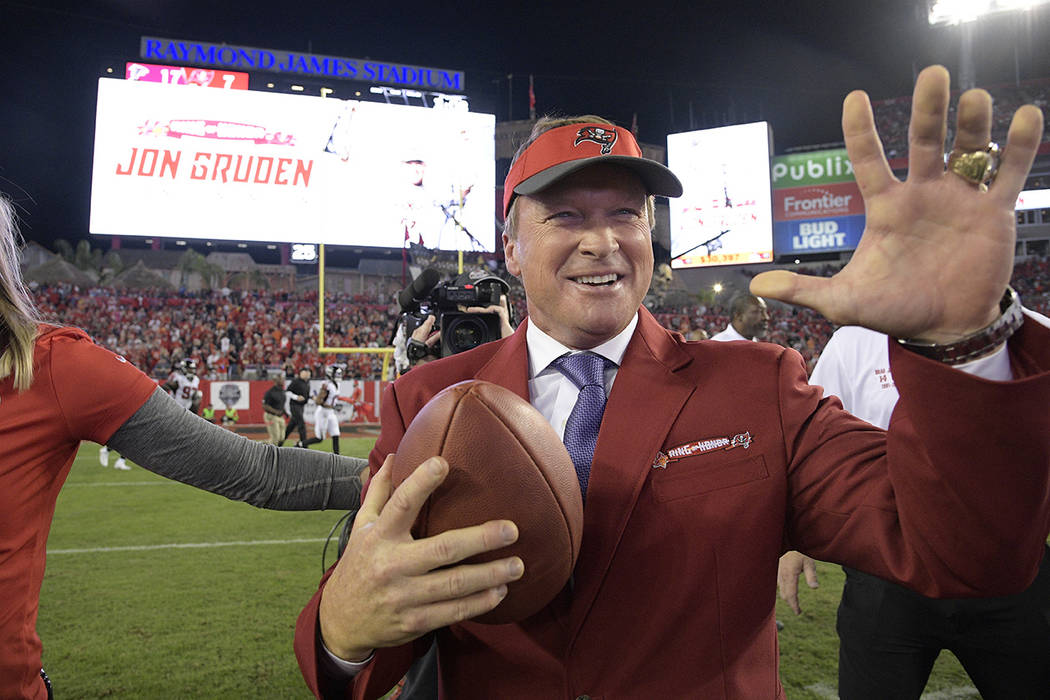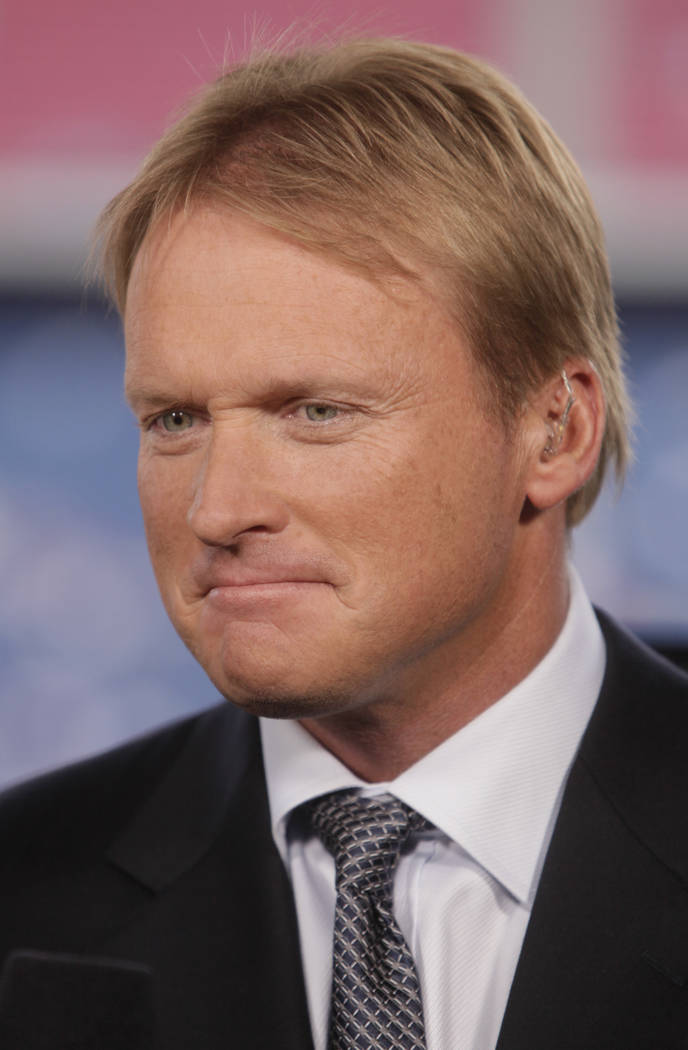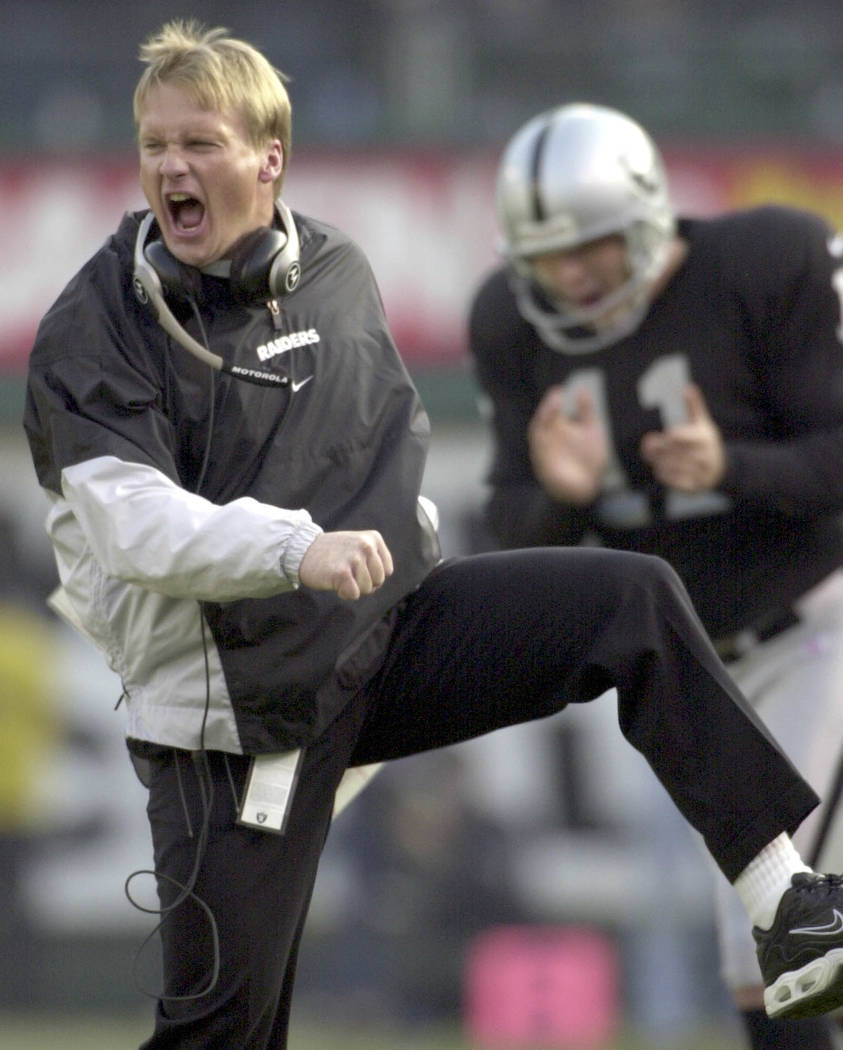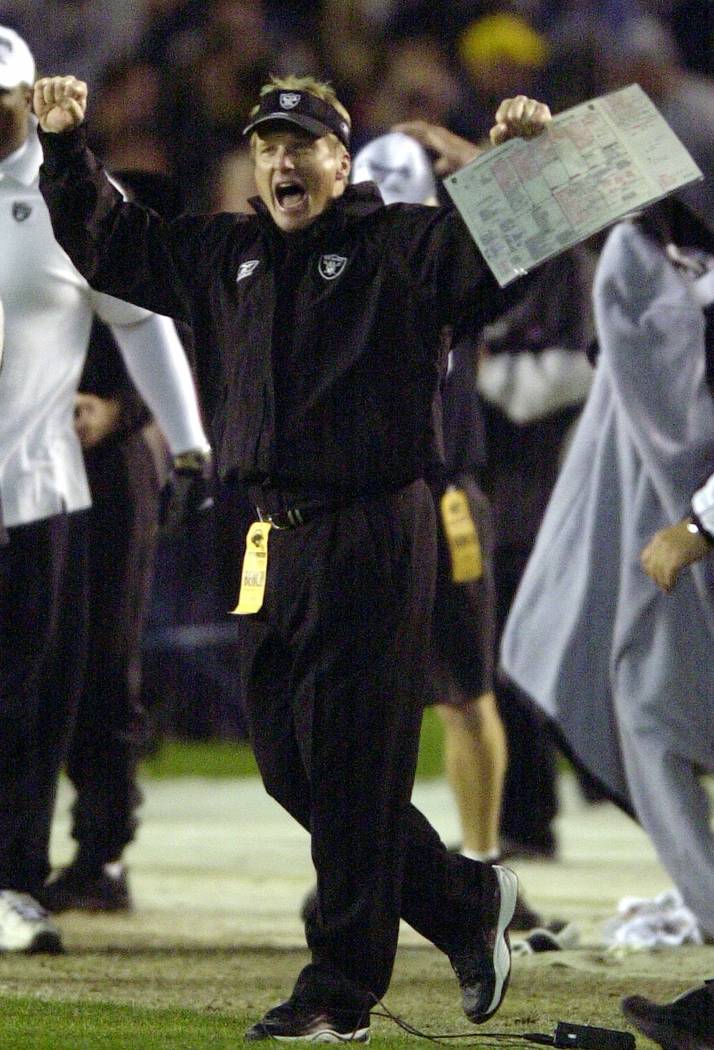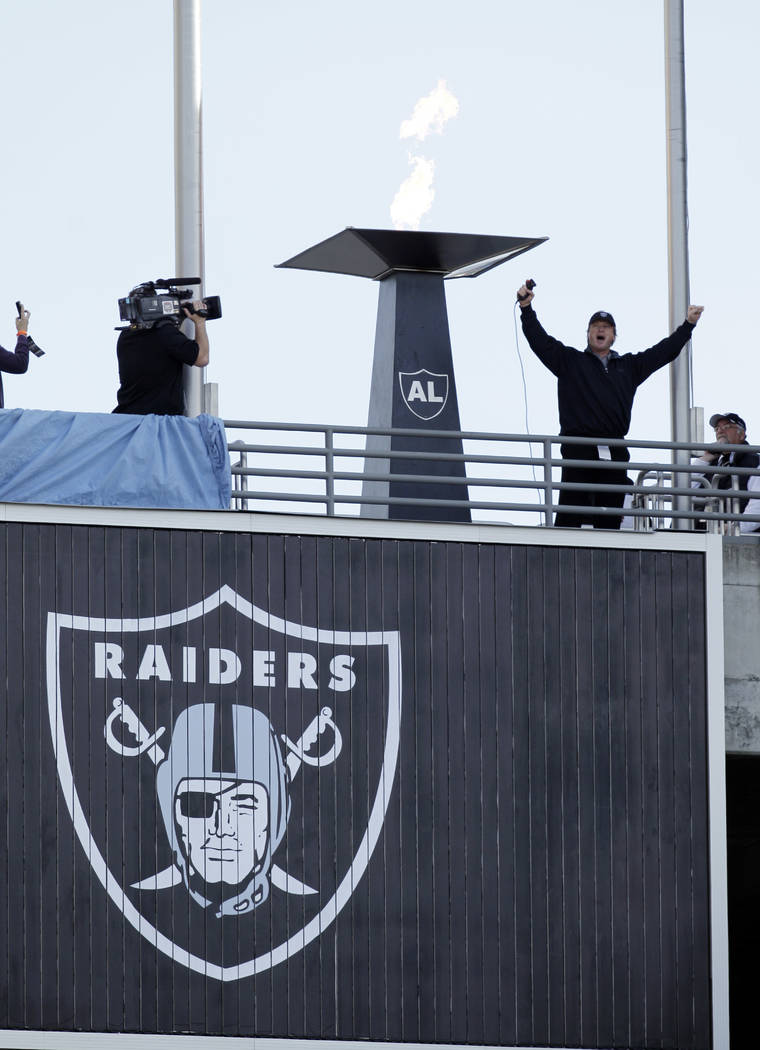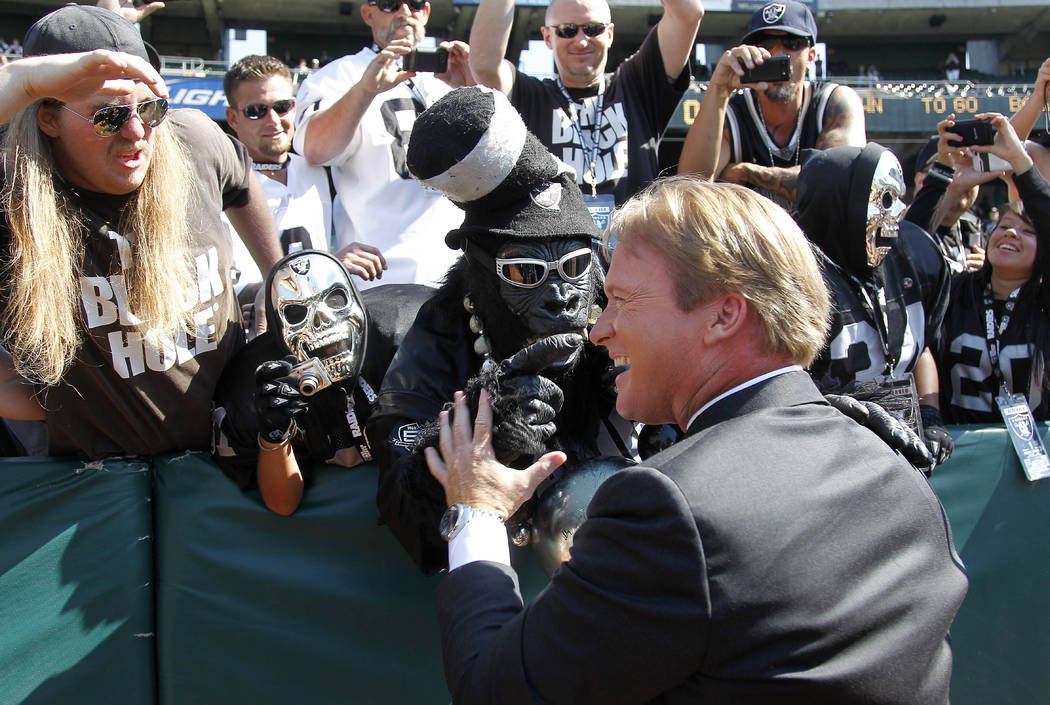 ALAMEDA, Calif. — Little said publicly can change what is believed and considered all but a formality privately. That is, Jon Gruden will become the Raiders' next head coach.
On Wednesday, Gruden acknowledged a "good chance" he'd accept the position if offered.
The ESPN analyst spoke with an ESPN morning radio show. During the interview, Gruden was careful not to jump ahead of the process, downplaying the certainty others have used to characterize the outcome of Raiders owner Mark Davis' head coach search. It is expected to culminate in Gruden's formal introduction as early as next week.
Gruden, 54, first will be in the broadcast booth Saturday for a playoff game between the Tennessee Titans and Kansas City Chiefs at Arrowhead Stadium. By then, it is expected the Raiders will have interviewed at least one minority candidate to gain compliance with the NFL's Rooney Rule.
Gruden was asked directly if he will be the franchise's next coach.
"Well, that's up to Mark Davis," Gruden said to hosts Mike Golic and Trey Wingo. "I have had conversations with Mark. They are still, I believe, going through the interview process. When he knows, I think we'll all know. But I appreciate (reporters') confidence that I have a chance of getting that job. It's awful nice of them."
Golic asked if he'd accept the Raiders' job if offered.
"I think there's a good chance," Gruden said. "I'm excited about where I am in terms of studying the game and prepared to come back and coach. I just don't want to sit here and speculate. I don't know what's going to happen, Mike. I've got to be honest with you. It's been a long couple weeks. I know they've gone through their process of interviewing candidates, and until they're done, I won't know. But I did have a good meeting with Mark. I've known him a long time and have got a lot of respect for the Raider football organization."
ESPN reported the Raiders' pursuit of Gruden on Saturday.
In the report, there was a detail the offer to return Gruden to a sideline, where he last roamed in 2008 with the Tampa Bay Buccaneers, could include an ownership stake in the club. Reports since, including by ESPN, have backed off this notion. Gruden is nonetheless expected to command a significant salary thought to be worth around $10 million a year.
The Raiders are scheduled to relocate from Oakland to Las Vegas in 2020. Any major deal negotiated before then — be it quarterback Derek Carr's five-year, $125 million extension last offseason, defensive end Khalil Mack's extension this offseason, free-agent targets in March or Gruden's deal now — are expected to take into the account this move when structuring the contract. California is home to the highest state income tax rate in the county. Nevada issues no state income taxes.
It is possible Gruden's deal will be backloaded to that effect.
As for ownership, Gruden confirmed that feature is not part of talks.
"There's no truth to that at all," Gruden said. "I heard (ESPN personality) Stephen Smith screaming at me on TV yesterday on one of his shows. There's no validity to that at all. None. Zero. That's a nice segment that I saw, but no, no ownership. That's for sure."
Gruden, a former college quarterback at Dayton, worked as the Philadelphia Eagles' offensive coordinator from 1995 to 1997. Al Davis, Mark's father, then hired him in 1998 to coach the Raiders. Gruden led the team for four seasons before being traded in 2002 to Tampa Bay in a package that included two first- and two second-round draft picks. He won a Super Bowl the ensuing season against the Raiders in San Diego.
Before Gruden was hired, then owner Al Davis interviewed then-New York Jets assistant Bill Belichick to replace Joe Bugel. It would have been Belichick's second head coach job following the Cleveland Browns. Instead, Belichick became the New England Patriots' head coach two years later.
The Raiders announced Gruden's hiring on Jan. 22, 1998.
More Raiders: Follow all of our Raiders coverage online at reviewjournal.com/Raiders and @NFLinVegas on Twitter.
Contact reporter Michael Gehlken at mgehlken@reviewjournal.com. Follow @GehlkenNFL on Twitter.