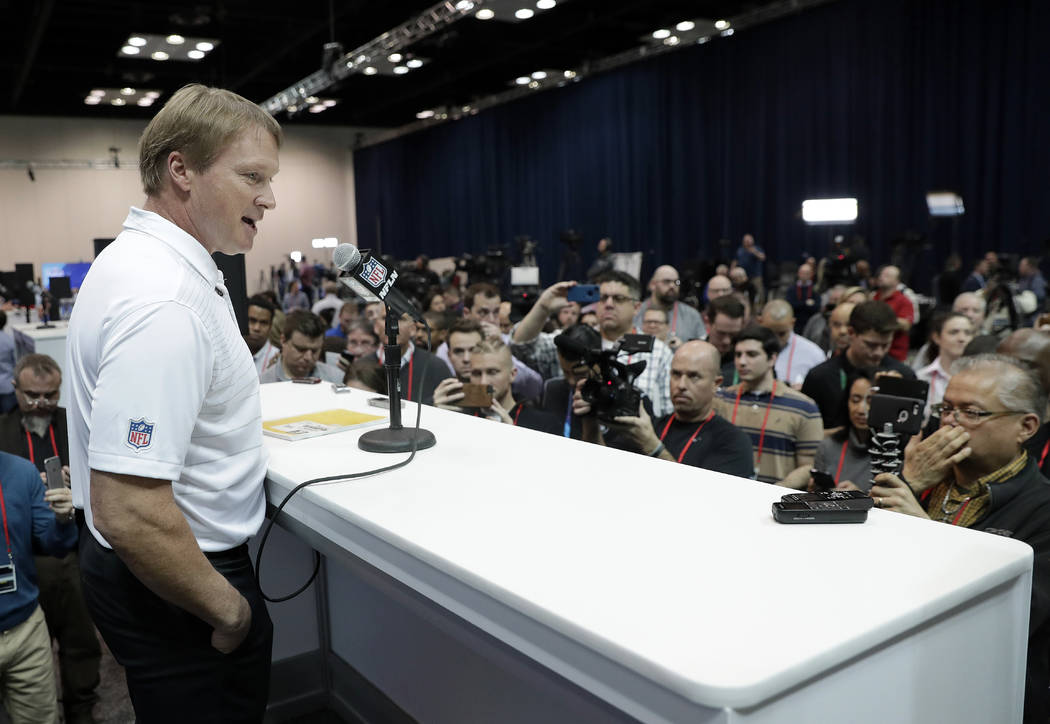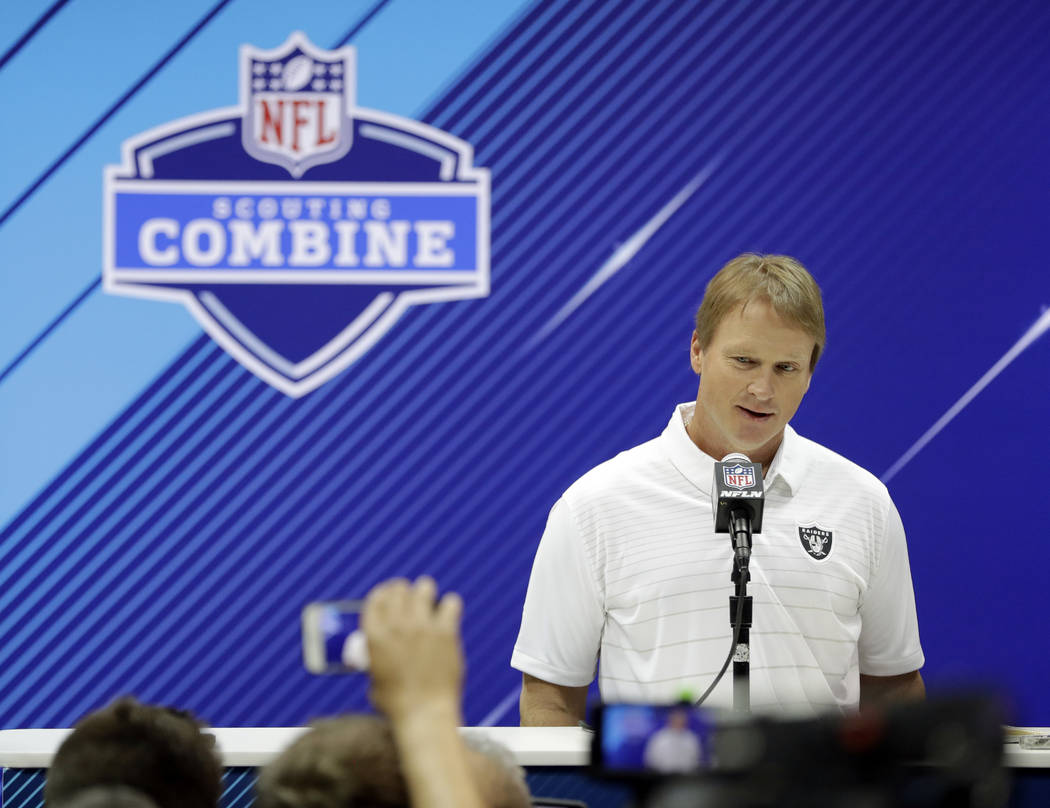 INDIANAPOLIS — Jon Gruden must have scowled upon first studying it.
Defensive end Mario Edwards Jr., a 2015 second-round pick. Defensive end Jihad Ward, a 2016 second-round pick. Defensive end Shilique Calhoun, a 2016 third. Cornerback Gareon Conley, last year's first-round choice. Safety Obi Melifonwu, last year's second.
Those, and others, are among the high selections in recent Raiders draft classes.
High selections. Low production.
Be it due to injury, inability or bit of both, the Raiders have not found impact from their past three drafts. Gruden was adamant the trend must reverse when addressing reporters Wednesday at the NFL Scouting Combine. He also discussed a couple of key veterans on the team: Gruden's high on running back Marshawn Lynch and fairly non-commital about wide receiver Michael Crabtree's future.
General manager Reggie McKenzie, scheduled to meet with reporters later on Wednesday, is expected to address both players' situations in greater detail.
"We've got work to do," Gruden said. "We've got a lot of work to do. We need some talent to rise within this organization, I'll say that. In our last three drafts, I'm looking at it. Other than Amari Cooper (2015 first-round choice), we need some of these young players to really explode onto the scene. It starts there. We need some young people in the organization right now to emerge.
"A lot of them have been injured. Jihad Ward, I don't know what happened to him. Obi Melifonwu, Gareon Conley — we need these guys to play, big time. I'm going to start with that. We do have some free agents out there. We have some needs that are obvious. You don't need to be a football genius. We've got a lot of work to do.
Gruden identified interior pass rush, linebacker and secondary among the Raiders' most pressing needs.
Wide receiver is one, too, particularly if the team parts with Crabtree.
In December, several sources indicated he fell out of favor with the 2017 coaching staff, his attitude around the team amid a difficult 6-10 season was characterized as problematic. The club was prepared to part ways this offseason. Internal attitude toward Crabtree led to him playing 46 of the Raiders' 121 offensive snaps in their final two games.
With Gruden's hiring in January, the coaching staff was overhauled.
The Athletic reported Tuesday evening that Crabtree will play for the Raiders this season. Crabtree, 31 in September, is due a non-guaranteed $7 million base salary with another $1.05 million in potential bonuses.
"He's on the team," Gruden said, referring to Crabtree's present-day status. "I would love to coach all these guys. That's a big reason I was excited to get here. We'll let you know. We'll keep you updated as we get more information. I'm going to get a chance to meet with (his) agent. On April 9, I'm allowed to officially start talking with these guys. Reggie McKenzie has a press conference later today. … I'm sure he can update you on a lot of the contractual matters."
Crabtree and Lynch are represented by the same agent, Doug Hendrickson.
Gruden praised Lynch after he logged 84 carries for 434 yards (5.2 average) with two touchdowns over the season's final five games. Lynch, who turns 32 in April, is due a $4 million base salary with up to $4 million in available bonuses in 2018. Gruden worked as an ESPN "Monday Night Football" broadcaster on Dec. 25 when Lynch totaled 95 yards on 25 carries against the Philadelphia Eagles.
"He's still a beast that's hard to bring down," Gruden said. "One of the reasons I'm excited to be with the Raiders is to join forces with Lynch. But we'll see what happens. Obviously, we've got to look at the entire roster. But I'm counting on him. I'm counting on him to be a big part of our football team."
More Raiders: Follow all of our Raiders coverage online at reviewjournal.com/Raiders and @NFLinVegas on Twitter.
Contact reporter Michael Gehlken at mgehlken@reviewjournal.com. Follow @GehlkenNFL on Twitter.