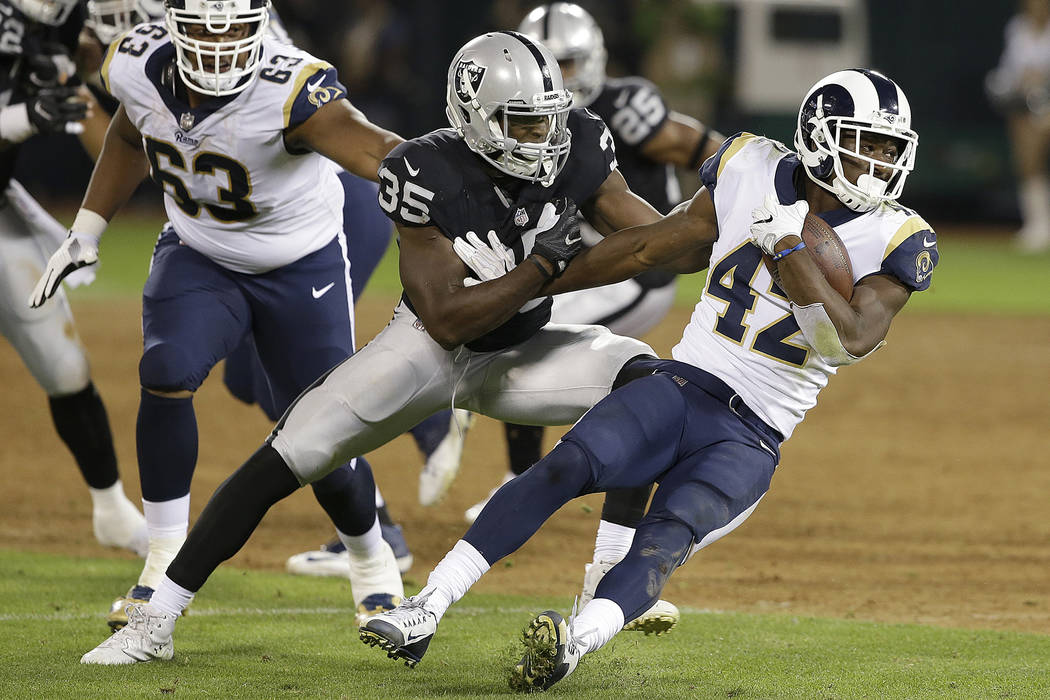 ALAMEDA, Calif. — Do not mistake Scott Sharp's regret for resentment.
He is genuinely happy, he said, to see the player Nicholas Morrow has become.
The high school football coach celebrated Sunday when he saw his former player, now a Raiders inside linebacker, make his first NFL tackle. It came at a critical third-quarter moment, as the undrafted rookie stuffed Tennessee Titans running back DeMarco Murray for a 1-yard loss on third-and-2 inside the Raiders' own 10-yard line.
Later, Sharp sent Morrow a text message congratulating him on his debut and the 26-16 win.
He felt, though, some regret.
"You kick yourself because we didn't tap into the ability that he had," Sharp said in a phone interview Thursday. "I know (high schoolers) develop at different times, but we probably should have gotten more out of him than we got out of him. … I wish we could have a do-over."
Morrow was the only undrafted rookie to make the Raiders' initial 53-man roster. He did so after having played college football at Greenville, a Division III school in Illinois. People often assume poor grades are why he attended such a small school, Morrow said. Nope. The reason was poor fit.
For his first three years of Huntsville High in Alabama, Morrow did not play linebacker.
He was an undersized offensive lineman in a spread offense.
"At like 5-10, 179 pounds, I was playing tackle," Morrow said. "When I got in, we ran boot because I was an athlete and I'd be over the end. Or we'd run zone away from me so I could get to the back-side linebacker. For the most part, that's what I was doing. And then once we got to my senior year, we lost a lot of our athletes. They moved me to outside linebacker."
Scouts did come to the Huntsville campus.
But they came to see the likes of Grant Hill, an offensive lineman who committed to Alabama, and linebacker Cameron Toney, a linebacker who committed to Auburn. No part of Morrow's work in the trenches caught the notice of scouting services or generated buzz on message boards.
His early prep career was the sort seen at every high school with a football program in the country.
Sharp remembers a young Morrow as a quiet, good-natured teen whose personality didn't appear to mesh with a defensive position. From a size standpoint, Morrow was a better fit for tight end; however, tight end sets weren't a fabric of the staff's spread offense, so he played tackle instead.
Doubt arose among coaches as to whether or not Morrow would even see a senior season.
"There were times, I felt, early on when he may not even play football because we were trying to force him to be that offensive line-type guy," Sharp said. "There were times I felt we were going to lose him. I really did. … I don't think he had the drive to be an offensive lineman. That kind of took a little bit of the drive out of him. Certainly, in his senior year, when we were able to move him to outside linebacker and let him play there, I thought really we saw a transformation in him and his work ethic and his desire and enjoyment to play the game."
Morrow started at varsity in a 3-3-5 scheme.
He didn't blitz much, as he was used more in coverage. Still, he was productive in the role, and Morrow enjoyed football enough to pursue continue playing. An eventual NFL career was not on his mind, he said, when submitting his game footage to Next College Student Athlete (NCSA), an online recruiting database through which Greenville found him.
Student-athletes generally are encouraged to consider and prepare for a career beyond athletics. At a Division III school, that need is more apparent. Morrow said that he hopes to become a chiropractor after his football career is complete, adding that he is 21 credits short of a bachelor's degree in Biology.
This is one positive to his journey.
Another applies to Sharp, who now coaches at Madison County High in Alabama. He evaluates his roster with a pair of fresh eyes, considering the only NFL linebacker he ever coached was an offensive tackle until his senior year.
"You feel like you know the abilities of your players," Sharp said. "But at the same time, in high school especially, these kids go through so much change from the time you get them as a freshman to the time they become a senior, just between strength and size and all that. They change so much. You never want to write a kid off for just being 'this player.'"
"I hope there's a lot of Nicholas Morrows out there," Sharp said. "I know there are not because his story is very unique, but at the same time, it certainly does make me think when we look at these kids, we have to make sure we put them in the best possible position for them to succeed."
Morrow is succeeding now.
More Raiders: Follow all of our Raiders coverage online at reviewjournal.com/Raiders and @NFLinVegas on Twitter.
Contact reporter Michael Gehlken at mgehlken@reviewjournal.com. Follow @GehlkenNFL on Twitter.