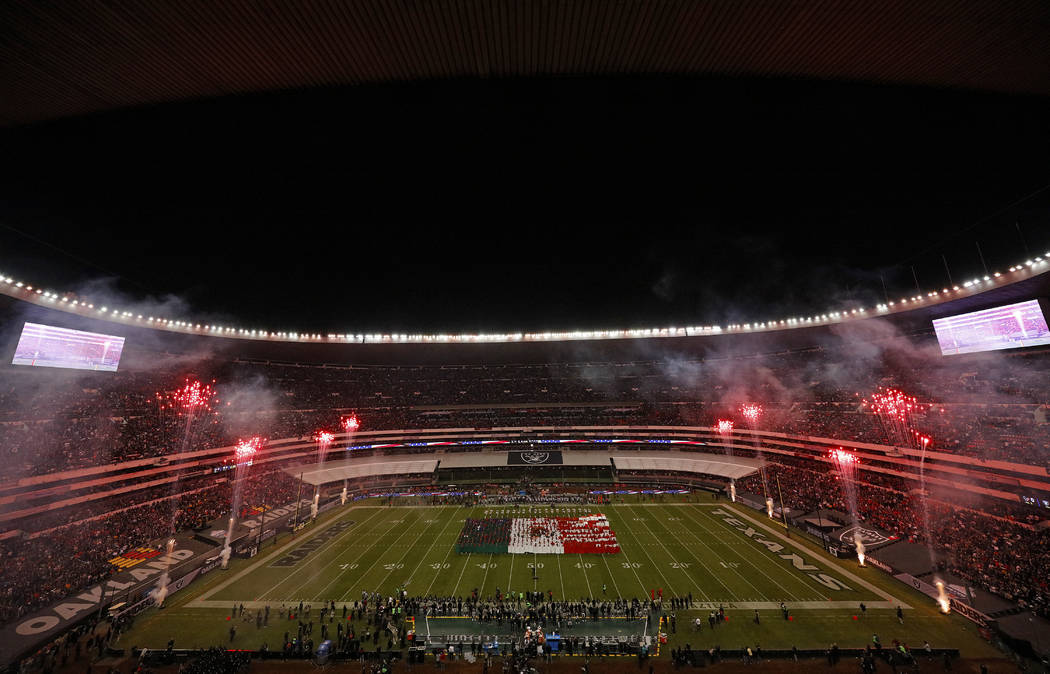 A sporting event carries no relative significance in the fallout of a major natural disaster, such as the 7.1-magnitude earthquake that affected Mexico City on Monday and reportedly caused at least 100 deaths.
As locals surveyed the aftermath, one assessment pertained to the site of a Nov. 19 NFL game.
Engineers determined there to be no major structural damage to Estadio Azteca following a preliminary review, according to multiple reports. The venue is scheduled to host a Week 11 meeting between the Raiders and New England Patriots as part of the league's International Series.
"The Raiders have the people of Mexico City and the surrounding areas in our thoughts and prayers following today's earthquake," the team said in a statement. "Mexico City is a special place for the Raider Nation, and the most heartfelt sentiments of the Raiders family go out to all of our Mexican neighbors in this time of need."
Following the quake, video and photos circulated on social media of a crack in Estadio Azteca's structure. These images sparked speculation the game could be forced to relocate. That crack, however, is one of four expansion joints engineered for the specific purpose of avoiding earthquake-related damage. Some buildings in the U.S. are known to share the feature.
The NFL declined formal comment.
Moving forward, the NFL will await the results of a thorough stadium review, which will be conducted before the site is cleared for reuse. ESPN's Leon Lecanda, a reporter based in Mexico, said on Twitter that engineers informed Santiago Banos, president of Club America, that the stadium experienced only slight damage.
Club America was scheduled to play Cruz Azul on Monday. The soccer match was suspended.
Cruz Azul's official website also reported there is no known significant damage to the 87,000-seat stadium. It added that a more extensive review will occur, allowing officials to determine and avoid potential risks related to the facility's usage.
The Raiders are scheduled to play at Estadio Azteca for the second consecutive year. On Nov. 21, they defeated the Houston Texans there 27-20.
Barring a development, this year's Mexico City game will count as one of the Raiders' eight regular-season home games. It directly follows a bye week for the Raiders. New England will be coming off a Nov. 12 road game against the Denver Broncos.
Contact reporter Michael Gehlken at mgehlken@reviewjournal.com. Follow @GehlkenNFL on Twitter.
Estadio Azteca
Location: Mexico City
Opened: 1966
Capacity: 87,000
Altitude: 7,200 feet