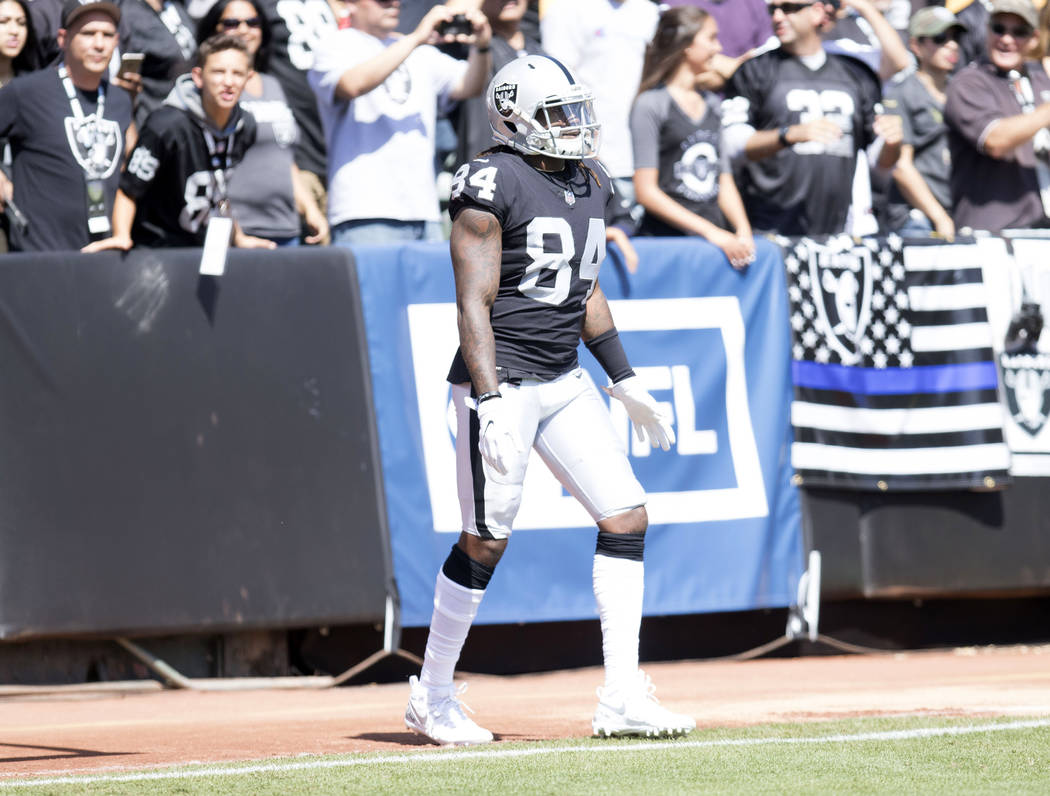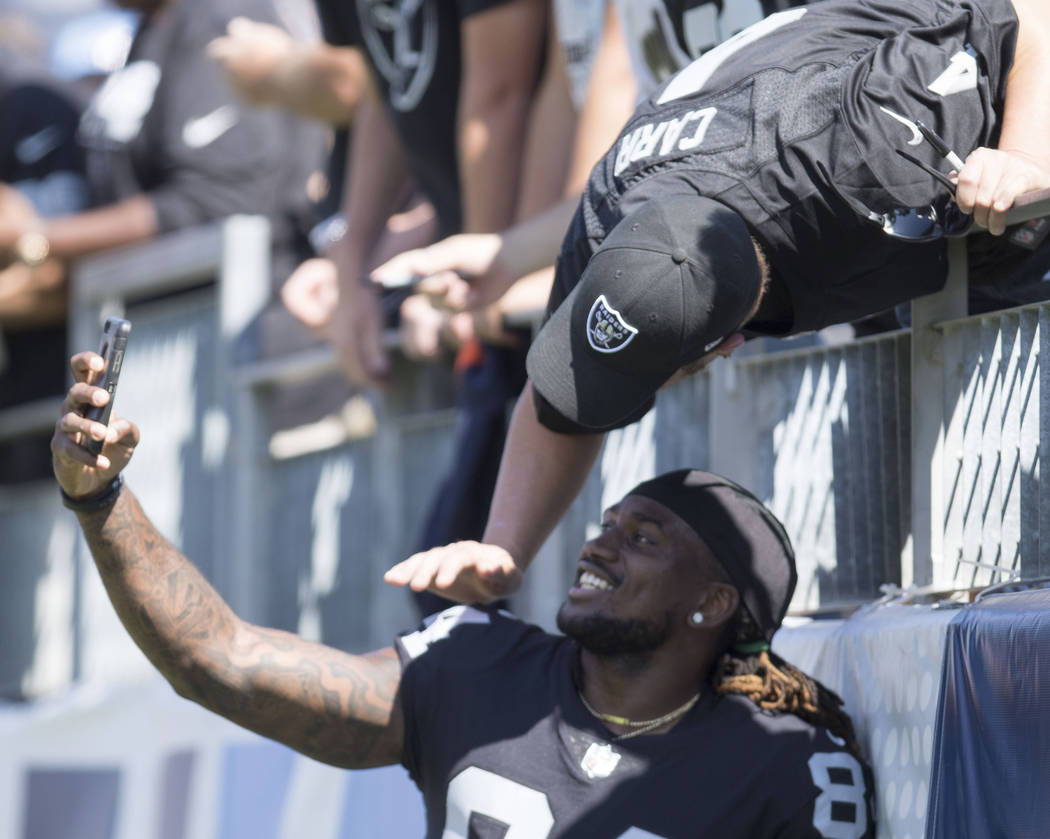 ALAMEDA, Calif. — Cordarrelle Patterson took his time.
As a free agent in March, the speedy wide receiver first visited the Chicago Bears. He next traveled to the Washington Redskins. Only then did he fly cross-country to hear the Raiders' pitch on why he should sign a contract with the club.
But he largely knew why.
"It was a no-brainer," Patterson said.
On Friday, the 26-year-old will return to the East Coast for a Sunday evening game against the Redskins. He has no signer's remorse. Not an ounce of it. His opportunity with the Raiders is everything he thought it would be, he said, as he's part of an organization deep in talent that's actively working to tap into his own.
Patterson is a two-time Pro Bowl kickoff returner.
His talents hardly stop there.
In the first two games, the Raiders (2-0) also have featured Patterson as a gunner in special teams coverage. On offense, they've aligned him at wide receiver for 46 snaps, seven of which were in the slot. He has played running back on four occasions. From there, he's logged three carries for 57 yards, including a 43-yard touchdown in Sunday's 45-20 win over the New York Jets.
As a wide receiver, he had a 5-yard end-around run in the season opener versus the Tennessee Titans.
Between offense and special teams, Patterson has been on the field for 66 snaps, 17 fewer than Michael Crabtree, the Raiders' leading receiver.
"I played it cool like I wasn't going to sign, but I knew deep down I wanted to be here," Patterson said. "I met (quarterback) Derek Carr. He came to dinner with us. He's telling me ways he can use me. It's like, 'Man, I like it.' And then meeting with the coaches. 'You're not just this person — you can do this. Don't let anybody limit you to what they say you are. You've just got to raise your ceiling and be the player you know you can be.'
"You see it. They put me at running back. They have me at receiver. They have me everywhere. It feels good to be wanted. You feel like it's the spot (where) you want to be. I've just got to thank (general manager) Reggie (McKenzie), (coach) Jack (Del Rio) for giving me the opportunity. And (offensive coordinator) Todd (Downing) and all those guys."
Patterson embraced his new beginning with the Raiders.
Part of that meant burying the past.
In recent months, he has been careful to avoid publicly discussing his usage with the Vikings. They drafted him in the 2013 first round out of Tennessee, but his offensive role in Minnesota was erratic at best. At times, it was borderline nonexistent; he had two receptions and two carries across 16 games in 2015.
The juxtaposition contributes toward his gratitude with the Raiders.
Months ago, they said they envisioned a role for him. Action followed.
"It's not talk," said Patterson, who signed a two-year, $8.5 million contract. "You go to a lot of places, and they say they're going to use you in this kind of way. As time goes on, you're in Week 8 like, 'Man, didn't they say before the season they were going to use me?' It leaves you with a bad feeling. You get a bad vibe inside like, 'I can't trust this. I want to be somewhere else.'
"Like I've said before, God gave me eyes in front of my head to see where I'm going, not where I've been. So I just keep striving for it. I'm happy I'm here. I hope I can be here for the rest of my career."
Patterson helped create his role this offseason. It wasn't simply given to him.
This week, Del Rio and Downing credited Patterson's willingness to develop in that regard. His desire to fine-tune aspects of his craft, be it route-running as a receiver or blocking concepts as a rusher, inspired the Raiders' trust in him to handle an array of roles.
"We sold him on some of the things we'd be excited about doing," Del Rio said of the March recruiting visit. "Showed him specific examples of plays being run that we'd utilize him in, ideas we had to utilize him with. When he got here, we started working on it. We got some things that we're going to do with him. We're excited. We think he's a real weapon. … I think it's gone beautifully the way it's developed."
More Raiders: Follow all of our Raiders coverage online at reviewjournal.com/Raiders and @NFLinVegas on Twitter.
Contact reporter Michael Gehlken at mgehlken@reviewjournal.com. Follow @GehlkenNFL on Twitter.
Cordarrelle Patterson file
Position: Wide receiver
Age: 27
Height/weight: 6 feet 2 inches, 220 pounds
2017 stats: Four kickoff returns for 111 yards, one special teams tackle, two catches for 8 yards, four carries for 62 yards and a touchdown.