Raiders' Bruce Irvin gives rookie Kolton Miller taste of AFC West
Updated July 28, 2018 - 4:06 pm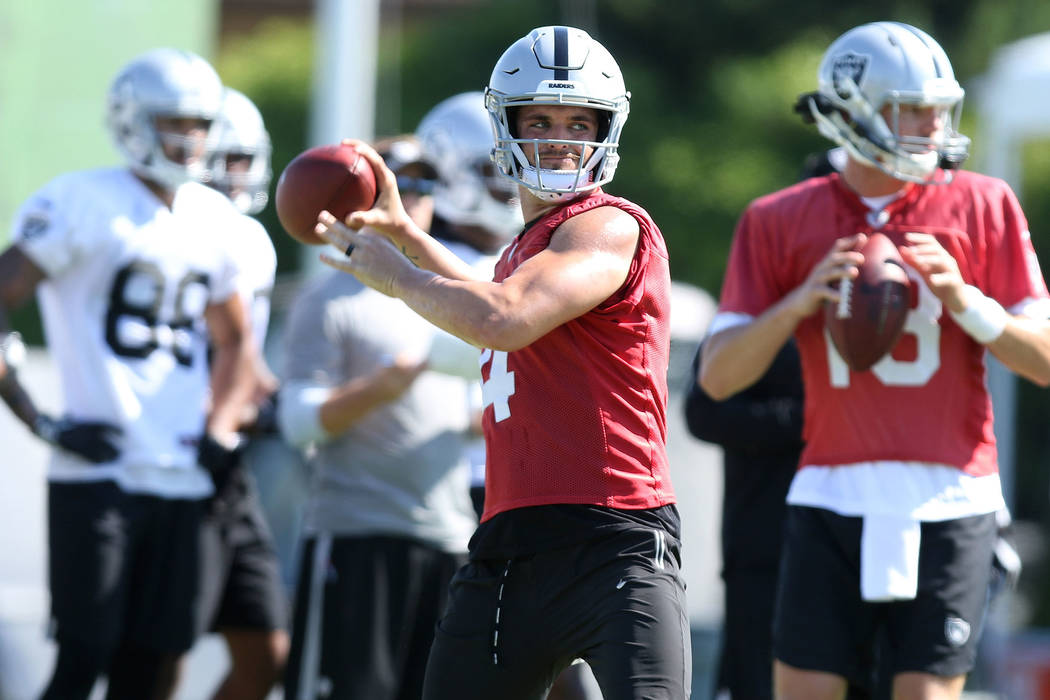 NAPA, Calif. — Kolton Miller has studied the AFC West. He knows who's coming.
Von Miller and Bradley Chubb of the Denver Broncos await Sept. 16. Joey Bosa and Melvin Ingram of the Los Angeles Chargers come Oct. 7. Justin Houston of the Kansas City Chiefs will rush Dec. 2. And those matchups are the first of two against each edge-rushing opponent.
Friday offered a small appetizer for Miller in shorts without shoulder pads.
Nonetheless, it was a taste for the rookie offensive tackle.
The Raiders opened training camp without arguably their best player, defensive end Khalil Mack. Defensive end Bruce Irvin kept the first-round pick busy, providing a preview of what's to come in the division. Between their line-of-scrimmage battles, Irvin recorded an interception for a touchdown and forced a Marshawn Lynch fumble that the defense recovered.
Ideally for the Raiders, Mack would be working against Miller, too.
Irvin is doing his part.
"He's blocking a beast over there," coach Jon Gruden said. "Bruce Irvin is one of our captains right now, and he's going to test Miller every day. We're really pleased with Kolton, not only from an athletic standpoint, but from a mental standpoint. (Offensive line coach Tom) Cable is on him every day. He's learning how to play with Derek Carr, who's doing a lot at the line of scrimmage. He's showing a lot of poise, and he's very talented."
It's an interesting pairing.
Irvin, the club's Walter Payton Man of the Year nominee in 2017, is an outgoing and energetic force on defense. He's physical. He's tough. Away from the field, he has called out former teammate Marquette King and ex-secondary coach Rod Woodson in recent months on Twitter. There is a brash fearlessness to him.
Miller has a fairly low-key personality. He tends to avoid social media. A fishing trip aside, much of his free time this summer was spent studying the playbook, he said Friday. The No. 15 overall pick, who has gained about 12 pounds since the Raiders drafted him, is eager to develop and reach his NFL potential.
Irvin can help.
"He has a lot of tools that he uses, a lot of moves, which means you have to really hone on your craft," Miller said of Irvin, who had eight sacks in 2017. "He wants you to mess up. That's something you have to focus on and make sure you don't because that's when he can get ya."
Said quarterback Derek Carr: "For Kolton to see that every day, that's going to make him work. Bruce has a similar skill set to what Von (Miller) can do and some of the other guys can do in our division, so it's good for Kolton to (experience) that and try and lock that up, as hard as it is."
Raiders inside linebacker Derrick Johnson played in Kansas City from 2005 to 2017. He likened Irvin to Houston and former Chiefs outside linebacker Tamba Hali, calling all three players "special."
"I can only talk about Bruce Irvin and the edge rushers we have (in camp) right now," Johnson said. "But when we add the other special guy, it'll be even more special. Right now, we're going to work to get better."
More Raiders: Follow all of our Raiders coverage online at reviewjournal.com/Raiders and @NFLinVegas on Twitter.
Contact reporter Michael Gehlken at mgehlken@reviewjournal.com. Follow @GehlkenNFL on Twitter.