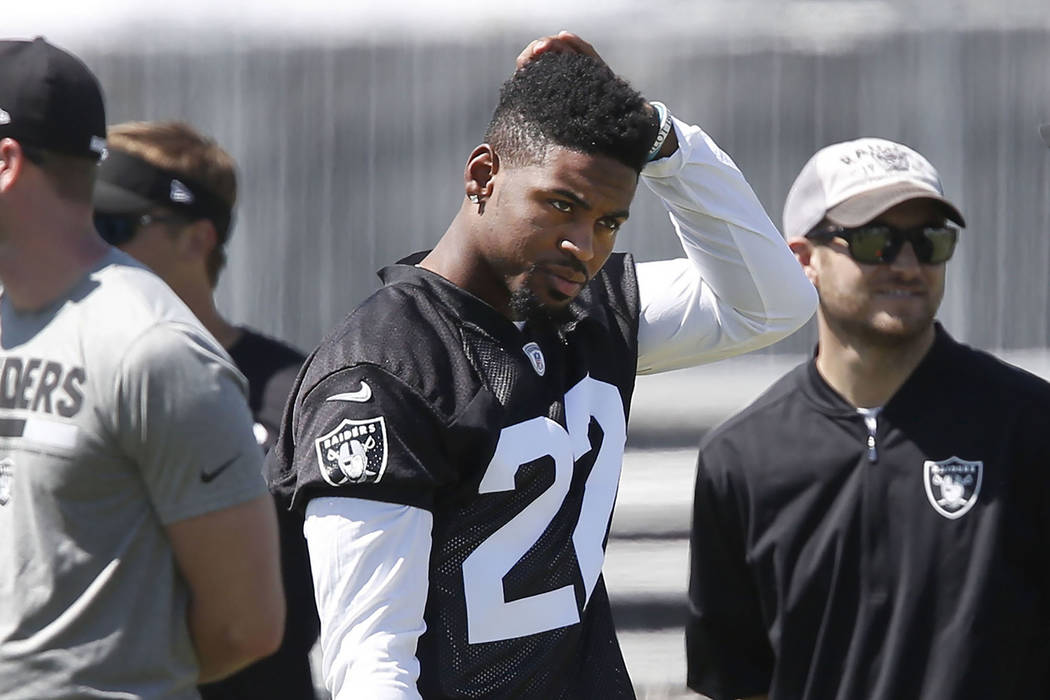 ALAMEDA, Calif. — A June injury continues to limit Gareon Conley, and there's no clear end in sight.
The Raiders cornerback and rookie first-round pick suffered a shin ailment in minicamp. It forced him to miss all of training camp and the preseason. He also missed the season opener. After debuting in Weeks 2 and 3, he's missed both games since.
Coach Del Rio was unable to provide much clarity Monday on when Conley will return.
"There's a certain amount of pain that's involved that keeps him from doing what he needs to do," Del Rio said in a news conference. "And when that is under control and he's able to go, then we look forward to having him, but until that is under control and he's able to do the things he needs to do, then he's going to remain sidelined. …
"I would hope that it would be resolved at some time in the near future, but I think this is an issue that we're doing the best we can to manage."
The Raiders have invested a great deal at the cornerback position.
Conley was the No. 24 overall pick in April. Last year, Sean Smith signed a four-year, $38 million contract in March, and David Amerson received a four-year, $33.9 million extension in July. The trio will collect a combined $24.2 million in cash earnings for 2017.
Largely because of injuries, they've shared a field for three snaps in five games.
Smith has struggled in man coverage, including on a 52-yard catch allowed to Baltimore Ravens wide receiver Mike Wallace on the first play from scrimmage during Sunday's 30-17 loss. He also trailed on a 54-yard Wallace catch later in the game, although Del Rio singled out safety Reggie Nelson for not providing adequate zone-coverage help over the top.
"Reggie should have intercepted that ball, "Del Rio said.
As a team, the Raiders have yet to record an interception this season.
They've allowed 8.1 yards per pass attempt, sixth most in the NFL, with six pass touchdowns. Opposing quarterbacks have a 106.6 average rating against Oakland, the league's fifth-highest mark.
Latham suspended
Darius Latham was a healthy scratch the first four games of the season before playing Sunday. He'll now miss the next four games before being eligible to play again.
The Raiders defensive tackle was suspended four games Monday for violating the NFL's substance abuse policy. Given his limited role, he stands to feel this suspension more than the team will. Latham will lose four game checks, which amount to $127,059 before taxes and fees, while serving it.
Latham, 22, was credited Sunday with two tackle assists in 15 defensive snaps during a 30-17 loss to the Baltimore Ravens.
He joined Oakland in 2016 as an undrafted rookie from Indiana and appeared in 14 games with two starts. He totaled 17 tackles with a pass deflection.
Latham is no longer part of the Raiders' 53-man roster. He is eligible to be activated on Nov. 6, the day after they play the Miami Dolphins and preceding the club's bye week. A corresponding move is expected this week.
Notable
■ Del Rio reaffirmed that he anticipates quarterback Derek Carr (back) will play Sunday against the Los Angeles Chargers. Carr missed one game to a transverse process fracture. No further medical update was made available on the players injured Sunday, a list that includes linebacker Cory James (knee), linebacker Marquel Lee (ankle), fullback Jamize Olawale (concussion), cornerback Antonio Hamilton (knee) and tight end Lee Smith (knee).
■ Del Rio knew the Raiders were outscored. He studied the game footage before seeing the degree to which they were outplayed. "I thought they were better than us in the trenches," he said of the Ravens. "I thought they were a little more physical, which is unusual. We have really good offensive and defensive lines, but they were more physical than us. They sacked us. We didn't sack them. They threw some long balls over the top of us. We didn't throw any over them. They got a turnover for a touchdown. We didn't. … They got us (Sunday)."
Contact reporter Michael Gehlken at mgehlken@reviewjournal.com. Follow @GehlkenNFL on Twitter.
Cash earnings for Raiders' top cornerbacks in 2017
— Sean Smith: $9.5 million
— David Amerson: $8.5 million
— Gareon Conley: $6.2 million