Raiders coach Jon Gruden no fossil with technology
Updated July 27, 2018 - 8:33 pm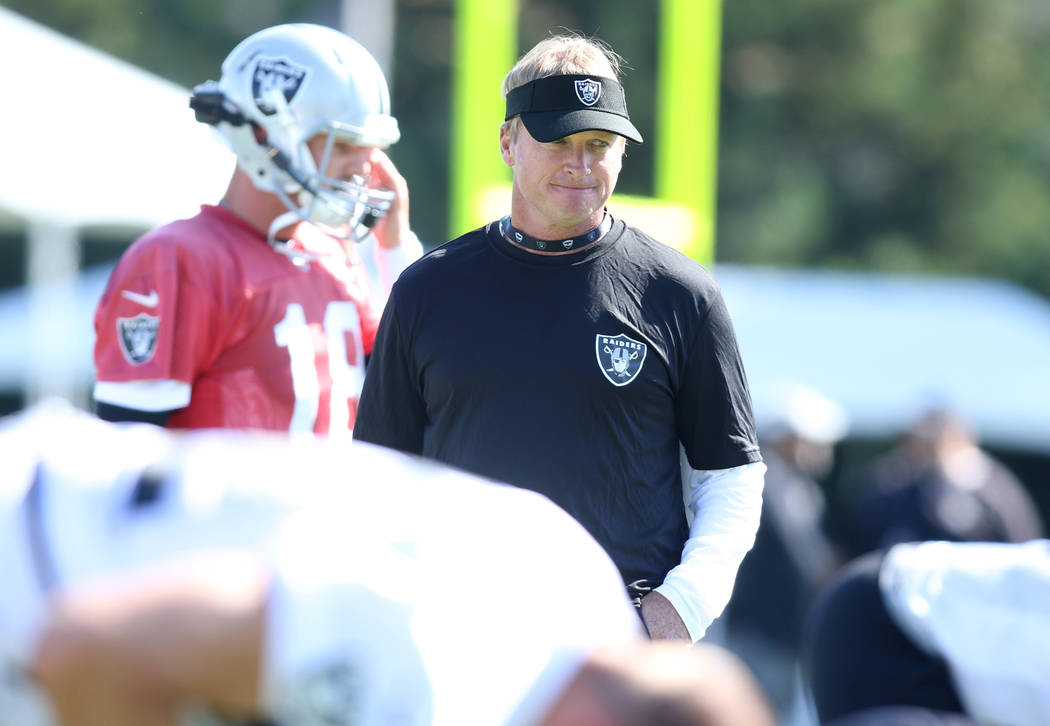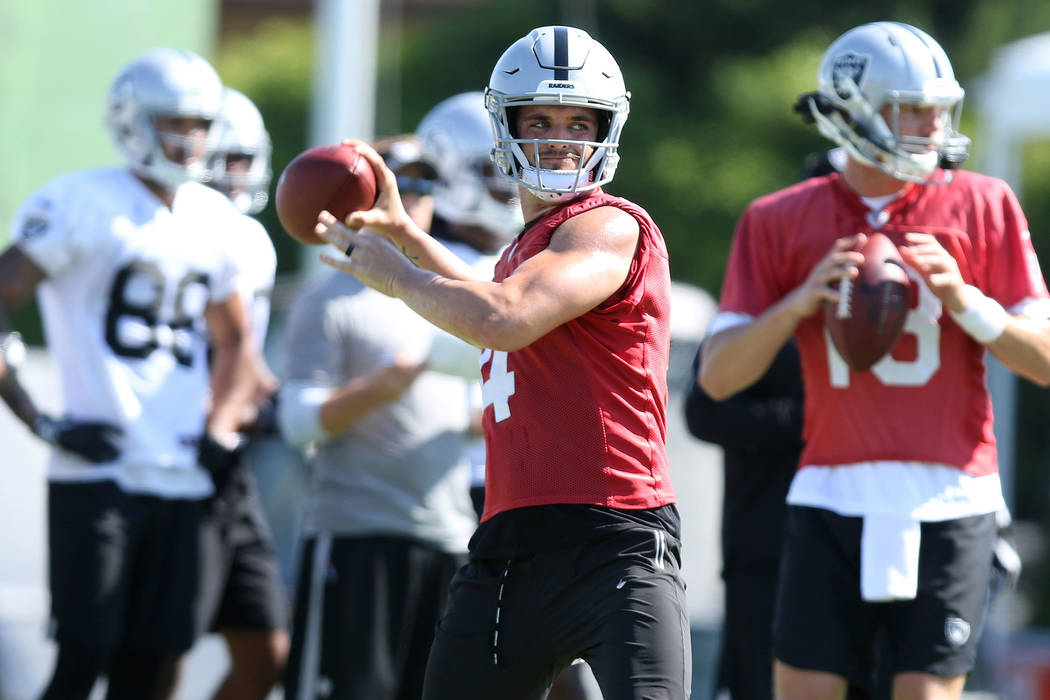 NAPA, Calif. — Jon Gruden's stance on technology is easy to misinterpret or spin.
Be it ambivalence or playfulness to the perception he's an NFL coach dug from the past, the Raiders coach infuses comedy when downplaying advanced metrics or football science, arousing suspicion among some that a $100 million dinosaur is roaming the hills between Oakland and this wine country.
But that is not the case.
Even when he eulogizes a remote control.
On Friday, Gruden held his first full-squad Napa practice since he last coached the Raiders in 2001. And things were going well until, at the ensuing news conference, with 18 video cameras zoomed in and reporters on Twitter, he answered an inquiry about the "modern advancements" affecting the game.
His answer deserves context.
Gruden is known to covet some technology and data collection that didn't exist in his former coaching career. For example, he values certain elements from Pro Football Focus, a service he believes saves time for coaches, given it can collect quantifiable data applicable to specifiable game situations. He supports technology that allows coaches to, with a couple of clicks, recall relevant samples of game film.
With other technology, such as the NFL's replay system, he rolls his eyes.
Gruden rejects a culture in which the new iPhone is better than the last edition or bitcoin currency is superior to the dollar. Newer is not always better. Or so was the desired point in his Friday response.
"Some of it is just new technology," Gruden said. "There's a lot of new technology, but it's not better technology. I got a new remote. I like my old remote better. Some of this new technology, I was a part of that in 'Monday Night Football.' They kept bringing me new technology, and the stuff we had was better. So you have to sift through what is better and what is new. You have to do what's best for your team. We're trying to do that.
"It really hasn't changed that much. It's a hard job. It's a big job. I know I've got a lot to prove, but I've got a great staff and guys that are keeping me updated with technology and all the things that are changing."
Mack has company
Khalil Mack is not the only Raiders lineman absent from camp.
Guard-tackle Vadal Alexander also has yet to join the team, although the reason is surely different. Mack is holding out for a blockbuster extension. While Alexander's exact motive is unclear, it's notable and perhaps relevant that he was suspended May 1 for the first four games of the 2018 season. He violated the league's performance-enhancing drug policy, the NFL determined.
Alexander can practice and play in exhibition games.
A team official could not be reached for comment.
Notable
Defensive tackle PJ Hall, the team's rookie second-round pick, is on the physically unable to perform list with a "pec strain," Gruden said Friday. He added that Hall probably will miss the next two days, as the Raiders further assess the situation. Team medical staff had no access to Hall during the nearly six-week break before camp.
About 6,000 season ticket holders are expected to attend Saturday's practice. The Raiders will work at nearby Memorial Stadium instead of their usual Napa Valley complex.
More Raiders: Follow all of our Raiders coverage online at reviewjournal.com/Raiders and @NFLinVegas on Twitter.
Contact reporter Michael Gehlken at mgehlken@reviewjournal.com. Follow @GehlkenNFL on Twitter.