ALAMEDA, Calif. — The very first run of the Raiders' season saw center Rodney Hudson and right guard Gabe Jackson execute a combo block on a Tennessee Titans defensive tackle and safety. Off the snap, they double teamed the lineman, clearing him 5 yards to the right, before Jackson disengaged to clean up the defensive back.
This made life easy on Marshawn Lynch.
With the front side anchored, the veteran running back reached the second level. There, he sharply cut left to dodge a linebacker and rumbled forward to a 14-yard gain.
And so it went the first two weeks of the season. The Raiders' offense ran on a paved road. Its linemen bullied defenses, double teams a staple to their clinic. The team produced 287 yards on 54 designed runs, an average of 5.3 yards per carry.
Since then, a wall.
The Raiders have failed to score more than 10 points in consecutive weeks for the first time since 2009. An ineffective ground game has been a main culprit, having managed 54 yards on 25 designed runs for a 2.2 average. There are many reasons for the struggles. A key one involves an adjustment defenses have made, one the offense expects to see again Sunday against the Baltimore Ravens.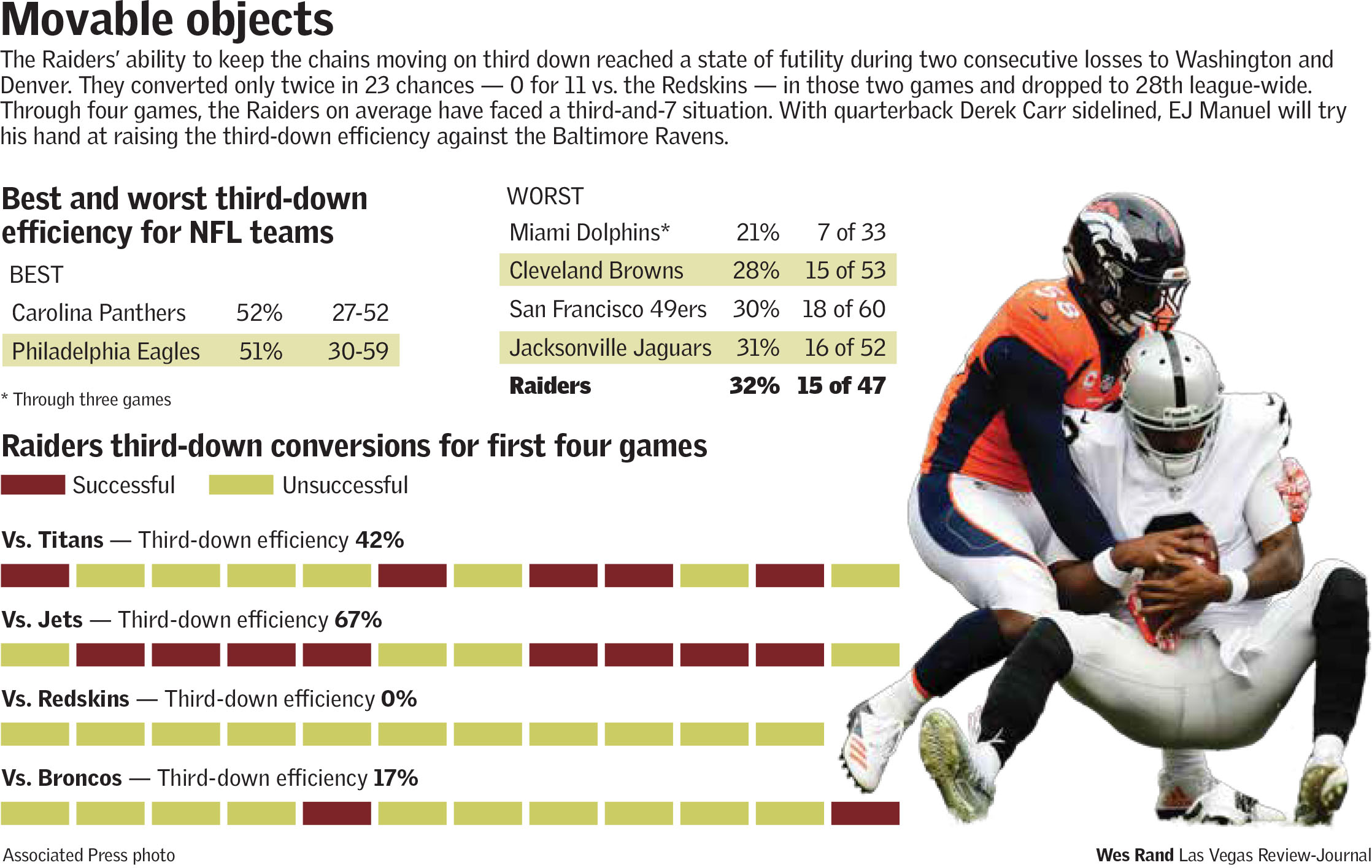 In Week 3, the Washington Redskins made an active effort to disrupt the Raiders' double teams. In Week 4, the Denver Broncos did the same.
It's no secret. The pattern is apparent on game film.
"Everybody is walking their backers down closer to the offensive line and running them through to keep our O-line off the double team," running back Jalen Richard said. "That's exactly what it is. That's what everybody is going to do. We expect somewhat of the same thing from Baltimore. We've got one of the best O-lines of the league, and then they're double teaming. (Shoot), they're blowing some (defenders) off the ball.
"So, how do you stop that? Let's get them more one-on-one blocks, cut off the double team, run the backers through so if you do double team and you stay on the double team too long, the backer shot the gap before you came off, and the play's dead."
The NFL is often said to be a "copycat league."
If an offense struggles against, say, a cover-zero blitz package one week, it can expect to see more cover-zero blitzes the following week. Ravens running back Alex Collins has fumbled twice on 25 carries in 2017. He can expect teams like the Raiders to take their hacks until he proves he's addressed the ball security issue. The sames applies in this instance to the Raiders' offense.
They expected the Broncos to game plan for their double teams. Now, the focus is stopping it.
"It's less about the scheme and more about how they react to what we do," right tackle Marshall Newhouse said. "When they see a combo block, they send a guy downhill fast to get us off the combo block because we move people. We have some stuff as far as our technique, lineman-wise, to get them away from that. We're going to keep doing that.
"We've just got to be persistent. The run game, it's not always perfect. But when you can convert first downs and get a chance to run (a play) the second time, we've all seen it once. We've seen what they're trying to do in-game. That allows us to be a little more quick in our decision-making on the field."
Indeed, it's not one thing.
The Raiders' offense hasn't struggled merely because opposing fronts are more aggressive in the run game. And it hasn't struggled just because of a 2-for-23 conversion rate on third down, lapses in pass protection, the occasional drop, Lynch's still-developing comfort behind a new offensive line or any of the other issues that contributed toward the current two-game losing streak.
It's everything. It's all connected.
"We know we're capable," Newhouse said. "Marshawn is capable. The line is capable. We've just got to do it."
Contact reporter Michael Gehlken at mgehlken@reviewjournal.com. Follow @GehlkenNFL on Twitter.