Raiders DT Eddie Vanderdoes plays the part of a draft-day steal
September 12, 2017 - 7:54 pm
Updated September 12, 2017 - 8:38 pm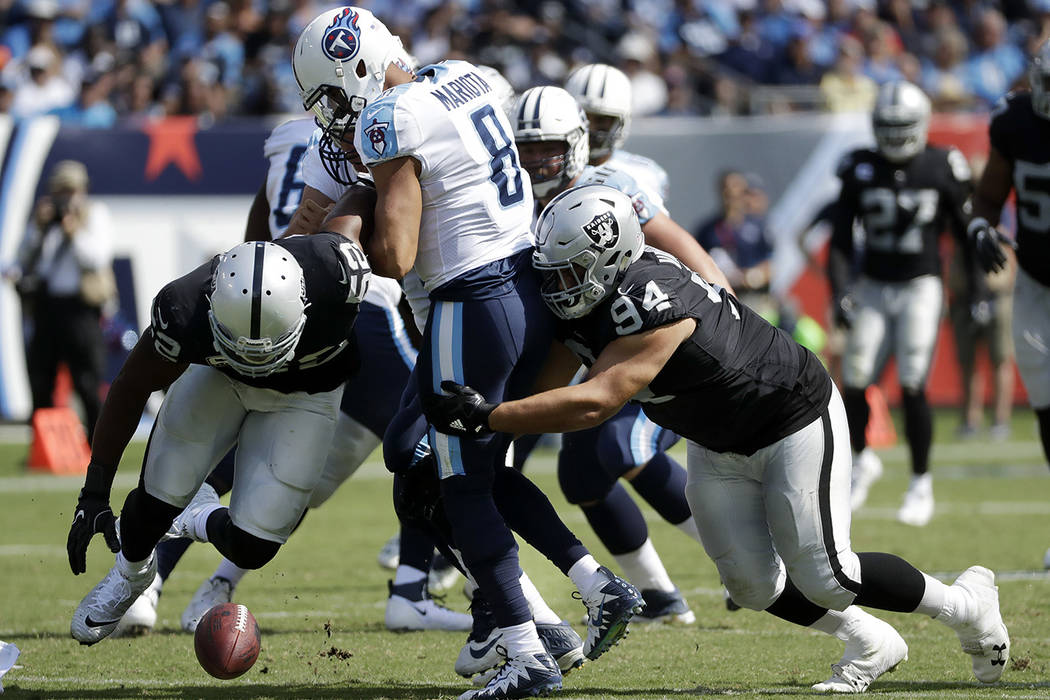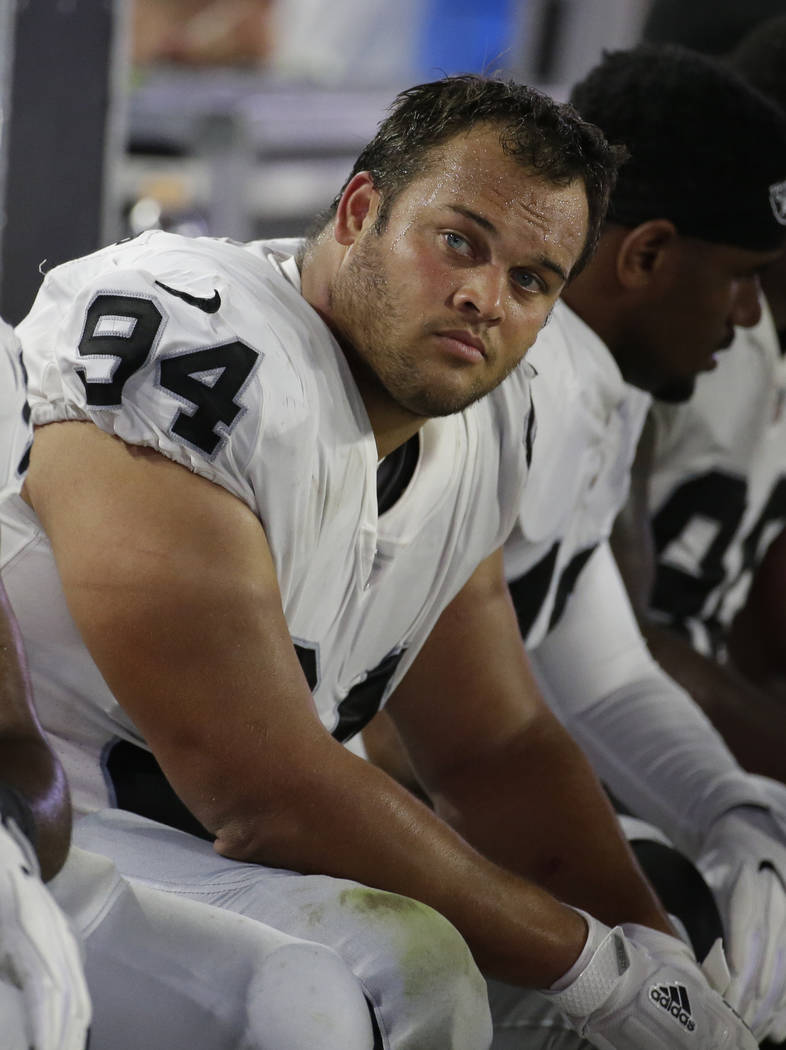 ALAMEDA, Calif. — A prediction has been pinned atop Eddie Vanderdoes' Twitter account for months.
And there, it will remain.
"It's going to stay up for a while," he said Tuesday.
The Raiders defensive tackle wrote it on April 27, hours before the NFL draft began. The first round, he knew, wouldn't be when he heard his name called. More likely, he'd wait until April 28 to learn if chosen in the second or third round or, in what would seem a harsh oversight, if he'd fallen into the fourth.
Vanderdoes posted at 9:31 a.m.: "Whoever drafts me in these next few days is getting the biggest steal of the draft #justsayin."
The internet has proof of the prediction.
There is developing proof he might be right.
The Raiders appear to have found a first-round talent in the third round. Vanderdoes, the seventh defensive tackle taken and No. 88 overall pick, is capable of dominance as an NFL interior rusher. Evidence of such exists in the game film of Sunday's 26-16 win over the Tennessee Titans.
No one has to fast-forward to see his impact, either.
"I thought from the first snap Eddie was very strong in there," coach Jack Del Rio said. "He's got a natural feel for pass rush and for being stout in there. He got some real quality snaps."
On the first play of Vanderdoes' career, the starter was aligned off center Ben Jones' right shoulder. Titans right guard Josh Kline crashed inside to engage Vanderdoes on a play-action Marcus Mariota pass. By the time the quarterback completed his fake to running back DeMarco Murray, Vanderdoes had lowered his left shoulder into Kline and begun pancaking him to the grass.
The rookie arose and dashed toward Mariota. As the latter threw a low pass 15 yards downfield, Vanderdoes delivered a clean pop with outstretched hands. He had affected the play.
The Raiders want a community pass rush to complement Khalil Mack. He cannot do it alone, as teams scheme to contain him. And when Mack and Bruce Irvin do apply heat from the outside, defensive tackles must take advantage. A quarterback being forced to step into a pocket is a ready-made sack opportunity.
Vanderdoes seemed up to the task Sunday.
Late in the second quarter, the Titans triple-teamed Mack with tight end Jonnu Smith, fullback Jalston Fowler and running back Derrick Henry. None were a match. Mack dispensed of them to force a back-foot Mariota throw that Karl Joseph deflected in the end zone. Not to be overlooked, Vanderdoes flattened right tackle Jack Conklin, who crashed inside as the others engaged Mack.
Vanderdoes, with his left arm, violently shoved Conklin into the ground.
A YouTube video of the play had more than 50,000 views as of Tuesday night.
"Just pre-snap, looking at stances," Vanderdoes, 22, said of how he anticipated Conklin. "Obviously, watching film and seeing their formations and what they're doing. I read that the tackle was coming down by looking at his stance, and the guard was probably going to go away. I took my chances and stepped toward the end."
On a third-quarter pass play, Mack penetrated the backfield as to be expected. But it was Vanderdoes who split a double team and arrived first, placing a hand on Mariota and forcing him to flee upfield. There, Mariota was met by defensive linemen Mario Edwards Jr. and Justin Ellis for the Raiders' first sack of the year.
"It doesn't matter if you were the first pick or the last pick or didn't even get drafted," Vanderdoes said. "Everybody gets an opportunity to show something."
It's only one game.
But so far, he's showing that April prediction may be right.
More Raiders: Follow all of our Raiders coverage online at reviewjournal.com/Raiders and @NFLinVegas on Twitter.
Contact reporter Michael Gehlken at mgehlken@reviewjournal.com. Follow @GehlkenNFL on Twitter.