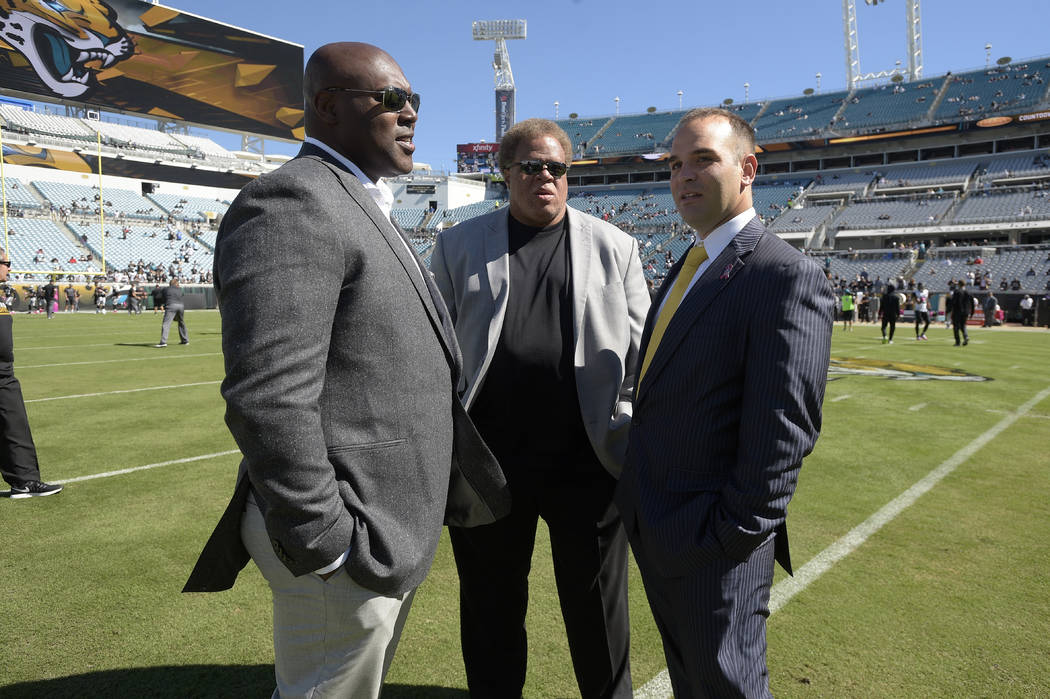 ALAMEDA, Calif. — Joey Clinkscales knows what rebuilding a franchise requires.
Since 2012, he has seen it. He has helped achieve it.
The director of player personnel joined the Raiders months after longtime friend Reggie McKenzie became general manager. The storied franchise was a project; it hadn't experienced a winning season in a decade.
Clinkscales then watched as McKenzie led the way, the front office wading through dead money against the club's salary cap while seeking to amend a losing culture.
For McKenzie, the rebuilding process is over.
For Clinkscales, one soon could begin.
The Raiders executive figures to be under serious consideration for general manager vacancies as early as this offseason. The 53-year-old not only had a front-row seat but also oversaw some of the fundamental operations to one of the NFL's great recent rebuilds. His scouting career is largely rooted with the New York Jets, whom the Raiders will host Sunday.
Rebuilding is neither quick nor easy, Clinkscales said.
But it's an effort he one day hopes to lead.
"Winning is the greatest feeling in pro sports," Clinkscales said, "but losing eats at you. It's hard. When you're in a rebuild and you're losing, it gets at you. You have a tough time sleeping. It's tough. But we just stuck with the process that we had. We stuck with the plan that we had. Reggie had a lot of faith in it. The owner (Mark Davis) had a lot of faith in it. We turned the corner."
It required turning over a roster.
Of the 53 players the Raiders carried into Sunday's season opener, long snapper Jon Condo was the only one whose time with the franchise predates McKenzie's 2012 arrival. Kicker Sebastian Janikowski would have qualified, but he was placed on injured reserve Sept. 9.
Such change requires time.
Clinkscales saw McKenzie respond to an inheritance of players whose contribution failed to match their compensation. The Raiders faced salary cap implications when cutting players such as cornerback Stanford Routt in 2012; he was one year into an initial three-year, $31.5 million contract that had been restructured to a five-year deal.
In 2013, no NFL team had more dead money against the salary cap than the Raiders after parting with the likes of defensive tackle Richard Seymour, linebacker Rolando McClain, quarterback Carson Palmer (trade,) defensive tackle Tommy Kelly and wide receiver Darrius Heyward-Bey.
These were difficult decisions, difficult times any rebuilding franchise must face.
Clinkscales was there.
"We had to deal with that," he said. "I call it 'Salary Cap Hell.' As soon as we got out of Salary Cap Hell, that's when we were able to start guiding the ship in the right direction. Early on, we all wanted to win, but we knew the type of work that it was going to take to start the process over. …
"There's not a really good franchise without a good quarterback. The 2014 draft was the foundation for us with obviously (quarterback) Derek (Carr), (defensive end) Khalil (Mack) and (guard) Gabe (Jackson). We had 'Jelly' (nose tackle Justin Ellis), (running back) Latavius (Murray). (Wide receiver) Seth (Roberts) was on the practice squad. There were a lot of pieces that we picked up in that draft that really set the foundation for this franchise."
Clinkscales and McKenzie attended Austin-East High in Knoxville, Tennessee.
McKenzie and his twin brother, Raleigh, a Raiders area scout, were linebackers. Clinkscales, one year younger, played quarterback. All three continued at Tennessee, where Clinkscales switched to wide receiver. The Pittsburgh Steelers drafted him in the ninth round of the 1987 NFL Draft.
Clinkscales became a Steelers part-time scout in 1989 and eventually began a 17-year tenure with the Jets, starting as an area scout in the southeastern region. He rose up the ranks to become vice president of college scouting upon joining the Raiders and McKenzie.
Since 2012, the former prep and college teammates have experienced lows and highs as colleagues.
"The beauty of it is we're like-minded in our thinking about players," Clinkscales said. "We don't always agree because there's always got to be a voice of reason sometimes who goes against the grain, who opens your mind to think differently. Ultimately, it's always his final decision."
One day, for another franchise, the final decision might be his.
Contact reporter Michael Gehlken at mgehlken@reviewjournal.com. Follow @GehlkenNFL on Twitter.
Raiders win-loss record
2012: 4-12
2013: 4-12
2014: 3-13
2015: 7-9
2016: 12-4