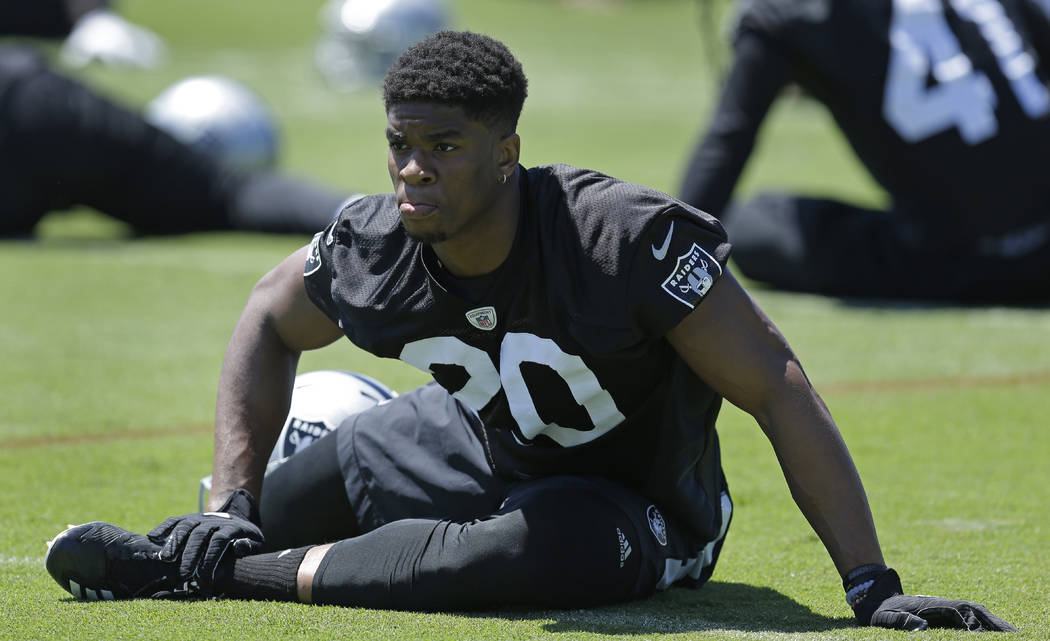 ALAMEDA, Calif. — Obi Melifonwu ideally would have extensive NFL experience before a matchup against the New England Patriots.
He's played seven defensive snaps since the preseason. That'll have to do.
The Raiders safety was drafted in the second round in April largely for his coverage ability against tight ends.
Knee surgery in August then forced him to miss the season's first eight games.
After being eased into his debut on Nov. 5 against the Miami Dolphins, he returns from a bye week to share a field with four-time All-Pro selection Rob Gronkowski.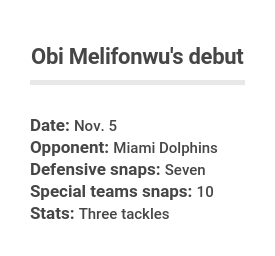 That escalated quickly.
"He hasn't been able to be available for us, but we're expecting him to step up," defensive coordinator Ken Norton Jr. said. "These are the world champions, the guys who have been doing it really well for a long time. Obi is going to get introduced at a high level, but he's very confident. He's been pretty good at what he's been able to do for a long time. We're expecting him to play at a high level and accept the challenge."
Gronkowski has 38 catches for 584 yards and five touchdowns. He leads the NFL with 72.9 receiving yards per game. Last Sunday, against the Denver Broncos, the physical 6-foot-6-inch, 265-pound target played 61 of a possible 70 offensive snaps while recording four receptions for 74 yards.
Fellow tight ends Dwayne Allen and Martellus Bennett appeared on 20 and seven plays, respectively. Bennett, days removed from having been claimed off waivers after the Green Bay Packers released him, caught three passes for 38 yards.
Melifonwu cannot offer much for production; he has yet to be sufficiently tested at this level. But the Raiders like the tools they see.
Norton called him a "fun character."
"I think if you put together your ultimate football player — I mean, if you stand next to that guy, you look at him from afar — he looks perfect," Norton said. "He's long and fast and has the right attitude. He's really smart. He loves ball. He loves practice. When he's in the meeting room, he wants to see all the film. He's all that stuff. Now, 'Hey, guy. Can you carry that over to the field?' That's kind of where we are now. Continue growing. Continue learning. You look great. Now, let's make that into playing great.
"I think all you can do, at this point, is get more reps, more time on the field, more experience. Sometimes, things are going to be the first time for him."
What a time for it.
Notable
■ Cornerback David Amerson has yet to practice this week. If unavailable Sunday, it would mark his third straight absence because of a foot injury. He ran to the side Thursday as teammates practiced in rainy conditions.
■ Left tackle Donald Penn (non-injury related) returned Thursday after having joined Amerson as the only Raiders players not to practice Wednesday. Marshall Newhouse (hip/quad) joined Amerson on Thursday instead. The right tackle was a limited participant on Wednesday.
Contact reporter Michael Gehlken at mgehlken@reviewjournal.com. Follow @GehlkenNFL on Twitter.