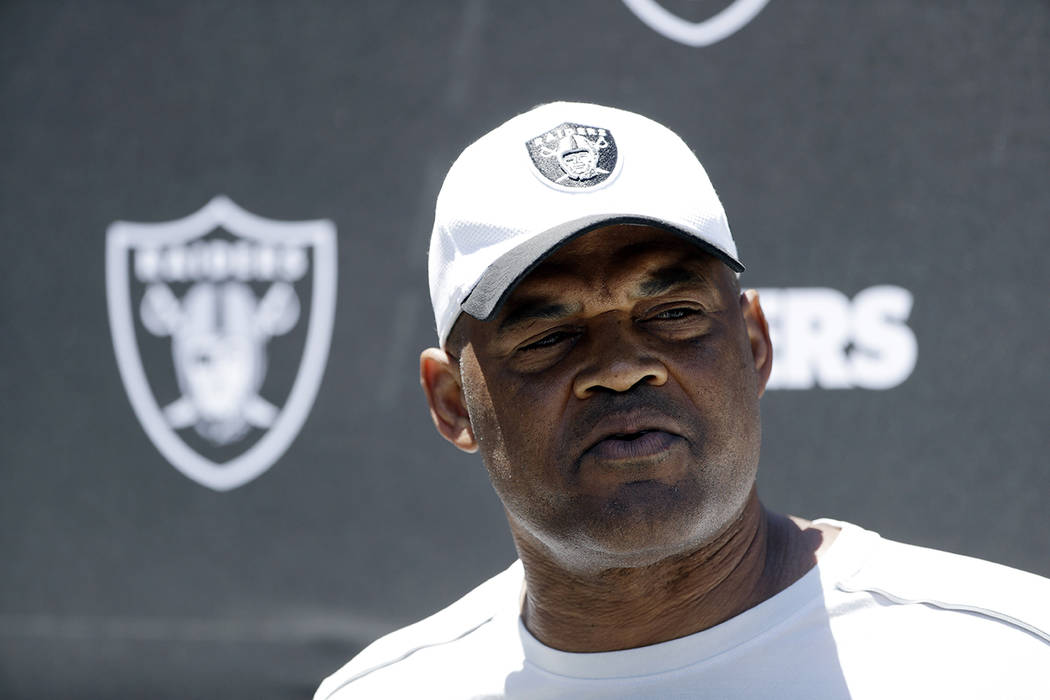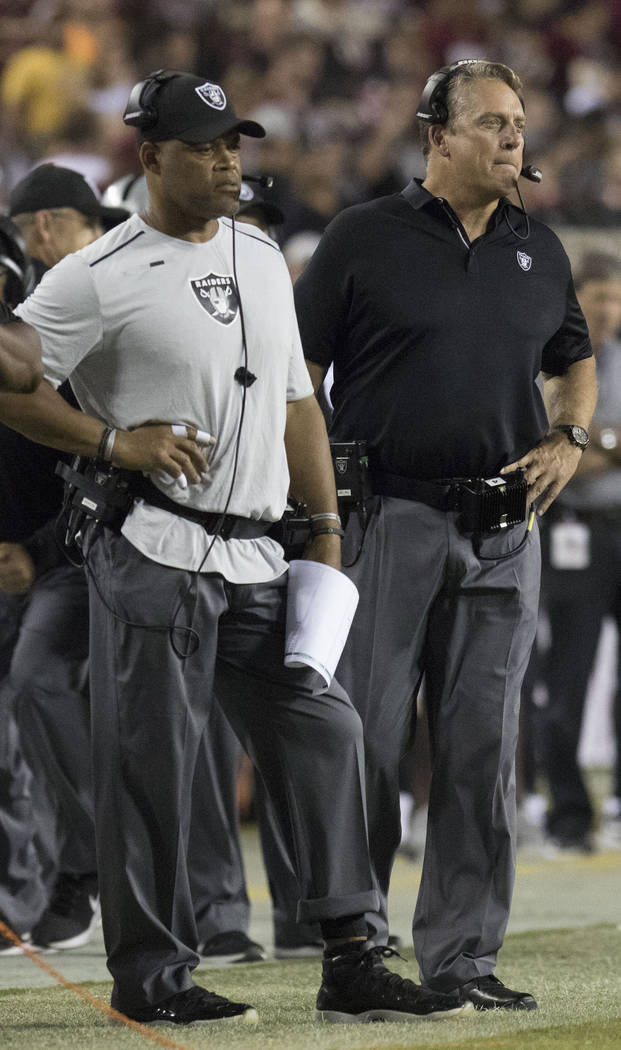 ALAMEDA, Calif. — When Ken Norton Jr. was not on the practice field Tuesday, players began to speculate. After the walk-through ended, their theory proved fact.
A move has been made.
Coach Jack Del Rio notified players on Tuesday afternoon that Norton had been fired as defensive coordinator. John Pagano, a former Chargers defensive coordinator who joined the staff in January as an assistant head coach/defense, will assume play-calling duties.
The Raiders are the only defense in NFL history not to record an interception through the first 10 games of a season. The unit has allowed quarterbacks to complete 72.3 percent of passes, on pace for the second-highest mark in NFL history. Its opposing quarterback rating of 113.3 also is second-worst.
On Sunday, the team fell to 4-6 with a 33-8 loss to the New England Patriots in Mexico City. Opponents have scored an average of 30.3 points over the previous four games.
In a statement, Del Rio said he made the "difficult decision" to dismiss Norton after "careful thought."
"I have the utmost respect for Ken as a person and as a coach," Del Rio added, "but I feel that moving John Pagano into the play-calling role will best utilize his wealth of experience. I appreciate Ken's passion and commitment to the Raiders since coming aboard and wish him the best going forward."
Norton's boisterous and energetic voice was noticeably absent Tuesday.
He was a popular locker-room presence, forging a strong relationship with many players, chief among them Bruce Irvin. One player characterized Norton as "like a father" to the outside linebacker. They previously were with the Seattle Seahawks, where Norton was a linebackers coach from 2010 to 2014. Norton arrived in Oakland with Del Rio in 2015. Irvin joined a year later.
So, it was a mixture of figuring and fearing when Norton was absent.
"You put two and two together," said linebacker Xavier Woodson-Luster, who declined to comment in great detail as a rookie, citing he felt it wasn't in his place.
Safety Reggie Nelson, a defensive co-captain, is in his 11th NFL season.
"I have not been a part of anything like this before," Nelson said of a midseason coordinator change. "It's a production (business). As a defense, we haven't been playing that well. Everybody's got their hand in it. We've got to go out and play (or) it's just going to keep trickling down. … The axe came down on everybody. Everybody felt it in this building. Players, we love Norton."
Norton had his players' respect.
As for why he was fired, it could be argued he didn't have the players.
In March, the Raiders were underwhelmed with the defensive options in free agency, so they focused on such options as tight end Jared Cook and wide receiver-returner Cordarrelle Patterson. They also acquired running back Marshawn Lynch in April. Linebacker Jelani Jenkins, the defense's only veteran signing this spring, did not make the 53-man roster out of training camp.
General manager Reggie McKenzie instead drafted for defense, banking on an impactful class.
But first-round pick Gareon Conley, a cornerback, and second-round pick Obi Melifonwu, a safety, missed eight of 10 games apiece prior to Norton's firing. Conley underwent shin surgery Monday and is out for the season. Melifonwu had August knee surgery. In 2016, defensive end Jihad Ward and outside linebacker Shilique Calhoun were drafted in the second and third round, respectively. Both were healthy scratches on Sunday.
Meanwhile, the Raiders have two high-priced veteran cornerbacks on their roster.
Neither Sean Smith nor David Amerson has played half of the defense's snaps.
Norton was believed to be standing on delicate ground entering the year. In 2016, Del Rio took over play-calling late in a Week 2 loss to the Atlanta Falcons. Also, despite a knack for creating turnovers and closing out close games, the Raiders ceded an NFL-high 38 receptions of at least 25 yards that season. Pagano was perceived as a clear successor option when hired in January.
Indeed, he is. Pagano resumes the role after calling plays in San Diego from 2012 to 2016.
Oakland will face Bill Musgrave, its former offensive play-caller, on Sunday. He took over as the Denver Broncos' offensive coordinator on Monday when the team fired Mike McCoy. The Broncos also made a quarterback switch, moving from Brock Osweiler to Paxton Lynch.
Contact reporter Michael Gehlken at mgehlken@reviewjournal.com. Follow @GehlkenNFL on Twitter.