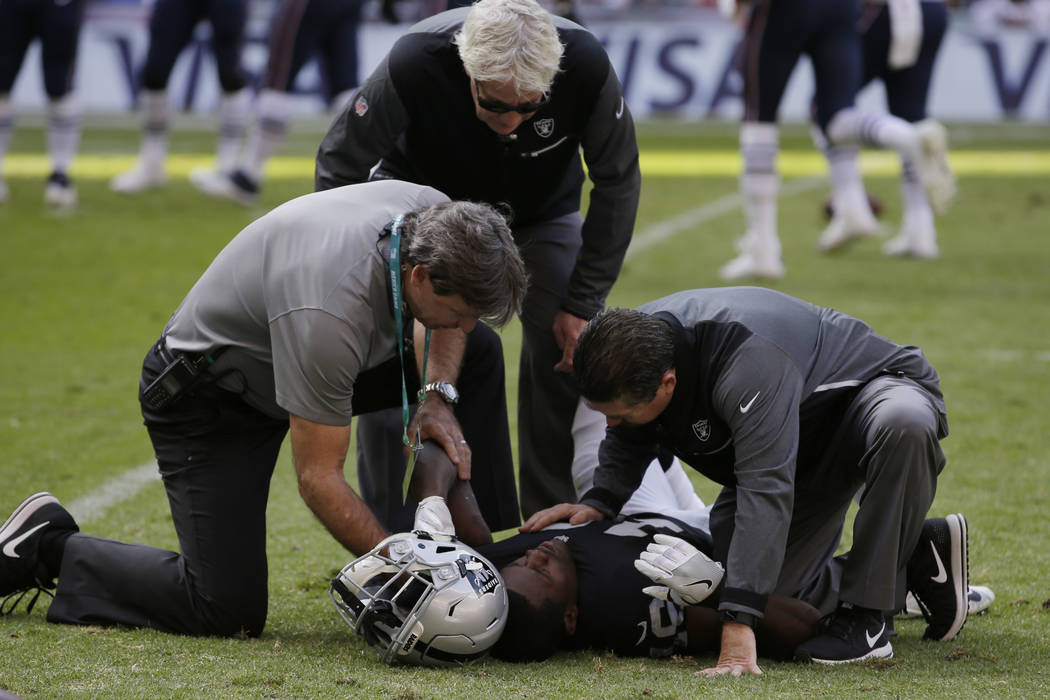 ALAMEDA, Calif. — The Raiders announced Sunday in the second quarter that wide receiver Johnny Holton was under evaluation for a concussion. Per league protocol, an independent neurologist cleared him to resume play, given he returned to finish the game. Holton afterward declined a locker-room interview request.
He had a concussion, he cited.
He then missed multiple practices for it.
On Friday, Holton was one of four players the Raiders listed as questionable to play Sunday against the Denver Broncos. It cannot be stated with certainty when Holton was concussed. But he initially left the game after his helmet slammed onto the turf in Mexico City on a first-quarter interception versus the New England Patriots.
Wide receiver Cordarrelle Patterson (hip), right guard Gabe Jackson (ankle) and linebacker Cory James (knee) also were listed as questionable to face Denver. Cornerback David Amerson will miss his fourth straight game to a foot injury.
A murky timetable surrounded Holton's diagnosis.
Addressing it for the first time, coach Jack Del Rio said Holton was diagnosed early this week, not Sunday.
"I'm at the mercy of those that are the experts in that field," Del Rio said. "He got a scratch on his eye. That was what occurred there. Came in this week and had some symptoms, so we put him into the protocol and he went through the protocol. I believe he's in the final steps now of clearing.
"We'll get that final clearance he'll play. If we don't, he'll be down. That's a question mark going in (Sunday) that hasn't yet been fully resolved, but since he came in and had the symptoms he had, those have gone away and everything else is checking out. We anticipate having him."
Holton, a speedy receiver who predominantly contributes on special-teams coverage, practiced Friday for the first time this week as a limited participant. He's coming off a difficult and eventful game, all in all. The league fined him $12,154 this week for unsportsmanlike conduct after he smacked cornerback Jonathan Jones following a fourth-quarter incompletion.
Holton was flagged 15 yards on the play.
He has caught two passes for 64- and 44-yard touchdowns this season. The 64-yarder came against the Broncos on Oct. 1 to punctuate a 99-yard drive.
Notable
— There is a 73 percent chance of rain Sunday at kickoff time in Oakland, according to the National Weather Service. The Raiders practiced with a wet football at times this week, also prepping their equipment accordingly, as part of the preparation. "The bottom line is you go out and have fun," Del Rio said. "When we were kids, we didn't care if it was raining. We'd go out and play and have fun. That's what we're going to look for on Sunday."
— Right tackle Marshall Newhouse will return Sunday from a one-game absence for a hip and quad injury. He suffered the ailments Nov. 5 against the Miami Dolphins when absorbing a hard tackle on a fumble return that he then fumbled.
Contact reporter Michael Gehlken at mgehlken@reviewjournal.com. Follow @GehlkenNFL on Twitter.