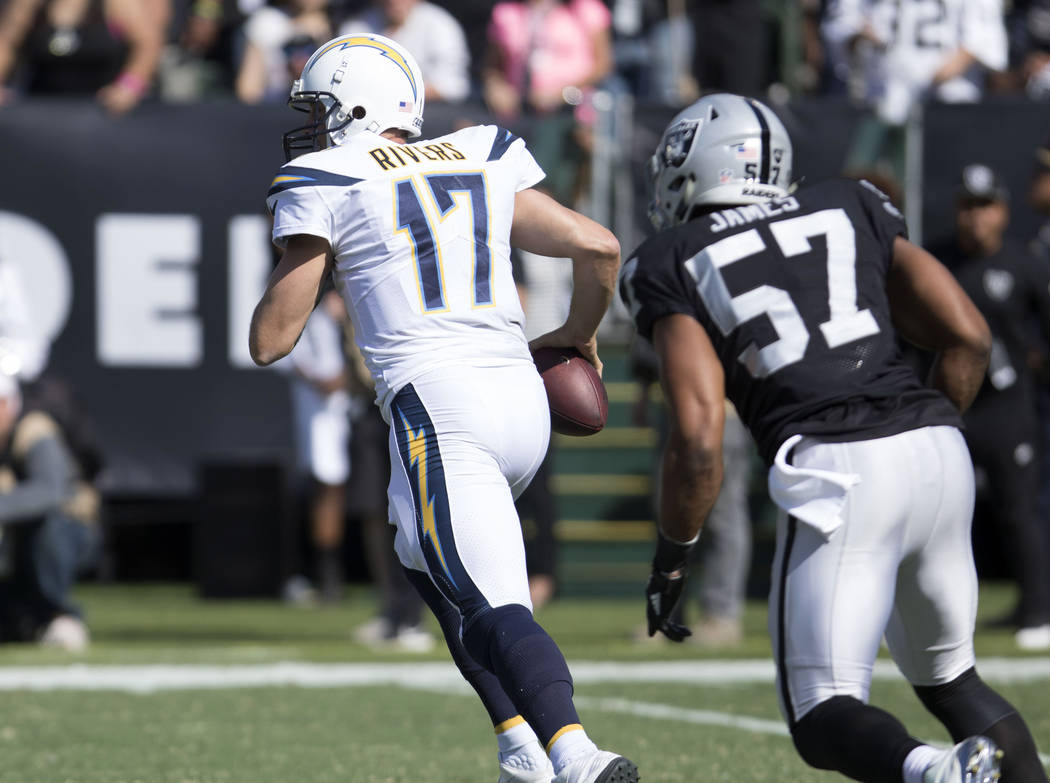 ALAMEDA, Calif. — Four games remain. Maybe more.
In each, Cory James is expected to give the Raiders what he has so far in 2017 — all he can, for as long as he can.
The second-year inside linebacker missed practice Wednesday, and that is nothing new. Of the 49 practices for which the Raiders have submitted an injury report this season, he's been listed a limited or non-participant in 26. A source said that James is dealing with a torn meniscus and loose cartilage, a knee injury that requires clean-up via arthroscopic surgery.
He has deferred the procedure to continue with his team.
"He's battled through it," said coach Jack Del Rio, a reference to the situation and not its specifics. "He's been hobbled a little bit with injuries. I think he's been 'questionable' most of the year on the injury report. So it's been something he's been battling throughout the year. We're trying to do what we can to get him as healthy as possible, but at the same time, he's trying to be there for his teammates."
James, 24, underwent arthroscopic surgery for a meniscus tear to the same right knee in late August, a source said.
Following the surgery, he was a limited participant in the season's first four practices. He was upgraded to full on the Thursday and Friday before a Week 2 game against the New York Jets, the start of a three-game span in which James played all 188 of the defense's snaps.
But he reappeared on the injury report following a Week 5 game against the Baltimore Ravens.
Since then, the Raiders have identified his game status — or likelihood of playing — as "questionable" before each of their past seven games. Including Wednesday's practice, he hasn't been a full participant in 22 straight sessions. And yet, last Sunday's game against the New York Giants was just the second he's missed all year.
"Yeah, I love the grittiness and the effort that he's given to the squad," Del Rio said.
The first game James missed was Oct. 19 against the Chiefs, the Raiders' opponent Sunday in Kansas City. The Raiders found a plug-in replacement days prior when signing linebacker NaVorro Bowman on Oct. 16. James returned the next week to have arguably his best game of the season when playing beside Bowman. Three of his eight tackles against the Buffalo Bills were for a loss.
James, a 2016 sixth-round pick from Colorado State, has 56 tackles, tied with defensive end Khalil Mack for fourth-most on the team. His 455 defensive snaps rank seventh-most.
It is unclear if James will be on the field Sunday. Per usual, he is week-to-week, day-to-day, as the Raiders manage an ailment that largely has overshadowed his season. Weekend conversations about his availability are commonplace. The team also has taken care to limit his snaps on special teams; he's played 10 compared to 228 as a rookie.
"We do what we can and work with him and make decisions that are good for him and good for us," Del Rio said.
Contact reporter Michael Gehlken at mgehlken@reviewjournal.com. Follow @GehlkenNFL on Twitter.