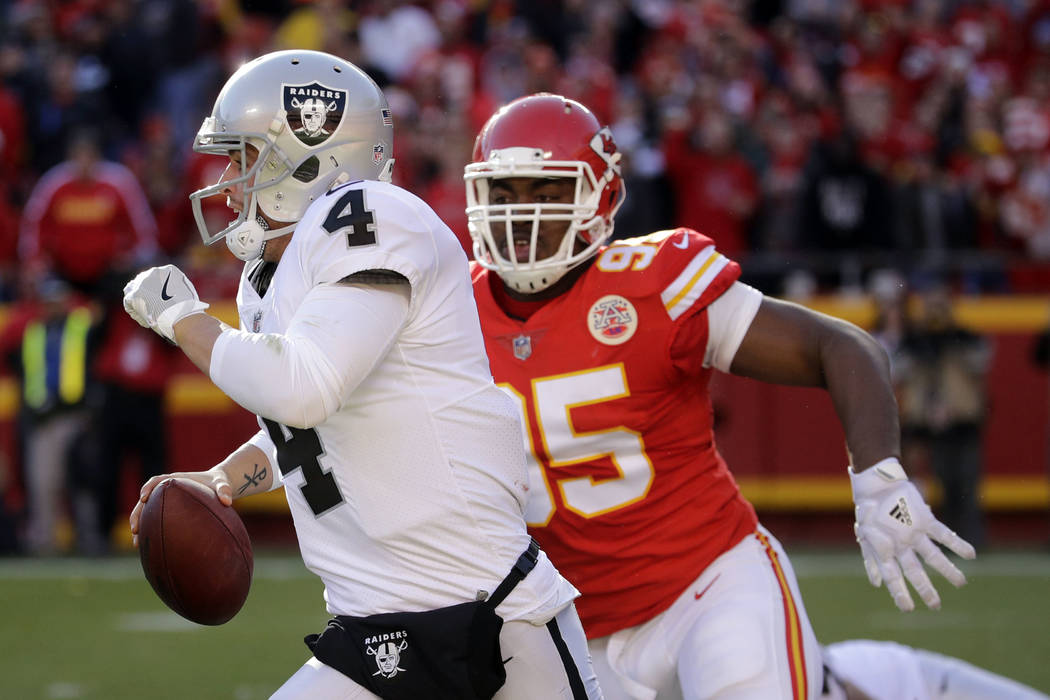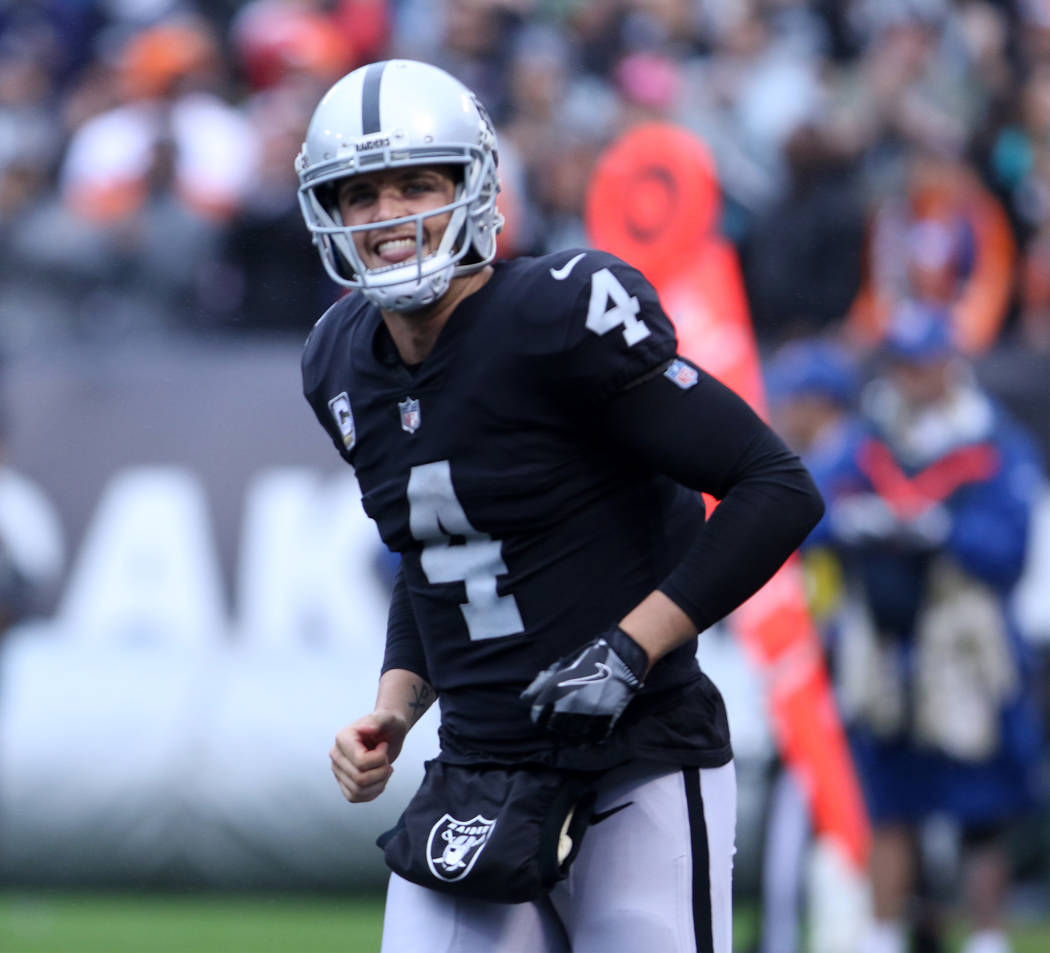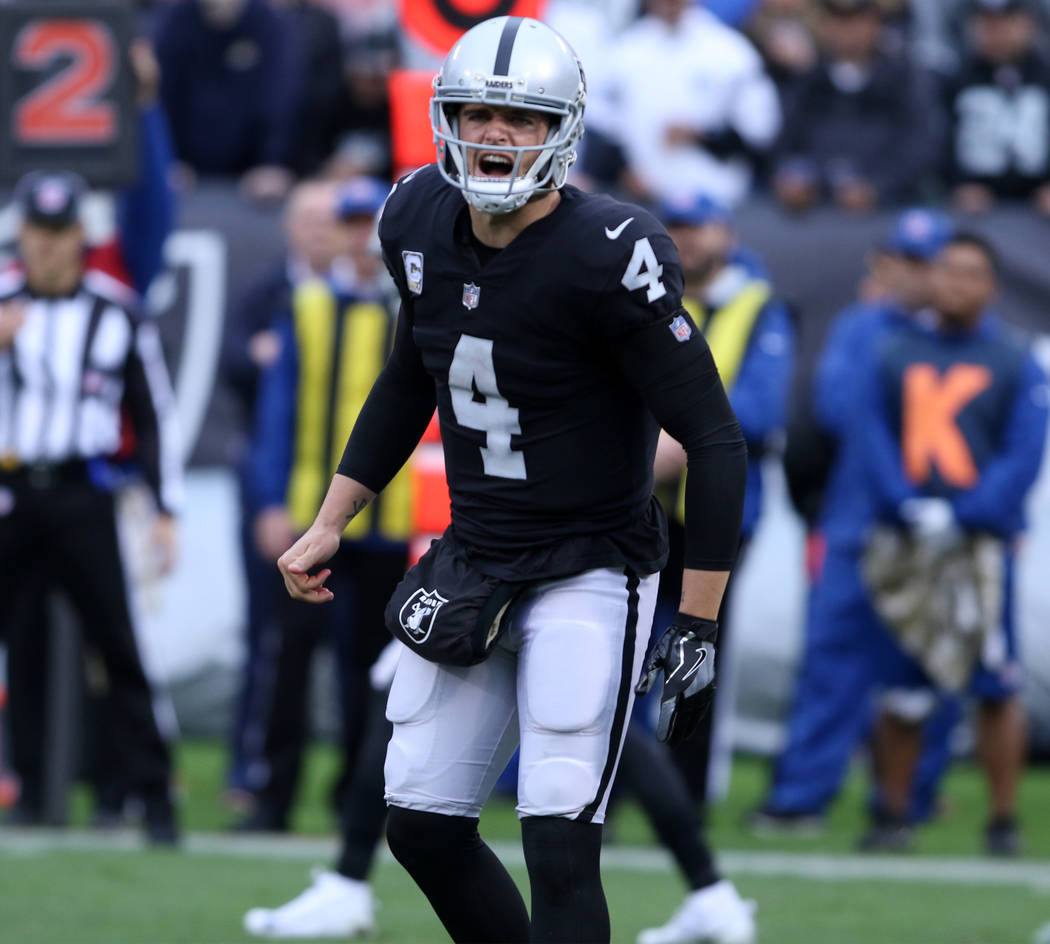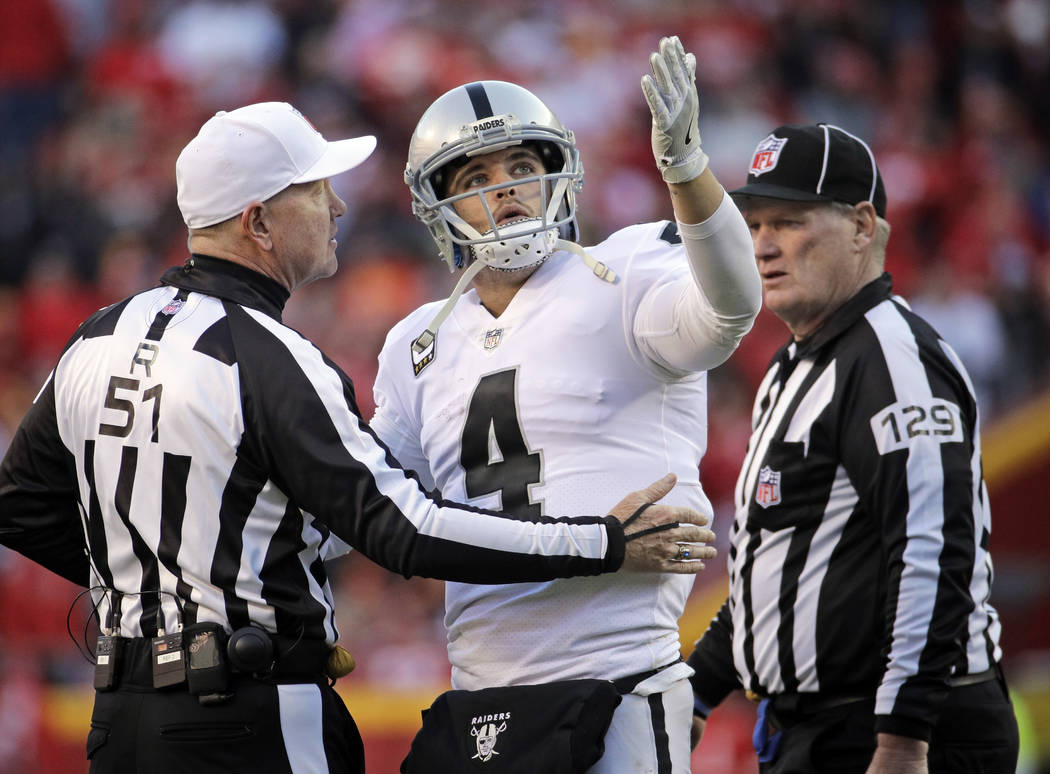 ALAMEDA, Calif. — Derek Carr often offers a simple, gift-wrapped explanation for the Raiders' offensive or team struggles.
He fell short, the franchise quarterback says. Blame him.
Ignore the imprecise routes, which often muddy the timing and effectiveness of throws in critical situations. Ignore the 32 dropped passes, second-most in the NFL. Ignore the interceptions and three-and-outs those miscues have caused. Ignore the occasional inability to separate from man coverage. Ignore the increasingly frequent lost fumbles after a catch, from none in 2016 to an NFL-high six this season.
These errors, visible and disruptive, go unmentioned.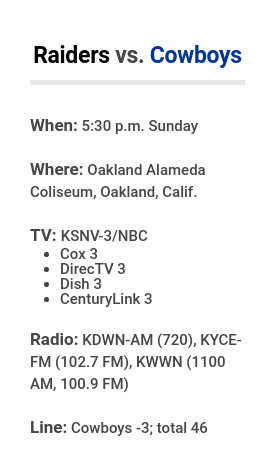 "You can put it all on me," Carr said after last Sunday's loss to the Kansas City Chiefs. "Don't you blame one coach, one (other) player. It is all my fault."
There is just one problem with gift wrap: A couple of rips reveal what's hidden.
Despite offering ownership, Carr is not the source to all the Raiders' problems. If only they were so simple. On Monday, coach Jack Del Rio stated an overall team need to play more "boldly" and "let it rip." It's unclear if such swagger is a realistic culprit, either. The main devil in 2017 might be the aforementioned details, a component the offense hopes to refine Sunday evening against the Dallas Cowboys.
To solely fault Carr is equally convenient as it is incomplete.
The shortcoming is shared, including among the receiver corps.
"We've got to do better as a whole group," wide receiver Johnny Holton said. "Everybody's got to do a better job. You've got to count on your next man. You've got to count on your brother. It's plain and simple. … We've just got to play better. I've got to hold onto the football. You just can't make no mental mistakes out there."
Poor overall execution was the main reason the Raiders trailed 26-0 entering the fourth quarter in Kansas City, Del Rio said.
From a wide receiver standpoint, Seth Roberts and Michael Crabtree ran a combo route on which Roberts tripped over Crabtree's foot. Holton was unable to haul in a deep pass.
As against the New England Patriots on Nov. 19, the occurrence from Holton resulted in an interception. He also lost a fumble for the second time in two games. Carr threw to Cordarrelle Patterson on a backside man-to-man look on third-and-7. The route was executed short of the marker, without separation, and broken up.
These are some micro examples from one day.
There is a macro element, too.
Carr's top target, Amari Cooper, will be inactive Sunday with an ankle injury. This marks the fourth straight game in which he's been either inactive or forced to exit in the first half to injury. The Raiders (6-7) hoped for a leap in Cooper's development, for an edginess to arise in his game that would befit his talent.
He is too explosive for his future, at age 23, to be characterized as anything but bright. But this has been a quiet season for him, a Week 7 outburst aside. The team's quarterbacks have a 71.8 rating when targeting the two-time Pro Bowler in 2017 compared with 101.0 last season, according to Pro Football Focus.
No substitute exists in this current offense for Cooper when he's not clicking.
Holton offers the Raiders top-flight speed and special-teams coverage ability, but he entered the NFL in 2016 with extremely raw receiver ability. His strides since then are notable and to be commended.
Holton's ball skills, though, have not evolved to a stage in which he consistently can be relied upon to catch passes in traffic. A workload of 125 offensive snaps in the past three weeks marks an aggressive leap. Mistakes are only natural.
Still, Carr offers blame for them.
Crabtree's catch radius makes him fairly trustworthy — ejection and suspension aside. Patterson has been a solid producer in his own respect. Similar to Holton, he blends top-shelf speed with route-running that, while improved since entering the league, is not considered at a tactician level. Roberts and undrafted rookie Isaac Whitney are the team's only wide receivers without 50 receiving yards in a game this season.
Neither Carr nor, for that matter, offensive coordinator Todd Downing blasts receivers publicly for sloppy route-running, for unaffordable fumbles like Roberts' in the red zone against the Patriots, for their part in the greater failure of these finer details.
Wide receivers coach Rob Moore declined an interview request to provide background on the season it's been for his position group. Crabtree and Roberts declined comment. Neither Cooper nor Patterson was seen available in the locker room.
Carr is the vocal face, the gift wrap.
He's often less the problem than what's covering it.
Injury report
COWBOYS: Out: LB Justin Durant (concussion), DE David Irving (concussion), CB Orlando Scandrick (back). Questionable: WR Brice Butler (foot), OT La'el Collins (back), DT Maliek Collins (foot), TE James Hanna (knee), LB Sean Lee (hamstring/back), OT Tyron Smith (back). RAIDERS: Out: WR Amari Cooper (ankle), DE Mario Edwards (ankle), S Obi Melifonwu (hip), TE Clive Walford (concussion/neck). Doubtful: CB David Amerson (foot). Questionable: DE Denico Autry (hand/ankle), G Jon Feliciano (concussion), S Keith McGill (knee).
Contact reporter Michael Gehlken at mgehlken@reviewjournal.com. Follow @GehlkenNFL on Twitter.