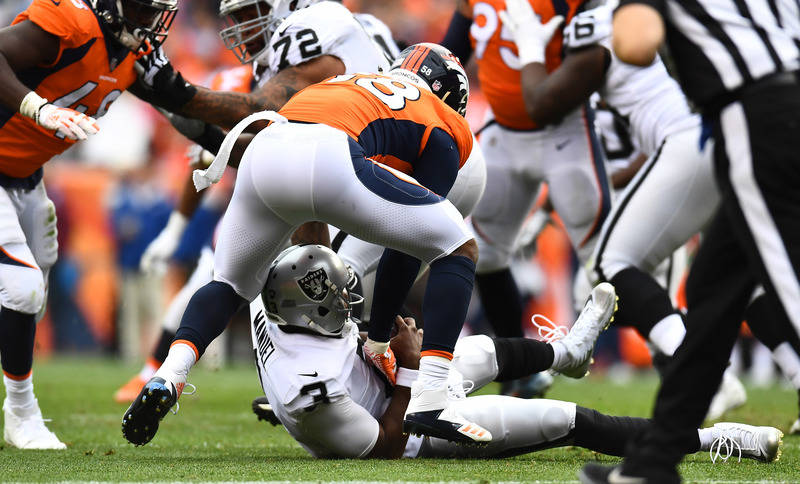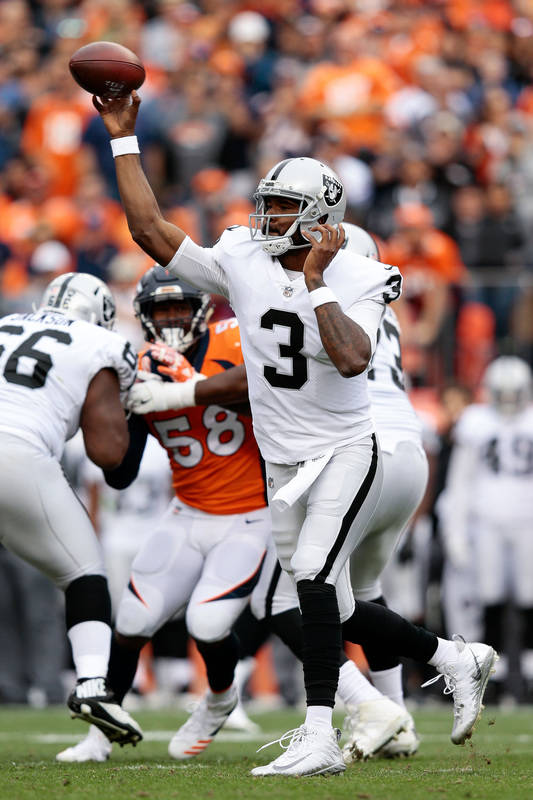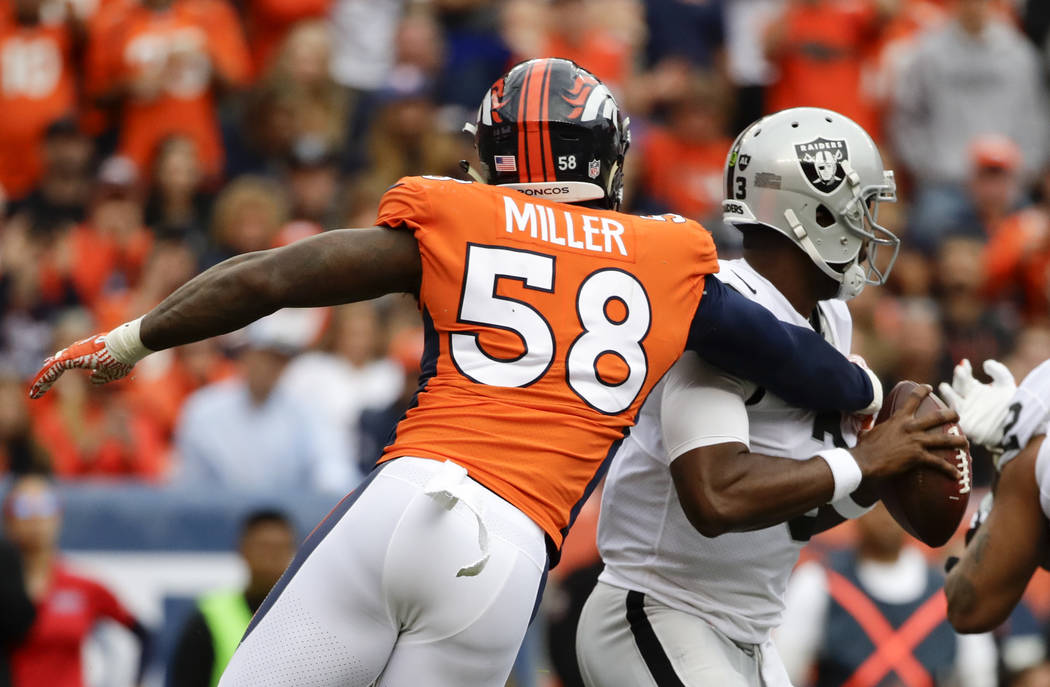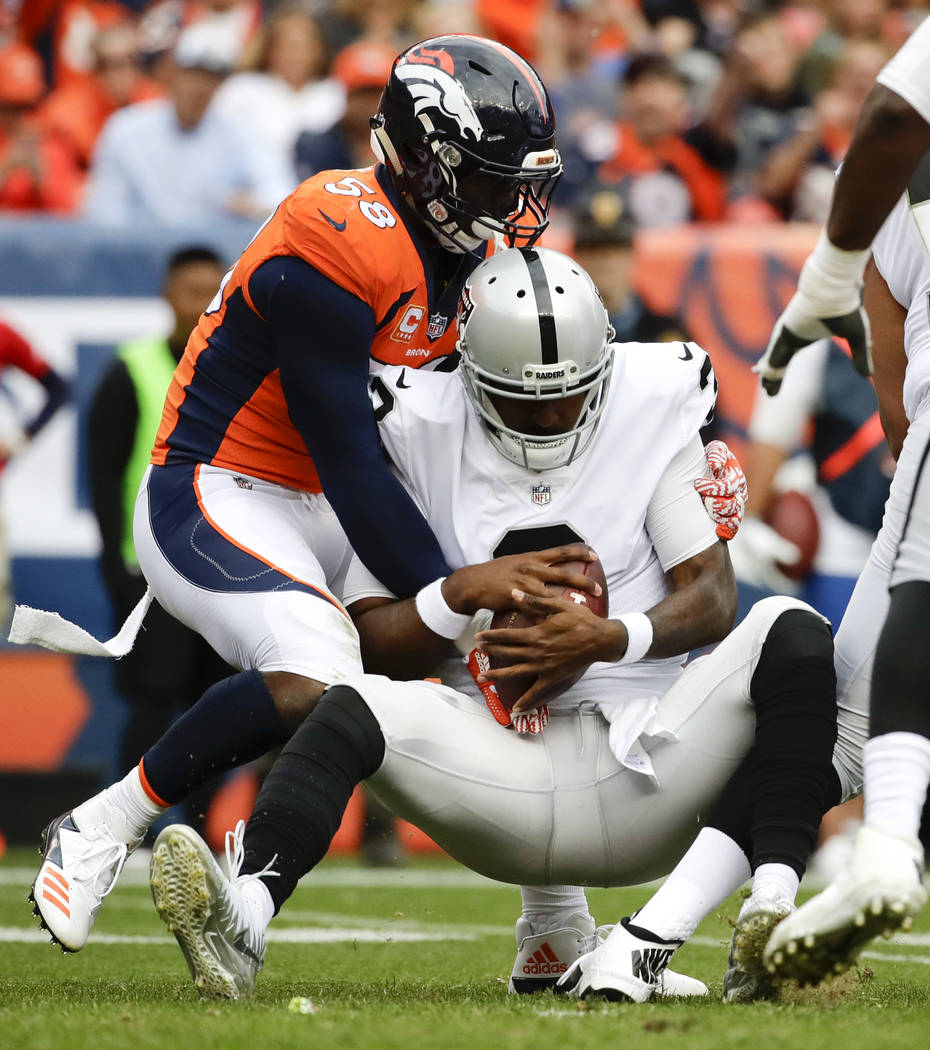 ALAMEDA, Calif. — Rodney Hudson didn't recognize it at the time.
But preparing for a football game with EJ Manuel once was a fragmented process.
The Raiders center and quarterback shared a campus at Florida State from the 2008 to 2010 college football seasons. Manuel redshirted the first year. During the final two, he appeared intermittently with six combined starts.
There was little synergy between position groups.
"College is different," Hudson said. "You're so separated. The quarterback room, the lineman room is so separated. I didn't realize that then, obviously, but looking back … we actually didn't get together so much."
From that sense, this is a new experience.
Hudson and Manuel are working closely this week to form the core of the Raiders' offense Sunday against the Baltimore Ravens. Manuel is stepping in for Derek Carr, who suffered a transverse process fracture in his lower back Sunday against the Denver Broncos. The two former Seminoles can do better than pick up where they left off.
They were undergrads in football then.
Now, they have their Ph.D.s.
Manuel will play the role of professor Thursday, leading a players-only meeting at the Raiders' facility. This is the sort of gathering that wouldn't occur in college, but they are fairly common around the NFL. Inside this meeting room, Manuel will look to conduct himself like the leader he was still learning to become early at Florida State.
Here, he can engage in more high-level discussions regarding protections with his offensive linemen.
"Being around Derek for the past four weeks of the season, seeing how he does it and seeing the rapport that he has with other teammates, I don't look at it as a challenge at all," Manuel said. "I think it's going to be something I can fall right into. Hopefully, we won't miss a beat. …
"You just want to exude leadership. You want to exude confidence. Obviously, when you exude confidence, your teammates have confidence in you as well. It's a confidence position. If you have it, your teammates will have it as well."
Sunday should be the most extensive action for Manuel and Hudson as teammates since the Chick-fil-A Bowl on Dec. 31, 2010.
Manuel entered the game in the second quarter for a concussed Christian Ponder. He appeared to entrench himself as the program's starting quarterback of the future, as the sophomore went 11 of 15 for 84 yards and a touchdown. He added seven carries for 46 yards and completed all seven passes during a fourth-quarter touchdown drive.
It would be naive to portray this practice week for Manuel as just like any other.
He sees more reps on the field. He is more vocal in meetings. He is more involved in direct conversations related to the execution of the team's game plan.
Yet all in all, Manuel said, relatively little changes.
As the No. 2 quarterback, he has prepared each week to play. His days are no shorter or longer now than before, he said. This will be his 18th career NFL start, so he's handled the role before. He even has a history with Hudson and offensive coordinator Todd Downing, the latter of whom was his quarterbacks coach in 2014 with the Buffalo Bills.
"It helps a lot," said Manuel, who signed a one-year, $800,000 contract in March. "Knowing Hud since I was 18 years old at Florida State and obviously knowing TD since the draft process and everything, it's been awesome for me. Not just in this instance but since I've been here as a Raider. Having familiar faces around me and obviously my teammates accepting me and bringing me on board as well, there's not too much unfamiliarity.
"I think we're ready to go."
More Raiders: Follow all of our Raiders coverage online at reviewjournal.com/Raiders and @NFLinVegas on Twitter.
Contact reporter Michael Gehlken at mgehlken@reviewjournal.com. Follow @GehlkenNFL on Twitter.