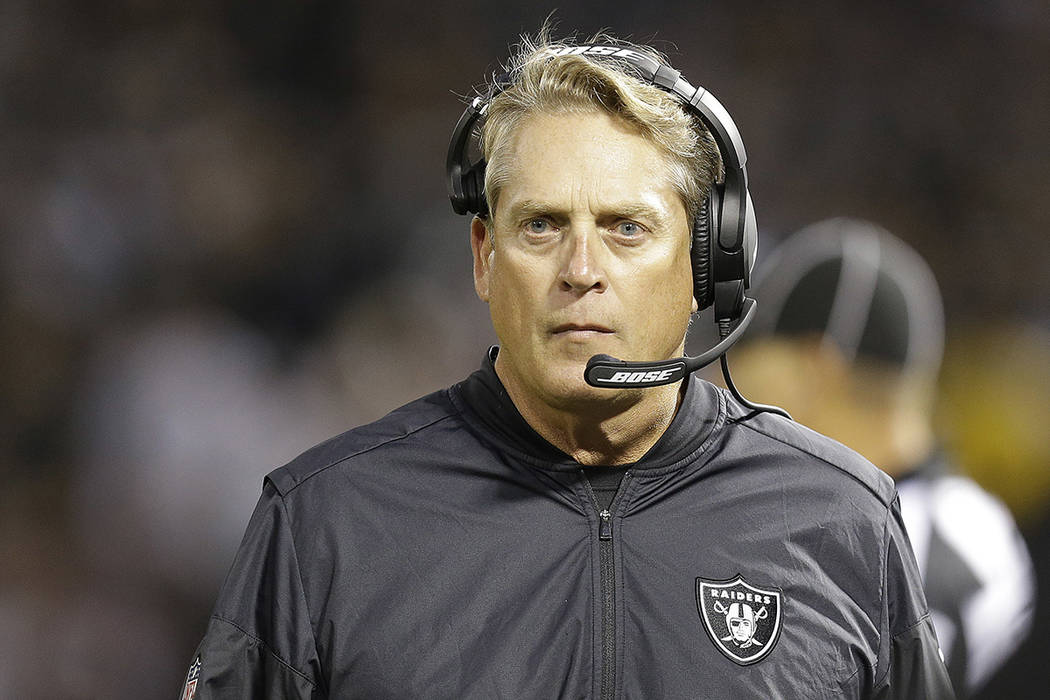 Raiders coach Jack Del Rio is taking the term "any given Sunday" to heart ahead of the team's home-opener against the New York Jets.
The Jets are picked by many to be one of the worst teams in the NFL while the Raiders are considered to be AFC championship contenders. Coming into the Week 2 game in Oakland, the Raiders are 14-point favorites.
Del Rio is ignoring the point spread.
"Our motto is to basically respect every opponent but fear nobody," Del Rio said Wednesday. "I got asked by the New York media a little bit about their team and the spread. Those things mean nothing to us.
"It's about playing the game. It's about understanding the challenges that you face. It's about recognizing the talent in front of you. Strengths and weaknesses and going after them and preparing accordingly … That's how we'll approach the week."
The Jets managed a paltry 214 yards offense in their opening 21-12 loss to the Buffalo Bills. The game was a poor offensive showing, but Del Rio noted that the Jets' defense can be a challenge.
"Well, I think they probably have one of the better fronts in the league," said Del Rio. Their defensive front is as talented as any that we'll face. They're very aggressive in their scheme."
Tavecchio wins award
Giorgio Tavecchio was named AFC Special Teams Player of the Week after four field goals and two extra points in the Raiders' victory over Tennessee.
"Usually when an individual gets recognized, it's because the team did something special," Tavecchio said. "I'm just so grateful to be able to share it with them."
He hit each of his four field goals, two of which were longer than 50 yards.
Del Rio praised Tavecchio's tenacity. "We're happy for him," Del Rio said. "I think you see those individual awards, they tend to show up when the team wins. Really proud of him for the grit and the perseverance and staying the course and continuing to believe."
Tavecchio is the first Raider to win the award since Marquette King's Week 7 performance last year against the Jaguars.
Notable
■ All 53 Raiders practiced Wednesday in some capacity, the first such occurrence this season.
■ Wide receiver Amari Cooper (knee), linebacker Cory James (knee), cornerback Gareon Conley (shin), defensive back Keith McGill II (foot), fullback Jamize Olawale (quad) and cornerback Sean Smith (neck) were limited. Khalil Mack was also limited in practice but for a non-injury related reason.
Contact reporter Chris Booker at cbooker@reviewjournal.com. Follow @Bookerc94 on Twitter.