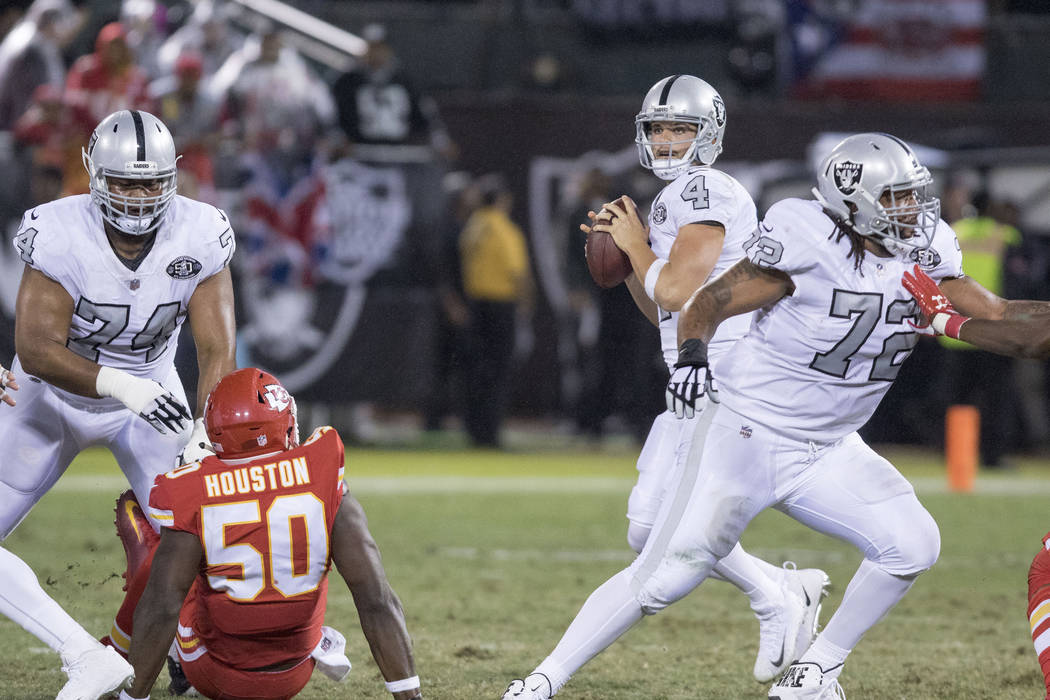 ALAMEDA, Calif. — The Raiders will travel to New York on Friday, a standard flight arrangement before a Sunday game on the East Coast.
This, however, is no standard trip.
After the club faces the Buffalo Bills on Sunday, it wouldn't make the traditional return flight home. Instead, the Raiders will travel to Florida, where they'll remain for all of next week leading up to the following Sunday's game against the Miami Dolphins.
Most NFL trips last three days. This one will consume 10.
The team will begin its stay Sunday in Sarasota, Florida. It will practice in nearby Bradenton. On the day before the Dolphins game, it will travel south to Miami.
"There are a lot of things that happen behind the scenes that make it all possible," Del Rio said. "For us (coaches and players), you pack a little more. We actually pack a little more and send it onto Sarasota and don't worry about it. Then it's a normal trip to Buffalo to play our game. Then… we'll just fly down to where we're going to be and that bag will be there. Then you get into a normal week down there."
The Raiders employed the same travel tactic last October for back-to-back Florida games between the Jacksonville Jaguars and Tampa Bay Buccaneers. They went 2-0 on that trip.
The franchise won't play a game in Oakland until Nov. 26 against the Denver Broncos due to this East Coast swing, a bye week and a Mexico City game on Nov. 19 against the New England Patriots.
Lynch news awaits
The Raiders are operating under the assumption that running back Marshawn Lynch will be unavailable Sunday after the NFL issued a one-game suspension last Friday.
Certainty is expected shortly.
On Monday, Lynch appealed a suspension that was imposed after he left the sideline area during Thursday's 31-30 win over the Kansas City Chiefs to involve himself as a peacemaker in a skirmish. He made contact with an official in the process.
Del Rio said that he expects and hopes to learn Lynch's status on Tuesday.
"It would be the fairest thing so that the team can prepare," Del Rio said.
Notable
— Del Rio was careful Monday when addressing cornerback Gareon Conley's situation. The rookie first-round pick has missed the past four games and five of seven this season to a June shin injury. He is out indefinitely. Del Rio was asked if, at this point, it's a foregone conclusion Conley will play again in 2017. "I think it's too early to speculate on that," Del Rio said. "I think the idea now is to get him healthy and let him return to action when he's ready to be himself. Until then, just be patient."
— Cornerback David Amerson (foot) was the Raiders' only injury of consequence last Thursday, Del Rio said. He did not shed light on his status for Wednesday's practice or this Sunday's game. Amerson stood on the sideline for the entire second half.
Contact reporter Michael Gehlken at mgehlken@reviewjournal.com. Follow @GehlkenNFL on Twitter.