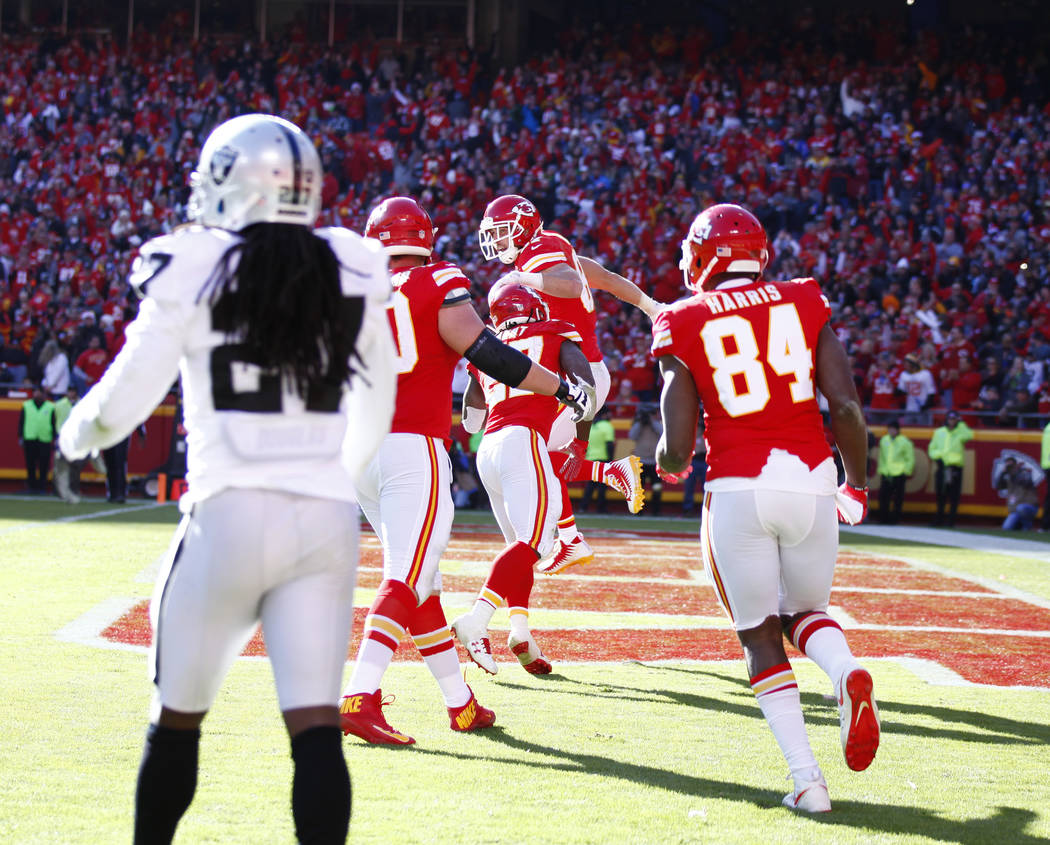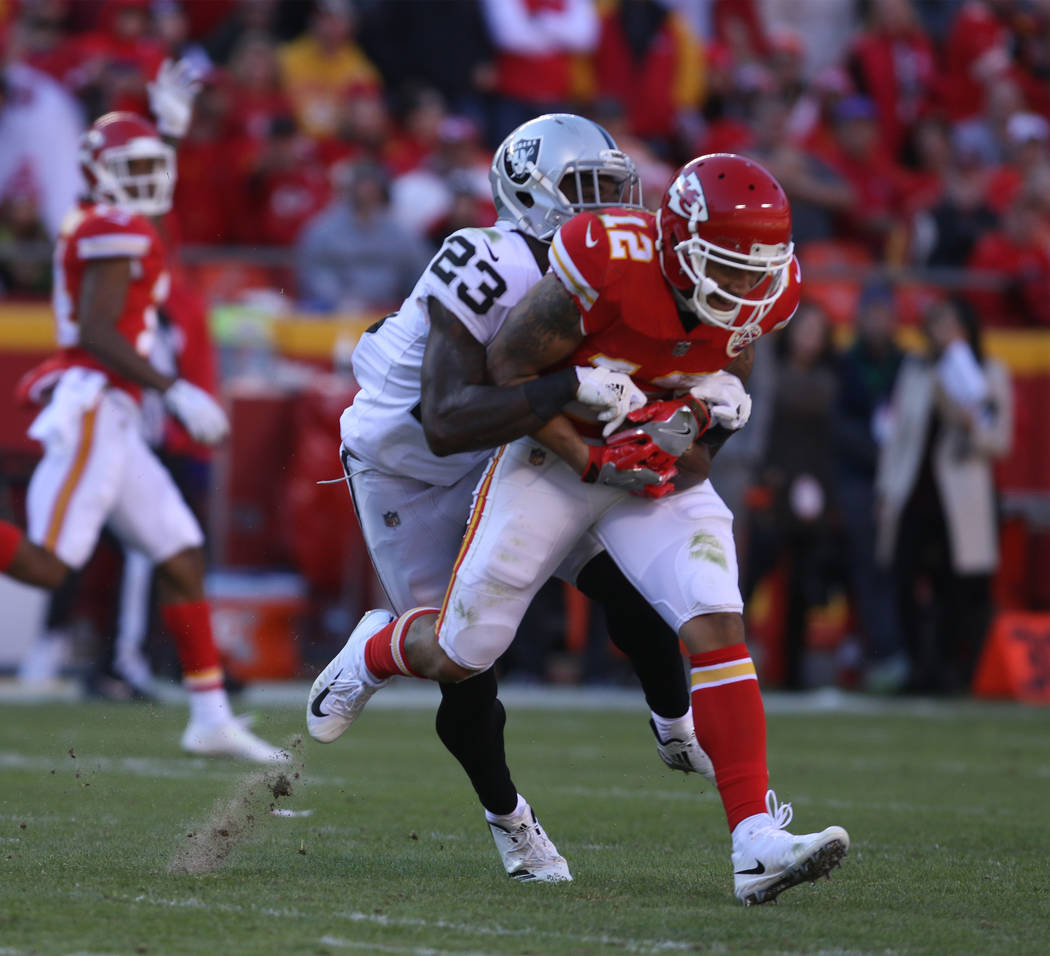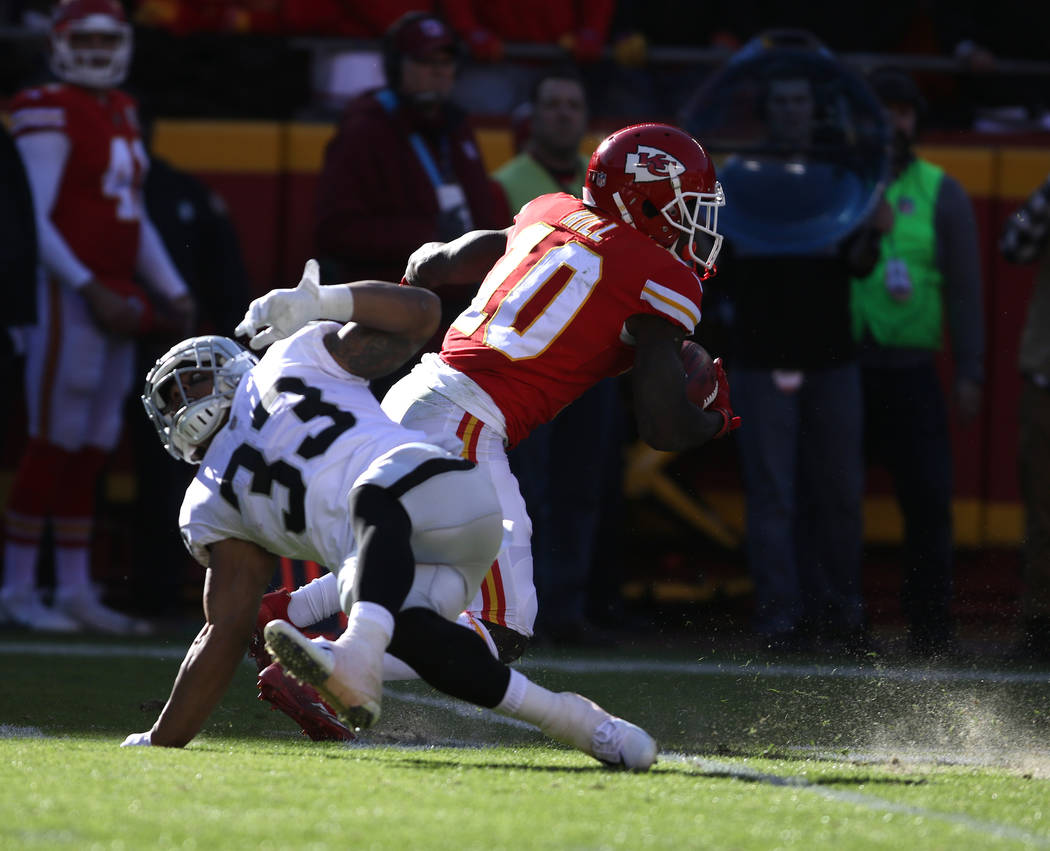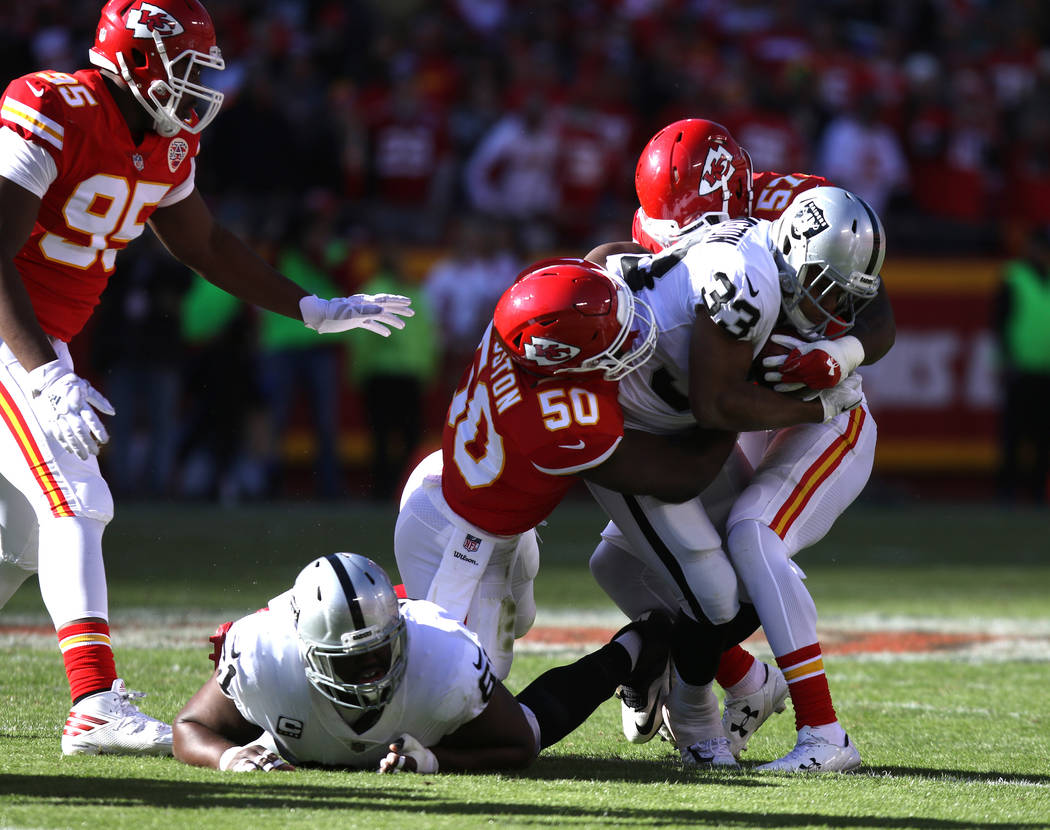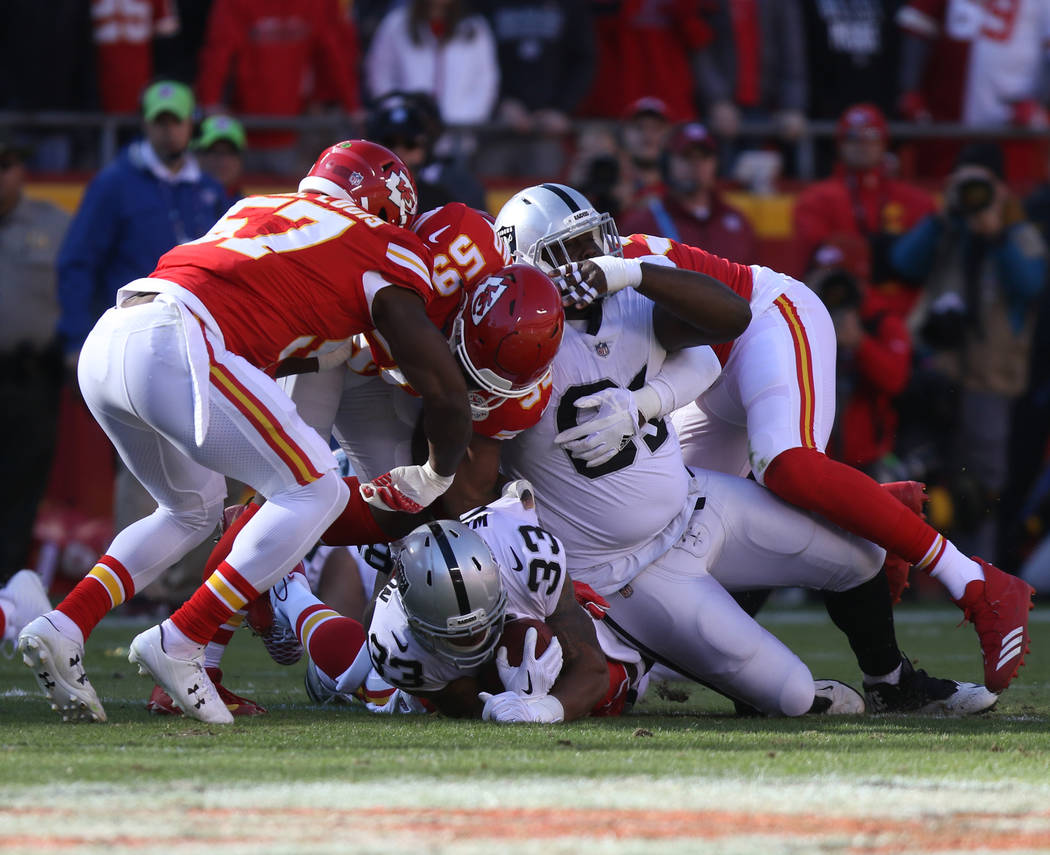 ALAMEDA, Calif. — Forty-eight hours weren't enough.
What transpired Sunday in Kansas City still resonated Tuesday in the Raiders' locker room. A place often blaring with rap or country music now sunk into near-library silence. On Dec. 1, laughter erupted here when two players consumed notoriously spicy tortilla chips as teammates watched. Those 11 days seem a century ago.
The Raiders departed their locker room Friday for Missouri and returned to someplace different.
One player called it a "ghost town."
"You can feel the vibe," running back DeAndre Washington said. "You definitely can feel the vibe."
Coaches and players held meetings and a walk-through practice Tuesday for the first time since a 26-15 loss to the Chiefs. That defeat, which featured a 26-0 deficit to start the fourth quarter, deflated the Raiders' chance to control their playoff destiny entering the final three games. Now, the team is left to control what it still can.
Donald Penn didn't deny Tuesday the undeniable.
The left tackle expressed disappointment in the team's failure to sustain a roll. Its longest winning streak has been two games, achieved at the start of the season and again entering Sunday's letdown at Arrowhead Stadium. The Raiders spoke internally about getting hot and stacking wins. They couldn't during a spot that mattered most.
Oakland totaled 68 yards of first-half offense. Its defense allowed a score on five of the first six possessions.
"Very frustrating," Penn said. "Very. So much frustration. If I could sum it up and give it to you in one word or give you an exact answer to how frustrating it is, I would. I think (coach) Jack (Del Rio) would. I think everybody in this locker room would. It's just frustrating."
A home game against the Dallas Cowboys awaits Sunday evening.
Technically, the team isn't out of the race.
The Raiders are 6-7. The Chiefs and Los Angeles Chargers, who meet Saturday night in Kansas City, are both 7-6. Given the Raiders have not won three straight games this season, the scenario might seem far-fetched, but it's possible to win out, receive help and still emerge with an AFC West tile or wild-card spot. Scenarios exist in which the Raiders can lose to Dallas and still advance to the postseason.
Any such playoff talk, however, seemed inappropriate in the locker room.
The Raiders cannot control scenarios.
"We've just got to move on," linebacker Marquel Lee said. "You can't dwell on it. What's done is done. We've just got to get better this week as a whole team, as a unit."
"Just go out there and play," cornerback TJ Carrie said. "Leave it all out on the line. Exert all your energy."
Notable
■ Outside linebacker Bruce Irvin leads the NFL with five sacks in the past three games. He recorded two in the first half Sunday.
■ Center-guard Jon Feliciano and tight end Clive Walford remain in concussion protocol, a team spokesman said Tuesday. Feliciano was back in the building after receiving some time off last week. He didn't travel with the Raiders to Kansas City after his Dec. 3 injury. Walford suffered his concussion Sunday.
Contact reporter Michael Gehlken at mgehlken@reviewjournal.com. Follow @GehlkenNFL on Twitter.