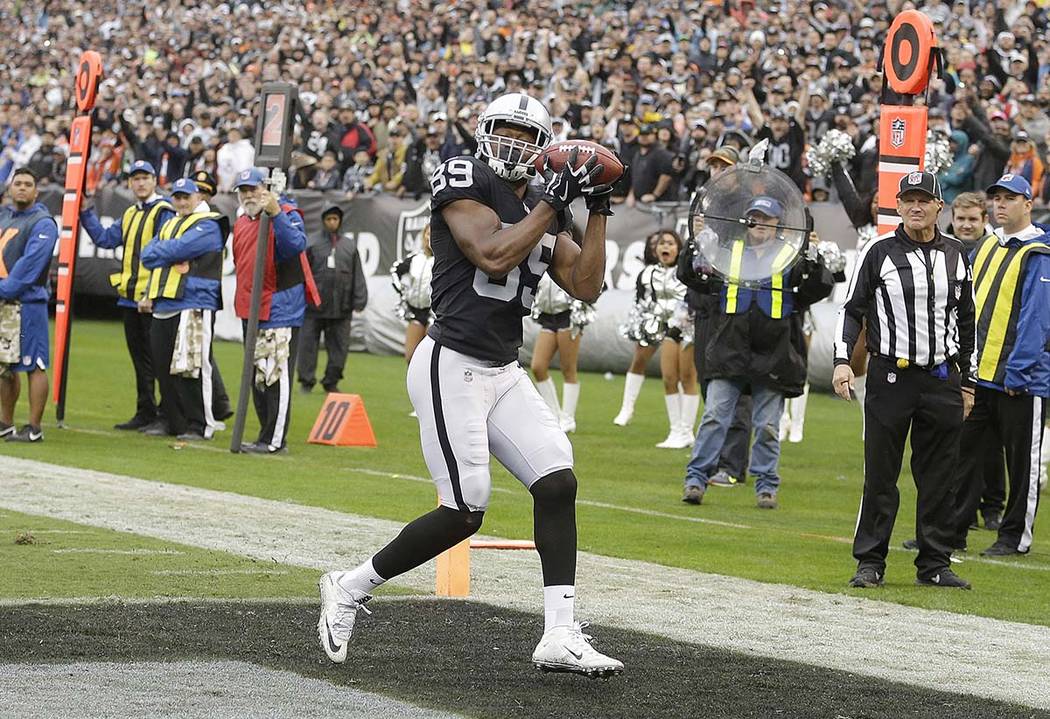 ALAMEDA, Calif. — Nine days later, Amari Cooper seemed like himself.
The Raiders wide receiver sat at his locker for several minutes Tuesday afternoon — as he often does following a team walkthrough or practice. There, he exhibited his commonly quiet, laid-back demeanor. He mixed silence with laughter as he chatted and joked with nearby teammates.
Off the field, Cooper looked back.
On it, he's not there yet.
A couple hurdles remain before Cooper can return to action. For one, he hasn't formally cleared concussion protocol, a team official said Tuesday. He also continues to rehab an ankle injury, which is expected to be of greater impediment to his availability Sunday against the Kansas City Chiefs at Arrowhead Stadium.
Cooper caught 11 passes for a career-high 210 yards and two touchdowns in the teams' last meeting on Oct. 19.
He is now recovering from a vicious hit absorbed Nov. 26 against the Denver Broncos. Safety Darian Stewart was fined $24,308 for a blow to Cooper's head on a second-quarter incompletion. Cooper appeared to lose consciousness on the collision, before which he instinctively ducked his head, affecting the area at which Stewart struck him. Cooper's left ankle rolled up on the same hit.
Cooper is not believed to have participated in Tuesday's walkthrough.
Wide receiver Michael Crabtree did.
The latter declined a locker-room interview request afterward but is considered set to play this weekend. He missed Sunday's 24-17 victory over the New York Giants while serving a one-game suspension for his role in a brawl involving Broncos cornerback Aqib Talib. Tuesday is believed to have been Crabtree's first day at the team facility since the suspension. He lost $398,897 in combined salary and roster-bonus installments.
Cooper was unable to comment Tuesday on his own status. No concussed player is available for interview to reporters until he clears concussion protocol.
Notable
* Each week teams submit plays to the NFL that featured an officiating decision they deem contestable. One from Sunday involved a non-pass interference call on the Raiders' third possession of the game. Wide receiver Isaac Whitney, in his league debut as an undrafted rookie, appeared to draw contact on a deep pass. Whitney's performance had some highs and lows as to be expected. "That was my first game at gunner," Whitney said, referring to a non-exhibition. "Just got to learn the technique a little more. … I'll be good."
*Defensive tackle Darius Latham cleared waivers on Tuesday afternoon. He is eligible to join the practice squad. The Raiders parted with him Monday when activating Crabtree to the 53-man roster.
Contact reporter Michael Gehlken at mgehlken@reviewjournal.com. Follow @GehlkenNFL on Twitter.