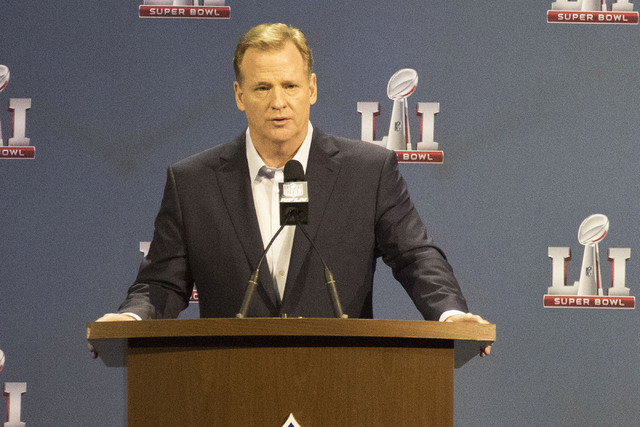 Days before the NFL owners could vote on the Raiders' relocation to Las Vegas, commissioner Roger Goodell made it clear there is no acceptable proposal to keep the team in Oakland.
In a letter sent to Oakland Mayor Libby Schaaf on Friday, Goodell said after reviewing the city's latest stadium proposal "we have not yet identified a viable solution." Goodell went on to say in the letter, which was obtained Saturday by The Mercury News, "it is disappointing to me and our clubs to have come to that conclusion."
The letter makes the chances of Oakland retaining its football franchise look slim as the league's annual meeting begins Sunday in Phoenix. A vote on the Raiders relocation to Las Vegas could come as early as Monday or as late as Tuesday, multiple league sources have told the Review-Journal.
Schaaf and the city of Oakland shared new renderings of what a $1.3 billion, 55,000-seat football-only stadium could look like to the league Friday. In Schaaf's letter to the league she said the city would put forth $200 million, the Raiders $500 million as they are proposed to do in Las Vegas, and the New York hedge fund Fortress Management group is a potential option to contribute the remaining $600 million.
Goodell wrote after reviewing the proposal that he had concerns about how the current Coliseum site, where the proposed stadium would be built, would be fully developed. He also said the city had no specifics as to how Fortress or other parties would be involved, and that the league had many concerns around Oakland that were still unaddressed, including their plans for the Oakland A's, who are a Coliseum co-tenant.
Meanwhile, the league knows it has a $1.9 billion, 65,000-seat stadium with $750 million of public contributions waiting for it in Southern Nevada.
"At our upcoming meeting, the clubs will consider the Raiders' application to move to Las Vegas," Goodell wrote to Schaaf. "A key part of that discussion will be a thorough review of our collective efforts in Oakland. I will contact you promptly regarding any decisions made next week."
Contact reporter Ben Gotz at bgotz@reviewjournal.com. Follow @BenSGotz on Twitter.
RELATED
Read more sports and business coverage of the Raiders' possible move to Las Vegas