Roger Goodell using his pull to keep Raiders in Oakland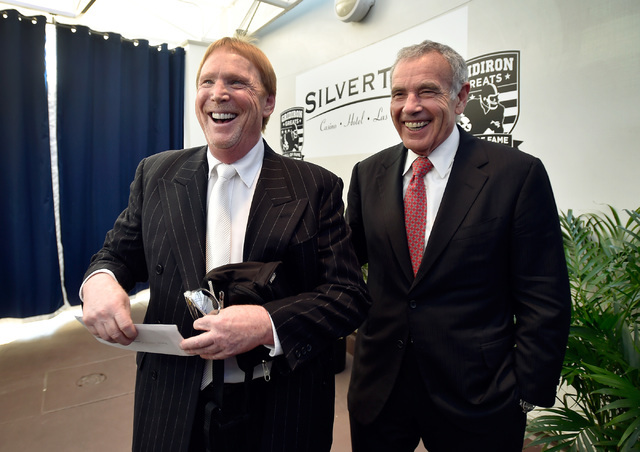 The Raiders' relocation saga is turning into a tug of war. Owner Mark Davis is pulling the team to Las Vegas. On the other end of the rope, NFL commissioner Roger Goodell is exploring ways to keep the team in Oakland.
Goodell, according to a San Francisco Chronicle report, "has been making calls pushing the idea of letting a predominantly African-American investment group, led by former 49ers star Ronnie Lott, help build a new stadium for the Raiders in Oakland."
In a Friday visit to Las Vegas, Davis repeated his commitment to relocate the franchise if a financing plan for a new domed stadium is approved. While Davis collects support from some of the league's most powerful owners, it is becoming clear that Goodell could be his toughest opponent.
Davis brushed off a question regarding the Lott-led group potentially changing his plans.
"We tried to get something done in Oakland, and we can't at this point in time," Davis said. "It's a very tough political process up there."
Goodell reportedly is persuading Oakland Mayor Libby Schaaf to consider a stadium plan being put together by Lott and his investment group. Lott's group is interested in owning a portion of the team, and it's doubtful Davis would jump at the offer. According to Forbes, the Raiders are worth $1.43 billion, the second-lowest franchise valuation in the NFL.
"I am encouraged by the team (Lott) has assembled," Schaaf told the Chronicle. "My recent conversations with Commissioner Goodell and others have given me confidence it's time to continue our conversations."
Davis said he is concentrating on the political process in Nevada and a proposed $1.4 billion, 65,000-seat stadium near the Las Vegas Strip. The project would be funded through a public-private partnership including the Raiders, Las Vegas Sands Corp. and Majestic Realty. About $750 million in public funding would come from hotel room taxes and $650 million from private sources.
"We have been transparent in everything we do," Davis said. "I'm focused on Las Vegas."
The Review-Journal is owned by the family of Las Vegas Sands Corp. Chairman and CEO Sheldon Adelson.
Contact reporter Matt Youmans at myoumans@reviewjournal.com or 702-387-2907. Follow on Twitter: @mattyoumans247
RELATED
Mark Davis says he remains focused on moving Raiders to Las Vegas
NFL owners warming to idea of Raiders moving to Las Vegas
Committee hears financing details, timeline for domed stadium that could lure Raiders to Las Vegas
Mark Davis 'very optimistic' about Las Vegas; Roger Goodell taps brakes on Raiders move — VIDEO