Seahawks sack Derek Carr 6 times in London romp over Raiders
October 14, 2018 - 1:01 pm
Updated October 14, 2018 - 6:23 pm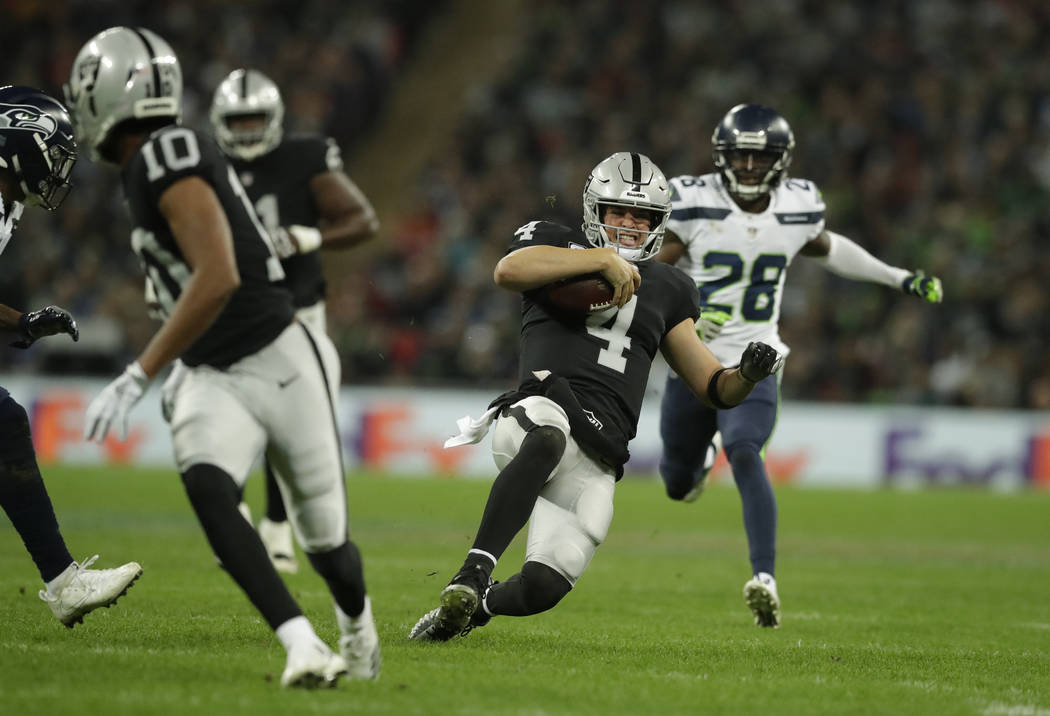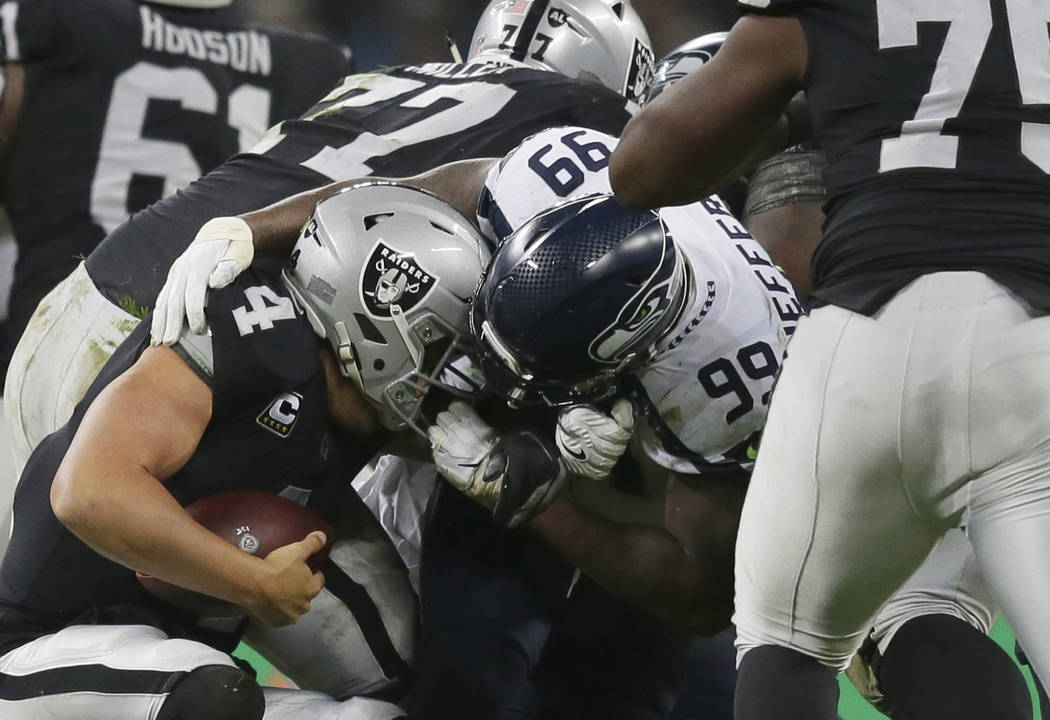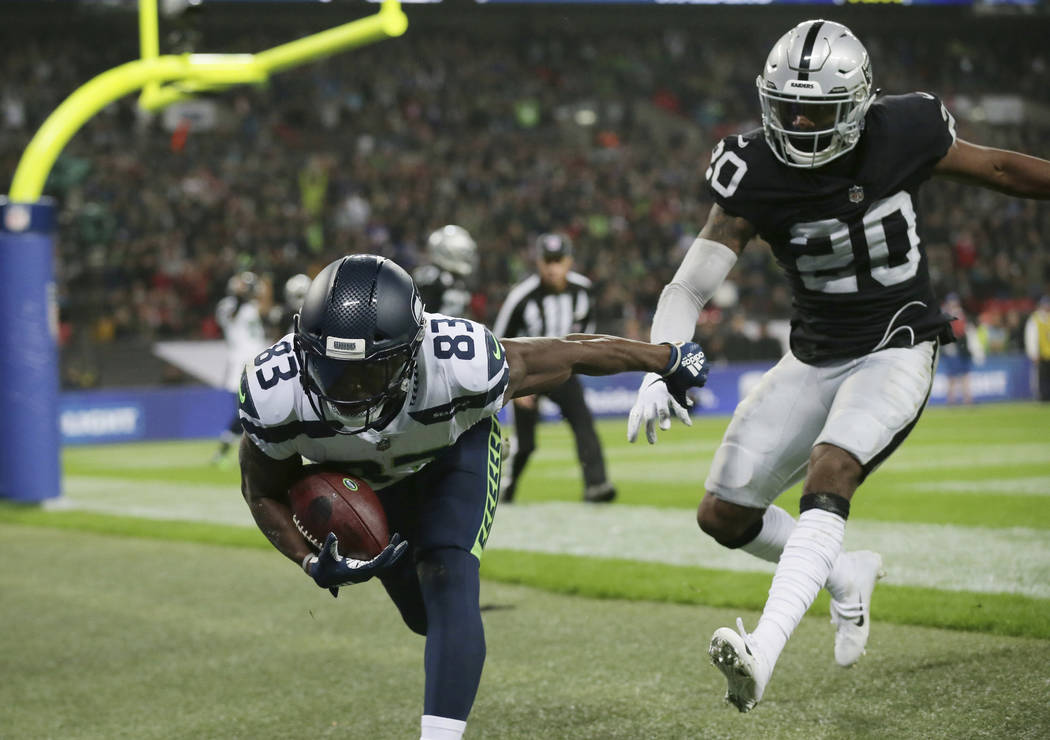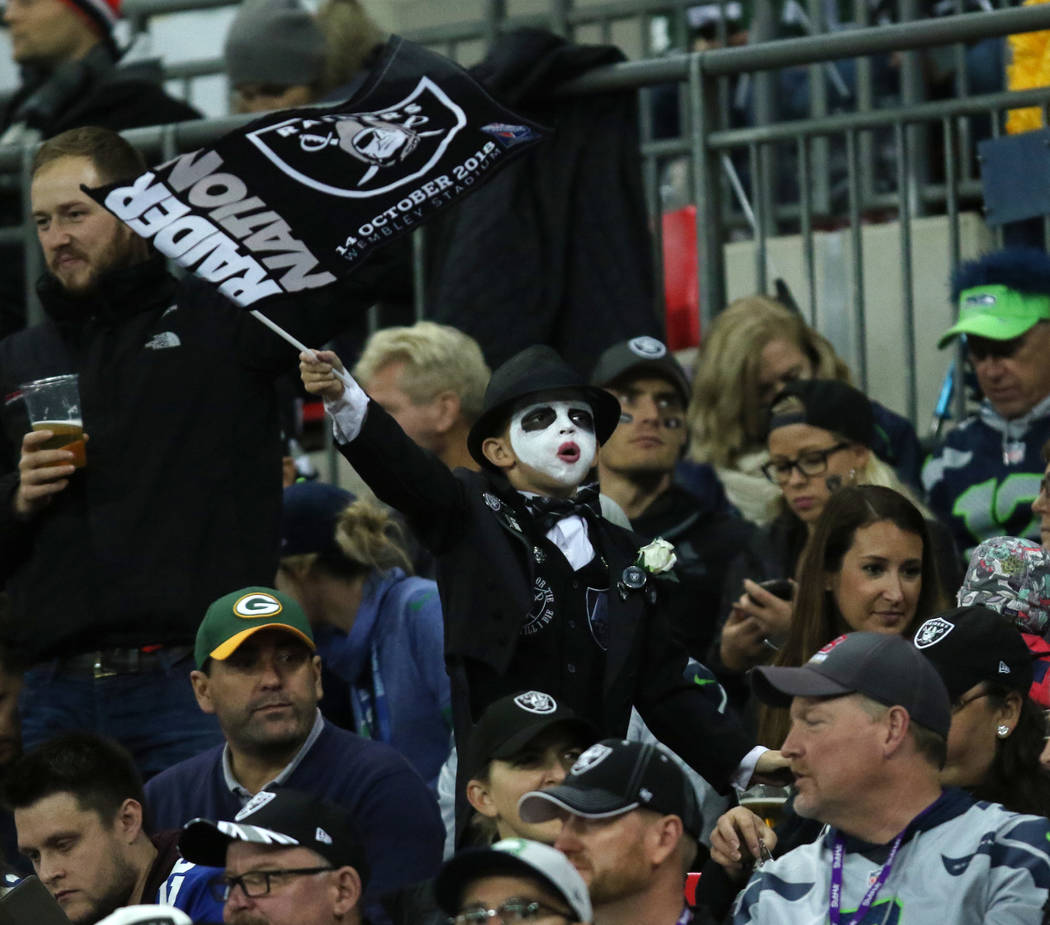 LONDON — The sixth sack Derek Carr took Sunday, the one that awkwardly wrenched his left arm in the fourth quarter, prompted the Raiders quarterback to jog off the field and be rushed into a blue medical tent on the sideline.
He'd taken his shots from the Seattle Seahawks.
Once evaluated, Carr emerged and found coach Jon Gruden. Time to give it a shot.
"I wanted to go back in," he said.
Carr repeatedly was pummeled in the pocket at Wembley Stadium, at times blindsided during a lopsided 27-3 loss. His offensive line entered the day battered and became more so. Two wide receivers exited with concussions. Carr and company can relax during a bye week that mercifully begins now.
They need the rest.
The Raiders (1-5) might not be 2018 playoff contenders, their almost nonexistent prospects largely accepted as such within the organization. But surely their offense is better than this.
Oakland followed up last week's season low of 289 yards with 185 on Sunday. That two-week sum, 474, is less than the 565 yards recorded in a Week 4 overtime win over the Cleveland Browns. Sunday's yardage figure was the franchise's worst since a disastrous 128-yard outing on "Sunday Night Football" at the Washington Redskins in Week 3 of 2017.
The drop-off starts with the offensive line.
In the first half of Week 4, left tackle Kolton Miller suffered a Grade II MCL sprain and right tackle Donald Penn suffered a groin strain. Penn attempted but was unable to play through it, ultimately being placed on injured reserve. Miller has worn a knee brace since, although his movement is clearly restricted. If the Raiders had a capable backup, he'd likely have rested these past two games.
Pro Bowl left guard Kelechi Osemele suffered a similar knee injury late in the fourth quarter of that game, too.
And so, for these final two games before the bye, the Raiders accepted they'd have to battle.
Seattle had a distinct advantage at the line of scrimmage, and that was before Osemele's replacement, Jon Feliciano, suffered a first-quarter ribs injury that forced his exit. Tackle Justin Murray, who'd never logged an offensive snap in his NFL regular-season career, finished the evening at guard beside Miller. Meanwhile, rookie third-round pick Brandon Parker still settled in at right tackle during his second pro start.
This is how 1-5 happens.
This is how 185 yards happen.
This is how Carr absorbs 10 hits, scrambles four times for 31 yards, and ultimately injures himself late in regulation.
Carr isn't expected to miss any time for what he called "just a little bruise," although he likely will undergo further testing in the Oakland area on Monday. With about five minutes remaining, he exited the medical tent and attempted to talk his way back into the game. When doing so, backup A.J. McCarron warmed up his arm and took practice snaps from center Rodney Hudson.
Gruden wasn't hearing it.
The score wasn't close. The protection was brutal. Amari Cooper and Seth Roberts exited with concussions in the second and fourth quarters, respectively, so the only remaining wide receivers were Jordy Nelson, Martavis Bryant and Dwayne Harris.
"I made the decision if we did get the ball back, we go to McCarron," Gruden said. "There's too much fire today. Too much fire around the quarterback. … We didn't get an opportunity to step up in the pocket and go through progressions. It was closing in quick. You know, Derek was on the run a lot, and he got hit too much. We can't allow that to happen. We just can't do it."
Ultimately, it did not matter.
The Seahawks consumed the final eight-plus minutes of game clock, complete with two Russell Wilson kneeldowns. The Raiders retired to their locker room. Carr said that he was approached by at least one offensive lineman who told him "sorry," in reference to the lack of protection. That apology, Carr said, wasn't necessary.
"I promise you, they didn't go out there and want to screw things up or a mistake or have a mental (lapse) on purpose," Carr said. "I promise you they didn't go out there and want to get physically beat up on a play and get me hit and things like that. I know that, and I love those guys. I will never complain.
"You can hit me a thousand times, and I'm never going to complain about those guys because their whole job is they want to keep me upright. They are sick right now."
Sick and injured.
They have a bye to get well.
More Raiders: Follow all of our Raiders coverage online at reviewjournal.com/Raiders and @NFLinVegas on Twitter.
Contact reporter Michael Gehlken at mgehlken@reviewjournal.com. Follow @GehlkenNFL on Twitter.