Troubled Joe Mixon impressed Raiders during visit
Updated April 22, 2017 - 11:12 am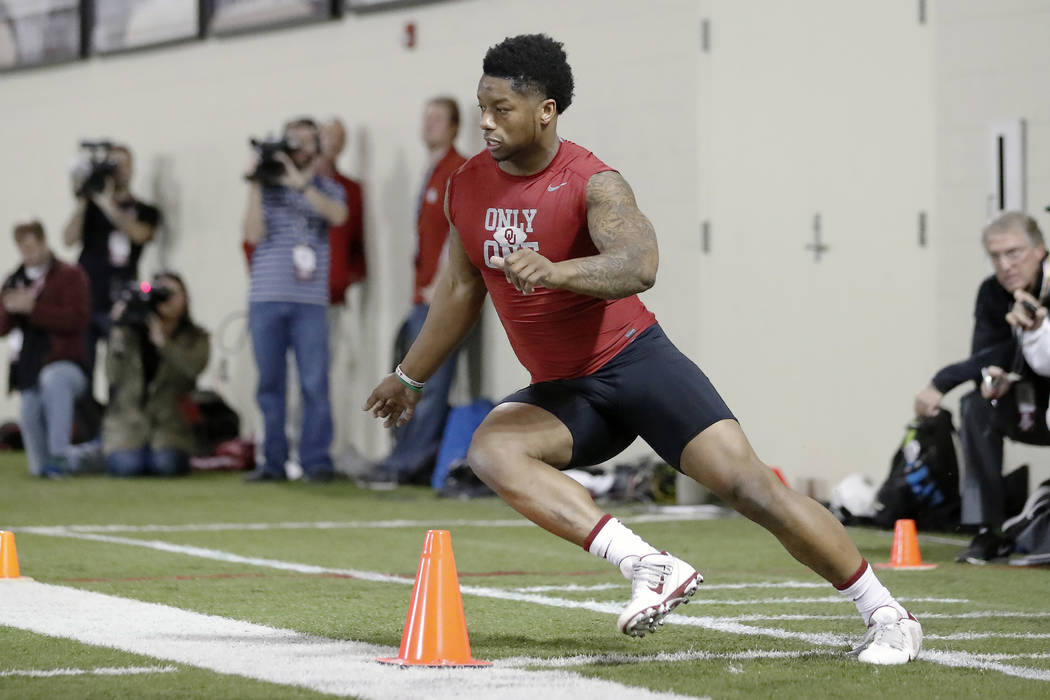 ALAMEDA, Calif. — Joe Mixon is still feeling the impact of a punch he threw in 2014, striking a woman with a devastating blow that was caught on video and released to the public in December.
NFL teams have questions for Mixon.
The Raiders liked his answers.
The former Oklahoma running back has gone from city to city, team to team, his number of official predraft visits tallying well into double digits. At each stop, he has been interviewed, as coaches and front-office executives look to learn about the person caught on surveillance video slugging a woman in the face.
Mixon, 18 at the time, was suspended for a year before he returned to the field, emerging as one of the top talents at his position in next week's draft.
He grew up in the Bay Area, a graduate from Oakley High.
Now 20, he visited the Raiders in March.
"We thought he was a really good kid," general manager Reggie McKenzie said Friday at a news conference. "He came off really well. He explained each and every thing. The questions that we had, he had an explanation. He was up front about everything. He really came across as a good kid."
Mixon, 20, was not invited to the NFL Scouting Combine.
Each team is allowed to host 30 players for an official predraft visit. Because of Mixon's past and his absence from the 15-minute hotel interviews at the combine, he's been active during the process, working to distance himself from the past.
He took another stride Friday, reaching an undisclosed financial settlement with the victim, Amelia Molitor, to conclude their civil case. Each released a statement.
"Going forward, Joe and I agreed we needed to move on from this situation and focus on the future," Molitor said. "I'm now planning to attend graduate school. I still plan to speak out and support other people, whether on college campuses or elsewhere, who are faced with overcoming difficult circumstances that have attracted intense public scrutiny. I'm finished talking about what happened that night with Joe. It's time to move on from that. I wish Joe the best of luck in his future."
Mixon said: "I'm thankful Mia and I were able to talk privately. I was able to apologize to her one-to-one. The way I reacted that night, that's not me. That's not the way I was raised. I think she understands that. Talking together helps move us past what happened. I know I have to keep working to be a better person, and this is another step in that direction. I love working with kids, and I'm looking for more chances to do that kind of work. I want to lead a life that inspires them, and I hope I can lead by example from today forward."
Follow all of our Oakland Raiders to Las Vegas coverage online at reviewjournal.com/Raiders and @NFLinVegas.
Contact Michael Gehlken at mgehlken@reviewjournal.com. Follow @GehlkenNFL on Twitter.
Mixon's 2016 highlights at Oklahoma
— Named first team All-Big 12.
— Set Oklahoma season records for all-purpose yards (2,331) and all-purpose yards per game (194.3).
— Rushed for 106.2 yards per game.
— Accounted for a total of 16 touchdowns four ways (pass, rush, reception and kickoff return).
— Had 377 all-purpose yards and scored five touchdowns in 63-56 win at Texas Tech.
— Became first player in Oklahoma history to have 200 yards rushing and 100 yards receiving in a game (Texas Tech).