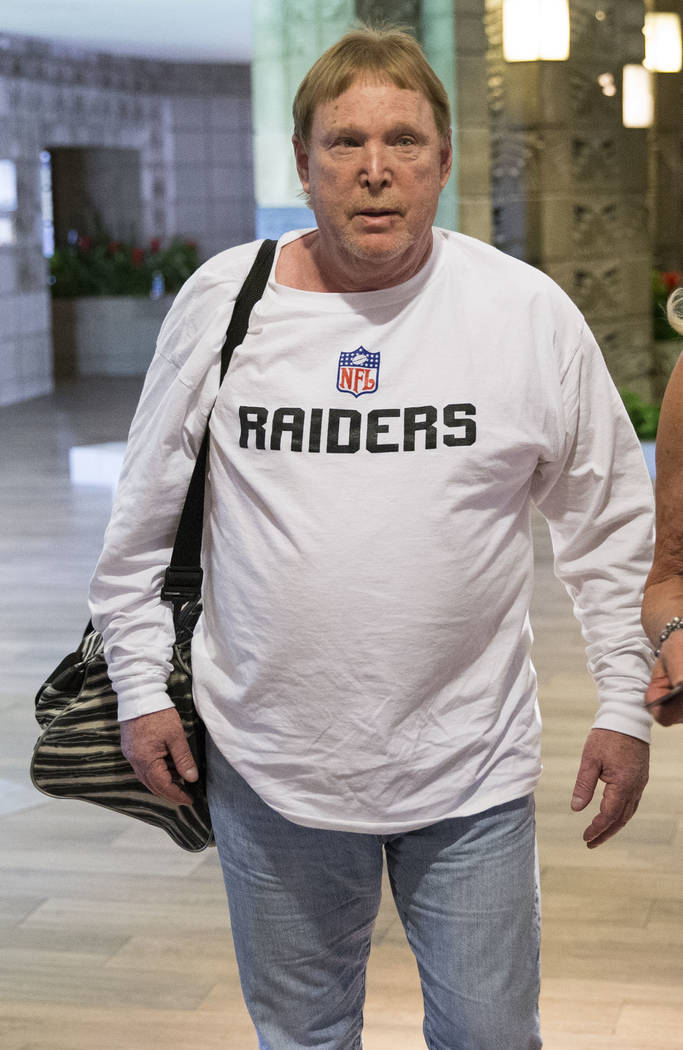 PHOENIX — Just vote Vegas, baby.
If Al Davis were alive, that might be his call to NFL owners, who convene Monday morning at the Arizona Biltmore and likely will decide whether his beloved Oakland Raiders can move to Las Vegas. The maverick owner, who died at 82 in 2011, was renowned for his motto: "Just win, baby.''
Now it is Mark Davis, the late owner's son, who is attempting to repeat history by relocating the family's silver-and-black crown jewel for a third time. A pro-Las Vegas vote is anticipated, but Davis has been nervous for months regarding the outcome as he waits for his wealthy peer group to decide whether it is in their financial interest to allow the Raiders to move to the desert.
"We'll find out (Monday)," Dallas Cowboys owner Jerry Jones said Sunday. "It's going to be an exciting day for Vegas."
Los Angeles Chargers owner Dean Spanos said he will vote for relocation. "It's a great thing," he said after arriving for the meetings.
Excluding Davis' "yes'' vote, the 62-year-old managing general partner needs the support of 23 of the remaining 31 NFL owners to allow the move. The Raiders' relocation vote is the most critical agenda item for owners at their annual four-day spring meeting.
The Raiders will make their final relocation presentation to owners in a 10-11:30 a.m. slot, a league executive told the Review-Journal. A vote is expected to follow shortly thereafter.
Davis' courtship of Las Vegas is a whirlwind affair that started only 14 months ago. It occurred after owners in 2016 snuffed out the possibility of the Raiders returning to Los Angeles and instead supported the St. Louis Rams' relocation to L.A.
The Raiders' relocation application appeared somewhat in peril during Super Bowl week in Houston last month when Las Vegas Sands Corp. Chairman and CEO Sheldon Adelson unexpectedly withdrew his family's pledge of $650 million toward the construction of a $1.9 billion domed stadium in Southern Nevada.
"This (vote) never would have happened without Sheldon Adelson, without him stepping up and moving the idea forward with the Legislature,'' Clark County Commission Chairman Steve Sisolak said Sunday. "It could not have happened without his political capital. There were a lot of setbacks, a lot of discouragement, when he got out of the project. But the Raiders kept moving forward.''
A positive @RAIDERS vote tomorrow will change the face and future of @unlv and @unlvfootball forever. #GoRebels!

— Steve Sisolak (@SteveSisolak) March 26, 2017
The Raiders have a lease to play the next two seasons in Oakland, but there is strong public and political sentiment in the Bay Area that the team could play at UNLV's Sam Boyd Stadium as soon as 2018. The Raiders' new stadium in Las Vegas would be ready for the 2020 season.
Neither Davis nor team President Marc Badain would comment Sunday about whether they believed they had enough votes for approval. But a couple of important factors bode well for the Raiders to receive approval: An increase in the Clark County hotel room tax will support $750 million in bonds that will fund stadium construction. And the Raiders' expected relocation fee of about $350 million is about $200 million lower than what the Rams and Chargers have agreed to pay to leave St. Louis and San Diego, respectively, for Los Angeles.
Emerging from the league's stadium and finance committee meetings three weeks ago, owners were happy when Bank of America pledged a $650 million stadium construction loan. The Raiders are expected to pony up in excess of $1 billion to the project via loans and personal seat license sales.
The Raiders have played in Oakland since 1995 after returning from Los Angeles, where they relocated in 1982.
A last-ditch effort by Alameda County politicians and an investment group led by Hall of Fame safety Ronnie Lott appears stillborn. A letter late last week from NFL Commissioner Roger Goodell to Oakland Mayor Libby Schaaf underscored Goodell's stance that the league has "not yet identified a viable solution'' to preserve the Raiders in the Bay Area with a new stadium.
"I don't think there are any options left for the Raiders,'' said Howard Balzar of BalzarFootball.com, who has covered the league for 41 years.
The Review-Journal is owned by the family of Las Vegas Sands Corp. Chairman and CEO Sheldon Adelson.
Review-Journal staff writer Michael Scott Davidson contributed to this story. Jon Mark Saraceno can be reached at jsaraceno@reviewjournal.com. Follow @jonnysaraceno on Twitter.
RELATED
Roger Goodell tells Oakland mayor there is no 'viable solution' in city for Raiders
Upcoming Raiders vote could forever change Las Vegas tourism landscape
As clock nears midnight, Raiders fans react to possibly losing team again
Securing stadium financing for Raiders trumps meeting on lease
RTC officials want Raiders to pay for proposed stadium road projects
NFL considers Sam Boyd Stadium, relocation fee in Raiders' move to Las Vegas
Raiders' Las Vegas stadium gets boost from Bank of America
Details of lease agreement between Las Vegas officials, Raiders emerging
Rent not always key indicator of NFL stadium deals
2400 E Missouri Ave, Phoenix, Arizona