3 takeaways from Raiders' loss to Chargers
Updated October 1, 2023 - 4:54 pm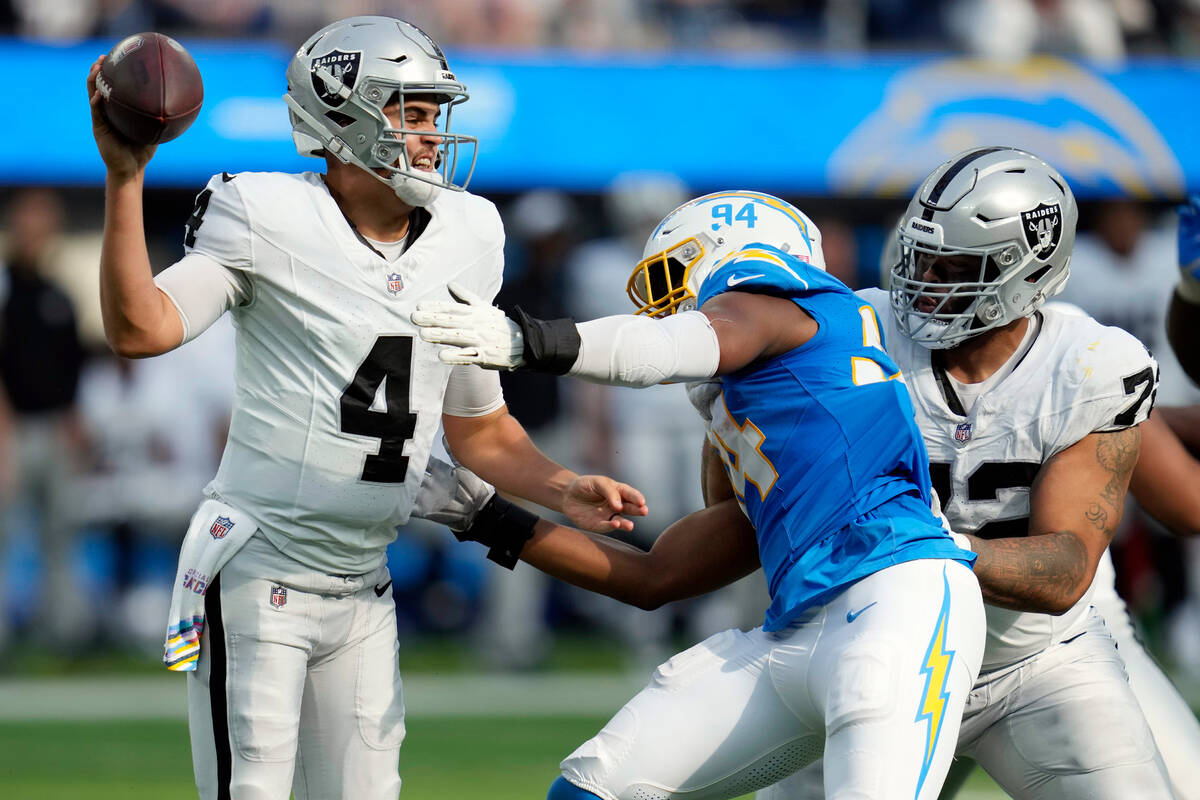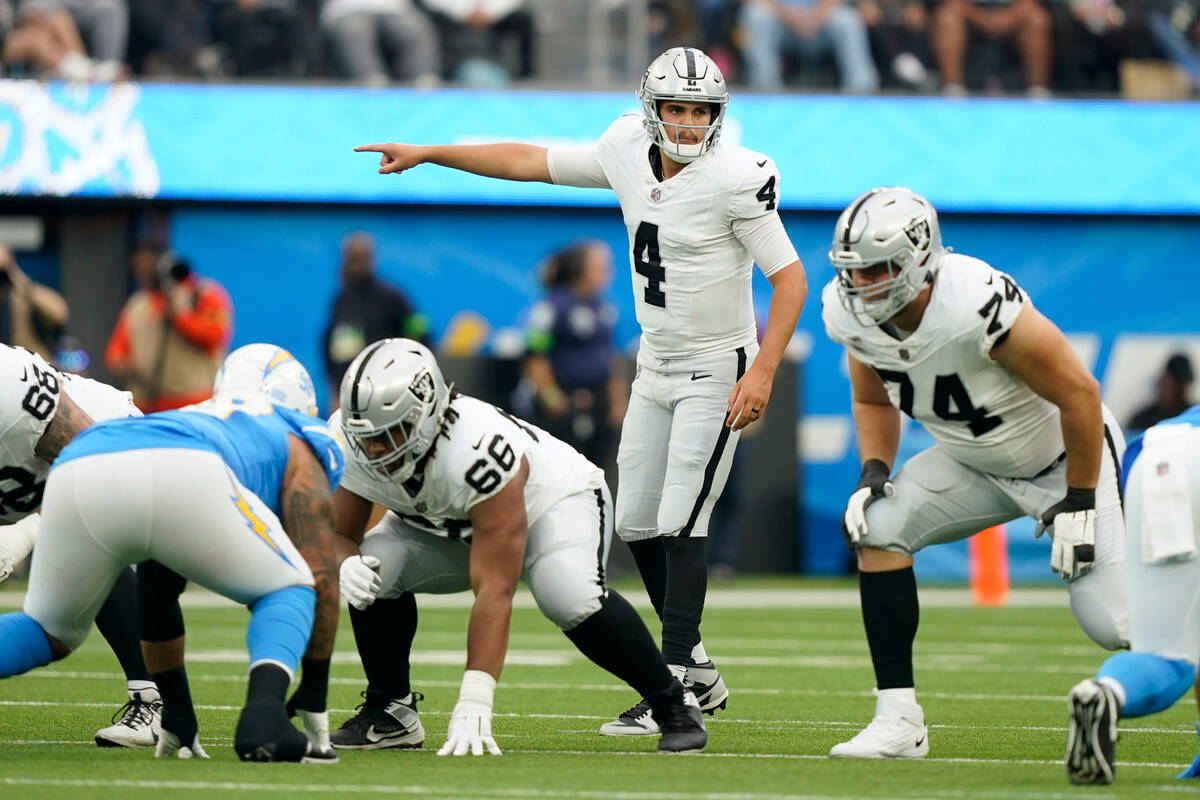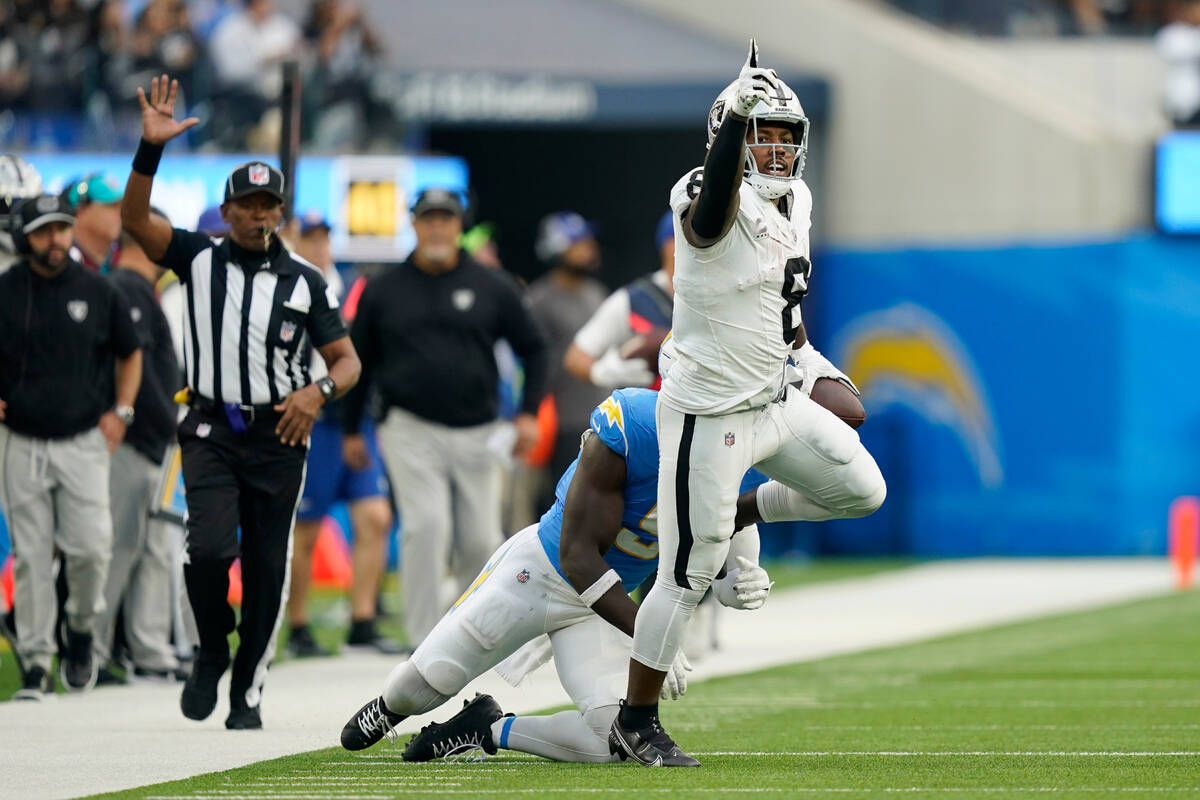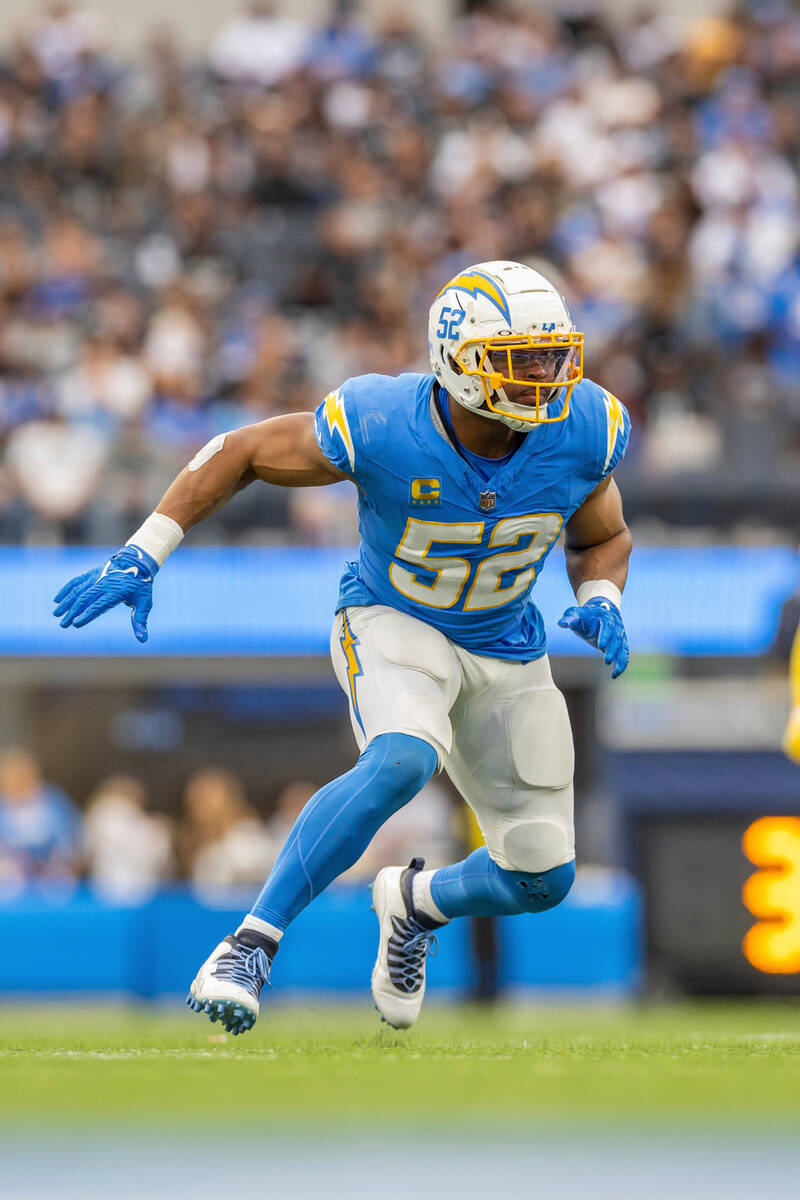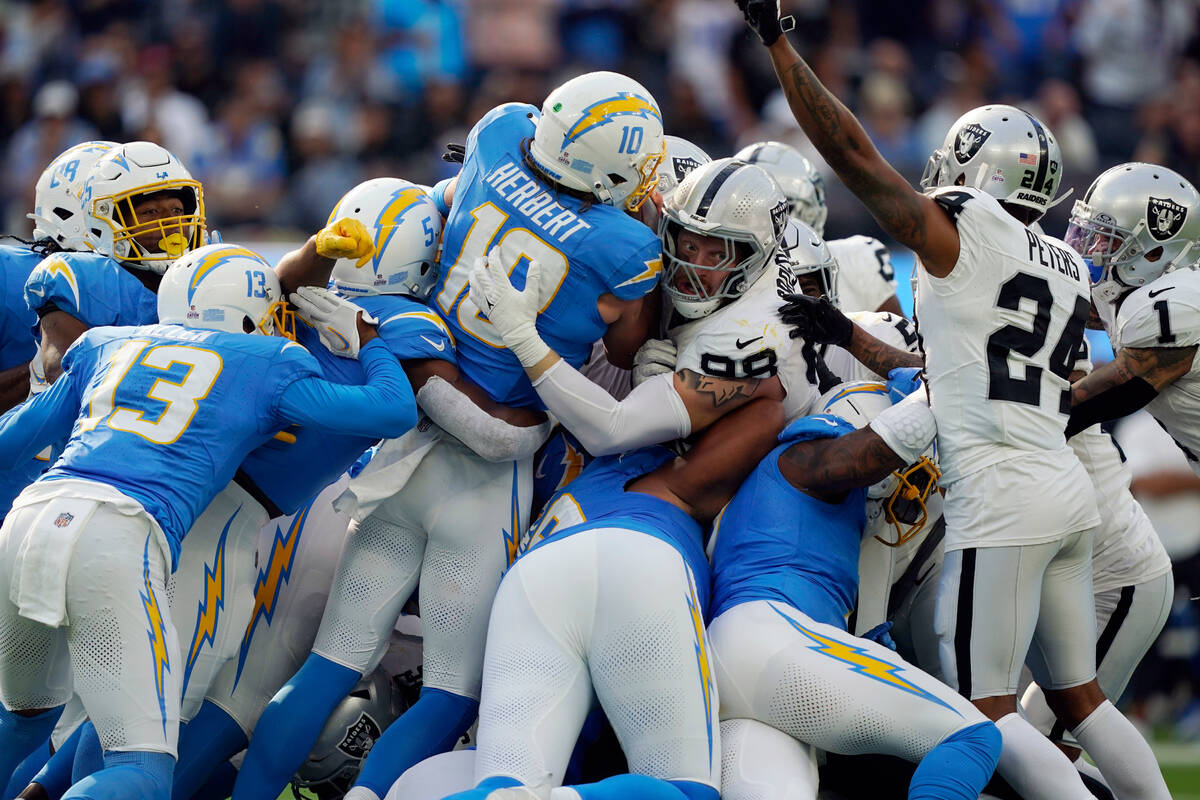 Three takeaways from the Raiders' 24-17 loss to the Los Angeles Chargers on Sunday at SoFi Stadium in Inglewood, California:
1. Feeling the pressure
Raiders rookie quarterback Aidan O'Connell, starting for Jimmy Garoppolo, who missed the game with a concussion, was sacked seven times in his NFL debut and fumbled three times amid relentless pressure by former Raiders star Khalil Mack. He lost two of those fumbles in the first half, leading to two Chargers scores.
Mack accounted for six sacks and the collapsing of a pocket that O'Connell mostly struggled to manage.
But the 25-year-old from Purdue improved in the second half, finding success with check-down targets and chemistry with Davante Adams, who caught eight passes for 75 yards after leaving the game briefly in the first half with a shoulder injury.
O'Connell finished 24 of 39 for 238 yards and a late interception that doomed the Raiders to their third loss in four games this season. He seldom threw downfield, deferring much of his production to his pass-catching targets who made plays after the catch.
2. Return of the rushing champion
Raiders running back Josh Jacobs is finding his rhythm as a runner and receiver.
After struggling the first three weeks, Jacobs totaled 58 rushing yards and a touchdown on 17 carries and 81 receiving yards on eight receptions. His average of 3.4 yards per carry remained modest, but he found his footing in the fourth quarter when the offensive line generated a push, carrying defenders for additional yards as he did so often last season.
An outlet underneath for O'Connell, Jacobs' receiving total established a single-game personal best. His touchdown, a 1-yard plunge on fourth-and-goal, was his first of the season.
The Raiders finished with 76 rushing yards on 23 attempts, their most in a game this season.
3. Finally, a takeaway
Entering Week 4, the Raiders were one of three teams without a takeaway.
Not anymore.
The Raiders secured their first turnover of the season in the third quarter when safety Tre'von Moehrig intercepted Justin Herbert. The takeaway followed third-down pressure from defensive end Maxx Crosby, who forced Herbert from the pocket, toward his right and into an errant throw.
Crosby again was stellar, adding two sacks and two tackles to a ledger that included an additional pressure to the one that forced the pick.
Playing their best defensive game of the season, the Raiders limited Herbert to 116 passing yards on 12-of-23 attempts before allowing a 51-yard completion to Joshua Palmer on third-and-10 from the Chargers' 11-yard line with two minutes to play.
Palmer led the Chargers with 77 receiving yards on three catches. Veteran slot standout Keenan Allen had three catches for 32 yards and a touchdown.
Contact Sam Gordon at sgordon@reviewjournal.com. Follow @BySamGordon on X.