5 greatest moments in Raiders history
Updated May 23, 2023 - 3:57 pm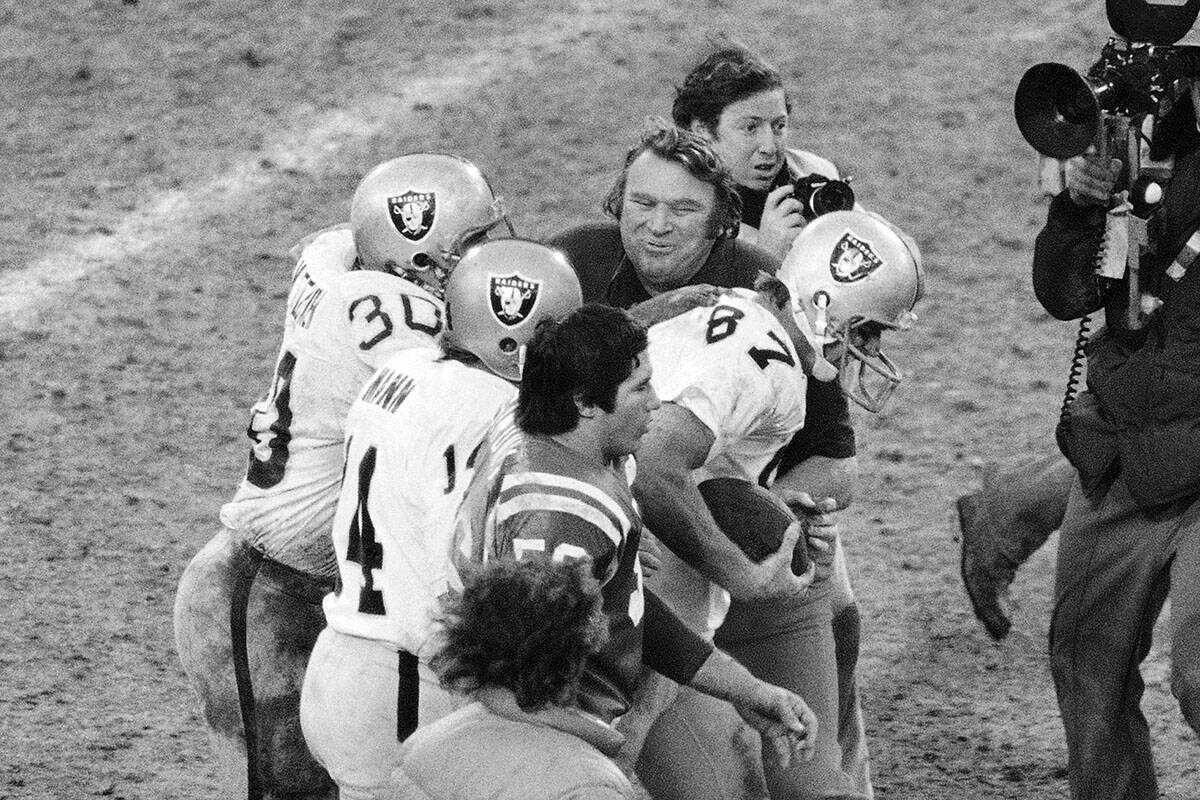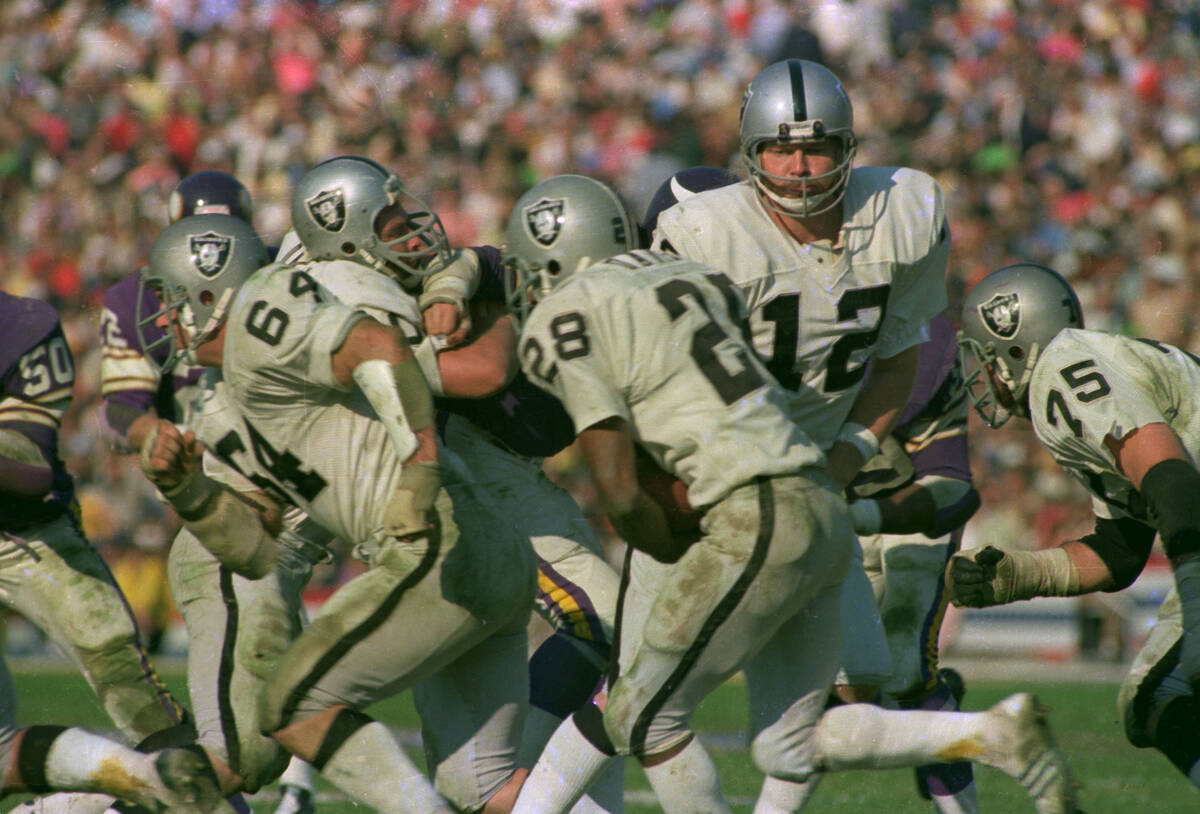 A list of great moments in Raiders history is almost impossible to contain to five, especially when a handful of their spectacular moments already have their own dedicated Wikipedia page.
But that was the challenge, and we were up to it.
The five greatest moments in Raiders history.
5. Bo Jackson 1, Brian Bosworth 0
Back in 1987, two young NFL players had captured the attention of pro football fans.
One was Raiders running back Bo Jackson, a multi-sport superstar from Auburn who was the biggest, fastest and most dynamic athlete of his time.
The other was Seahawks linebacker Brian Bosworth, a brash, ultra-confident defender from Oklahoma. In fact, Bosworth was so confident that he boasted he was going to slow down Jackson when they met for the first time on the national stage of Monday Night Football football.
It was a claim Bosworth would live to regret.
First Jackson barrelled past Bosworth in the second quarter on his way to an electrifying 91-yard touchdown. But that was just a teaser to the play that would be remembered forever.
Jackson took a handoff near the Seattle end zone, took a step to his left and took off for the goal line, Standing in his way was Bosworth, who prepared to stonewall Jackson for a short gain.
Only for Jackson to bulldoze him and bully his way to the end zone for a touchdown.
Game. Set. Match.
4. Holy Roller
It's unusual that a single play would be the impetus for a rule change, but then this wasn't a typical single play.
With the Raiders trailing 20-14 in an early season game in 1978, they set up at the Chargers' 14-yard line with 10 seconds remaining.
What unfolded was one of the zaniest plays in NFL history, and a moment so perfectly captured by Raiders radio announcer Bill King that it's become larger than life.
Just as Raiders quarterback Kenny Stabler was about to be sacked, which would have certainly ended the game, the football fell forward out of his hands. Some would argue he purposely flipped it forward, but who's to say?
Next, running back Pete Banaszak tried to recover the ball near the 12-yard line, only to flip it forward toward the goal line.
That is where Raiders tight end Dave Casper came onto the scene. He awkwardly kicked and nudged the football forward and ultimately across the goal line, where he fell on it for a game-winning touchdown.
Although NFL rules at the time clearly stipulated players were not allowed to intentionally fumble the ball forward, there was no way for the officials to determine in real time whether any of the Raiders actually intended to push the ball forward, or if they just benefited from some fortunate bounces.
Incidentally, the NFL eventually passed a rule forbidding offenses from advancing fumbled footballs. But not in time to deny the Raiders one of the team's greatest moments.
3. Sea Of Hands
The 1974 AFC divisional playoff round between the defending Super Bowl champion Miami Dolphins and the Raiders produced one of the most iconic plays in NFL history.
Trailing 26-21 with two minutes to play, the Kenny Stabler-led Raiders drove to the Dolphins' 8-yard line with less than a minute remaining.
After calling their final timeout, the Raiders lined up for a pass play in which Stabler would seek out Fred Biletnikoff. But the Dolphins' defense swarmed him, forcing Stabler to throw a ball that somehow evaded the multiple Dolphins' arms and hands defending the end zone and fell to Clarence Davis, who yanked it away from Dolphins players to secure the game-winning touchdown.
2. Ghost To The Post
The 1977 AFC divisional playoff game between the Raiders and Colts which the Raiders won 37-31 in double overtime is considered one of the greatest games in NFL history.
It remains the NFL's fifth-longest game, and as one can imagine, a playoff game that extends into two sudden-death overtimes is bound to have some memorable moments.
Some of which would not have been possible if not for the second-greatest moment in Raiders history,
Trailing 31-28 in the closing minutes of regulation and facing a second-and-10 at their own 44-yard-line, then Raiders offensive coach Tom Flores dialed up a play designed for two Raiders wide receivers to run crossing patterns. But Flores reminded Raiders quarterback Kenny Stabler to take a peek at "the ghost to the post" — or tight end Dave Casper running a post pattern intended to angle him toward the goal post nearly 60 yards away.
On a play Casper later said the Raiders had not executed all season, he ran a deep post pattern. Stabler, reading the play perfectly, lofted a deep ball that, at first glance, appeared to be behind Casper, only for Casper to track the ball with his eyes, change his body direction and make an over-the-head catch that left the Raiders at the Colts' 14-yard line.
It set up Errol Mann's game-tying 29-yard field goal to ultimately force overtime and put the Raiders in position to win.
1. Willie Brown To The House
With six minutes left to play in Super Bowl XI and the Raiders well on their way to claiming their first Super Bowl title, the only thing lacking was a signature moment.
That is when Willie Brown, the Raiders' veteran defensive back, read the quarterback, the situation and the room so beautifully that the result was a sports moment that has stood the test of time.
With the Vikings in a hurry-up offense, Brown knew that Minnesota quarterback Fran Tarkenton would throw the ball to wide receiver Sammy White. In fact, just before lining up for the play, Brown instructed linebacker Ted Hendricks and safety Jack Tatum to create a shallow-to-deep bracket to create protection for Brown in case he jumped to the area he instinctively knew Tarkenton would throw the ball.
Sure enough, that is exactly what happened, with Brown picking the ball out of the air and racing 75 yards for a pick-six interception return for a touchdown.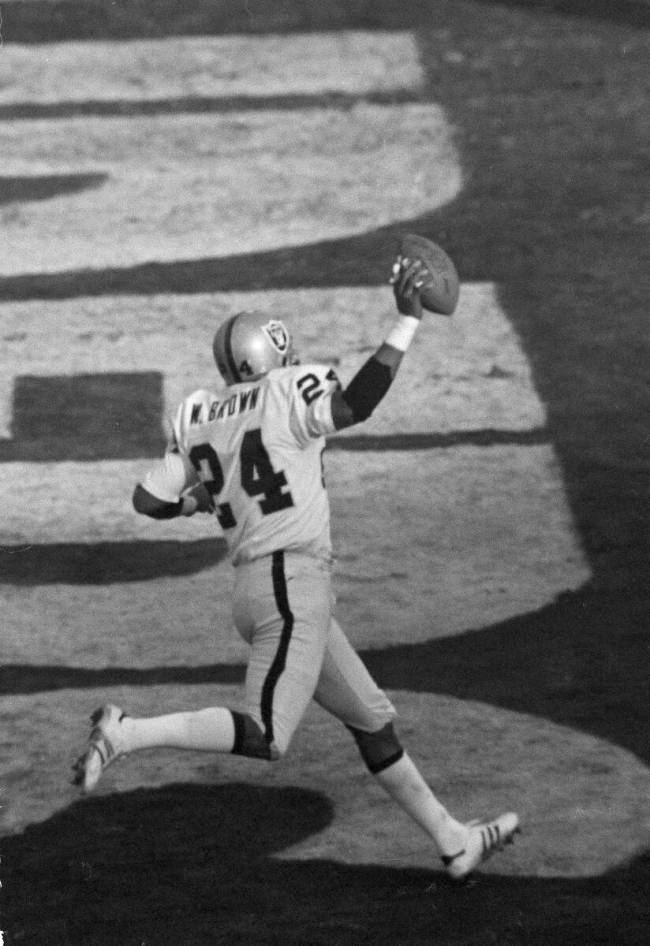 The still vibrant image of Brown racing down the sideline at the Rose Bowl in Pasadena and Raiders announcer Bill King's legendary call live on to this day.
Contact Vincent Bonsignore at vbonsignore@reviewjournal.com. Follow @VinnyBonsignore on Twitter.