Cowboys' Jerry Jones sees Las Vegas as jewel for Super Bowl host
Updated May 22, 2018 - 8:14 pm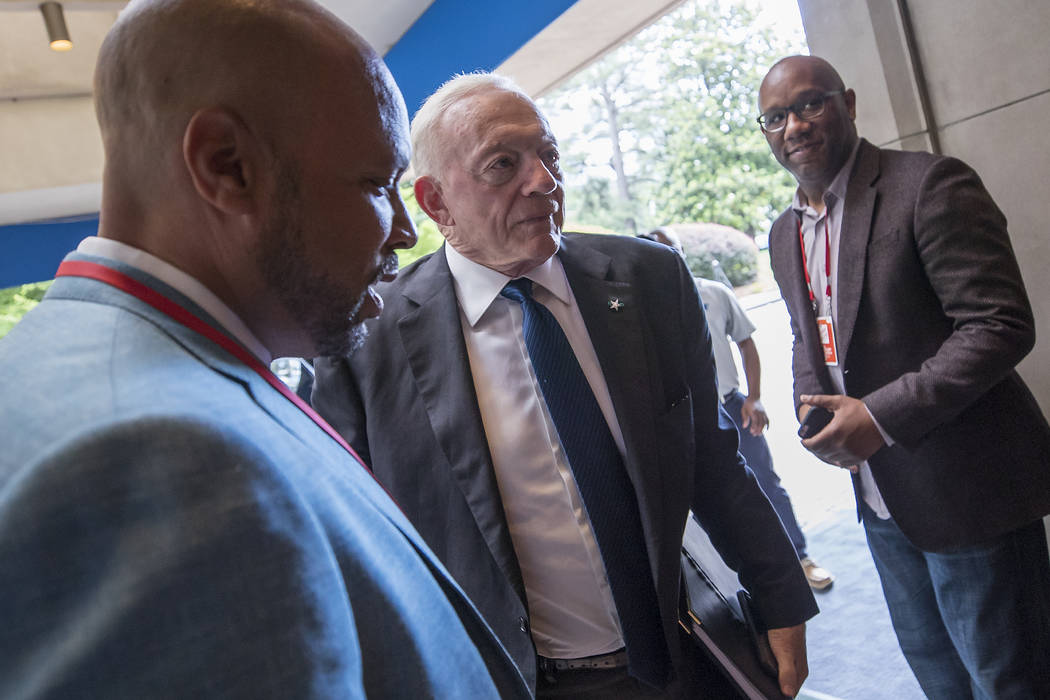 ATLANTA — Many NFL owners silently walked past a large gathering of media members standing in the hotel lobby Tuesday after the first day of the spring meetings.
The ones who did stop gave one-word answers and became agitated when asked if the league had come up with a resolution regarding national anthem protests.
Judging from their tone, owners aren't close to a solution and probably aren't thrilled about spending another meeting discussing the topic.
But one topic Dallas Cowboys owner Jerry Jones had no problem discussing was the possibility of Las Vegas becoming a future host to the Super Bowl and NFL draft.
"We think it's a jewel, that's why we (approved) a team to be there, the Las Vegas Raiders," Jones said.
The NFL might at some point shift to a four-city rotation for the Super Bowl, Mike Florio of Profootballtalk.com reported Tuesday. The new rotation could consist of Las Vegas, Los Angeles, Miami and a fourth location to be considered later, possibly New Orleans or Arizona, according to Florio.
Las Vegas' hopes for a Super Bowl won't come to fruition until at least 2025, or five years after a new Raiders stadium is scheduled to open. NFL owners are expected to vote Wednesday to reward Super Bowl LVII (2023) to Arizona and LVIII to New Orleans.
The NFL draft could be coming to Las Vegas a lot sooner. League owners are expected to announce Wednesday the sites for the 2019 and 2020 drafts. Las Vegas, Denver, Kansas City, Cleveland/Canton, Ohio, are the finalists for the latter draft. Nashville reportedly will receive next year's NFL draft.
When league owners meet again next offseason for available Super Bowls, Las Vegas might be at the top to land either Super Bowl LIX or Super Bowl LX. The next four Super Bowls will be in Atlanta, Miami, Tampa and Los Angeles.
Not long ago, the NFL didn't consider Las Vegas for major events. Now with the Raiders relocating and the Supreme Court's recent ruling to allow states to legalize sports betting, Las Vegas suddenly looks attractive to the league.
"Las Vegas has shown the world how to make gaming incorporate family, incorporate entertainment, incorporate many of what became arguably one of the entertainment capitals of the world," Jones said.
"We've gotten great examples of gaming being a part of sports in other parts of the world, and it's been extremely compatible and increased interest. … This isn't your dad's or grandfather's world of sport and gaming that we live in today."
Las Vegas won't quickly get a Super Bowl just for a having a new stadium like the Vikings in February and the Falcons next year, but hosting the big game every four years could be worth the wait.
Contact Gilbert Manzano at gmanzano@reviewjournal.com. Follow @GManzano24 on Twitter.