Crabtree, Lynch in flux as Raiders look to rework contracts
Updated March 2, 2018 - 7:23 am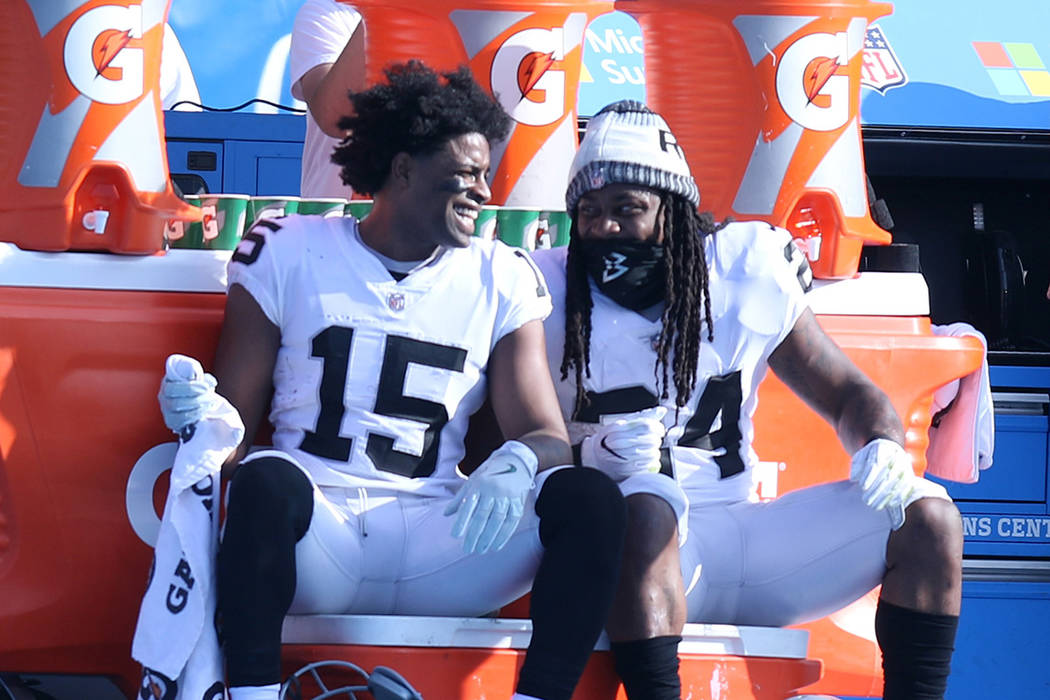 INDIANAPOLIS — On the surface Wednesday, comments from Raiders general manager Reggie McKenzie and coach Jon Gruden clarified a key matter, indicating that wide receiver Michael Crabtree and running back Marshawn Lynch both will be retained in 2018.
Crabtree is "in our plans," McKenzie said.
Gruden said he is "counting on (Lynch) being a big part of our football team."
Beneath the surface, on a level rooted less in diplomacy and more in fact, four words are essential when characterizing the two players' futures with the organization.
At the right price.
This year, Crabtree is due a $7 million salary with up to $1.05 million in potential bonuses. Lynch is scheduled to earn a $4 million salary with up to $4 million in various bonuses. The Raiders are uncomfortable with those figures, sources said Thursday. The two situations privately are considered very much in flux and could result in both, either or neither player being with the club in 2018.
True clarity could come soon.
Lynch is scheduled to collect a $1 million roster bonus if he's on the team's roster March 18, the fifth day of the NFL league year, a source said. By nature, this represents something of an unofficial deadline for the franchise to commit to whether Lynch is the club's primary back. If not, a bellcow would be needed. Jalen Richard and DeAndre Washington are viewed as complementary pieces on the depth chart.
When including the roster bonus, Lynch carries a $5 million base price tag for 2018.
He looked worth that price in the final five games of last season, averaging 5.2 yards per carry when totaling 434 yards on 84 attempts with two touchdowns. His four highest yardage-output games all occurred in this span. But however promising his finish and however tremendous the Oakland native is regarded in the community, the Raiders have several roster needs and a finite amount of resources.
Hence, his cost creates pause. Lynch will turn 32 in April.
The Raiders have plotted contingency plans at running back in the event Lynch does not return. Likewise, they've done so at wide receiver in the event Crabtree is released. Late in December, many close to the situation deemed it largely a foregone conclusion the Raiders would move on from Crabtree, given a fall from favor with the coaching staff that was partly reflected in Crabtree playing only 38 percent of the offense's snaps in the final two games.
Gruden then led a coaching overhaul in January.
On Wednesday, McKenzie expressed a willingness to move forward.
"Mike didn't finish, but neither did we as a team," McKenzie said. "We did not finish well. Things did not go well. We can point fingers in a lot of those types of situations, but we're not going to dwell on what happened last year. We're going to press forward and get the most out of the guys we've got and get it working."
Even so, there are finances.
Crabtree, who turns 31 in September, carries the aforementioned $7 million salary.
Before the season, he can earn an additional $250,000 for participating in 85 percent of the Raiders' workout program.
During the season, his contract features a $500,000 roster bonus, allocated via a $31,250 payout for each game spent on the 46-man active roster. Performance incentives represent a final $300,000 in possible earnings, a source said.
This is no small amount for a veteran who, amid a season in which several sources begrudged the overall energy and accountability within the Raiders' locker room, was closer to a problem than he was a solution.
Agent Doug Hendrickson represents Crabtree and Lynch. He is attending the NFL scouting combine this week, but given he's based in the Bay Area, paycuts do not necessarily need to be ironed out here. Face-to-face conversations with McKenzie or director of football administration Tom Delaney, the Raiders' cap and negotiations guru, are easy to arrange back home.
These private conversations, not the public comments on Wednesday, will have final say on Crabtree and Lynch's futures with the Raiders.
Contact reporter Michael Gehlken at mgehlken@reviewjournal.com. Follow @GehlkenNFL on Twitter.