Derek Carr gives heartfelt goodbye, thank you to Raider Nation
Updated January 12, 2023 - 8:31 pm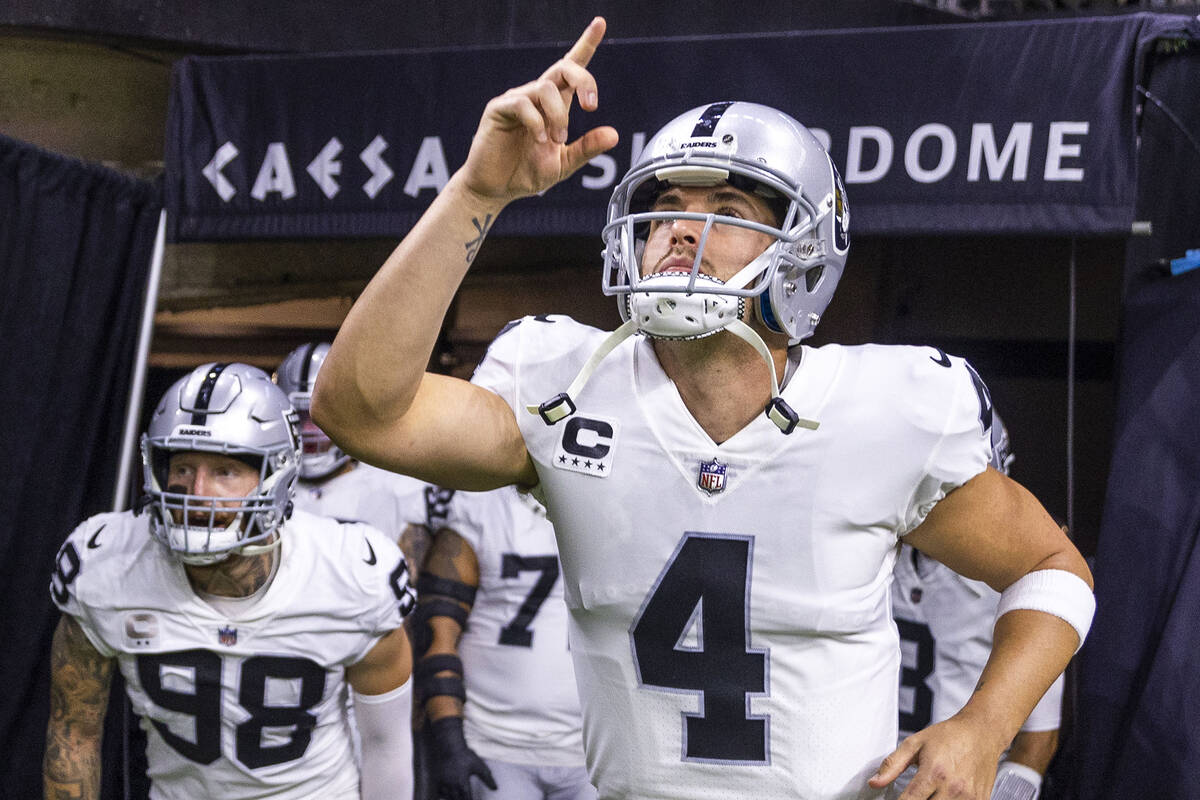 For the first time since the Raiders benched him with two games remaining in the season, veteran quarterback Derek Carr addressed his past, present and future.
In an early-morning post on social media Thursday, Carr acknowledged his career with the Raiders is over but by no means is he finished playing football. He previously had said he would consider retirement if the alternative was playing for any other team.
The door now opens for the Raiders to trade Carr. And with it, an apparent willingness by him to help accommodate a deal.
Carr, 31, also thanked Raiders fans, including the Oakland and Las Vegas factions.
Here's the post:
"Raider Nation it breaks my heart I didn't get an opportunity to say goodbye in person. We certainly have been on a roller coaster in our 9 years together. From the bottom of my heart, I am so grateful and appreciative of the years of support you gave to my family and me. We had our share of both heartbreaking moments and thrilling game-winning drives, and it always felt like you were there next to me.
"It's especially hard to say goodbye because I can honestly say that I gave you everything I had, every single day, in season, and in the off season. It certainly wasn't perfect, but I hope that I was able to leave you with more than a few great memories as Raider fans.
"Thank you to the city of Oakland for taking us in. Thank you to the city of Las Vegas for allowing us to proudly call you home. Thank you to the organization, my teammates, all my coaches, staff, and everyone that helped me these last 9 years in those 2 buildings.
"Thanks to all of Raider Nation that supported, encouraged, pushed, and uplifted me at different times along this journey. Raider Nation truly is special.
"I once said that if I'm not a Raider I would rather be at home and I meant that, but I never envisioned it ending this way. That fire burning inside of me to win a championship still rages. A fire no man can extinguish; only God. So I look forward to a new city and a new team who, no matter the circumstance, will get everything I have. Winning a championship is what l've always wanted and what I will continue to work towards.
God bless you all and with love, DC4"
Carr will leave the Raiders as their all-time leader in passing yards (35,222) and touchdown passes (217) and with 28 fourth-quarter comebacks and 33 game-winning drives. He helped lead them to two playoff appearances, but in his nine years at the helm, the Raiders were 63-79.
The question now is, how will his Raiders' stay officially conclude?
Carr signed a three-year, $121 million contract extension in April, but it doesn't go into effect until the 2023 season. The deal included a no-trade clause, so he has the final say on where he will end up and whether a trade can be consummated.
Related: What are the Raiders' options with Derek Carr?
As part of the deal, the Raiders have an out-clause that allows them to move on from Carr while sustaining a $5.6 million hard salary cap hit to their 2023 payroll. They face a Feb. 15 deadline — three days after the Super Bowl — to decide a course of action, as his 2023 salary of $33 million and $7.5 million of his 2024 salary become fully guaranteed then.
They could cut him on or before that date, or come to an agreement on the principles of a trade and consummate the deal when the NFL's new league year starts March 15.
The Raiders will begin the process of putting together a deal in the coming days — the Saints, Jets, Commanders and Colts are among the teams who might be interested. If they can find a partner and come to an agreement on compensation, the next step would be getting Carr to agree to extend the roster bonus deadline until after the start of the new league year. That would eliminate any risk for the Raiders of the trading team backing out at the last minute and leaving the Raiders stuck with Carr and his $40.5 million guarantee.
Contact Vincent Bonsignore at vbonsignore@reviewjournal.com. Follow @VinnyBonsignore on Twitter.