Derek Carr, Josh Jacobs top Raiders' offseason priorities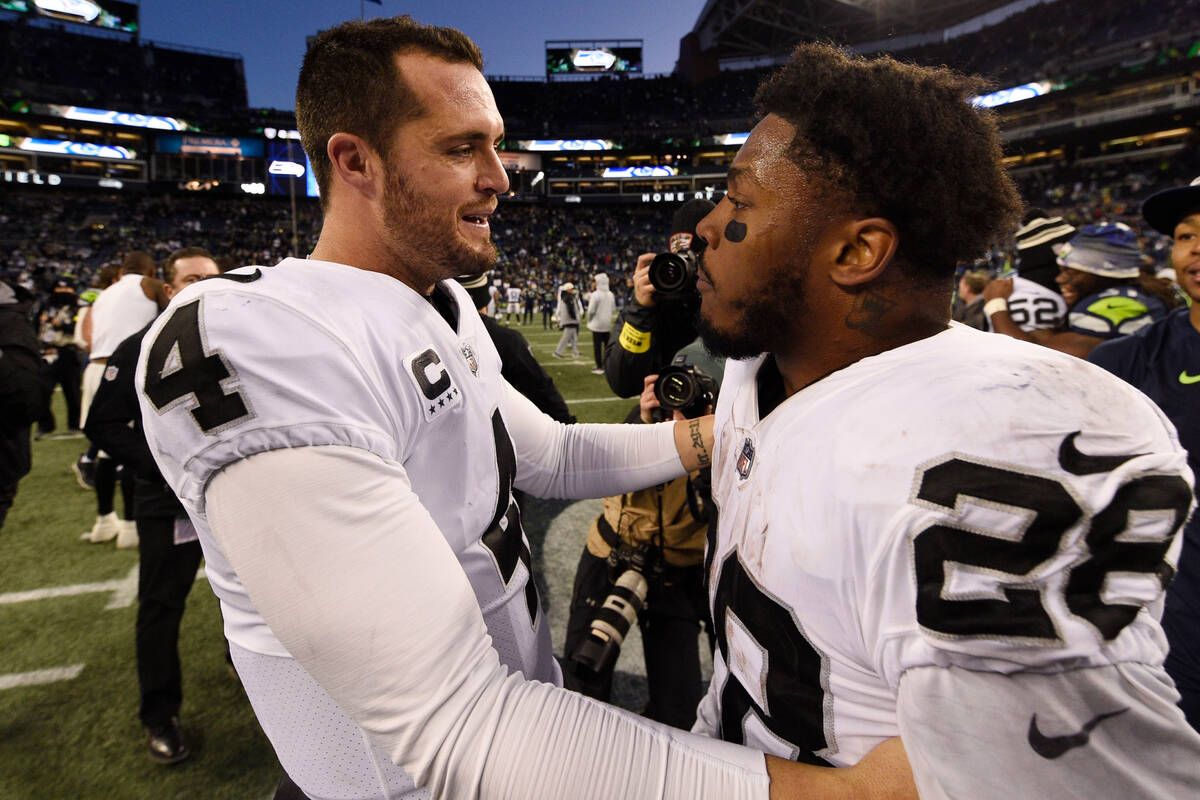 Of the two biggest offseason priorities facing the Raiders, one, Josh Jacobs, was on hand at their facility on Monday boxing up his belongings from the recently concluded season.
The other, the identity of their 2023 quarterback, could be as close as a mile away in Derek Carr, or as far away as Tampa Bay or Green Bay or San Francisco or Lexington, Kentucky, or Columbus, Ohio. where quarterbacks Tom Brady, Aaron Rodgers, Jimmy Garappolo, Will Levis and C.J. Stroud reside.
Yes, the Raiders need to improve their offensive line, which rose from liability to adequate this year but remains a couple of players away from the asset it needs to be. And clearly, years of bad drafting and free-agent decisions mean the defense needs a significant overhaul. Both of those areas will be focal points in the coming months.
But two days into an offseason that started much earlier than anticipated, a pair of pressing concerns have vaulted to the top of their to-do list.
The first is the greatest unknown facing the Raiders in more than a decade, and it comes in the form of a position and decision coach Josh McDaniels described on Monday as "paramount."
The benching of Carr two weeks ago sent a message that the Raiders are going in a new direction at that position. Speculation is already rampant that a reunion could be in store between McDaniels and Brady or Garoppolo, both of whom have deep ties to the Raiders coach.
McDaniels said the first step of their quarterback process is taking a deep dive into the last 18 weeks in a way that solidifies their thoughts on Carr. That evaluation won't be exclusive to just the quarterback, of course, but facing a Feb. 15 deadline — which essentially means agreeing to either lock in a $40.4 million guarantee to Carr or to move on from him — they essentially have a month to decide if he still has a future in Las Vegas.
McDaniels also said the Raiders will eventually sit down with Carr to discuss the situation and all the various options. That was an agreement Carr and the Raiders struck upon him taking a leave of absence after being demoted.
Carr will almost certainly face a decision as well. The three-year, $121 million contract extension he signed last March kicks in next season. It includes the $40.4 million roster bonus to be paid by either the Raiders or a team willing to trade for him.
Carr has a no-trade clause, so he maintains control of his landing spot. But he can also refuse to accept any trade, for whatever reason he chooses, even out of spite for how the Raiders handled his benching.
The other pressing issue is Jacobs, the pending free-agent running back, the NFL's undisputed 2022 rushing leader. If there is an absolute must-do for the Raiders, it's bringing back Jacobs, who led the NFL in rushing with 1,653 yards and is a walking personification of what McDaniels and general manager Dave Ziegler prioritize in a player.
But by not picking up the fifth-year option of his rookie contract last March, the Raiders set up the possibility of Jacobs leaving as a free agent this offseason. And while Jacobs expressed a desire to return next season, his Pro Bowl-level performance in 2022 means the financial hammer shifted from the Raiders' hands to his. His next contract will reflect that transition.
Or, as Jacobs said when asked if he wants to return: "Obviously for me, it's gotta make sense."
That said, the Raiders have plenty of motivation to bring back their 2019 first-round pick. And with the franchise tag in play, they can always use that to keep him in Las Vegas for the 2023 season, even if the two sides can't come to an agreement on a new deal.
McDaniels said he and Ziegler and Jacobs have had some talks about the future and their admiration for him. The sense is Jacobs will be with the Raiders in 2023.
"I think all that will play out in due time," McDaniels said. "But love him, and love to have him continue to be a Raider."
Contact Vincent Bonsignore at vbonsignore@reviewjournal.com. Follow @VinnyBonsignore on Twitter.
Raiders signees
Players signed to futures/reserve contracts
Isiah Brown CB
Bryce Cosby CB
Julian Diaz P
Jalen Elliott S
Cole Fotheringham TE
Vitaliy Gurman G
Sebastian Gutierrez T
Chris Lacy WR
Kana'I Mauga LB
Jordan Meredith G
DJ Turner WR
Austin Walter RB
Isaiah Zuber WR