Donald Penn trusts Raiders will deliver on new deal
August 27, 2017 - 5:32 pm
Updated August 27, 2017 - 5:58 pm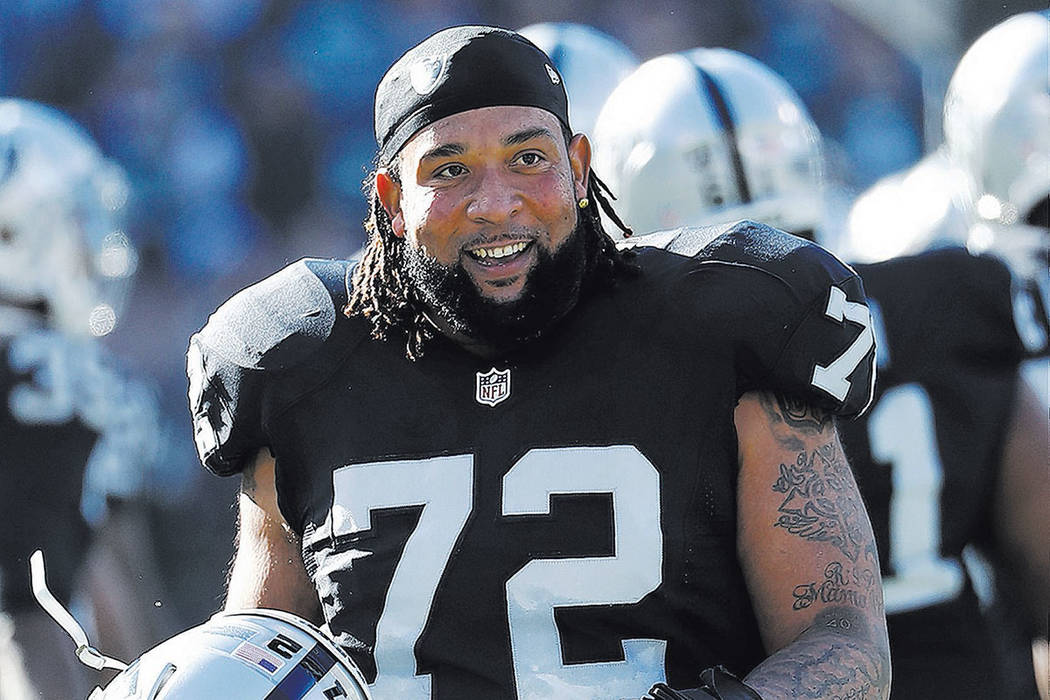 OAKLAND, Calif. — Donald Penn felt rewarded Saturday.
The Raiders left tackle appeared in two series during an exhibition against the Dallas Cowboys. His personal expectations entering the game were guarded. He had, after all, spent two months away from the team before he reported last Wednesday. This covered the six-week break after June minicamp and an additional 26-day contract holdout.
All his training in that off-period, Penn said, "paid off."
"I didn't want to come out," Penn said of his brief debut. "I was mad they took me out. … I was happy with where my conditioning was. … Going into it, you never know. You work out as much as you (can), but it's hard to simulate actual football. I was surprised where I was."
Soon, he hopes to be rewarded again.
Penn has sought a new contract all offseason. As of now, he has yet to receive one. But in his first public comments in months, the 11th-year NFL veteran expressed faith that a new contract is coming, referencing some assurances he received to that effect.
He is currently due a $5.8 million salary in 2017 with up to $750,000 in incentives. He rejoined the team with the belief his presence will facilitate a new deal.
"That's the plan," Penn said following a 24-20 loss to the Cowboys. "I put my trust — we've got a great owner, a good GM. I came here putting my trust in them. That's what they told me. I'm just going to sit here and wait and control what I can control, and that's trying to get better from what I put out there (Saturday)."
Penn has nearly two weeks to prepare for the Sept. 10 season opener.
The Raiders are expected to rest most of their offensive and defensive starters Thursday when they conclude their preseason against the Seattle Seahawks. It is unclear if he will participate, as he builds toward a Week 1 meeting with the Tennessee Titans in Nashville.
He acknowledged he isn't ready for the regular season just yet.
"After next week I will be," Penn said.
Penn, 34, surprised many within the Raiders organization when he failed to report to training camp on July 28 in Napa, California.
Similarly, he surprised many last Wednesday when he ended his holdout.
Only a tight circle of people were aware of his plans to report to the Raiders. Penn said that he didn't tell quarterback Derek Carr, offensive line coach Mike Tice or any of his fellow linemen that he was flying from Los Angeles to Oakland. He characterized the decision as fairly spur of the moment.
"Nobody knew," Penn said. "I flew in that morning. I was really on my way to my workout that morning, and I was talking on the phone to my agent, and I was like, 'You know what?' I turned around and went home. My boy picked me up and took me to the airport.
"I landed at 12:55, and I was at practice at 1:45. I got there and got back going. Anything I can do to help my team. … I came back for my teammates and coaches. We've got a good thing going. I knew in Week 3 (of the preseason) I had to get myself ready for Week 1 (of the regular season). That was in my head. At the end of the day, I've got to make sure I'm going to be the best Donald Penn for my team and teammates."
Contact reporter Michael Gehlken at mgehlken@reviewjournal.com. Follow @GehlkenNFL on Twitter.