Don't expect Randy Moss to mention Raiders in Hall of Fame speech
August 3, 2018 - 12:11 pm
Updated August 3, 2018 - 3:51 pm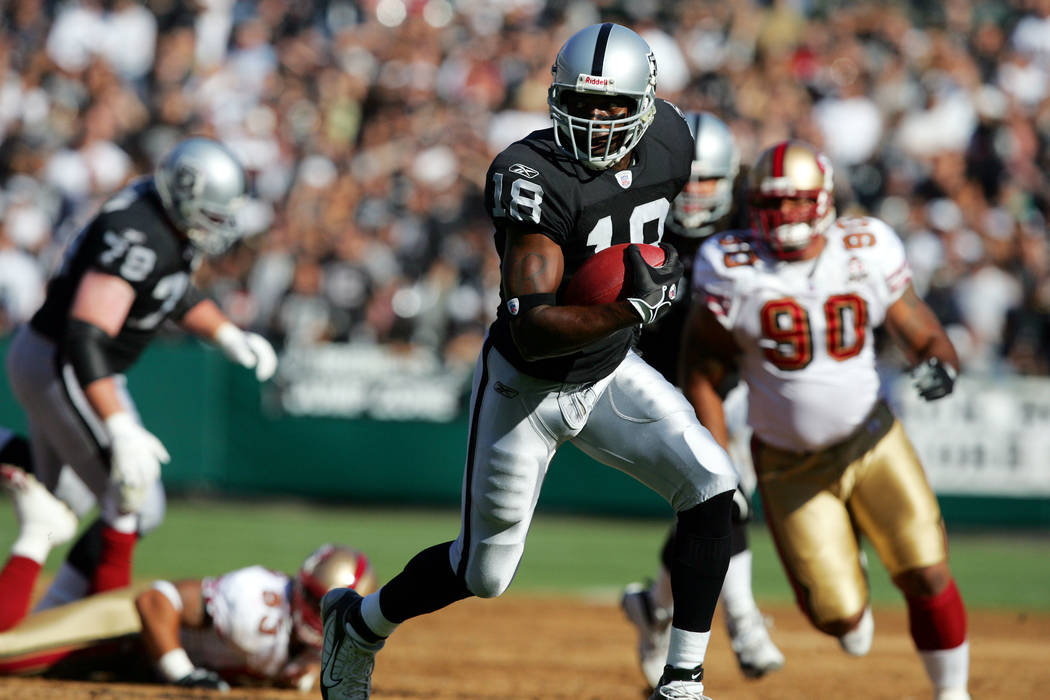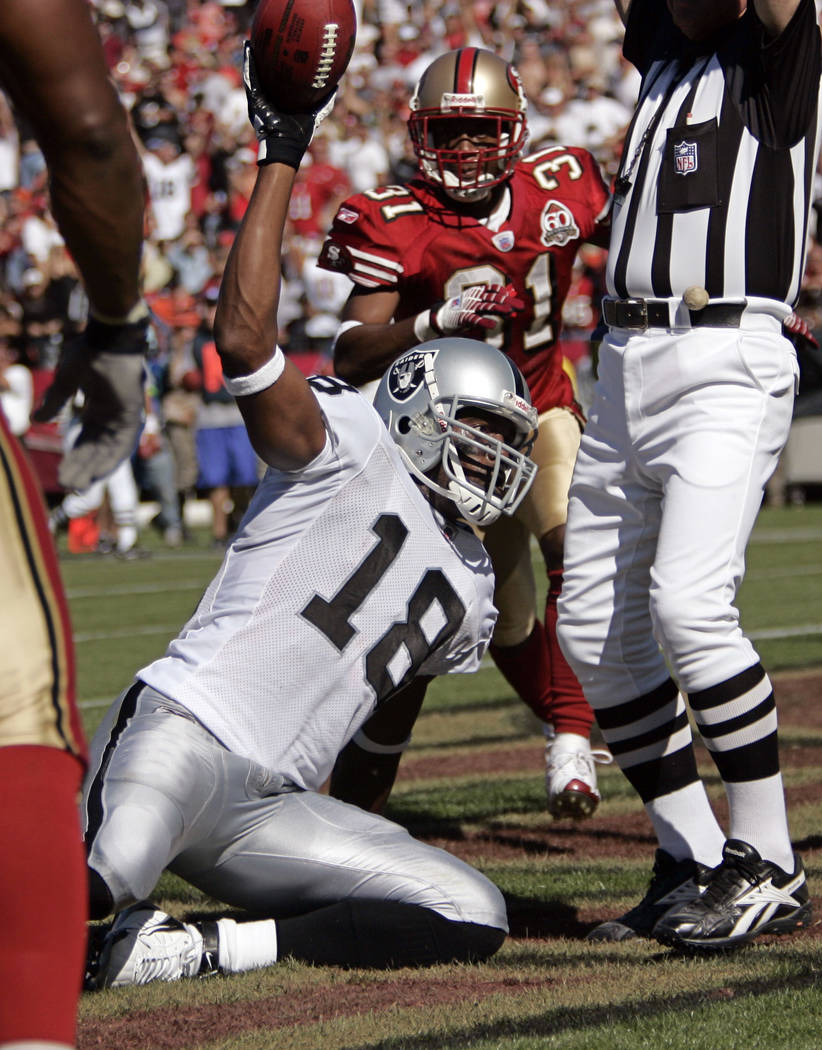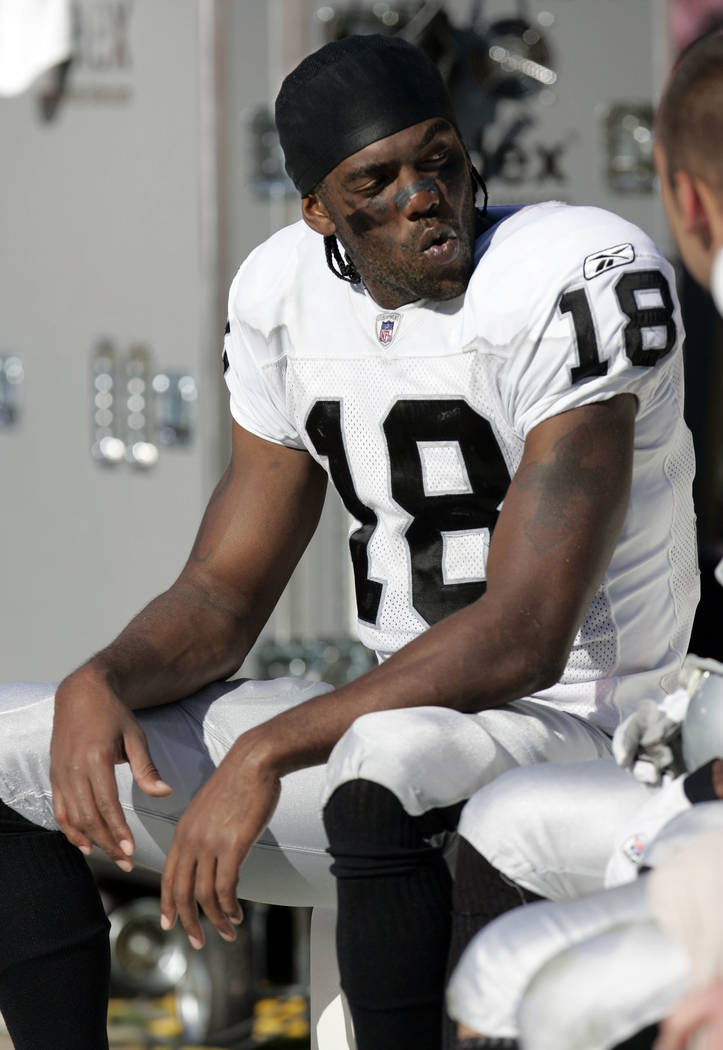 The Oakland Raiders and Randy Moss were a perfect match. But like on dating apps, ideal matches can quickly turn into a nightmare evening.
In this case, two nightmare seasons in 2005 and 2006.
It started so well and it ended so badly for Moss' affair out west.
Sandwiched between Moss' time with the Raiders were spectacular seasons with the Minnesota Vikings and New England Patriots that ultimately led him into the Pro Football Hall of Fame as a first-ballot inductee.
Don't expect Moss to mention the Raiders during his enshrinement speech Saturday in Canton, Ohio, and if he does, it won't be to say nice things.
Moss would rather forget his short stint with the silver and black.
Raider Nation would also like to forget the wide receiver, but it simply can't, no matter how many times Moss shouts "I am not a Raider" — like he did in 2016 as an ESPN analyst before the Raiders played the Houston Texans at Azteca Stadium in Mexico.
It was too memorable to forget, and it started so, so well.
The Raiders pulled out all the stops to make Moss feel welcome when they acquired him in a trade from the Vikings 13 years ago.
Moss had a limousine waiting for him when he arrived for his introductory news conference as seven police officers on motorcycles escorted him to the team's facility in Alameda, California.
A week before, the Raiders sent Moss packages that included Raiders apparel for his children.
"I was overwhelmed by it," Moss said of the gesture during the news conference. "It could have been fruit, for all I cared. It almost brought tears to my eyes, knowing that there is still someone out there who wants me and cares about me. This is a class organization.
"I'm very anxious to get started. … Who wouldn't want to be in the silver and black?"
The Raiders had a buzz again after two dreadful seasons in 2003 and 2004, the years after the Raiders lost to Jon Gruden's Tampa Bay Buccaneers in Super Bowl XXXVII.
Moss' No. 18 Raiders jersey flew off store shelves. Moss made it cool for wide receivers to sport teen numbers instead of the conventional numbers in the 80s.
For the first training camp, Moss' epic battles against Charles Woodson in Napa, California, were a must watch.
Who could forget that electric Thursday night in Foxborough, Massachusetts, for Moss' Raiders debut?
The Raiders faced the defending champion Patriots to open the 2005 NFL season. The Patriots won 30-20, but Moss recorded five receptions for 130 yards, including a 73-yard touchdown catch.
But it never got better than that.
The Raiders limped to a 4-12 record with Kerry Collins, Andrew Walter and Marques Tuiasosopo throwing passes to a disgruntled Moss.
"It's crazy around here, man," Moss memorably said before the start of the 2006 season. "I'm just not thrilled with the way things are going on around here."
That was the beginning of Moss' exit strategy out of Oakland. With Art Shell as coach and Aaron Brooks as the starting quarterback, the Raiders finished 2-14.
Moss appeared to be finished as a dominant No. 1 receiver, managing only 42 receptions, 533 yards and three touchdowns in 2006.
Al Davis and rookie coach Lane Kiffin dumped Moss for a fourth-round pick from the Patriots before the 2007 season. And just like that, the Moss era ended like it started. The once-beast of a receiver was playing in Foxborough looking for a fresh start.
Moss found it, too, grabbing a record 23 touchdowns in 2007 as the Patriots flirted with perfection before falling to the New York Giants in the Super Bowl.
Moss was Moss again while the Raiders went on to miss the playoffs every year until 2016.
As they say, the rest was history, but it was too messy to forget. Once a Raider, always a Raider.
More Raiders: Follow all of our Raiders coverage online at reviewjournal.com/Raiders and @NFLinVegas on Twitter.
Contact Gilbert Manzano at gmanzano@reviewjournal.com. Follow @GManzano24 on Twitter.