GM Reggie McKenzie says Raiders plan to keep Crabtree, Lynch
February 28, 2018 - 12:14 pm
Updated February 28, 2018 - 7:33 pm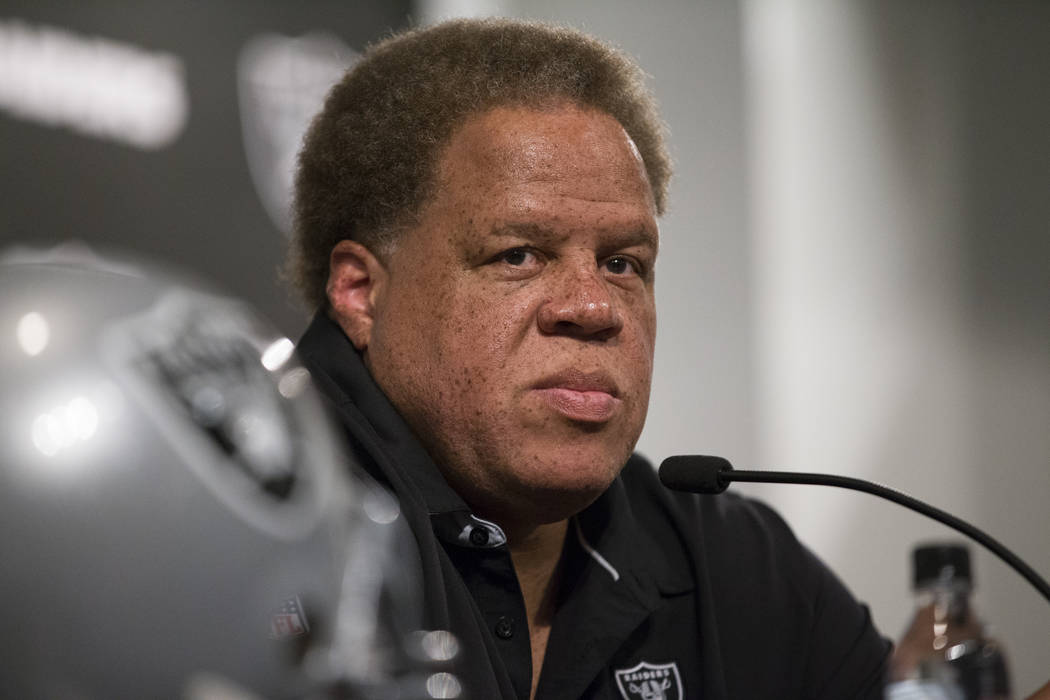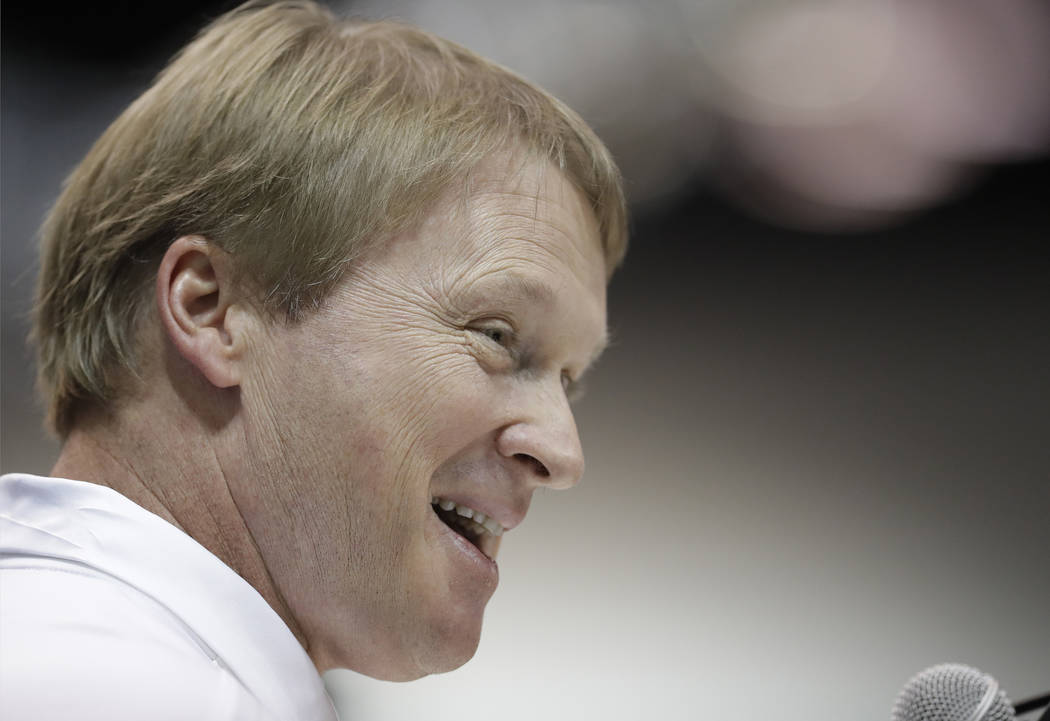 INDIANAPOLIS — Wide receiver Michael Crabtree fell out of favor with the Raiders' coaching staff last year, fostering expectation he would not be retained in 2018. Running back Marshawn Lynch is entering the second season of a backloaded two-year contract. On Feb. 15, outside linebacker Bruce Irvin wondered aloud on Twitter if he'd be retained.
One by one Wednesday, the questions came.
A small group of reporters at a downtown hotel lobby asked Raiders GM Reggie McKenzie about those veterans' roster status. Little question surrounded Irvin's standing. Crabtree and Lynch, though, were fair game.
Finally, McKenzie relented.
"Let me tell you guys," McKenzie said in jest when asked about Irvin's comment. "Y'all are trying to get rid of all my players. I've got free agents. Y'all want to restructure everyone's contract. You're running everybody out of town."
Irvin will be a Raider in 2018, and McKenzie indicated so will Crabtree and Lynch. He was more committal than coach Jon Gruden earlier in the day, definitively saying Crabtree is "in our plans" while describing Lynch as the caliber of player the team looks to retain.
Gruden spoke highly of both at a news conference Wednesday morning but added he'd yet to speak with their agent, Doug Hendrickson, this week at the NFL scouting combine. He also deferred to McKenzie on the subject of Crabtree's future.
McKenzie did not address whether Crabtree must rework his contract to be retained. He's due a $7 million salary and can earn up to $1.05 million based on various roster, workout and performance-based bonuses. Crabtree played only 46 of 121 offensive snaps in the final two games of 2017.
"Mike didn't finish, but neither did we as a team," McKenzie said. "We did not finish well. Things did not go well. We can point fingers in a lot of those types of situations, but we're not going to dwell on what happened last year. We're going to press forward and get the most out of the guys we've got and get it working. … He's in our plans (for 2018)."
So seems Lynch.
The veteran finished last season strong, averaging 5.2 yards per carry in the final five games while totaling 434 yards and two touchdowns in that span. He is set to earn a $4 million base salary with up to an additional $4 million in potential bonuses.
"We want to keep our good players," McKenzie said. On whether Lynch is one: "Yes, he is."
Touching on other topics, McKenzie expressed interest in retaining just about all of the Raiders' 10 impending unrestricted free agents. He singled out linebacker NaVorro Bowman, cornerback TJ Carrie, tight end Lee Smith, defensive tackle Denico Autry and nose tackle Justin Ellis by name.
Long snapper Jon Condo, kicker Sebastian Janikowski, safety Reggie Nelson, quarterback EJ Manuel and safety Keith McGill II are the others, although their omission in a casual conversation is not necessarily reflective of the team's interest level in re-signing.
All 10 are scheduled to hit free agency on March 14.
The Raiders are in discussion to extend defensive end Khalil Mack's contract. Such dialogue has been anticipated for months, although a Wednesday report from The Athletic provided a sense of the progress. The Raiders have submitted at least one offer to Mack's agent, according to the report.
Last week, the Raiders were awarded four compensatory draft picks, all in the sixth round. This pushed the team's total number of sixth-round selections to six. While McKenzie expressed excitement about the collection — "I guess the Raiders own the sixth round," he said — he seemed largely apathetic toward a tiebreaker coin toss Friday that will determine whether the Raiders or San Francisco 49ers own the No. 9 overall pick.
"I don't think it matters much as far as the player," McKenzie said. "Now, maybe trade value, it matters a little bit more. As far as the pick itself, I don't think it's going to be a huge factor. Won't lose any sleep (Thursday night) at all."
Contact reporter Michael Gehlken at mgehlken@reviewjournal.com. Follow @GehlkenNFL on Twitter.