Grading Raiders' win over Chargers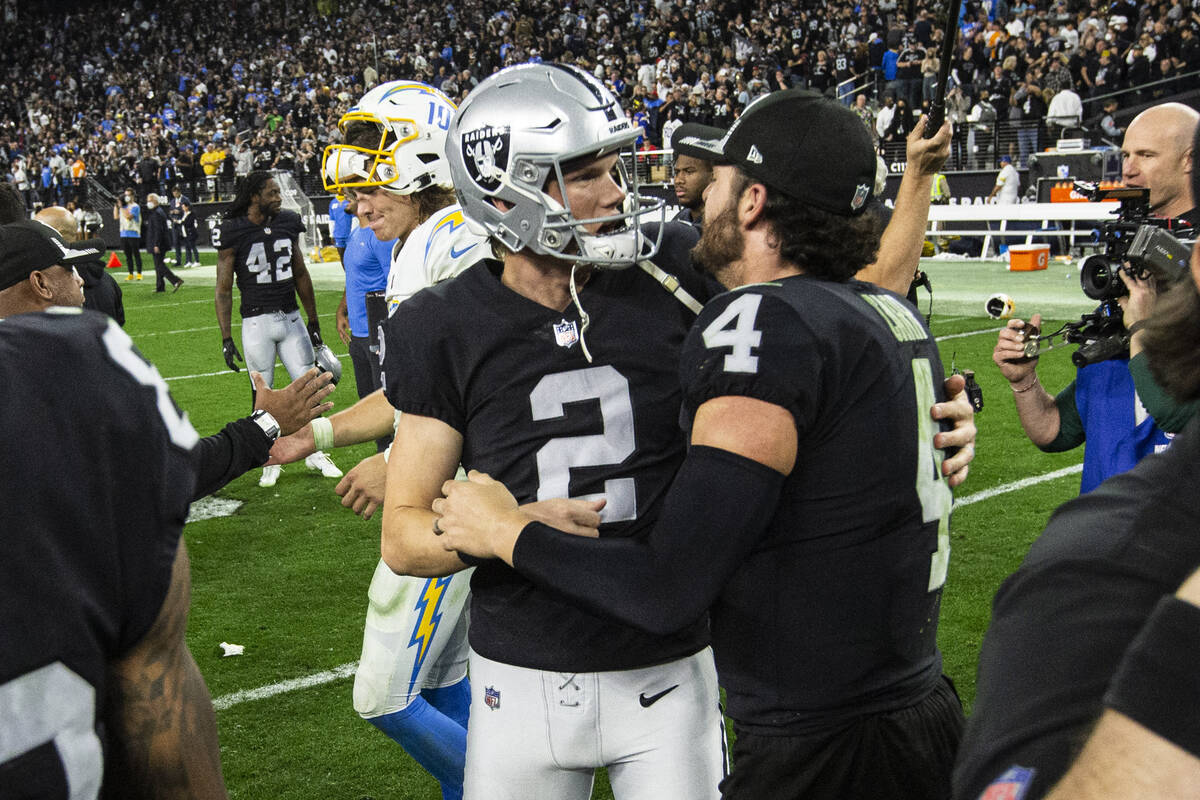 How the Raiders performed in a 35-32 victory against the Chargers:
Offense: B
They didn't commit a turnover, and that in and of itself warrants a passing grade in a game of this magnitude.
Two touchdowns passes to Hunter Renfrow will suffice for quarterback Derek Carr, who threw for 186 yards to establish a single-season franchise record of 4,804. Josh Jacobs gained 112 of his 132 rushing yards in the second half and added a 1-yard score.
But drives in the first and third quarters stalled in the red zone, and the Raiders went three-and-out on their final possession in regulation when a first down would have all but guaranteed a victory.
Defense: C-
Another (barely) passing grade because of the victory, but boy did Gus Bradley's unit wilt down the stretch — squandering a 15-point lead with 8:29 to play. Los Angeles quarterback Justin Herbert converted six fourth downs during the Chargers' final three possessions to keep them in the game.
Such a meltdown seemed unfathomable.
The Raiders did stand tall though in overtime on their final defensive possession, forcing incompletions on second and third down to make the Chargers kick a game-tying field goal.
Survive and advance.
Special teams: A
Daniel Carlson was money. Again. The fourth-year kicker made all five of his field-goal tries, including the game-winner in overtime. Punter AJ Cole twice pinned Los Angeles inside its own 20.
Tyron Johnson forced a fumble in punt coverage that Divine Deablo recovered. The Raiders would score a touchdown six plays later.
Coaching: A
Not for Sunday night, but for the season.
Interim coach Rich Bisaccia navigated the Raiders through Jon Gruden's resignation, Henry Ruggs' fatal car accident and a myriad of injuries to help the franchise clinch its first playoff berth since 2021. He's 7-5 as the head honcho and beloved in the locker room — garnering respect with his honest, direct and affable approach.
Plus, he empowered his offense on an early fourth-and-2. And Carr rewarded his faith with a conversion completion to Zay Jones and a scoring pass to Renfrow two plays later for the Raiders' first touchdown.
— Sam Gordon, Las Vegas Review-Journal