Grading the Raiders' loss against the Redskins
September 24, 2017 - 10:58 pm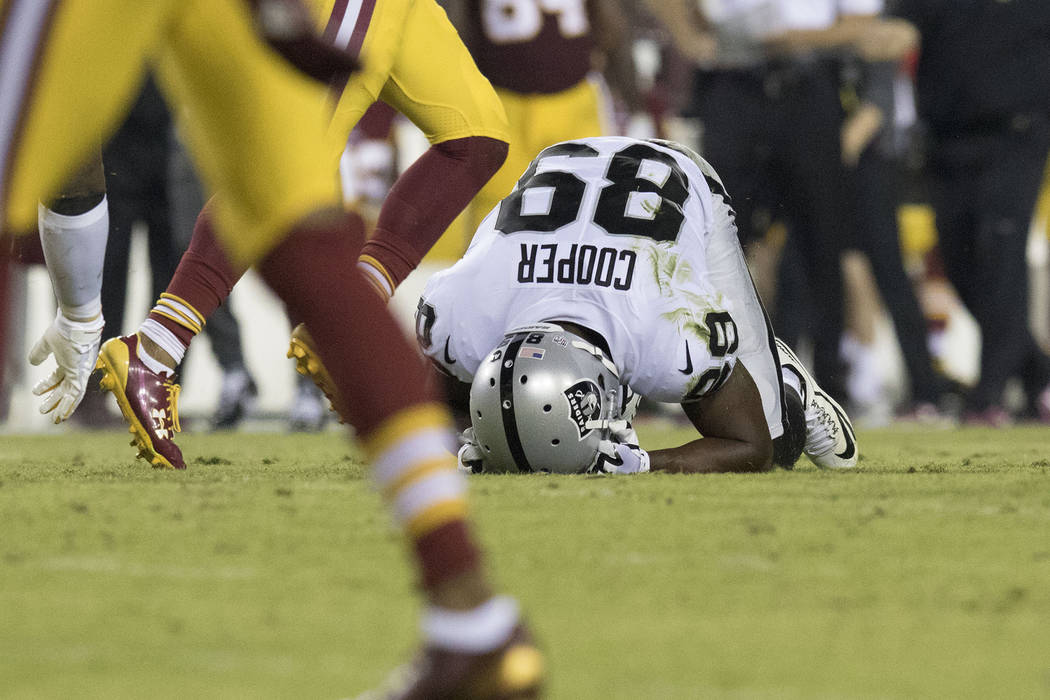 How the team performed in a 27-10 loss at Washington:
Offense: F
The franchise's all-time record for fewest yards in a game is 58 in 1961. This offense had 71 with six minutes remaining and finished with 128. Derek Carr (19 of 31 for 118 yards with a touchdown and two interceptions) hasn't looked this lost at quarterback since his Fresno State side got blasted by Southern California in the 2013 Las Vegas Bowl. The Raiders couldn't run (32 yards), couldn't block (four sacks allowed), couldn't catch (key drops) and couldn't convert (0 of 11 on third down). Oh yeah, the play-calling stunk, too.
Defense: F
Take everything the Raiders did poor on offense and think the opposite about the Redskins, who rolled up 472 yards and completed 25 of 30 passes and were 7 of 15 on third down. David Amerson was in position to make a key play downfield for the Raiders (again), but then the cornerback proved unable to make it (again) and allowed a 52-yard touchdown catch. Also, how can you allow Chris Thompson, a running back, 150 yards receiving?
Special teams: A
This probably isn't the correct evaluation, but when grading on a curve because all other areas were so incredibly bad, these guys were the only ones not to appear completely inept. Marquette King averaged a net of 49.4 yards over seven punts and Giorgio Tavecchio hit his only field-goal attempt (22 yards). That, and recovering a second muffed punt in as many weeks allowed for such a sterling mark.
Coaching: F
Kaboom went a huge opportunity, with Denver losing earlier in the day and the Raiders next traveling to the Broncos for their first AFC West game. The Raiders appeared unprepared at nearly every turn. The good part is, it's just a Week 3 loss. The bad part is, the Raiders will be forced to watch tape of this debacle.
Intangibles: F
If the team was looking for any inspiration following its national anthem protest, it left all such emotion on the sideline. Given how the schedule toughens later in the year, a 3-0 start would have allowed for some cushion on those weeks things aren't clicking. You know, like Sunday.
More Raiders: Follow all of our Raiders coverage online at reviewjournal.com/Raiders and @NFLinVegas on Twitter.
Related
Raiders see first loss of season, fall 27-10 to Redskins
Trump's words on national anthem only brought NFL closer than ever
Widespread protest from Raiders during Sunday Night Football anthem