Gruden also disparaged NFL commissioner, owners in emails
Updated October 10, 2021 - 2:10 pm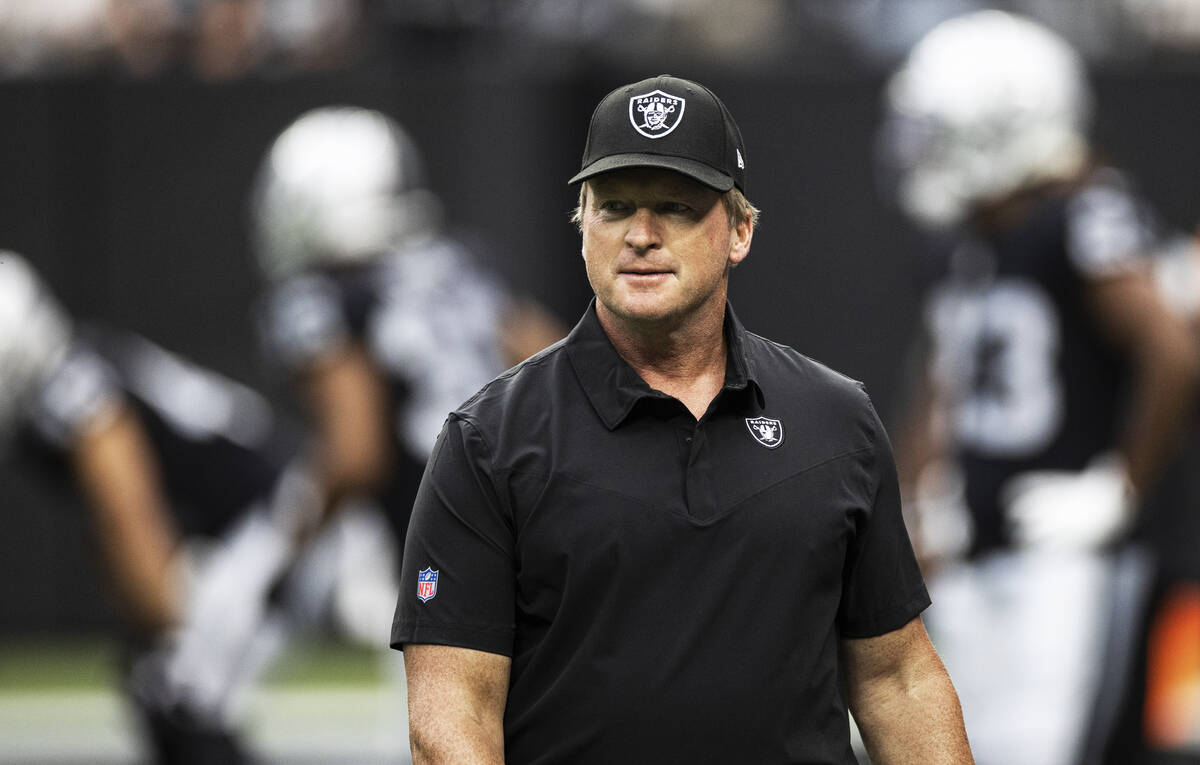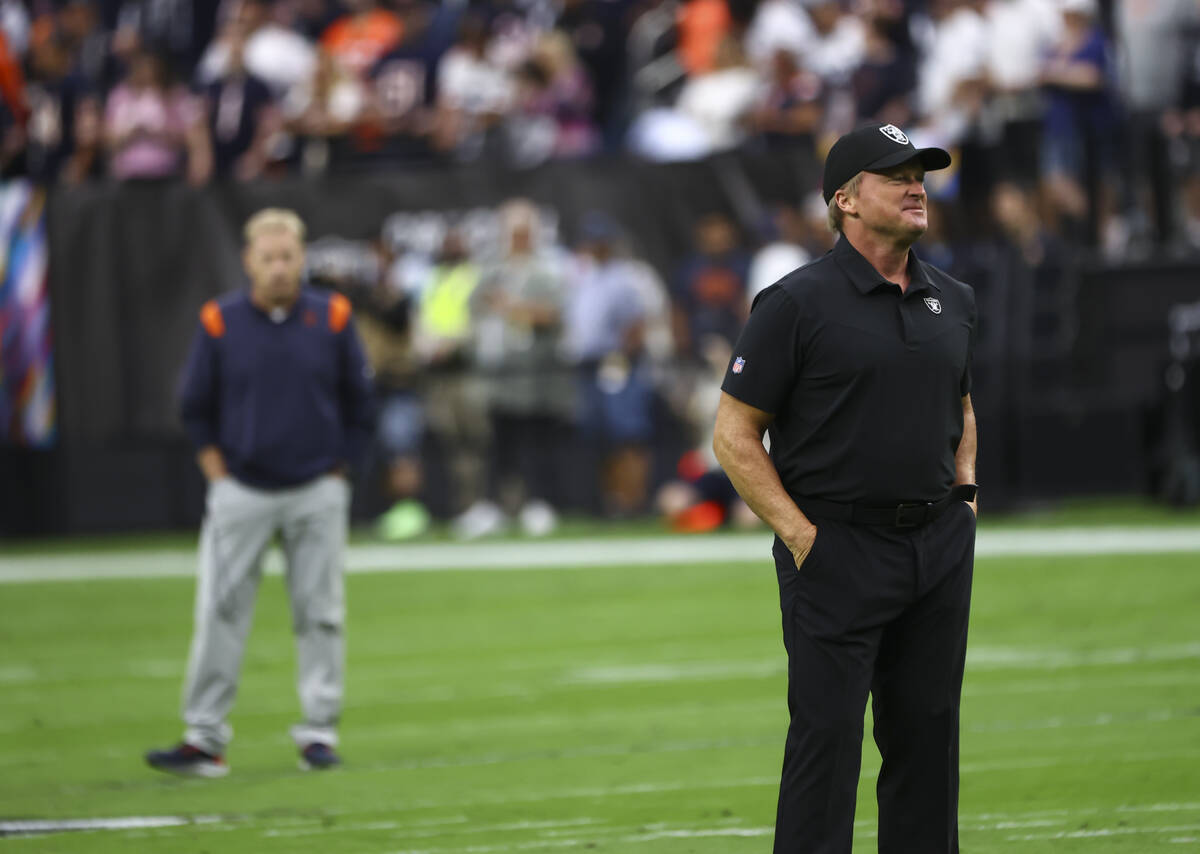 More details of what could be contained in Jon Gruden's leaked emails emerged Sunday morning as reactions poured in from across the NFL world to the one that has already been made public.
The Raiders coach told ESPN late Friday he's aware of additional emails that were discovered in the investigation of the Washington Football Team and have been turned over to the league and the organization.
Gruden admitted he made disparaging comments about NFL commissioner Roger Goodell and several team owners in 2011 emails at a time he was frustrated with leadership in the midst of labor strife. He was an ESPN employee at the time.
"I was in a bad frame of mind at the time (in 2011], and I called Roger Goodell a (expletive) in one of these emails too," Gruden told the network in comments that aired Sunday morning. "They were keeping players and coaches from doing what they love with a lockout.
"There also were a lot of things being reported publicly about the safety of the sport that I love. I was on a mission with high school football (in the Tampa, Florida, area) during that time, and there were a lot of parents who were scared about letting their kids play football. It just didn't sit well with me."
He did not specify the names of the owners he targeted. While the number of emails turned over to the Raiders is unknown, Gruden estimated the total at five to seven.
The Raiders are hosting the Bears in a 1:05 p.m. game at Allegiant Stadium.
The league is currently investigating the first leaked email, which used a racial trope to describe NFLPA chief DeMaurice Smith, and exploring potential discipline against Gruden,. He apologized on Friday.
Rod Graves, the executive director of the Fritz Pollard Alliance for equal opportunity in sports, called for swift action.
"The insensitive remarks made by Jon Gruden about DeMaurice Smith are indicative of the racism that exists on many levels of professional sports," he said in a statement. "Furthermore, it reveals that the journey for African Americans and other minorities in sports, is riddled with irrepressible mindsets at the highest level. It is our hope that the League and team ownership will address this matter with a remedy commensurate with these painful words. This is yet another inflection point in a society fraught with cynical social blinders, absent of respect for the intellectual capacity and leadership of minorities. When will it end?"
On ESPN's "Sunday NFL Countdown," Randy Moss and Sam Ponder shed tears discussing the situation. Former coach Rex Ryan strongly condemned Gruden's comment.
"One hundred percent unacceptable," Ryan said. "I was angry. (These comments) are absolutely ridiculous and asinine. The greatest part of coaching is the brotherhood and the locker room.
"You know what you can't have? A racist. And you can't have a racist comment. This comment right here. Is Jon Gruden a racist? I don't know. But this email damn sure was."
Moss said he was hurt by the comments coming from someone who has done so much for the game of football like Gruden.
He believes in a league composed of well over 50 percent Black players, the comments are a reminder of how much progress still needs to be made.
"We're going into the 21st century and instead of us moving forward, we're moving backward," he said, adding he wants to see the Raiders and the league take action. "The clock is ticking. We're watching to see what the National Football League is going to do about this because we're trying to move forward into the 21st century with the NFL.
"You're talking about kids coming into the National Football League for the next 10 or 15 years. What is this showing them? Where are we headed?"
Hall of Famer Charles Woodson, a former Raider, defended Gruden's character on "Fox NFL Sunday."
"I'm disappointed to say the least," Woodson said of the comments regarding Smith. "But I've been around Jon Gruden enough to know him and have an opinion of him. I know this has a racial undertone to it, but I don't believe Jon Gruden himself is a racist. I would not put that on him."
Woodson said he doesn't believe Al Davis would have hired Gruden if he believed him to be racist and has confidence current owner Mark Davis has a similar zero tolerance attitude on the issue.
"If he believes Jon Gruden does harbor these type of views, he'll have no problem sending Jon Gruden packing," Woodson said.
Contact Adam Hill at ahill@reviewjournal.com. Follow @AdamHillLVRJ on Twitter.