How to watch Raiders-Chargers game
Updated October 1, 2023 - 10:02 am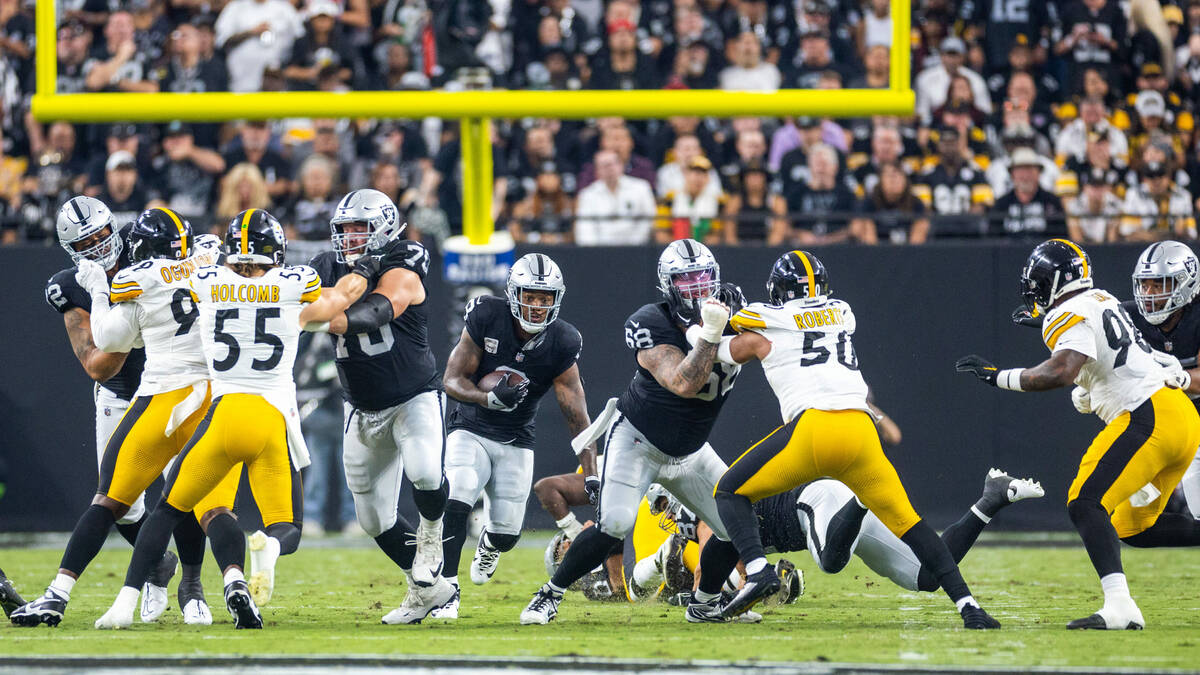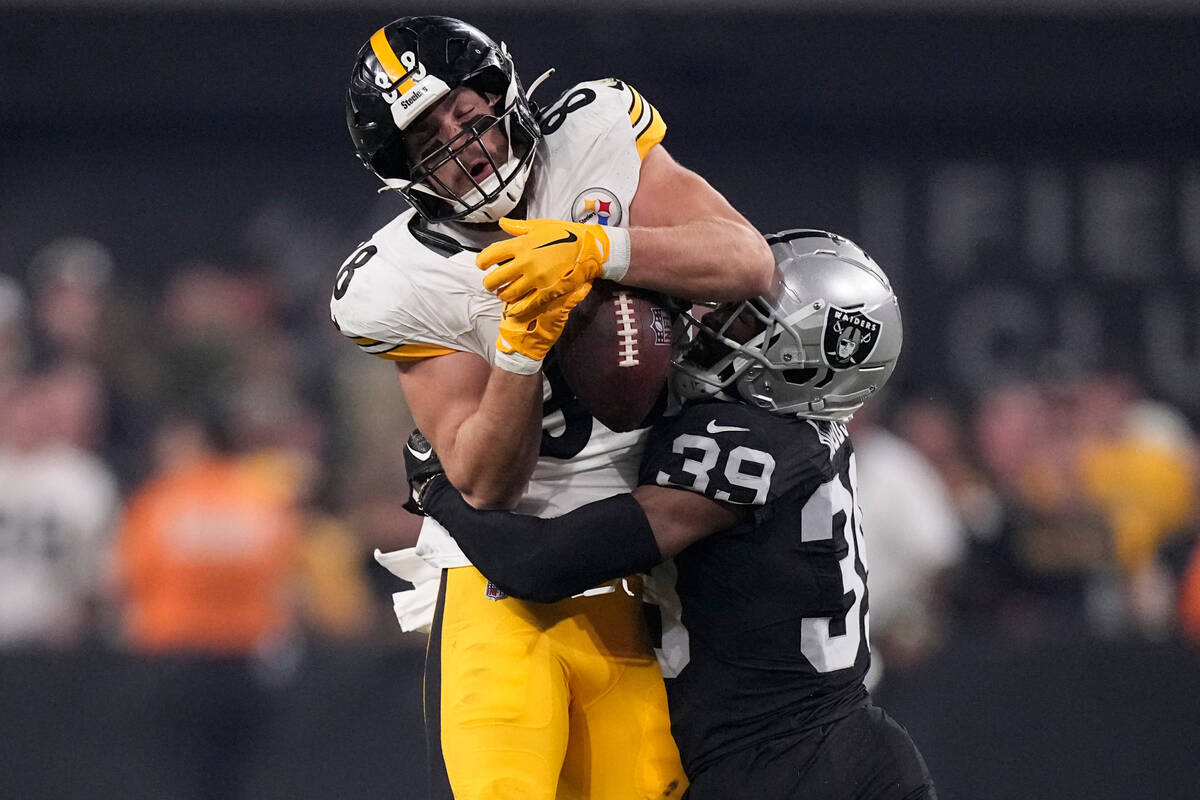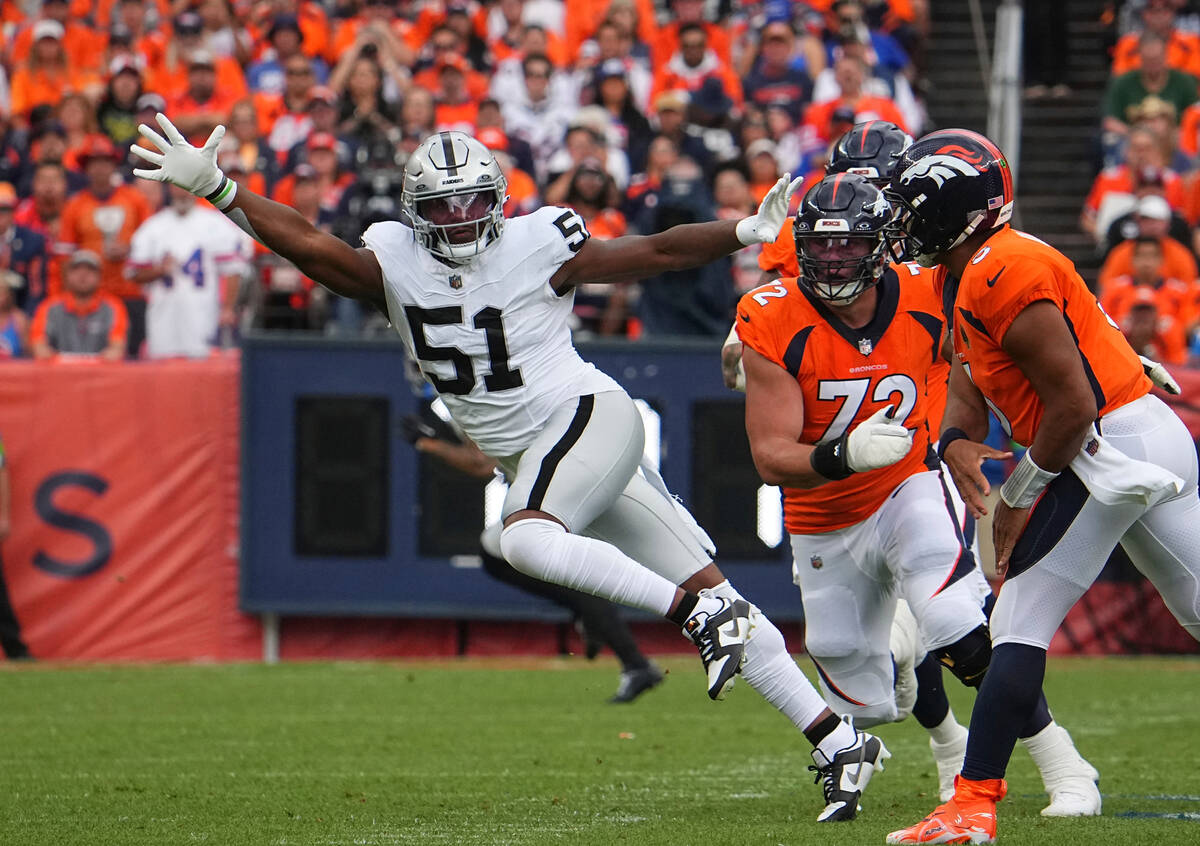 A bitter division rivalry will be renewed Sunday when the Raiders (1-2) travel to SoFi Stadium to play a theoretical road game against the Chargers (1-2) in front of what should be a partisan Raiders crowd, a stark contrast from last Sunday's game at Allegiant Stadium when Steelers fans descended upon Las Vegas.
Game information
■ Who: Raiders at Chargers
■ When: 1:05 p.m. Sunday
■ Where: SoFi Stadium, Inglewood, Calif.
■ TV: KLAS-8 (Kevin Harlan, play-by-play; Trent Green and Melanie Collins, analysts)
■ Radio: KRLV-AM (920), KOMP-FM (92.3) (Jason Horowitz, play-by-play; Lincoln Kennedy, analyst)
■ Line: Chargers -5; total 48½
Series history
The Raiders and Chargers split two games last season, and the Raiders lead 68-57-2 in a series that includes a 1981 victory by the Raiders in their only postseason meeting.
Last meeting
Davante Adams scored on receptions of 31 and 45 yards in the first five minutes of the third quarter to turn a 13-10 halftime deficit into a 24-13 lead. The Raiders went on to a 27-20 home win to ensure the teams would split the season series for the third consecutive year.
Bold predictions
1. Raiders defensive end Malcolm Koonce, who has been quietly having a good season, will record his first sack since 2021 after several close calls in the first three games.
2. Raiders running back Josh Jacobs will eclipse his season highs by running for at least 62 yards and taking a carry more than 10 yards.
3. Rookie first-round pick Quentin Johnston will catch the first touchdown pass of his career for the Chargers.
Matchups to watch
1. Raiders right tackle Jermaine Eluemunor vs. Chargers defensive end Joey Bosa. Eluemunor had been playing at a high level, not allowing so much as a sniff on the quarterback through the first two weeks. But he had a few tough reps against the Steelers' T.J. Watt, and the assignment doesn't get much easier with Bosa.
2. Raiders cornerback Nate Hobbs vs. Chargers wide receiver Keenan Allen. Allen lines up all over the field, but the Chargers love to use him in the slot. He was there for 43 of his 59 offensive snaps last week when he posted 18 catches for 215 yards in a win over the Vikings. Hobbs has been a bright spot in his return to the inside after playing outside much of last season.
3. Chargers right tackle Trey Pipkins vs. Raiders defensive end Maxx Crosby. The Raiders have been lining up Crosby off the outside left edge often, and he can get moving and up to speed before tackles often have the chance to get ready to engage. Of course, those tackles usually have plenty of help. Crosby rarely sees offenses try to block him with one player, and he still makes plays. Pipkins has been playing well in pass protection, so the Chargers might consider seeing how well he can deal with Crosby. That could be fun to watch.
When the Chargers have the ball
The offense is again all about star quarterback Justin Herbert, but it might look a bit different than Raiders fans remember. New offensive coordinator Kellen Moore has attempted to find more balance, though the ground game has struggled, particularly with star back Austin Ekeler ailing. The Chargers' overall production has been fine. They are second in the NFL in total yards and tied for fifth in scoring. Secondary receivers Johnston and Joshua Palmer will be counted on to produce more with Mike Williams lost for the season with a torn ACL.
When the Raiders have the ball
The Raiders must continue to find ways to get Adams the ball. But they have other playmakers, too. For this unit to be successful, secondary players such as receiver Hunter Renfrow and tight ends Austin Hooper and Michael Mayer have to be involved in the game plan. The running game also must improve. Jacobs has struggled after leading the league in rushing last season. It's time to rediscover that part of the offense, if for no other reason than helping the defense by keeping Herbert off the field.
Injury report
Raiders: OUT: LB Curtis Bolton (knee). QUESTIONABLE: DE Maxx Crosby (knee), QB Jimmy Garoppolo (concussion), S Roderic Teamer (achilles), CB Nate Hobbs (ankle). FULL: CB Jakorian Bennett (hamstring), DT Byron Young (ankle).
Chargers: OUT: C Corey Linsley (illness), CB Deane Leonard (hamstring), S J.T. Woods (undisclosed). DOUBTFUL: RB Austin Ekeler (ankle), FS Derwin James (hamstring). QUESTIONABLE: S Alohi Gilman (heel), LB Joey Bosa (hamstring/toe). FULL: TE Gerald Everett (illness), MLB Eric Kendricks (hamstring), LB Kenneth Murray (groin), OT Rashawn Slater (ankle), WR Keenan Allen (hip).
Storyline
A matchup of two coaches under heavy national media scrutiny for decisions they made late in Week 3 games. Raiders coach Josh McDaniels elected to kick a field goal on fourth-and-4 from the 8-yard line trailing by eight points in a loss to the Steelers. Chargers coach Brandon Staley kept his offense on the field deep in his own territory with a four-point lead hoping to gain 1 yard to clinch a win. The Chargers were stuffed at the line for no gain, but the Vikings didn't score and the Chargers got their first win. Staley's decision was justifiable based on math. McDaniels' was not.
The pick
Chargers 31, Raiders 17
Adam Hill Las Vegas Review Journal