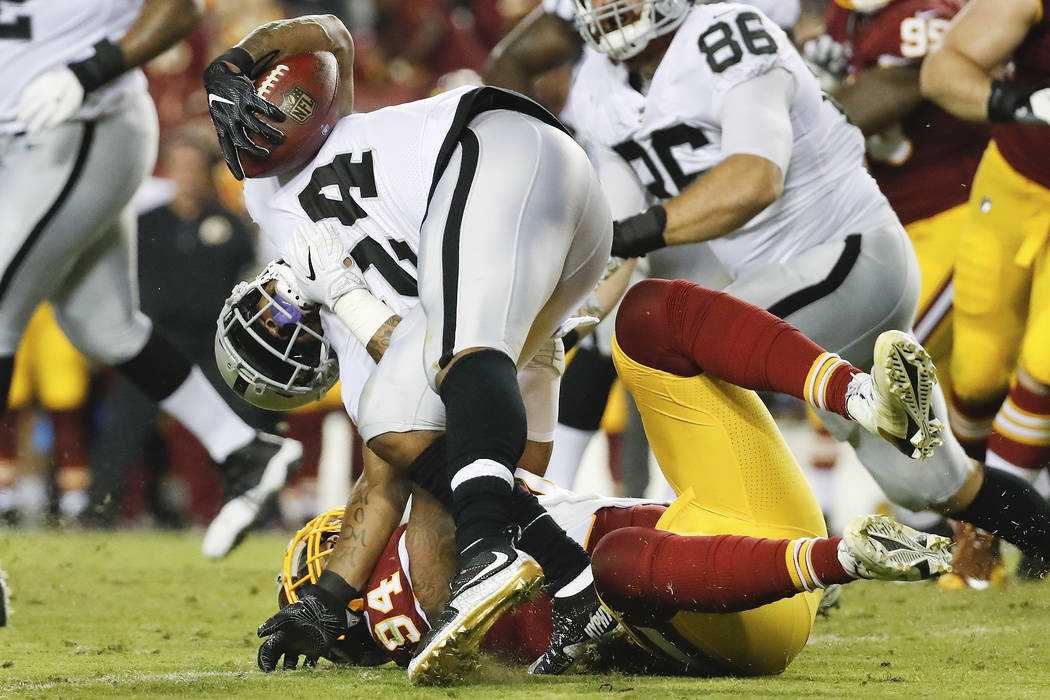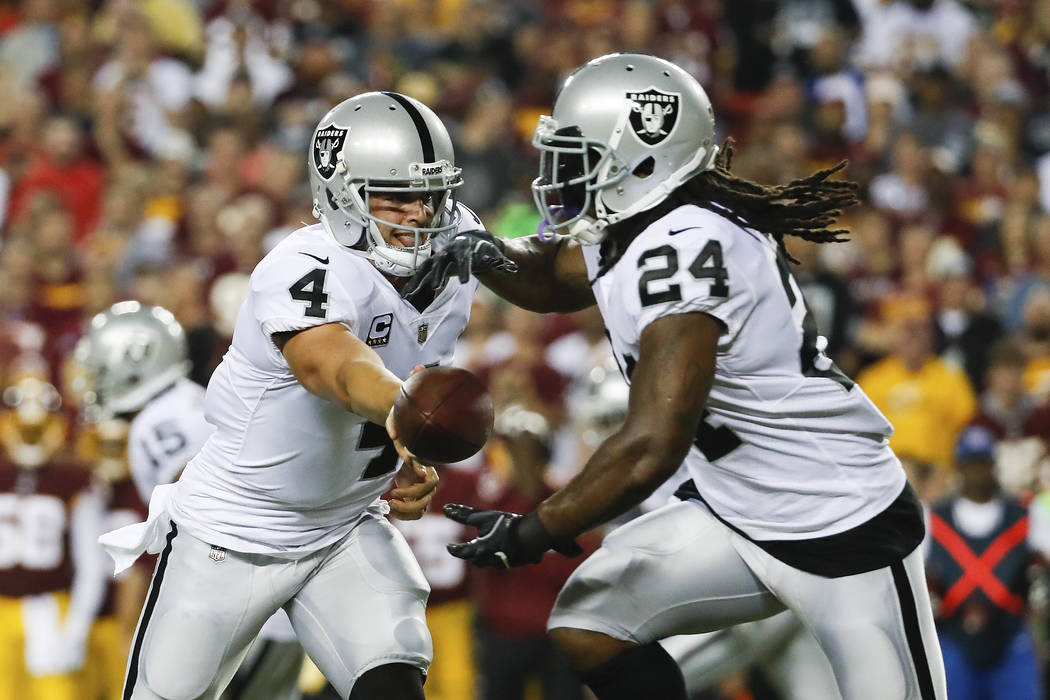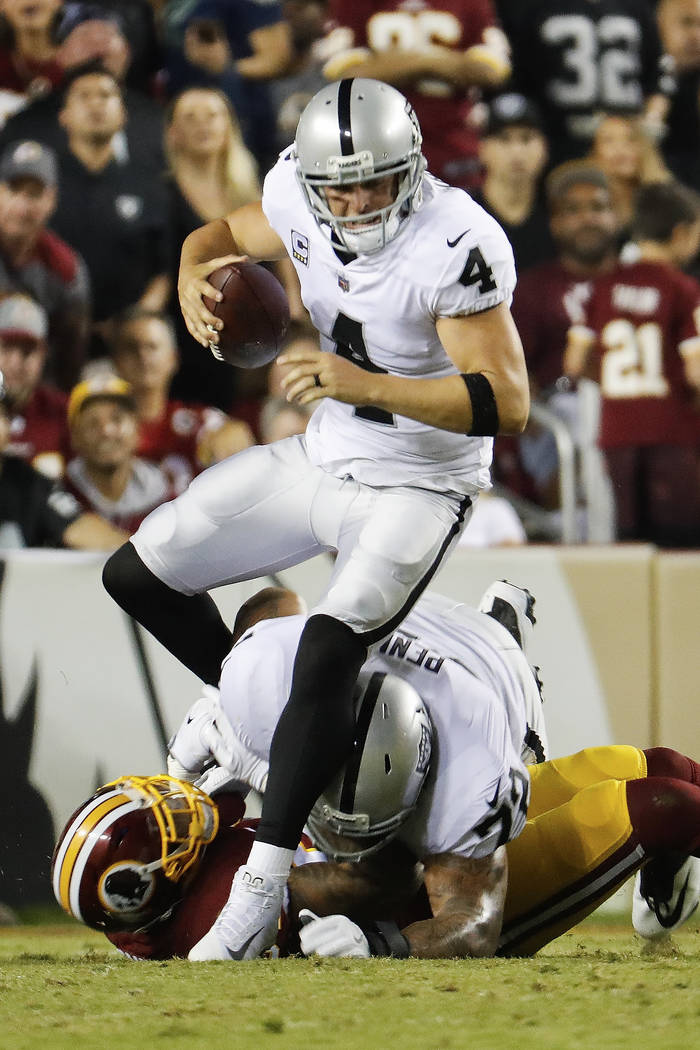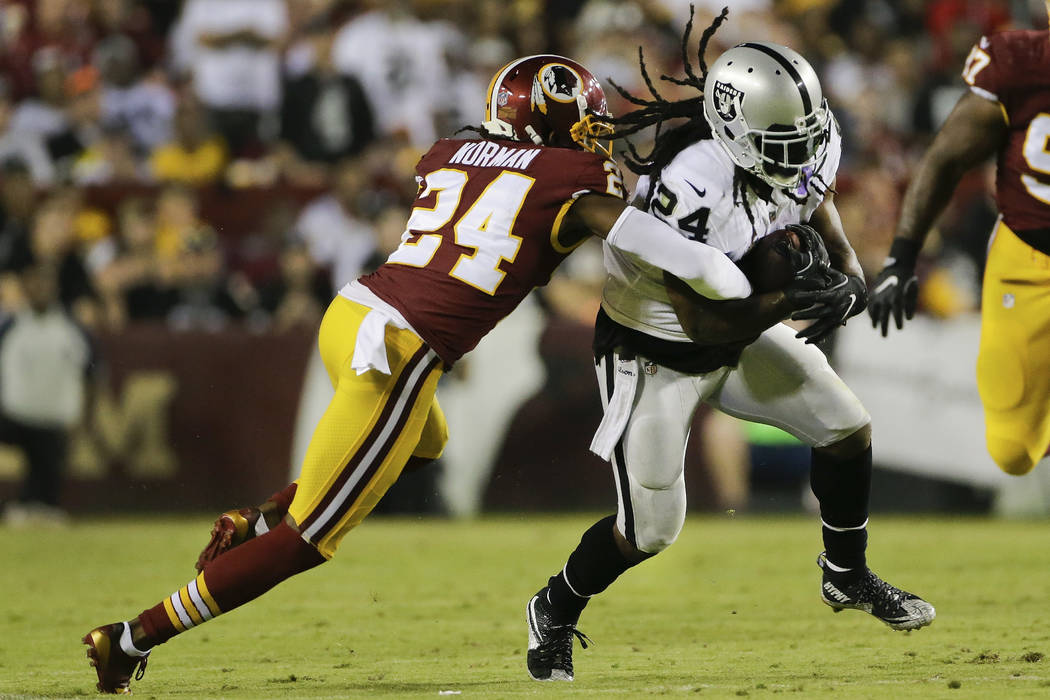 ALAMEDA, Calif. — The run developed Sunday as designed.
Jalen Richard took a Derek Carr handoff and spurted through the left "B" gap — between left tackle Donald Penn and left guard Kelechi Osemele — to reach the second level. He bounced subtly outside, just enough to evade a diving defender, and kept sprinting until tripped up near the home sideline.
There it was. An 11-yard gain in the second quarter.
How it's done.
The Raiders are 2-1 instead of 3-0, in part, because of how rare that run proved.
The team is coming off a 27-10 defeat to the Washington Redskins in which its offense went 0-for-11 on third down. That was the franchise's worst performance in the category dating to at least 2000. But the Raiders' focus before Sunday's game at the Denver Broncos isn't simply to address what happened on third down. It's what transpired on first.
Richard offered the Raiders a spark with his 11-yard first-down dash.
Aside from that, they managed just 11 yards on their other seven first-down carries. They opened the game with a first-down run by Marshawn Lynch that netted 3 yards. The next play was an interception. They opened their second series with another 3-yard run by Lynch. The next two plays were sacks.
For its third series, the team turned to a package that has been wildly successful, inserting wide receiver Cordarrelle Patterson at running back in the shotgun. In the first two weeks, he logged three carries for 57 yards and a touchdown when at running back. He gained 8 yards on his first chance Sunday, but the drive stalled after a Carr incompletion and 1-yard Lynch run on third-and-short.
The Raiders brought an offensive game plan to Washington.
Because of early down woes, an offensive line that struggled uncharacteristically and a quarterback who then found himself looking to do too much, it could not fully materialize.
Therein lies the potential challenge Sunday.
Oakland will look for better push up front and more success in its running game. The Broncos, however, are stout. They have allowed 2.6 yards per carry this season, best in the NFL, and have stuffed an NFL-high 11 of 83 first-down runs behind the line of scrimmage.
Should last Sunday's early-down struggles continue in Denver, Carr will look to adjust the second time around.
He took a lesson from the loss, he said.
"Don't press," Carr said Wednesday. "I don't need to make every play. I always put it on my shoulders. I'm harder on myself than anybody is. … I just have to know I have to rely on my teammates. I don't have to do it all."
Denver hopes to present the same challenge.
This is said to be a copycat league. And so, the Raiders know the Broncos studied Sunday's tape, particularly how the Redskins negated some of the Raiders' double teams, which is among the stables of their physical offensive line.
"You always look to see what similar defensive concepts they're running," Broncos defensive coordinator Joe Woods told Denver-area reporters Thursday. "If you can adopt those concepts, then you put it in your game plan. There's a few things that (the Redskins) do that's part of our base defense, so we'll have those things included. We're always going to put our own twist on what we're trying to do."
The Raiders seek to recapture a rhythm on third down.
They can start on first.
Contact reporter Michael Gehlken at mgehlken@reviewjournal.com. Follow @GehlkenNFL on Twitter.
Related
5 things to watch for in Broncos vs. Raiders Sunday
Raiders to meet Broncos rookie head coach Joseph, former OC Musgrave for the first time