Jon Gruden defends draft picks after Raiders continue trading
Updated April 28, 2018 - 12:14 am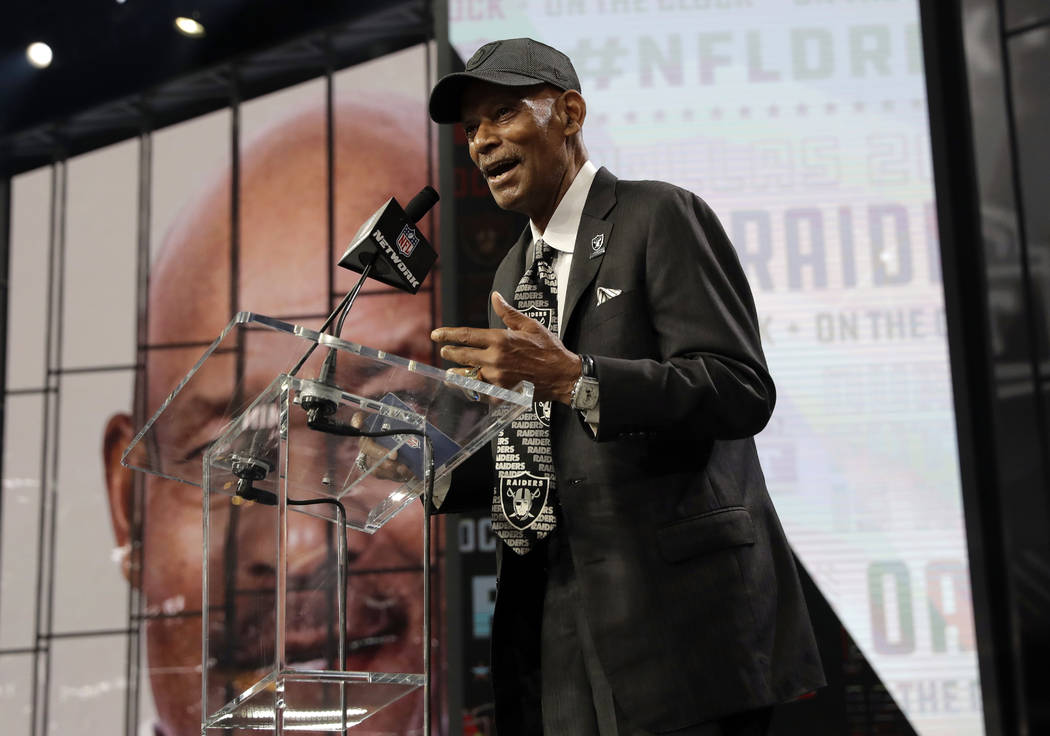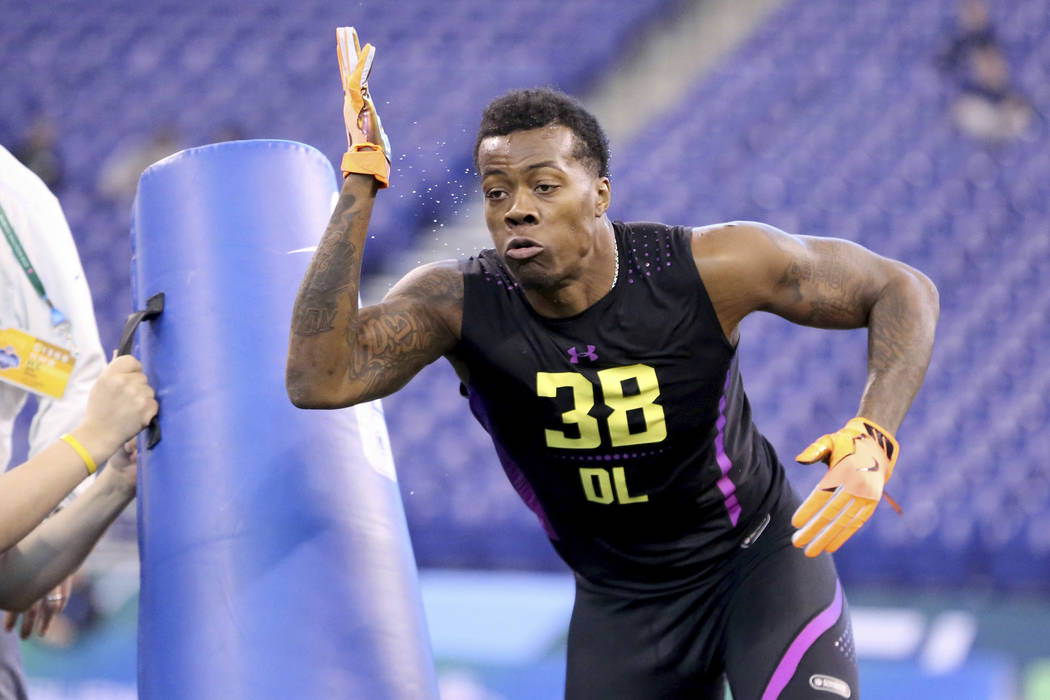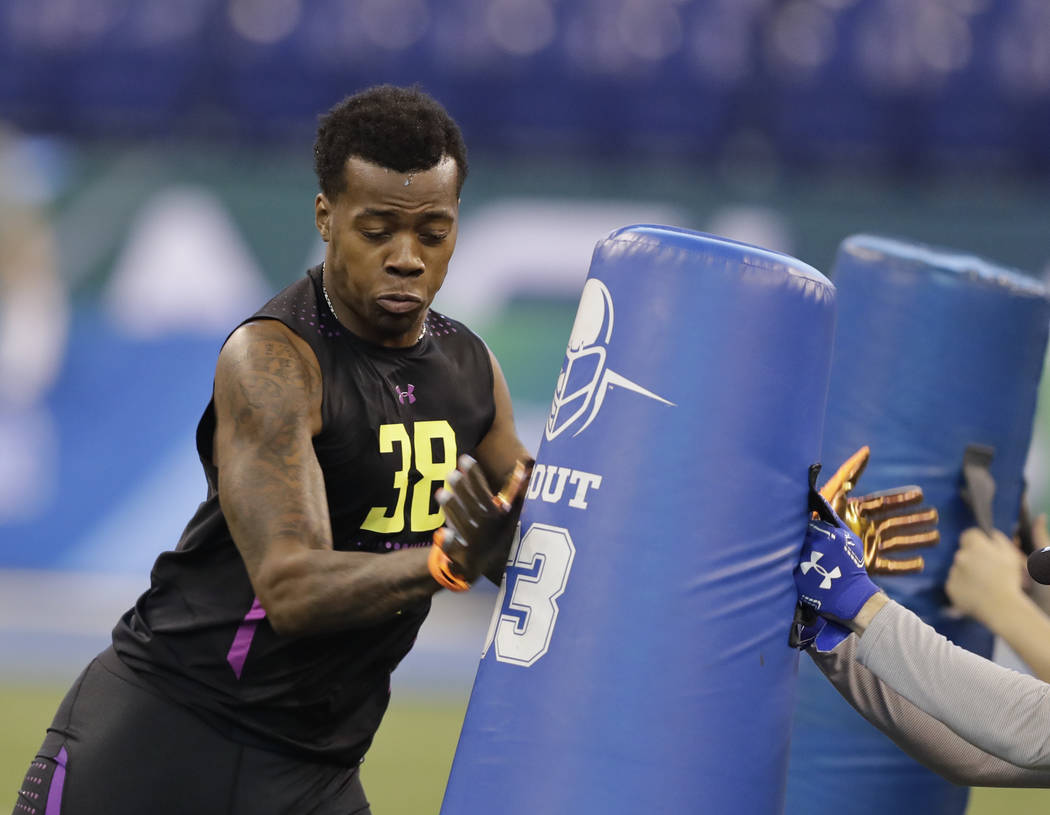 ALAMEDA, Calif. — The Raiders spent the draft's second day as they did the first.
Trading.
Anyone who doesn't like the result, well, coach Jon Gruden respectfully disagrees.
After two swaps during Thursday's first round, the team completed three more Friday between the second and third rounds. Ultimately, the Raiders traded back to select defensive tackle P.J. Hall of Sam Houston State in the second round, moved up to select offensive tackle Brandon Parker of North Carolina A&T in the third and up in the third to take Arden Key, the controversial defensive end from Louisiana State.
A lot of moves. Gruden seemed satisfied with them all.
The Raiders on Thursday traded back to select offensive tackle Kolton Miller of UCLA at No. 15 overall, and they acquired wide receiver Martavis Bryant from the Pittsburgh Steelers for a third-round pick.
"I don't really hear all the skeptics," Gruden said when asked of criticism his draft class may face. "I have a cellphone, too, that works. I got a lot of coaches and friends in the NFL that are ecstatic about the picks that we made. And I apologize to people who don't like our picks and are skeptical. I also realize we have to prove we did the right thing.
"But I'm not going to apologize or be sad about taking two young offensive tackles with the people we've got to block in this division. … We're not playing seven-on-seven here. We don't get to count steamboats or three-Mississippi before they rush. We need guys who can block, and we addressed that today. And we have a quarterback, I think, that is one hell of a football player, and it's a priority to protect him. He's been hurt the last two years, and it bothers me."
This was part of an extended, 200-plus response on that matter.
Gruden continued: "We got a big receiver who can jump up over you and a guy who can run right by you, and he's going to add a dimension to our team that we have not had here. And we needed an inside pass rusher, and we needed an edge rusher, a third rusher potentially with Bruce Irvin and Khalil Mack. We've got to prove we did well, but with every pick comes skeptics."
The Raiders traded back 16 spots before drafting Hall at No. 57 overall. The interior rusher was not invited to the NFL Scouting Combine and said he was "really surprised" to be drafted that early.
With that trade, Oakland added an extra third-round pick, the No. 89 overall choice, to pair with its No. 75. The Raiders later parted with No. 75, trading up 10 spots to select Parker. The swap cost the team a No. 152 (fifth round) and No. 212 overall pick (sixth).
Key was selected 85th overall. Oakland moved up from No. 87, sending a sixth-round pick (No. 217) to the Los Angeles Rams.
The Hall choice was a long time coming.
The Raiders have sought an interior rusher to add to new defensive coordinator Paul Guenther's single-gap scheme. They wanted Clinton McDonald in free agency, but after a visit to the Bay Area, the defensive tackle signed with the Denver Broncos. They wanted to meet with Ndamukong Suh, but he canceled the visit and signed with the Rams.
In Hall, Guenther has his inside rusher.
He will be making a tall jump in competition from the Football Championship Subdivision level. There, he set an FCS record with 86 career tackles for loss. Raiders defensive end James Cowser was the previous record holder with 80. Cowser was acquired as an undrafted free agent in 2016.
Hall totaled 42 career sacks, including a career-high 13 in 2016, in 56 games. He also had 284 tackles, nine forced fumbles, four interceptions and 14 blocked kicks. He's listed at 6 feet ¼-inch and 310 pounds.
Key was considered a first-round talent based on his 2016 game film at LSU.
A marijuana problem, however, has maligned his career. Weight issues also impacted his 2017 performance, hence him dropping to the third round.
Key said he met with the Raiders before the draft, calling them the best of his eight such visits. He thought he meshed well with the staff and director of player engagement LaMonte Winston.
"Football is not the question," Key said. "Everybody knows if we're just picking on talent, top-five pick, automatic."
More Raiders: Follow all of our Raiders coverage online at reviewjournal.com/Raiders and @NFLinVegas on Twitter.
Contact reporter Michael Gehlken at mgehlken@reviewjournal.com. Follow @GehlkenNFL on Twitter.