Jon Gruden resigns as coach of the Raiders
Updated October 11, 2021 - 9:55 pm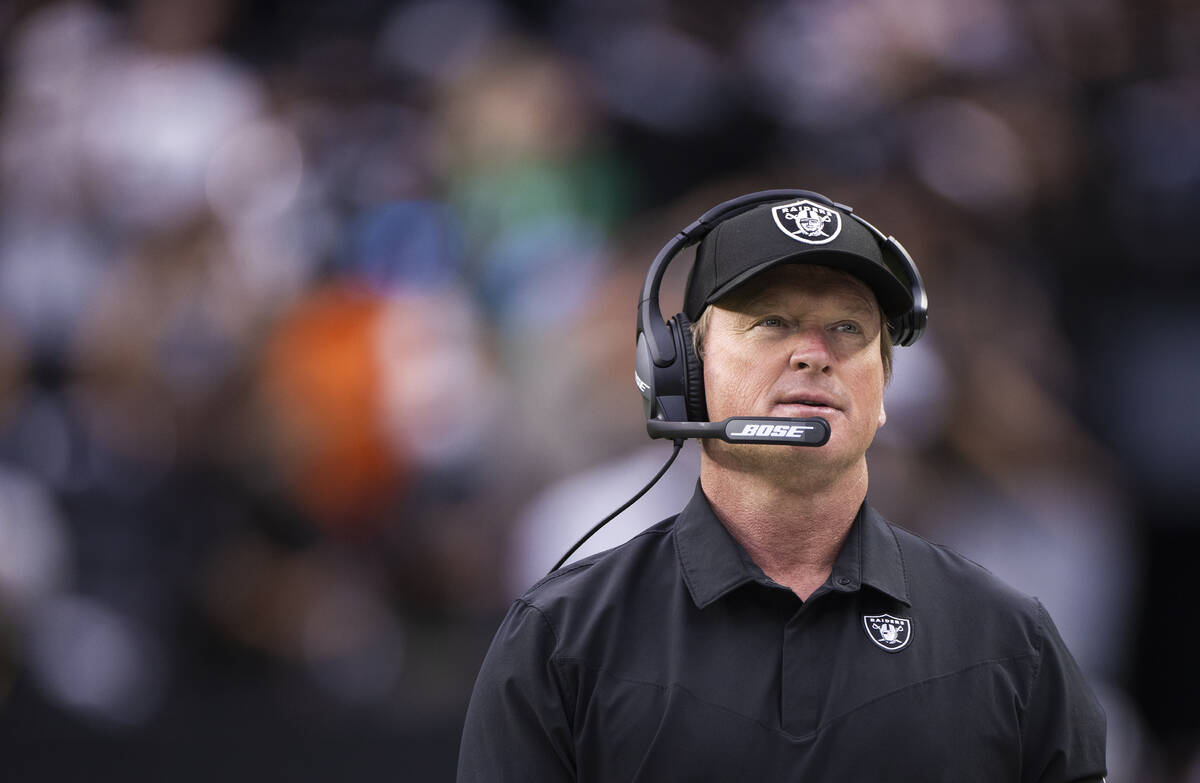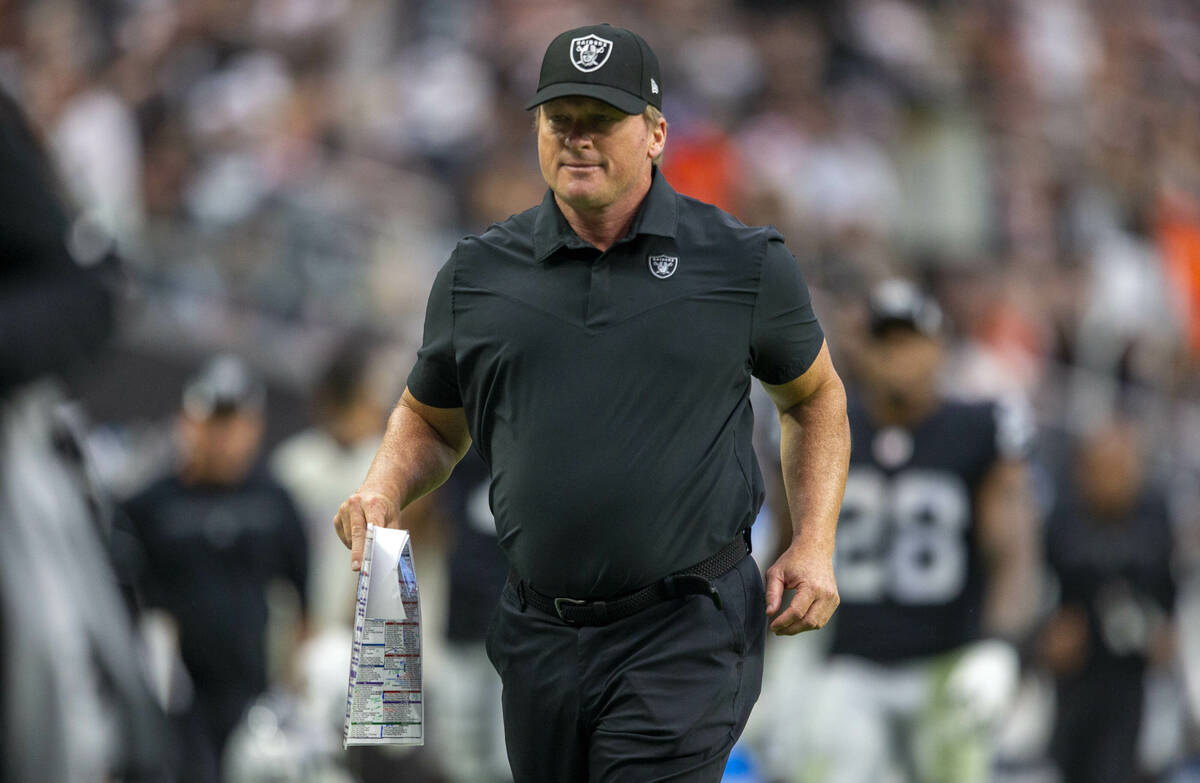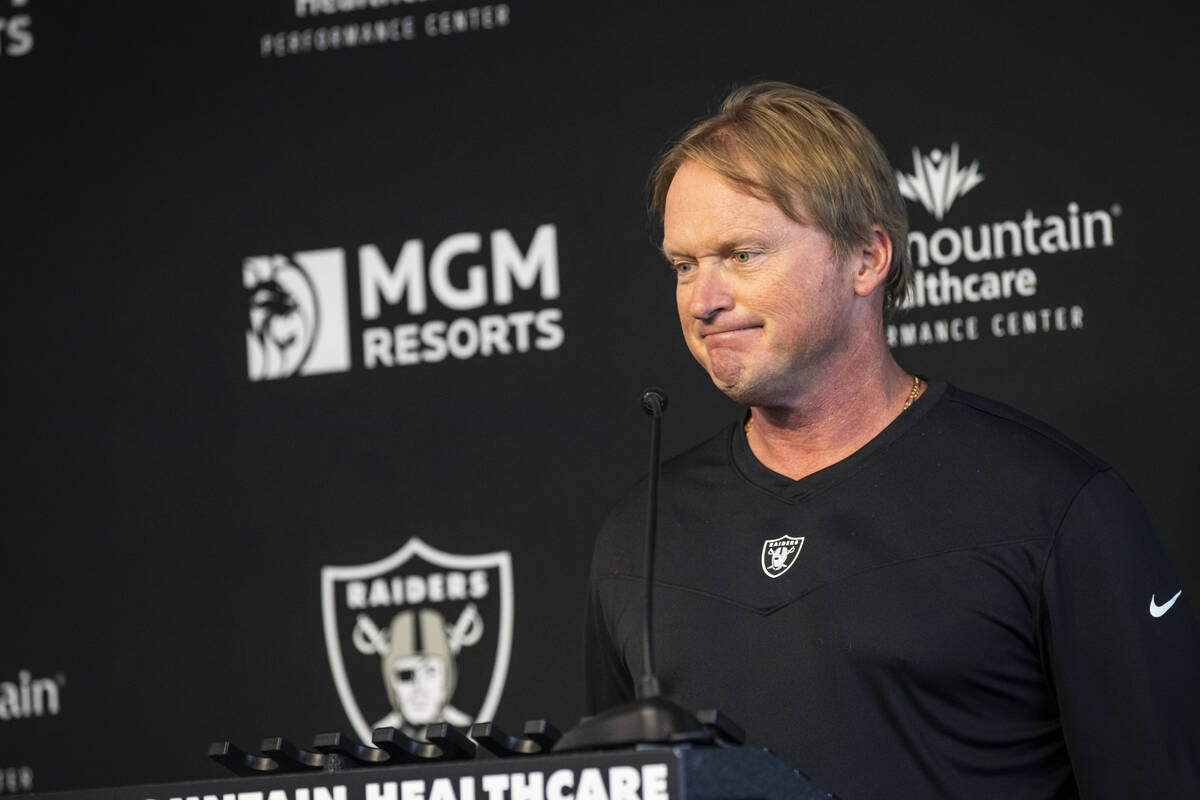 Jon Gruden's second tenure as the Raiders' coach ended abruptly Monday night, four days after revelations of racist, misogynistic and anti-gay emails began to surface.
According to a person with knowledge of the situation, Gruden resigned after a meeting with Raiders owner Mark Davis and informed his players at the team facility in Henderson on Monday evening.
Davis rehired Gruden, the coach his dad once traded, in a splashy 2018 move after six years of attempts to lure him back to the sidelines. Gruden signed a reported 10-year, $100 million contract.
Rich Bisaccia, the team's assistant head coach and special teams coordinator, will take over on an interim basis. He will meet with the media for the first time after practice Wednesday.
"I have resigned as head coach of the Las Vegas Raiders," Gruden said in a statement. "I love the Raiders and do not want to be a distraction. Thank you to all the players, coaches, staff and fans of Raider Nation. I'm sorry. I never meant to hurt anyone."
Davis issued a statement confirming he has accepted Gruden's resignation.
The move comes after additional offensive emails Gruden had sent containing homophobic and misogynistic language were detailed in a New York Times report.
Monday's revelations are in addition to the racial trope he used to describe NFL Players Association chief DeMaurice Smith, which was revealed Friday.
In the new emails, which were also discovered in the same hostile workplace investigation into the Washington Football Team, Gruden called NFL commissioner Roger Goodel a "f—–" and a "clueless anti-football p—-."
The emails were sent to friend Bruce Allen, the former president of WFT, and others.
Gruden also lamented the league's hiring of female officials and slammed the league for what he asserts was pressure on the Rams to draft Michael Sam in 2014. Sam had come out as gay before the draft.
In one of the emails, which were sent over a seven-year period ending in 2018, Gruden voiced his opposition to his perception of the league's influence on Rams coach Jeff Fisher to select "q—–."
With the Raiders, Gruden coached defensive end Carl Nassib, the first openly gay current player in the NFL.
In response to the latest revelations about Gruden's emails, Gov. Steve Sisolak wrote on Twitter: "This kind of behavior is unacceptable and reprehensible. Las Vegas is a welcoming city and the Raiders are a part of our family. There's no place for hate here."
Gruden worked at ESPN at the time of most of the emails. The network cut into "Monday Night Football," where he was a longtime commentator, to report the news of his resignation.
Former quarterback Brian Griese, the current analyst on the broadcast, said the decision had to be made.
"With all those things coming out, I don't see any way Mark Davis could not have that conversation with Jon Gruden," Griese said. "You can't come back from that in this day and age, nor should you."
Gruden's emails reportedly include additional criticisms of Goodell and several NFL owners. He also was critical of Eric Reid, then a player in the NFL who had demonstrated during the national anthem, and Gruden used offensive language to describe coaches and journalists, too.
After the original report of the racist email about Smith surfaced, Gruden told ESPN he was aware of other emails that had disparaging remarks about Goodell and others. He didn't offer specifics.
He was asked after Sunday's 20-9 loss to the Chicago Bears at Allegiant Stadium whether the public could be assured no further inflammatory statements would surface.
"All I can say is I'm not a racist," Gruden answered. "I can't tell you how sick I am. I apologized again to (DeMaurice Smith), but I feel good about who I am and what I've done my entire life. I apologize for the insensitive remarks. I had no racial intentions with those remarks at all. … I'm not like that at all. I apologize, and I don't want to keep addressing it."
Monday's release of more emails from the investigation quickly escalated the pressure on the team to take action.
Gruden has said he was upset during the time period of the emails about the direction of the NFL. He disapproved of Goodell's emphasis on safety and Smith's leadership of the union.
He said the lockout in 2011 was a specific trigger for his anger, but the new emails covered an extensive period after the labor strife.
Gruden and Allen exchanged messages with photos of scantily clad women in only bikini bottoms, including one with two WFT cheerleaders.
The now former coach of the Raiders also criticized President Barack Obama and then-Vice President Joe Biden, referring to Biden as a "nervous clueless p—-."
The league received more than 600,000 emails from the investigation of the Washington Football Team and has been examining them for several months.
According to reports, Gruden initiated some of the exchanges and was the original recipient on others.
Gruden first coached the Raiders from 1998 to 2001 before he was traded to the Buccaneers. He led Tampa Bay to a Super Bowl win over the Raiders in 2002 and coached there until 2008.
He concludes his second term as coach with a 22-31 record, failing to make the playoffs in any of his three full seasons. Gruden has a 117-112 record in 15 seasons in the NFL.
Contact Adam Hill at ahill@reviewjournal.com. Follow @AdamHillLVRJ on Twitter.