Khalil Mack skips start of Raiders' workout program
Updated April 9, 2018 - 10:57 am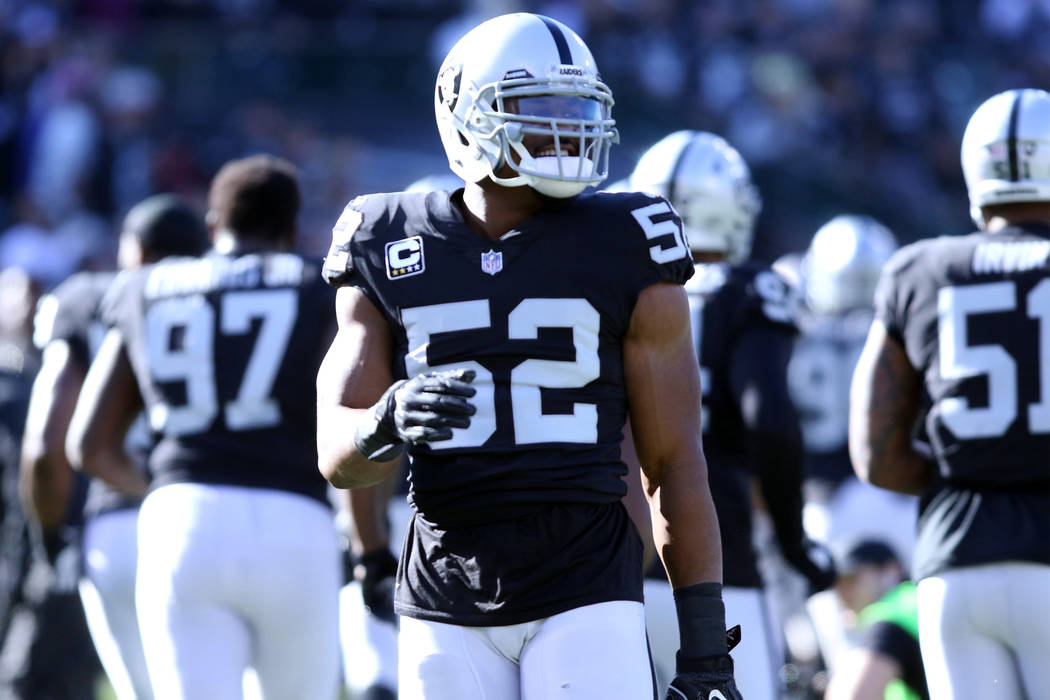 OAKLAND, Calif. — The Raiders began their spring workout program Monday without their star defensive end.
Khalil Mack reportedly was not present at the team facility. As stipulated under the collective bargaining agreement, attendance to these workouts is voluntary. Mack's absence comes during an offseason in which his agent and the Raiders have unsuccessfully negotiated a contract extension.
Mack, whose decision to skip was first reported by NFL Media, is entering the final season of his 2014 rookie deal. He is scheduled to play under a team option worth $13.846 million.
Raiders been discussing extension with Khalil Mack. Hoped to move quickly on it. But early talks weren't close. https://t.co/qre1mKZK3A

— Michael Gehlken (@GehlkenNFL) April 9, 2018
While the Raiders hope to sign Mack, 27, to a long-term pact soon, there is a possibility Monday marked the start to a long, drawn-out process between the sides. No two negotations are exactly alike, but Joel Segal, Mack's representation, has a history with not rushing blockbuster deals.
Cornerback Trumaine Johnson, a Segal client, was franchise tagged twice by the Los Angeles Rams before signing a five-year, $72.5 million contract last month with the New York Jets. The Raiders figure to franchise tag Mack in 2019 if no extension is reached. And they could do so again in 2020.
By skipping Monday, Mack missed Jon Gruden's first team meeting as head coach. New defensive line coaches Mike Trgovac and Marco Coleman also held their first position meeting. The brunt of the morning, however, was devoted to strength and conditioning under the guidance of new strength coordinator Tom Shaw, who trained Mack in Orlando before the 2014 draft.
The Raiders will hold a workout up to four days per week for the next two months. Their schedule includes a minicamp April 24-26, and organized team activities (OTAs) that begin May 22 and conclude June 7. Each of these functions is voluntary. Not until a mandatory minicamp from June 12-14 is Mack required to attend.
If Mack skips all of that minicamp, the team can fine him up to $84,435. Theoretically, if he begins skipping training camp in late July, it can dock him up to $40,000 per day. Mack can lose up to one week's regular-season salary ($814,470.59) for an unexcused absence of an exhibition game.
The Raiders hope this situation never comes to that.
Mack was the first Segal client the Raiders drafted in a string of three consecutive first-round picks. Wide receiver Amari Cooper in 2015 and safety Karl Joseph in 2016 were the others. Segal also represents outside linebacker Bruce Irvin and quarterback Connor Cook.
More Raiders: Follow all of our Raiders coverage online at reviewjournal.com/Raiders and @NFLinVegas on Twitter.
Contact reporter Michael Gehlken at mgehlken@reviewjournal.com. Follow @GehlkenNFL on Twitter.