LA Chargers boast pass rush intent on sacking Raiders
October 11, 2017 - 6:01 pm
Updated October 11, 2017 - 7:06 pm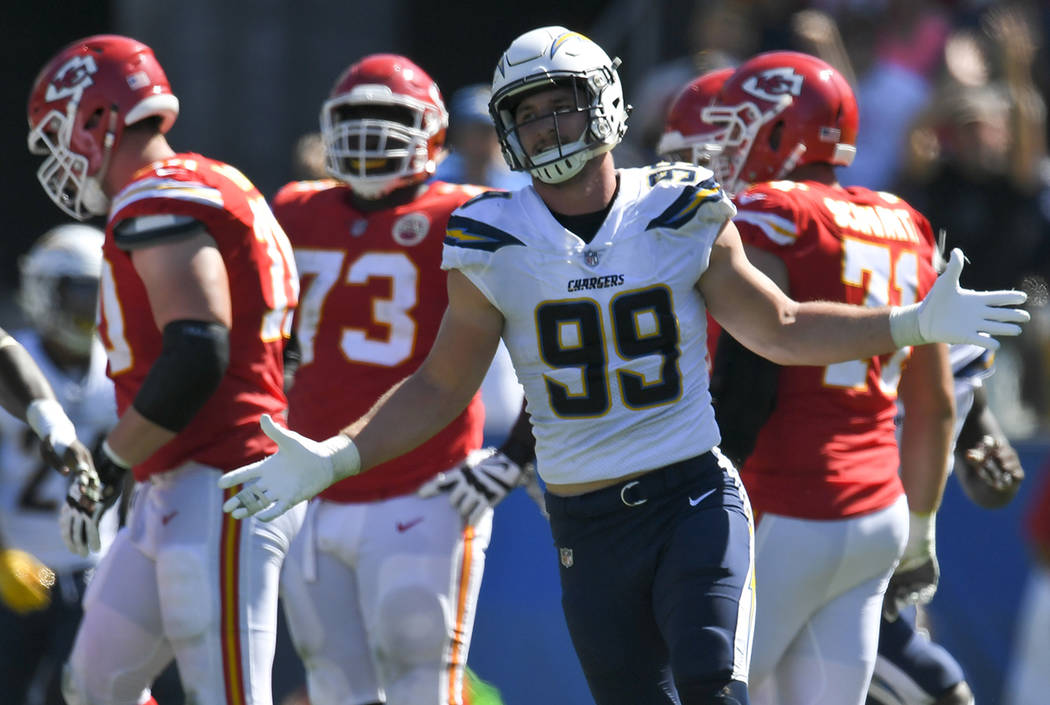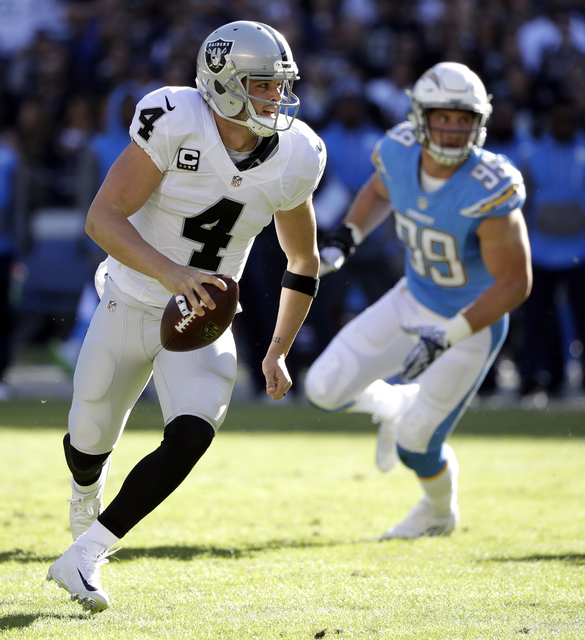 ALAMEDA, Calif. —Quarterbacks beware.
The Los Angeles Chargers' pass rush is one of their bright spots this season. The Chargers are tied for third in the NFL in sacks.
Most of their sacks come from two men: Melvin Ingram and Joey Bosa.
It's a complementary effort for the defensive ends.
"It's huge, for team's not to be able to focus on one or the other one of us," Bosa said Wednesday. "Coming into games, disrupting offenses, having contrasting styles of pass rushing across each other I think is something that works in our favor when we're switching sides and guys don't really know what to expect."
Ingram and Bosa are responsible for a combined 12 sacks. The Chargers have 17 total on the season. Bosa is second with 4.5, while Ingram has gotten to the quarterback 7.5 times.
Ingram is on pace to pass his personal sack record of 2015 when he had 10.5. Bosa credits Ingram's pass rushing improvements to putting in more time with the defensive line.
"We have him in the D-line room, which is great," Bosa said. "He was with the outside linebackers last year, so having him with the D-line and working those techniques of pass rushing with your hands, I think he's refining his technique as a pass rusher. I think the play you guys are seeing has always been there."
The Chargers travel to Oakland to play the Raiders for the first time this season on Sunday. After starting 1-4, the importance of this rivalry game cannot be overstated for the Chargers.
"It's the Raiders and the Chargers, it's always going to be a big game, Bosa said. "It's kind of a win or kind of go home mentality for us now that we have these four losses. We need to start racking wins up."
Contact reporter Chris Booker at cbooker@reviewjournal.com. Follow @Bookerc94 on Twitter.