Left tackle Donald Penn's holdout pivotal point for Raiders
August 22, 2017 - 2:26 pm
Updated August 23, 2017 - 1:57 am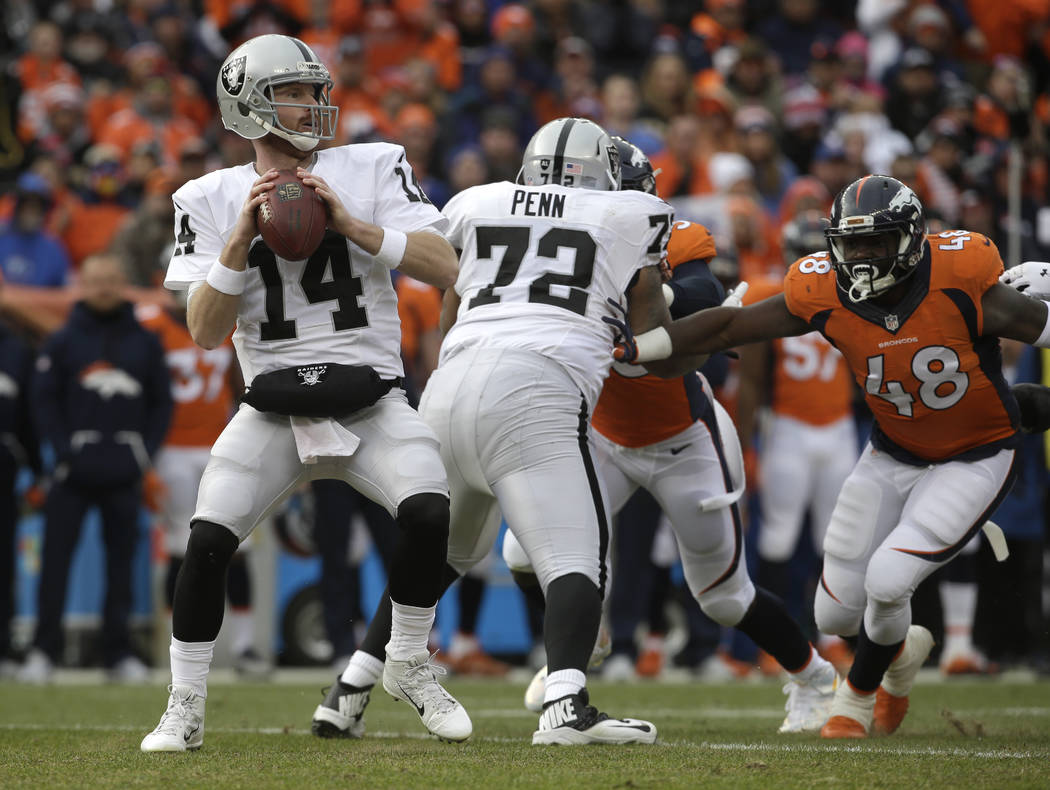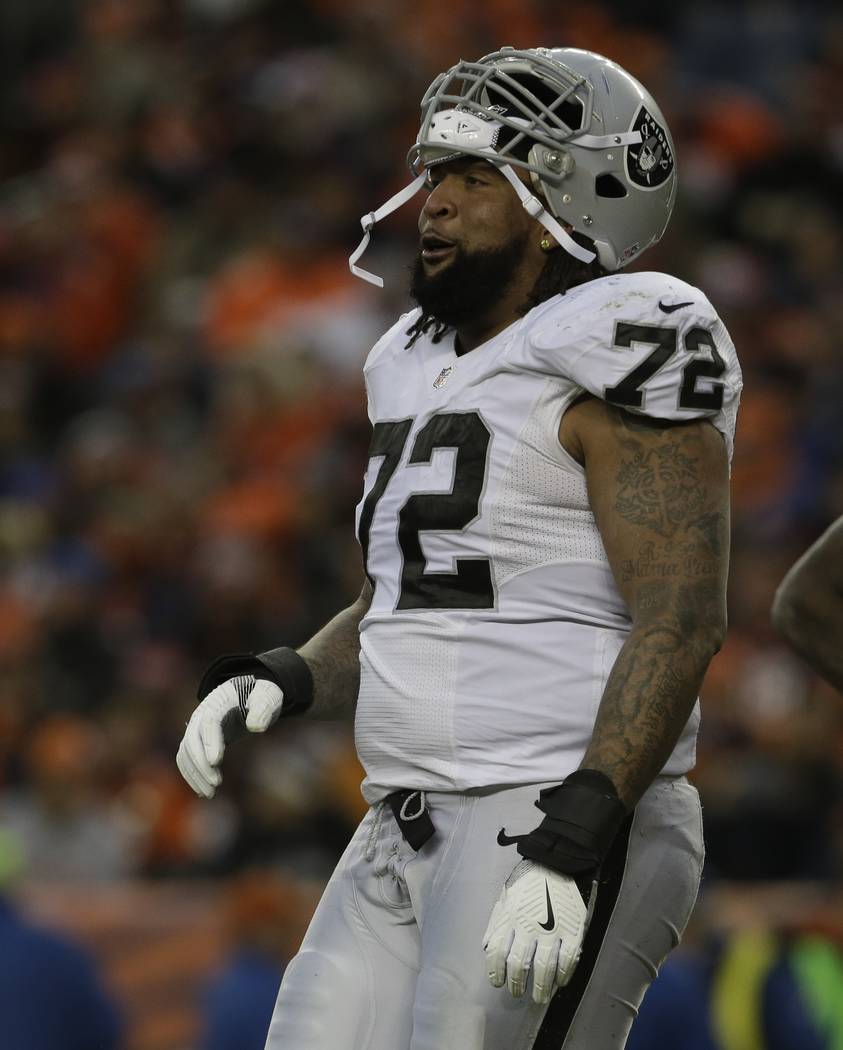 ALAMEDA, Calif. — If Donald Penn arrived Tuesday morning, all would be fine.
He would rejoin teammates and coaches with hand slaps and hugs. He would resume on-field work. He would have plenty of time to prepare for the Sept. 10 season opener, a full two-plus weeks of practice before the Raiders travel to Tennessee.
But he did not arrive Tuesday.
Soon, there will be fallout.
This week could prove a crucial one in the standoff between the franchise and its left tackle. He missed all of training camp while holding out for a deal that better reflects his believed value. If he and the team cannot agree to parameters that prompt Penn to report soon, the situation will have a clear impact on the regular season.
From afar, Penn has trained to be ready for Week 1.
There is no substitute, however, to being in pads beside teammates. He needs practice time if expected to handle a full host of snaps against the Titans. Ideally, that practice time would come soon enough for him to appear in Saturday's exhibition against the Dallas Cowboys. The third exhibition is viewed as a regular-season dress rehearsal, a team's starters typically playing at least the first half.
The Raiders will conclude their preseason Aug. 31 versus the Seahawks.
Oakland coach Jack Del Rio declined Tuesday to address the importance of Penn reporting this week.
"I coach the guys that are here," Del Rio said. "I'm not going to go any further on this subject."
On Monday, the San Francisco Chronicle reported that Penn will rejoin the Raiders this week. That is the hope and very well could be what develops. A gap first must be bridged between the two sides. Penn still wants a new contract. He still believes he deserves one. For him to join the Raiders soon, he must believe there is some level of imminence that such a contract is coming.
The longer this holdout lingers, the more likely it is to impact the Raiders elsewhere on their roster.
If Penn reports early enough to play Week 1 but too late to handle every Week 1 offensive snap, the team must consider carrying an extra offensive tackle, perhaps seventh-round rookie Jylan Ware, on their 46-man active roster. That would mean one fewer special teamer or depth player at another position.
Anthem reaction
Raiders quarterback Derek Carr explained at length Saturday why he placed his right hand on defensive end Khalil Mack for the duration of the national anthem, the gesture designed to be a symbol of racial solidarity and example for others.
It had been a couple of days since then.
The response, Carr said, has been unanimous.
"I haven't heard one person say they didn't like it," Carr said Tuesday. "Again, Khalil and I were not protesting our country. We love our country, but we know it's imperfect. We just wanted to show that we love each other, and that's OK, and actually, it's right. That's all we wanted to do. Honestly, if someone is mad at that, we're going to have to question them."
Offensive coordinator Todd Downing also placed his right hand on fullback Jamize Olawale during the anthem.
Notable
■ Center-guard Jon Feliciano, all 324 pounds of him, returned a kickoff 18 yards in Saturday's exhibition loss to the Los Angeles Rams. Del Rio was asked tongue-in-cheek how he planned to rotate Feliciano with wide receiver Cordarelle Patterson in return drills during practice. "Yeah, it's a tough decision," Del Rio said. "How can we get the ball in Feliciano's hands? Obviously, we're glad we have an athletic guy there, able to … catch that ball and get some yardage. But we'll stick with 84."
■ Carr spoke highly of the Raiders' ability to protect him despite using different offensive linemen. Asked the importance of that line play, he began, "Well, from past family experience …" David Carr, his older brother, was sacked an NFL-record 76 times in 2002 as a rookie first overall pick for the Houston Texans.
Contact reporter Michael Gehlken at mgehlken@reviewjournal.com. Follow @GehlkenNFL on Twitter.
Related
Raiders planning to be without Donald Penn in Week 1