Logjam looms for Raiders on offensive line as training camp nears
Updated July 22, 2018 - 5:41 pm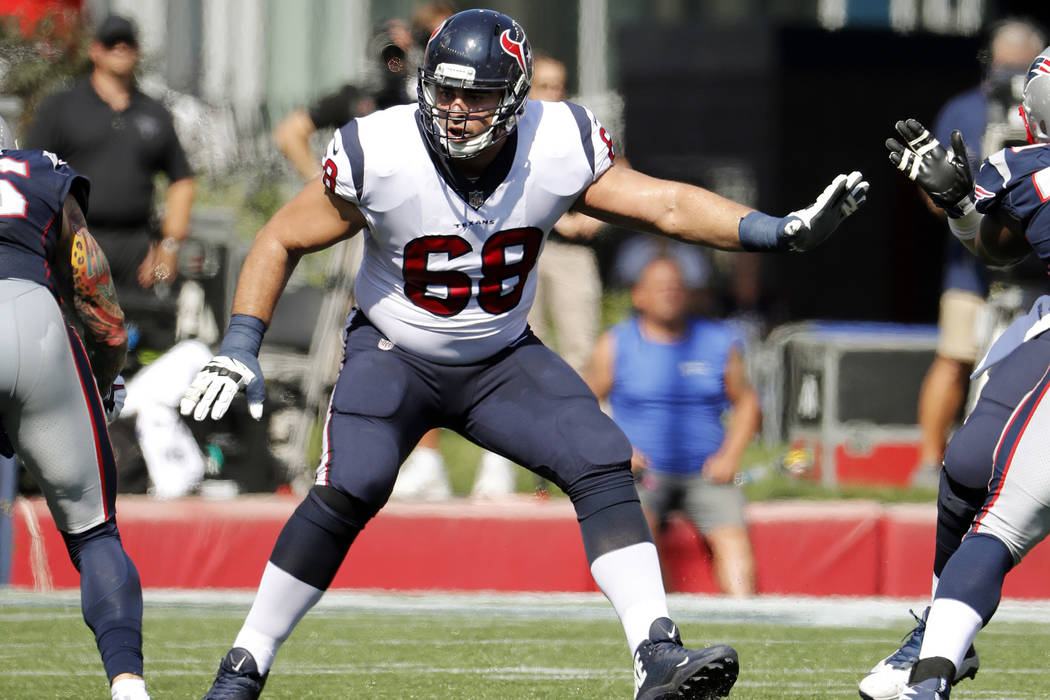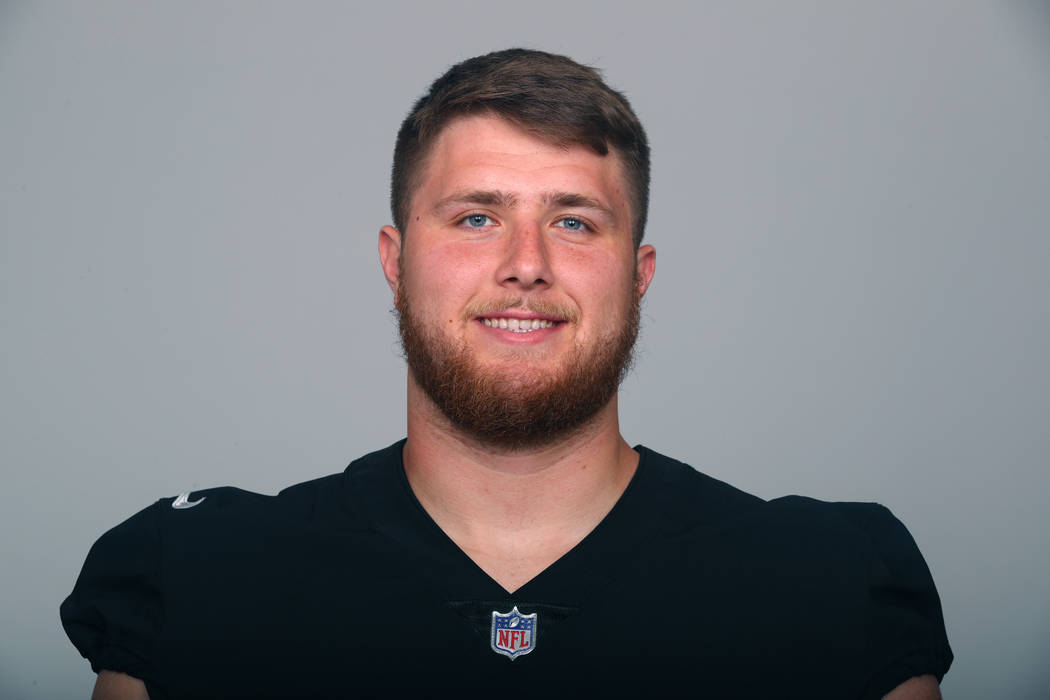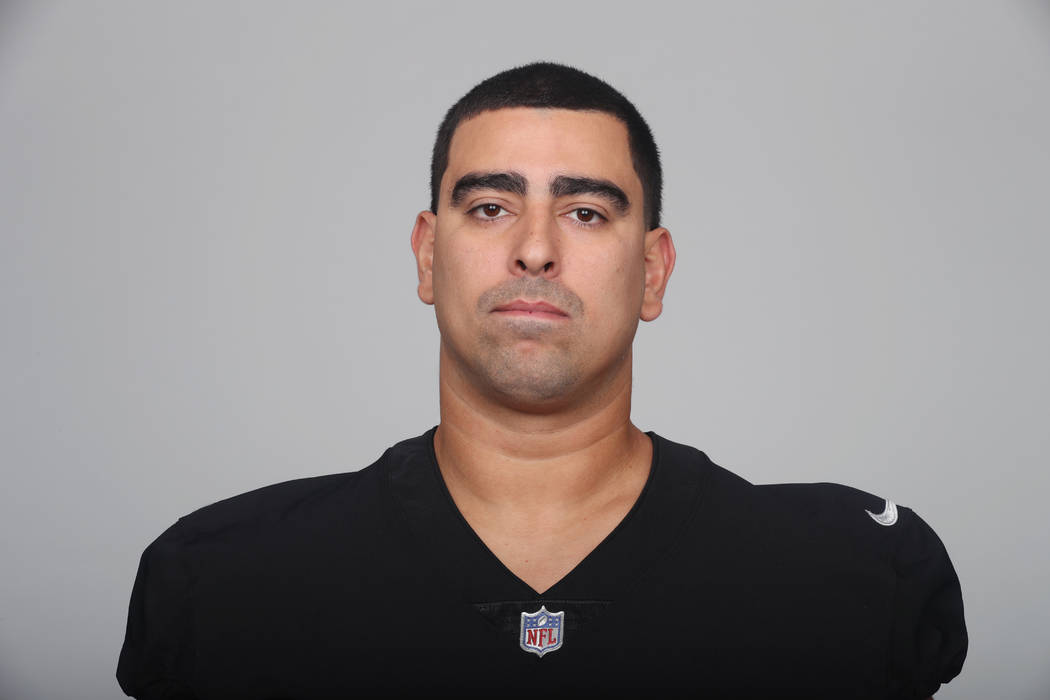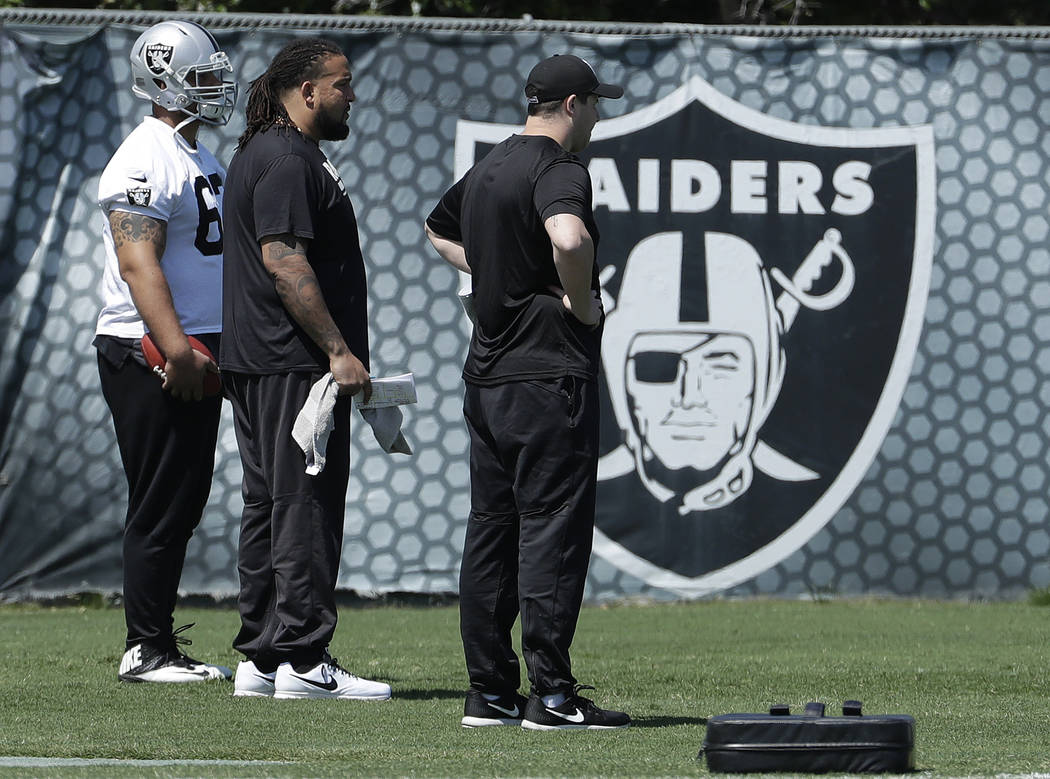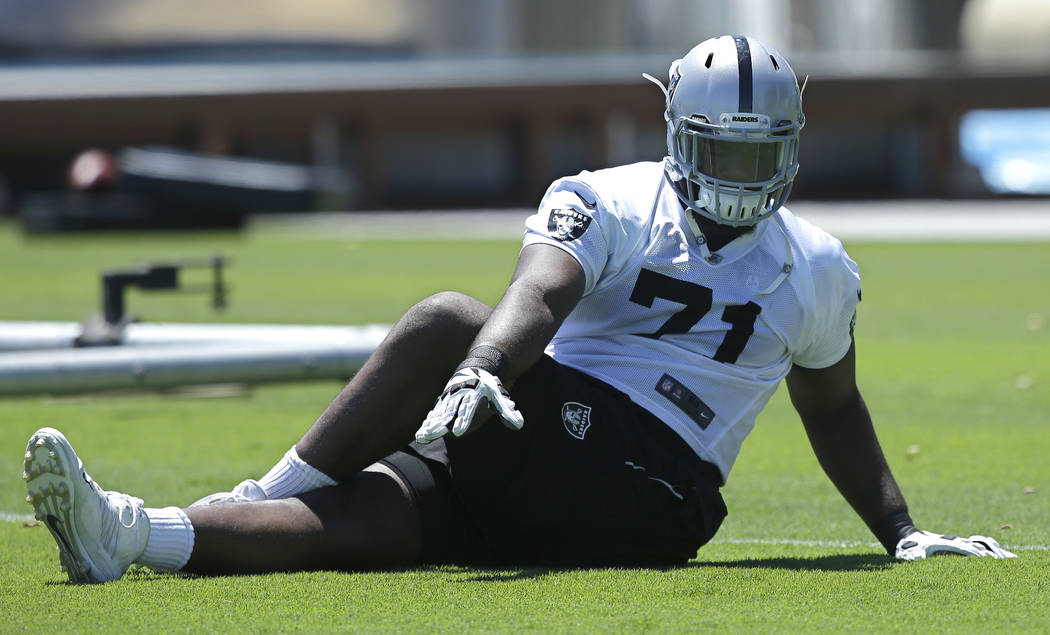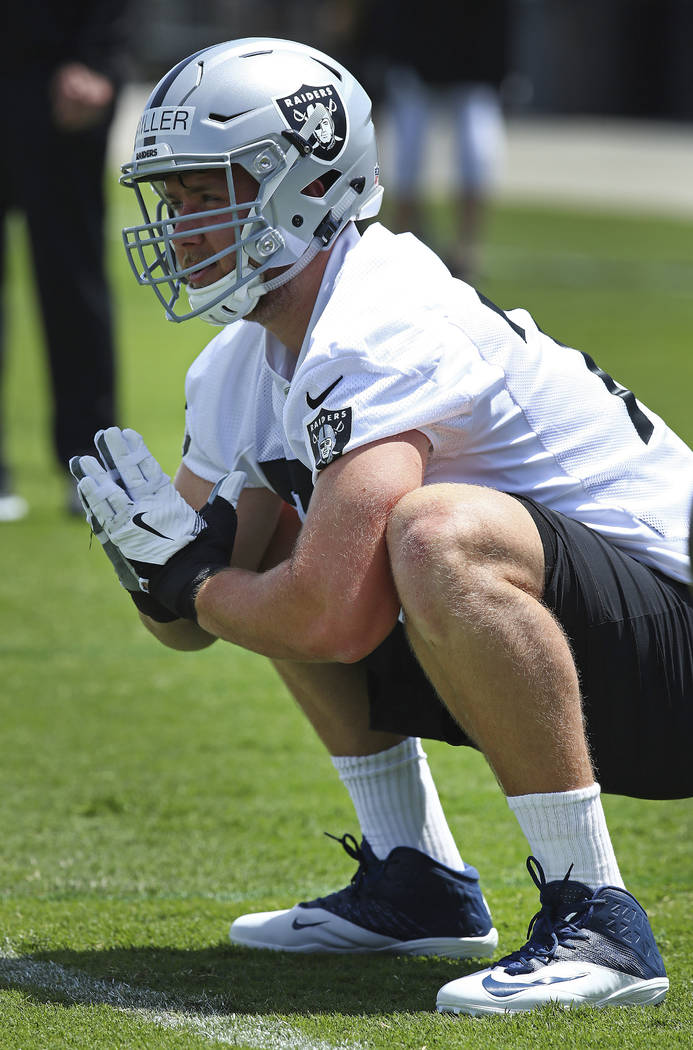 Many NFL teams carry three offensive tackles on their 53-man roster.
Some stretch the total to four.
This week, the Raiders will report to training camp in waves, rookies due Monday and veterans Thursday in Napa, California. Maybe the most intriguing group will be well represented on both days, as first-round choice Kolton Miller and third-round pick Brandon Parker precede veterans Donald Penn, Breno Giacomini and David Sharpe.
Each tackle has a case to survive the Sept. 1 cutdown from 90 to 53 players.
But that's five.
In an AFC West riddled with edge rushers, the Raiders have demonstrated a commitment to invest in quarterback Derek Carr's protection. They've drafted four tackles in two years, including three in the first four rounds. They've signed or re-signed three veterans since 2017. Soon enough, these additions mayproduce a surplus.
An experienced tackle could be left out.
The Raiders have time to determine how they'll sort through a looming logjam. Health can sway the final landscape. How Penn rebounds from December foot surgery can, too. Ultimately, the readiness of the position's youth could dictate the final decision.
Miller and Parker, both 22, are roster locks as draft picks.
If Sharpe isn't one, he appears close.
Sharpe, 22, was selected in the 2017 fourth round out of Florida. His first season was very much a rookie year, spent predominantly on the bench behind Penn and Marshall Newhouse, who was released in February. Sharpe learned strides were needed to be a professional and properly take care of his body.
This spring, after Sharpe practiced at a lighter weight, offensive line coach Tom Cable said he was "really impressed" by him.
"I know they picked him in the fourth round last year," Cable said June 14, "and I'm looking at this guy, and for a while, it was uncomfortable for him. He didn't like being uncomfortable, but you can't be a lineman in this league and not almost cherish that ugliness side of it. It's kind of cool because it'll help you in life. But this guy, he's learning that right now. You look at him and you think, 'My God, there's a right tackle that might play in this league for 10 years if he ever captures it.'
"When David realizes who he is at his best, this kid is going to go off the chain, and it's going to be cool, and you hope he's on your team. … He has the potential to be a really good football player. It'll be up to him whether he chooses to do that or not."
Miller. Parker. Sharpe. That would be three.
Regardless how much potential the three demonstrate in camp, the Raiders cannot confidently enter 2018 with the group alone.
Parker is transitioning from North Carolina A&T, part of Division I's lower subdivision. He might not be ready to be active Week 1, much less be one snap from entering action. Sharpe played 128 offensive snaps in 2017, the bulk coming in two left-tackle starts to finish the season. That's it for NFL regular-season experience among the three.
That leads to Penn, 35, and Giacomini, 32.
In camp, Penn looks to re-establish his standing. Miller, his heir apparent, worked exclusively at left tackle in the spring while Penn was eased back from Lisfranc surgery and limited to walk-through reps. How Miller shows in pads during camp and the preseason could influence where Penn fits in the Raiders' plans.
Miller has drawn praise. Coach Jon Gruden singled him out among the club's spring standouts. Cable also was high on the early showing.
"It's not too big for him," Cable said of Miller, who played left and right tackle at UCLA. "He's looked just fine. He's kind of put an exclamation point on our choosing of him. … He's very athletic. He's very smart. For a tall kid, he can really bend. … He has a quiet toughness to him that I think has really shown up a lot. His consistency already as a young player in spring football has been amazing."
If the Raiders go young at three tackle spots, it seems certain that Penn or Giacomini won't make the final 53.
Time has proven Penn wise for holding out last summer for a contract extension. Among its benefits, the deal allowed him to rehab with the Raiders this offseason rather than at home as a free agent. It also fully guaranteed him half of his $6 million salary in 2018.
Even so, the Raiders can save significant cash and cap space should they feel confident enough in Miller to start the rookie at left tackle and trade or release Penn. The Raiders would save less if they move on from Giacomini, who signed a one-year contract in March worth up to $3.015 million, including $1 million fully guaranteed.
Ultimately, the team will be best served to start its best five on the offensive line, however the arrangement. No answer is required today.
Like with tackles, the team doesn't lack for time.
More Raiders: Follow Raiders coverage at reviewjournal.com/Raiders and @NFLinVegas on Twitter.
Contact reporter Michael Gehlken at mgehlken@reviewjournal.com. Follow @GehlkenNFL on Twitter.
Raiders' tackle investments since 2017
— Marshall Newhouse, one-year contract, March 2017 (no longer on roster)
— David Sharpe, fourth-round pick, April 2017
— Jalen Ware, seventh-round pick, April 2017
— Donald Penn, two-year contract extension, September
— Breno Giacomini, one-year contract, March
— Kolton Miller, first-round pick, April
— Brandon Parker, third-round pick, April