McDaniels, Ziegler products of NFL pipeline at tiny Ohio college
Updated October 2, 2023 - 8:54 am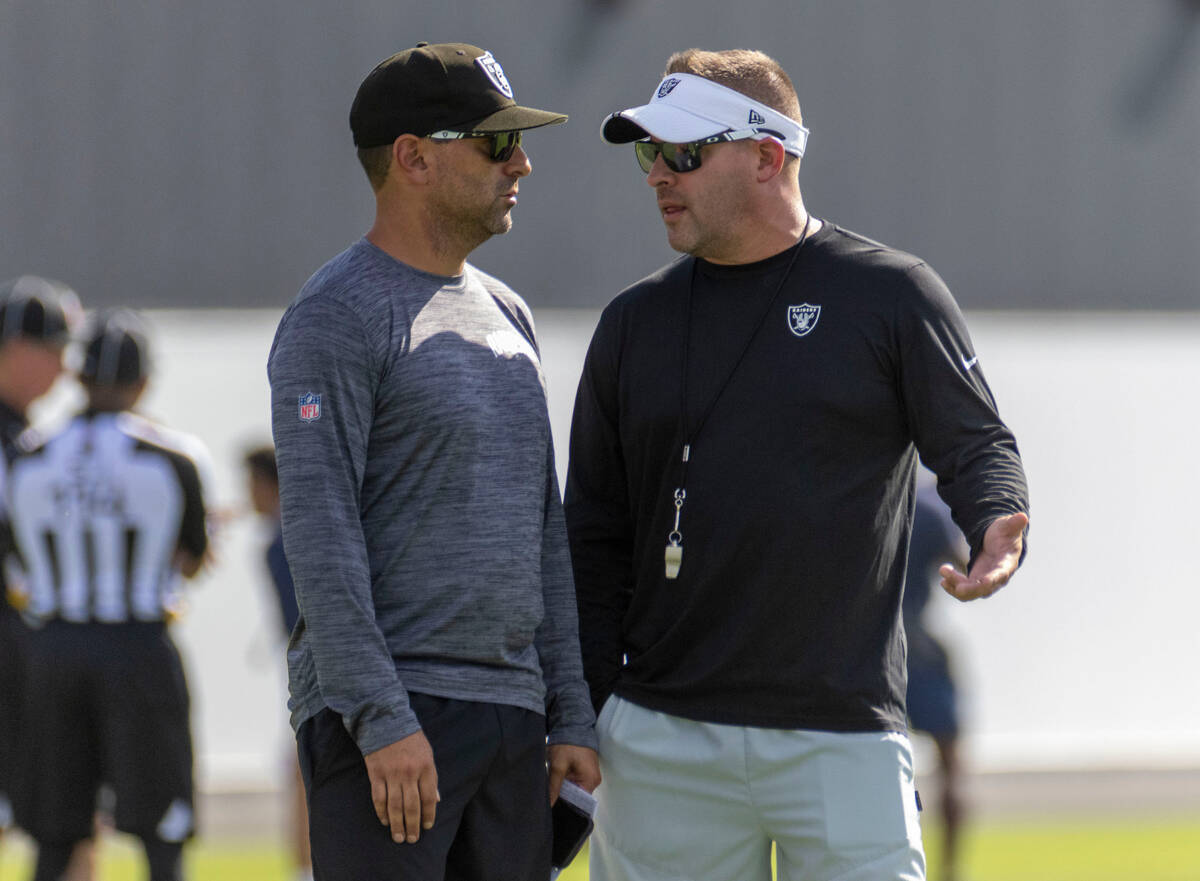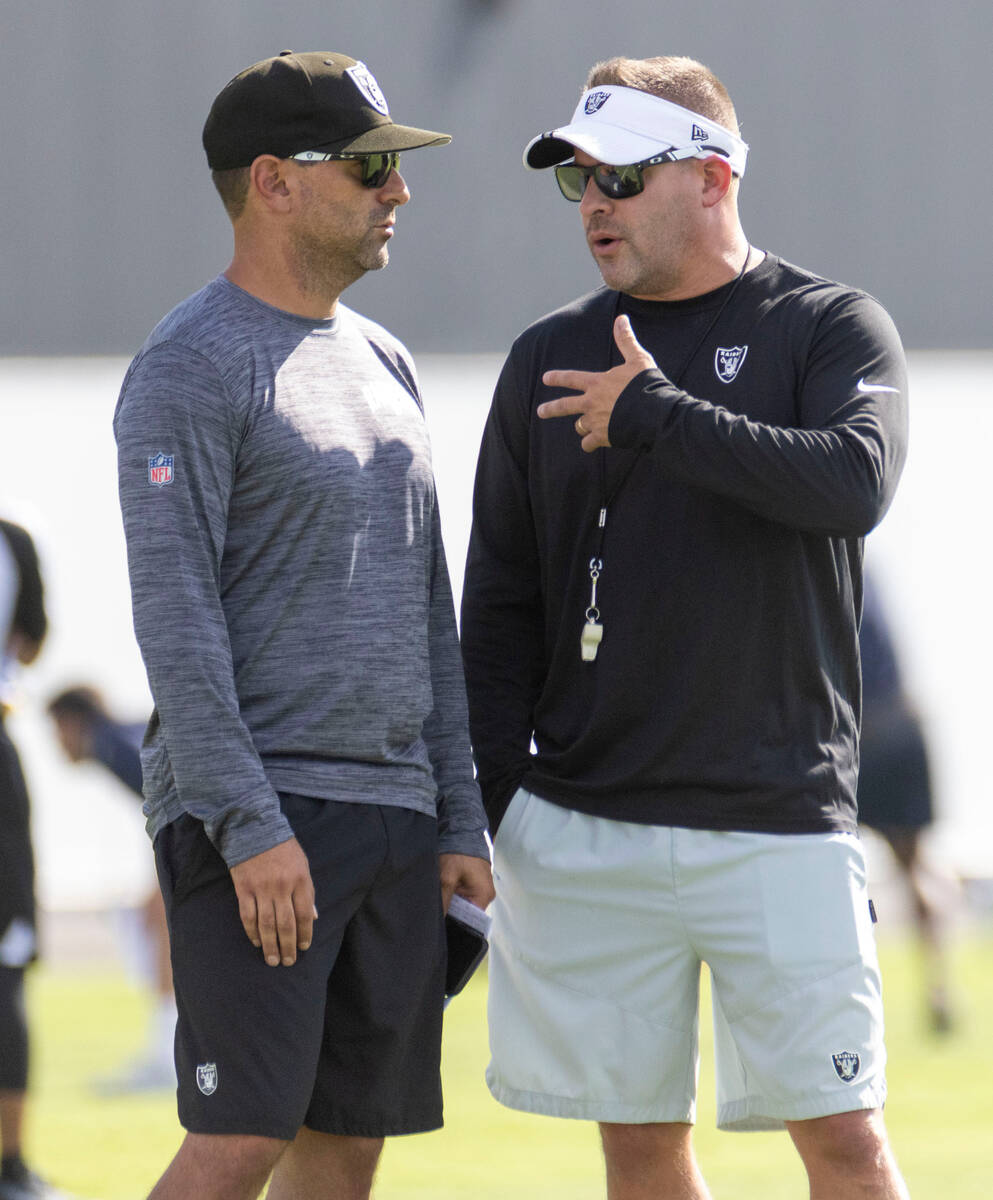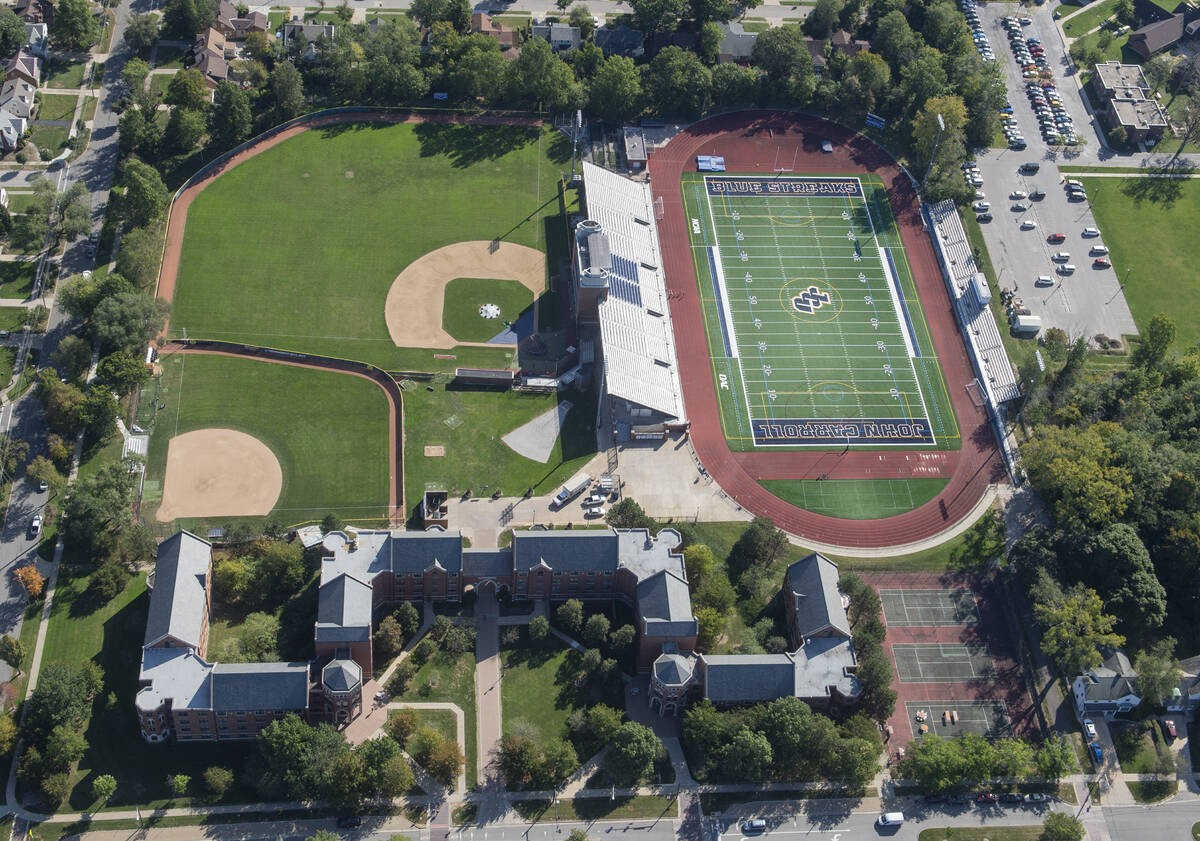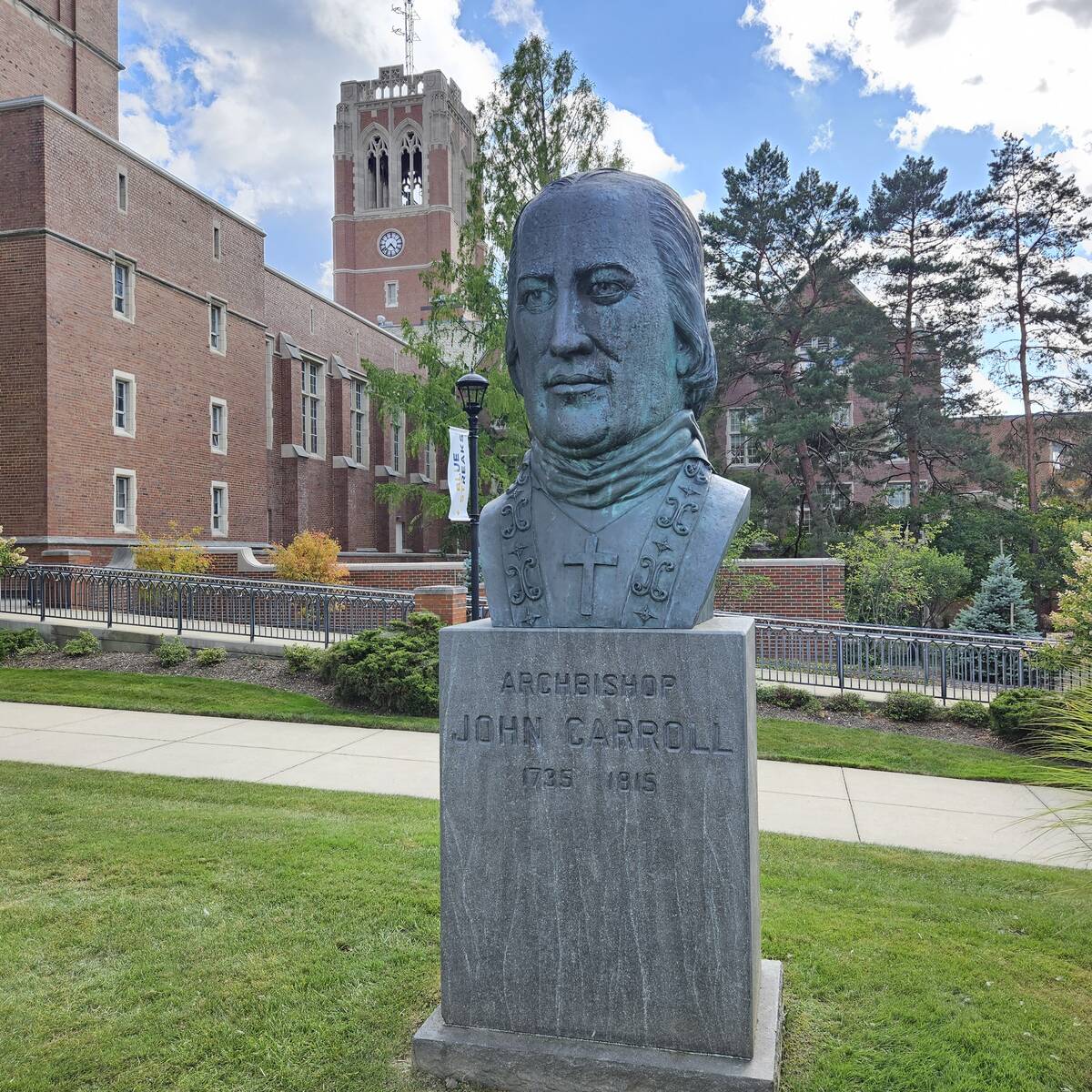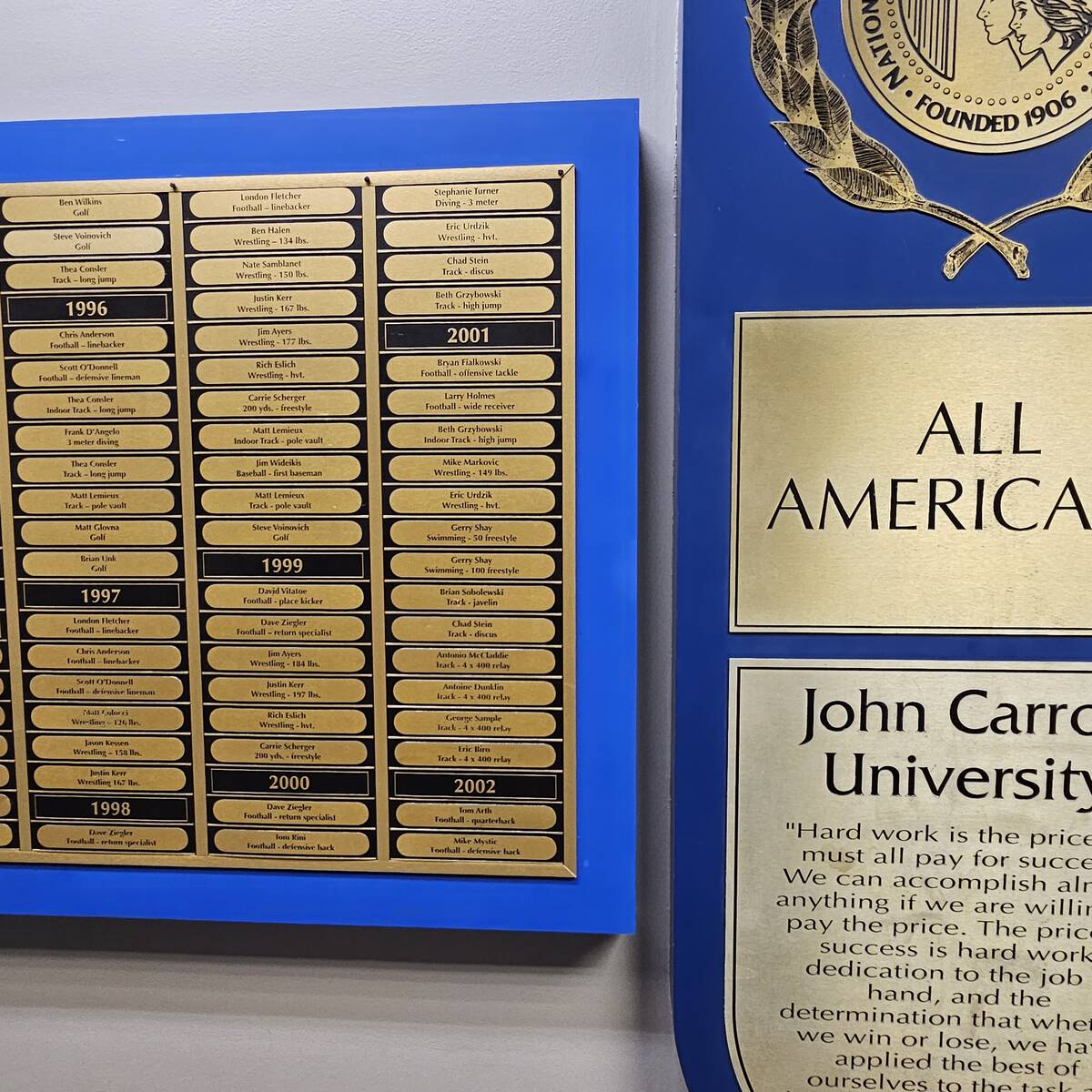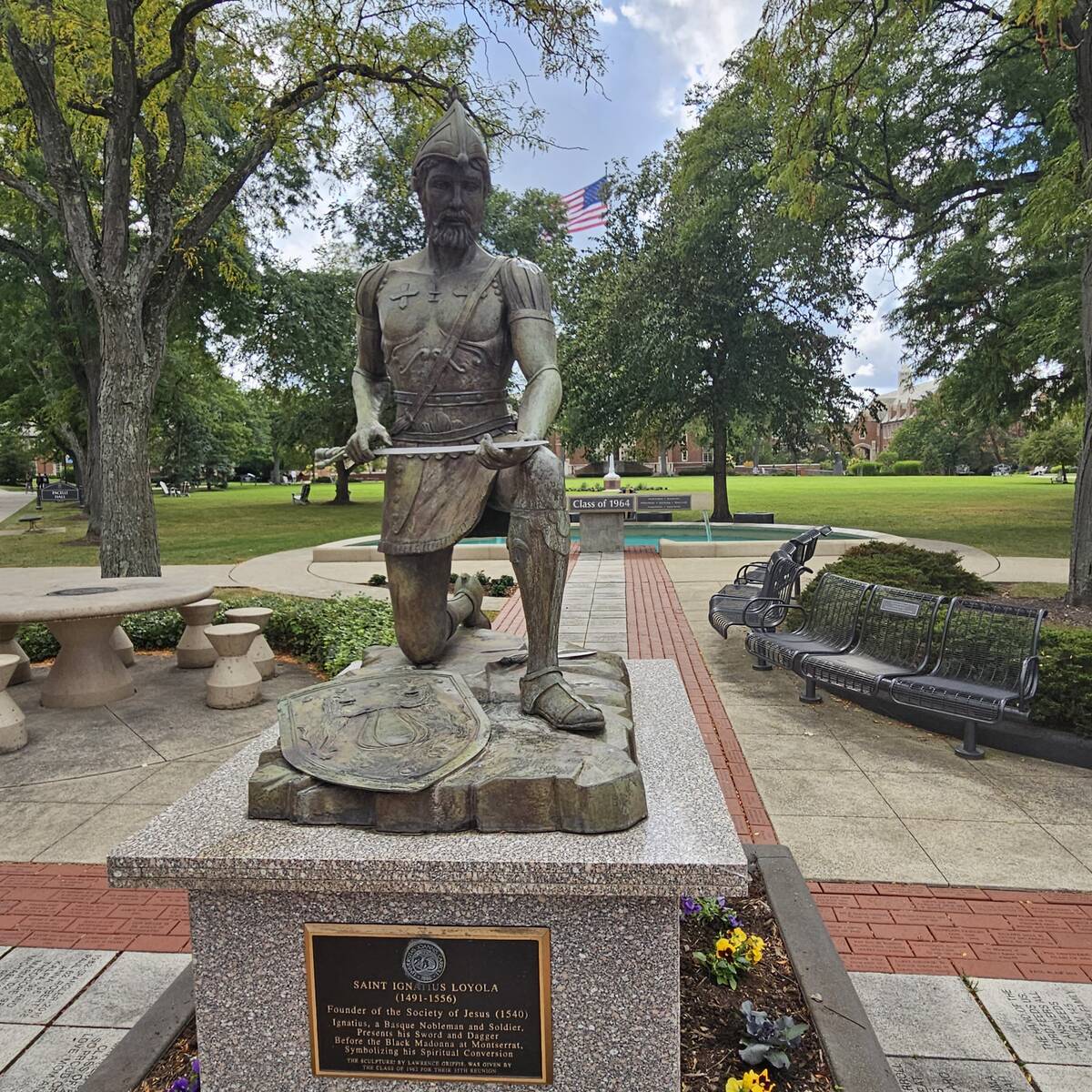 UNIVERSITY HEIGHTS, Ohio — The lush grounds and Collegiate Gothic architecture of a small Jesuit campus set in a suburban Cleveland neighborhood should not suggest the school is a factory for football minds. A large statue of Society of Jesus founder and original namesake Saint Ignatius of Loyola is far more prominent than any nod to gridiron greatness.
But tucked away in a corner of John Carroll University sits a majestic ode to the sport, a football facility named for a Hall of Fame alumnus: Don Shula Stadium, and its predecessor, Wasmer Field — home of the Division III football program that has launched the careers of more than 40 NFL coaches and executives.
Among them are Raiders coach Josh McDaniels, general manager Dave Ziegler and Los Angeles Chargers general manager Tom Telesco, who will congregate Sunday at SoFi Stadium in Inglewood, California, for another game in their division rivalry.
Also, Chargers coach Brandon Staley was an assistant for the Blue Streaks, serving four years as their defensive coordinator.
"This is not a John Carroll football story," athletic director Brian Polian said recently in his corner office across the street. "The story is, 'How does this Jesuit institution on the east side of Cleveland that's got 2,800 students produce 42 people that succeed and thrive in the most pressure-filled professional sports league in our country? I think it just speaks to the university and the kind of people that it produced."
JCU to the AFC West
Telesco was one of the first modern alums to make his mark in the NFL.
A wide receiver at John Carroll, he interned with his hometown Buffalo Bills between school years, then joined the Carolina Panthers as a scout upon graduation in 1995 and working his way to his current position. He was teammates and close friends with former Jacksonville Jaguars general manager and current Philadelphia Eagles executive David Caldwell. Their college rosters included former NFL offensive coordinator Greg Roman and current Washington Commanders executive Chris Polian, the brother of Brian and son of Pro Football Hall of Famer Bill Polian, six times the NFL's executive of the year.
Telesco said it's hard to quantify exactly why the school is such a springboard.
"JCU football players are not on an athletic scholarship, so there is a high level of passion for the game," he wrote in an email, noting the school treats its program as if it was Division I.
"When I graduated from JCU with a business degree, I also felt like I had a masters in football."
Telesco said as some of his contemporaries started finding success in the NFL, others who entered the program dared see it as a realistic possibility and started to work toward that dream.
During his final season as a player, current Houston Texans general manager Nick Caserio, College Football Hall of Famer London Fletcher and a young quarterback from Canton — McDaniels — joined the team.
Raiders braintrust unites
McDaniels planned to play quarterback, but Caserio beat him out for the job. The two became close, and McDaniels moved to wide receiver, once catching a 67-yard bomb from Caserio down the right sideline … only to get chased down just short of the goal line.
The position switch united McDaniels the following season with a return specialist and slot receiver named Ziegler, the best of the bunch on the football field. A plaque down the hall from Polian's office lists every All-American the school has produced.
Ziegler's name appears three times.
McDaniels, son of a legendary high school football coach in Ohio, went on to serve as a graduate assistant at Michigan State under Nick Saban, a friend of his father's.
After a year out of football working in plastics sales, McDaniels was hired into the New England Patriots' scouting department. He helped bring Caserio into the mix and then brought over Ziegler, who was a high school coach and guidance counselor, to Denver when he was hired by the Broncos as head coach nearly a decade later.
John Carroll's network was rapidly expanding.
"Everybody takes a lot of pride in it," McDaniels said. "I don't know that any of us went there thinking we were going to go into the National Football League or do anything like that. I certainly didn't. … I think there's a lot of us that have strong feelings about the guys that have been able to make it and are very supportive of one another."
Ziegler came to the Raiders as general manager when McDaniels was hired as coach. They brought aboard defensive quality control coach Matt Feeney, who played at John Carroll more than two decades after their days on campus, and their former teammate Jerry Schuplinski as tight ends coach.
"It's an excellent school and a tremendous education that prepares you for whatever career you want to go into and prepares you for life as a whole person," Schuplinski said. "We were fortunate enough that some people in important positions had the chance to get their foot in the door. Credit them for doing well, which gave others the confidence to pursue some of the guys that came behind them.
"Then when you get your chance, you really don't want to let those guys down."
The Raiders aren't alone in tapping into the John Carroll talent pool, even in their own division. When Telesco was looking to hire a head coach in 2021, he chose Staley, who had coached Feeney.
The Chargers' passing game specialist is Tom Arth, a record-setting quarterback for the Blue Streaks and the program's former head coach.
"John Carroll is just a really unique football place," Staley said. "You can say that the stars have aligned there, but I don't think it's a coincidence, the type of people that have come out of there, because it's in a lot of different eras.
"It's all levels of football — it's executives, it's coaches, it's scouts. It's really a special place. I know that it means a lot to all of us. It has kind of brought a lot of us together from different eras. Dave and Josh are a big part of that."
Seizing on success
John Carroll is certainly proud of its NFL legacy, but Brian Polian bristles at the suggestion it's an old-boys club.
"The numbers speak for themselves," he said. "You might say somebody gave somebody a break, but ultimately in the league you have to produce, because if you don't produce, you're out. It's a results-based business, and for that matter, in the league there are a lot of people that have the same last names. Nobody here had the same last name. They just came from our family."
Now that Polian, a former UNR head coach, has returned to run the athletic department at his alma mater, he hopes to do more to promote the success the school has had at the NFL level.
"All these guys went out and became successful and got themselves into positions where they were making hiring decisions," he said
The school keeps its high-profile alums connected through a group called the Shula Society that pools thoughts and resources on how to continue to help the school.
Carroll has also seized on its fame in the NFL by creating an undergraduate program in sports studies and offering a master's degree in sports leadership.
"We're trying to build off that brand," Polian said. "I think it's an awesome story, and it's really unique. We don't shout about it enough."
Contact Adam Hill at ahill@reviewjournal.com. Follow @AdamHillLVRJ on X.
Success stories
Notable John Carroll alumni in the NFL:
— Tom Arth, 2003, Chargers passing game specialist
— Dave Caldwell, 1996, Eagles senior personnel director
— Nick Caley, 2006, Rams tight ends coach
— Nick Caserio, 1998, Texans GM
— Jonathan Cooley, 2011, Panthers secondary coach
— D.J. Debick, 2013, Texans assistant director of pro scouting
— Joe Dever, 2019, Browns scout
— Matt Feeney, 2015, Raiders defensive quality control coach
— Rob Grosso, 2015, Packers offensive quality control coach
— Jarrod Kilburn, 2014, Eagles scout
— Patrick Kramer, 2016, Falcons offensive assistant
— Nate Leopold, 2022, Texans personnel assistant
— Josh McDaniels, 1999, Raiders head coach
— Pat Moriarty, 1993, Ravens senior adviser to the GM
— Jalen Myrick, 2019, Chiefs scout
— Chris Polian, 1993, Commanders director of pro personnel
— Frank Ross, 2010, Texans special teams coordinator
— Jerry Schuplinski, 1999, Raiders tight ends coach
— Brandon Staley (coach), Chargers head coach
— Tom Telesco, 1995, Chargers GM
— N'Tare Williamson, 2022, Vikings scouting associate
— Dave Ziegler, 2000, Raiders GM