Napa couple enjoy backyard view of Raiders' practices
Updated August 5, 2018 - 12:40 am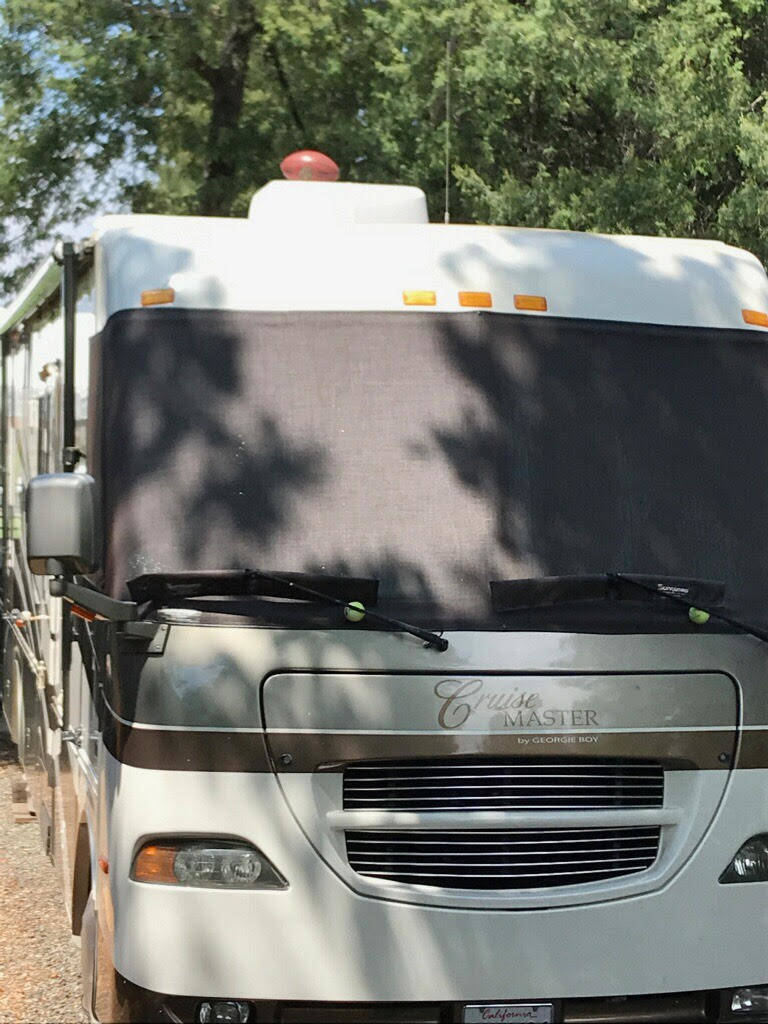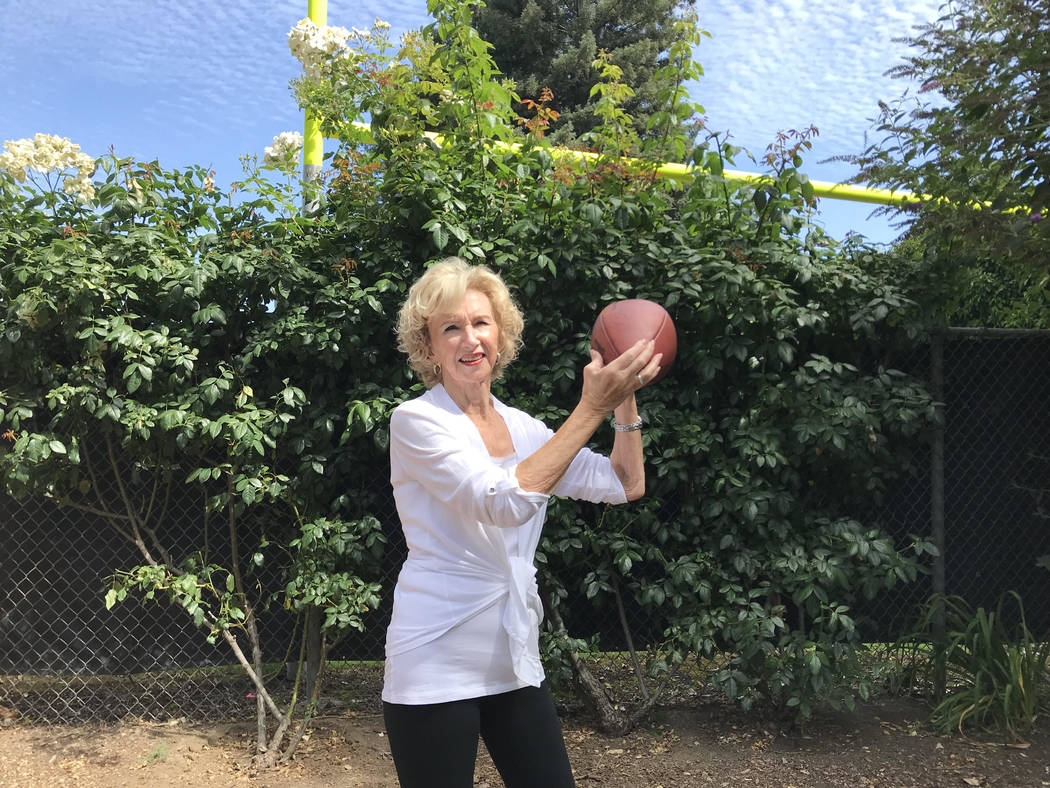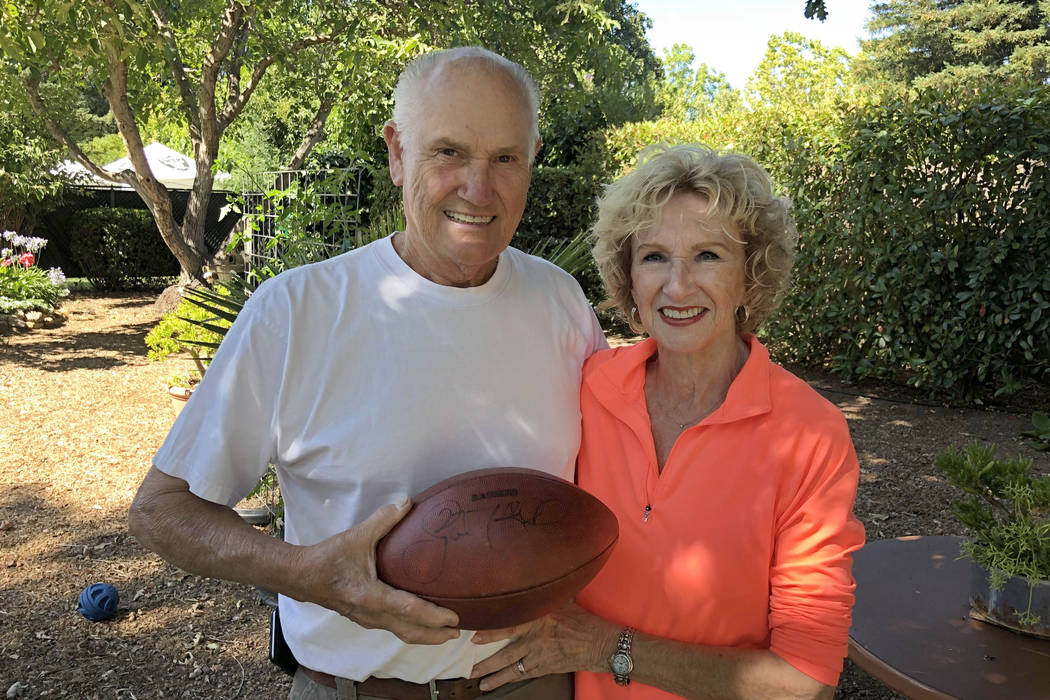 NAPA, Calif. — John King stood on an 8-inch step made of nine cinder blocks turned to their side. There, in the rear left corner of his backyard, he pressed his arms against a black-tarped, chain-link fence.
Time to watch the neighbors.
The Raiders practiced last Sunday morning on two full-sized football fields. On the one nearest King's home, the specialists warmed up. It was kicker Giorgio Tavecchio's designated day for field goals, so a few times each minute, he harmlessly booted footballs toward the backyard.
Then, one sailed farther and more leftward than the others, over King's combed-back white hair.
Whack!
"The first thought I had was, 'Oh (shoot). What did it break?' " King said. "If you asked 50,000 people if that football was kicked from over there and ended up there on top of that motor home, I bet you wouldn't get one out of 50,000 people who would believe you. What are the odds? It's not in the picture."
King took a picture and kept the football, mementos from Napa being the Raiders' training camp home since 1996. Next year is expected to be the final such camp. Beginning in 2020, the bulk of the franchise's operations will be based in Nevada, coinciding with the club's relocation to Las Vegas.
King, 78, has lived over the fence since 1998.
He keeps a collection of stories, like a memorable fight he witnessed between teammates or where on the field Pro Football Hall of Fame wide receiver Jerry Rice relieved himself when nature called during practice. He once caught three men trespassing on his property, standing beside his fence on 5-gallon buckets, because they wanted to see their favorite team.
He and wife Sandy King, married for 15 years, seldom do this today, but they've hosted friends in the backyard during practices. In those gatherings, they barbecued and marinated over the novelty of having an NFL team next door a few weeks each summer.
Of course, as with any neighbor, the Kings can nitpick.
Artificial crowd noise, at times, can be a nuisance. Years ago, lights from evening practices disturbed them. The franchise routinely tarps off the field's fence for security reasons, preventing the public — and NFL opponents — from watching their activities. The tarp, however, blocks sunshine from some of Sandy's Sally Holmes white roses, effectively stunting their bloom.
One year, John King said, a portable restroom was stationed near the couple's fence.
"You don't really smell it because it's got so many chemicals in it," King said. "But I didn't like it. I didn't say anything. You got the whole (darn) field, and you're putting it next to someone's house? Are you jealous of my wife's roses? … The Raiders being here is like company. I'm so glad to see them, and I'm so glad to see them go."
He followed with a laugh.
"No, he's teasing," Sandy said. "They're not that annoying. Those people drilling at 11 o'clock last night, out in front of our house on the sewer, I couldn't believe the jackhammering out there. From 7 to 11. That's what I consider annoying."
Indeed, the couple appears to have embraced the experience.
King playfully declined to estimate exactly how many footballs, through the years, inadvertently found their way over the fence. He doesn't want a bill from the Raiders, he joked. He still has an autographed football that a security guard gave him about a decade ago. It was signed by a young, talented quarterback, the type of autograph that could be worth something someday.
JaMarcus Russell's.
In good times and bad, Raiders history is visible from across a chained fence. A sense of gratitude is audible in Sandy's voice when she reflects on the unique vantage they've had.
"The Raiders are in our backyard," she said.
King gives away most footballs that fly over their fence, but he plans to keep the one Tavecchio deposited.
King, a Mississippi native who is semiretired from the real estate industry, climbed up the ladder on his motor home last Sunday to inspect any damage from the crash landing. Concerned about skylights and plastic coverings, he was relieved to find no obvious cracks, scratches or dents.
His new football features the letter "K," short for kicker, handwritten in a black Sharpie marker. A number, 135, is written in silver marker.
It turned out Tavecchio's days were numbered, too.
From his backyard, King noticed something unusual Friday afternoon after practice. He saw Raiders coaches and front-office members, including general manager Reggie McKenzie, standing on a far field. They watched a right-footed man attempt several field goals, and he seemed to convert them all.
Handshakes followed.
On Saturday morning, he saw the news report: Tavecchio was waived, and Mike Nugent was signed. Like the Raiders in Napa, the kicker provided memories before leaving.
"I hate to see Tavecchio go," King said, "but that's the way it goes in that business."
More Raiders: Follow online at reviewjournal.com/Raiders and @NFLinVegas on Twitter.
Contact reporter Michael Gehlken at mgehlken@reviewjournal.com. Follow @GehlkenNFL on Twitter.