New city but same ol' Garoppolo: 'Jimmy's just one of the guys'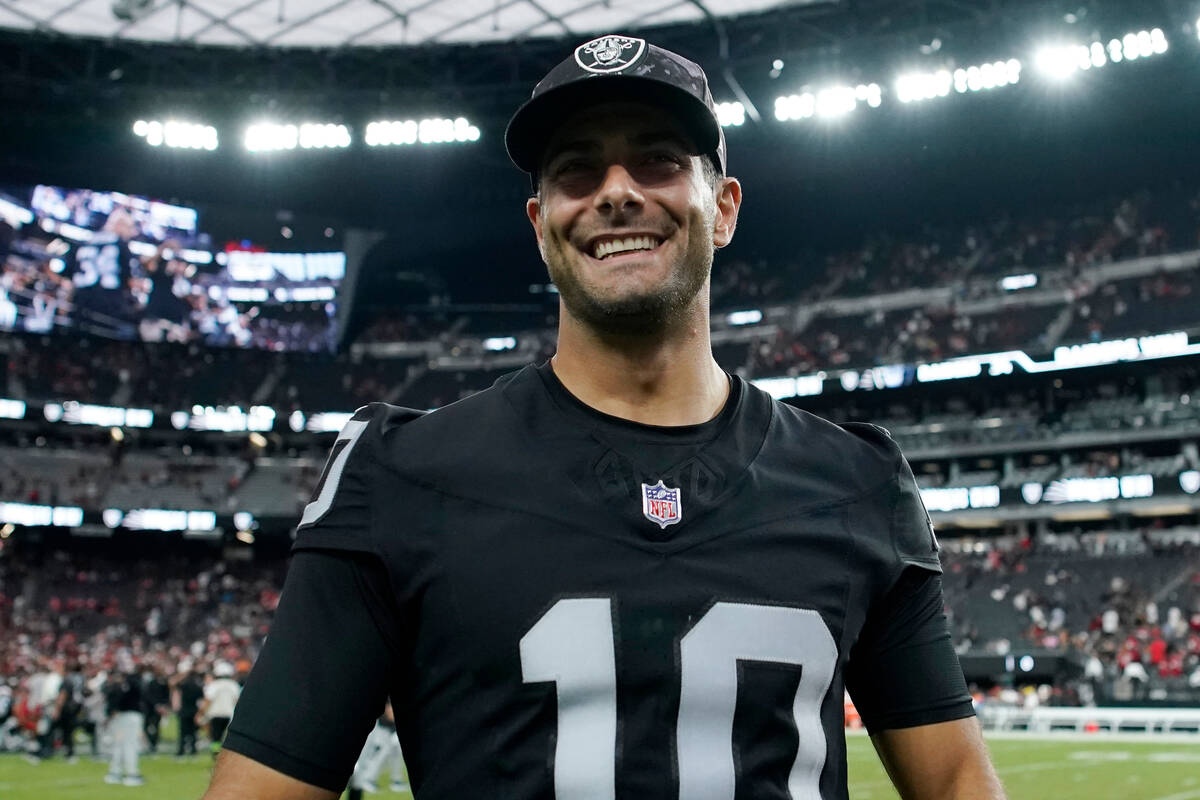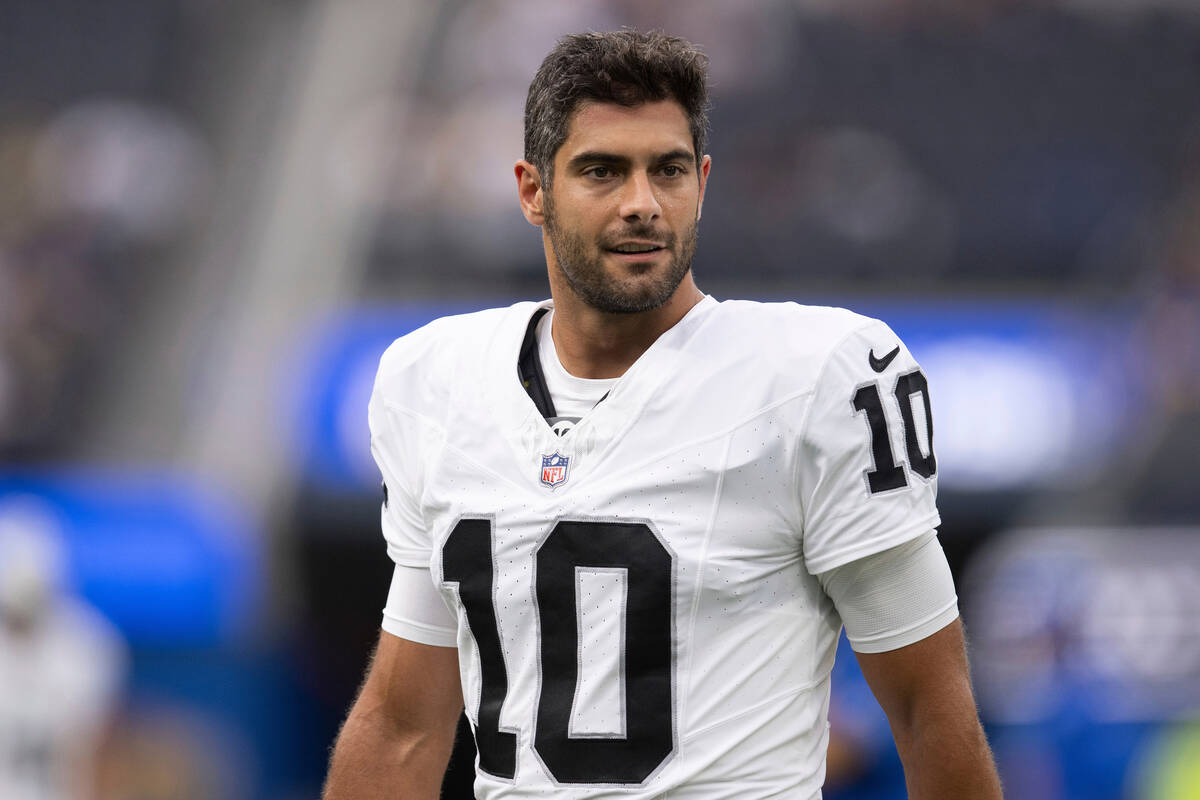 The football team representing Eastern Illinois would be visiting the Pacific Ocean on the eve of its season opener in 2013 at San Diego State, and it was Jimmy Garoppolo's secret to keep.
Coach Dino Babers entrusted the senior quarterback to preserve the surprise, knowing an overwhelming majority of Panthers players hadn't been to a beach.
But when the team bus arrived and the excitement crescendoed, the offensive line was far too prepared — shedding workout clothes for swimming trunks that their teammates didn't know to bring.
"I look at Jimmy, and he said, 'Coach, they're my dogs! I had to tell them we were going to the beach," Babers recalled as he laughed.
"(He's) always won over the locker room. It doesn't take long. He doesn't have to change. And everybody gravitates to him."
Though the circumstances of Garoppolo's football career have changed several times over the past 10 years, the 31-year-old hasn't — maintaining his modest, genuine and affable approach to quarterbacking as he readies for his first season with the Raiders. As important as his accuracy is the modesty inherent to his upbringing in Arlington Heights, Illinois.
His disarming demeanor lends itself to positive team chemistry in the locker rooms he occupies.
"Jimmy's just one of the guys," said Christian McCaffrey, his former teammate with the San Francisco 49ers. "He's an interesting guy because he doesn't promote himself ever, but he could. He's obviously a great quarterback who has been successful in the past. Always has a smile on his face. Always has a great attitude. Just a really great guy to be around."
New city
Garoppolo knew nothing of Las Vegas beyond the Strip before signing his three-year, $72.75 million contract in March.
Free agency would free Garoppolo from the yo-yoing he experienced in San Francisco, where he was supposed to be supplanted by Trey Lance despite victories in 69 percent of his starts.
"Pretty cool. Honestly the first time I was a true free agent, so got to experience that and hear what some teams were saying," Garoppolo said of free agency, a luxury not usually afforded to quarterbacks of his caliber: His career completion percentage of 67.6 ranks third in NFL history, trailing that of Joe Burrow (68.2) and Drew Brees (67.7).
"Most accurate quarterback I've ever been around," said Babers, now the head coach at Syracuse.
In complete control of his career for the first time, Garoppolo quickly honed in on the Raiders once coach Josh McDaniels called him. The familiarity with McDaniels, his offensive coordinator during his three-plus seasons in New England, was an obvious appeal — along with the personnel with which he'll soon play.
A one-day visit cinched his signing and preceded his first appearance on behalf of the Raiders at his introductory news conference at Intermountain Healthcare Performance Center. After a discussion with one of his three brothers, he showed up sharper than Sinatra — clad in a black-on-black suit tailored perfectly to his 6-foot-2-inch, 225-pound physique.
Said Garoppolo about his sense of style: "The Raider colors — silver and black speaks for itself."
He prefers when his play follows suit.
The ensuing several months for Garoppolo would include relocation from the Bay Area to the Las Vegas Valley, where he has since adjusted to his new surroundings and teammates. Dinners and other outings helped cultivate the camaraderie that Garoppolo has valued throughout his nine NFL seasons.
"I'm always a big believer that you've got to let it happen naturally," he said. "I've always tried to be authentic and let my personality bring the guys together. It makes for a fun atmosphere. … It's super serious, don't get me wrong, but you've got to keep it light at times and keep guys enjoying it. That's what it's all about."
Same Jimmy
That's what it's always been about for Garoppolo, who talks playful trash with his Raiders teammates like he did anonymously at Eastern Illinois. He lived in college with five defensive players — they remain five of his best friends — making for plenty of back-and-forths during and after practice.
Among them was Adam Gristick, a linebacker turned linebackers coach for Eastern Illinois turned first-year assistant with the New Orleans Saints.
"It's his competitiveness and his drive that makes you want to be around him," said Gristick, for whom Garoppolo participated in his wedding. "He doesn't have an ego. He can get along with everybody. He was cool with everybody."
Garoppolo shunned the spotlight at Eastern Illinois despite his star power, said Panthers play-by-play broadcaster Mike Bradd, who remembered the other school legend, quarterback Tony Romo, relishing his stardom so much more. Garoppolo still prefers his privacy, rarely speaking publicly during the offseason and instinctively deferring credit to his teammates and coaches when the opportunity arises.
When he was invited to the NFL draft in 2014, he subsequently invited his friends from Eastern Illinois to New York to share in the experience. When Gristick went to Garoppolo's luxury suite on the morning of the draft, he found the quarterback on the pullout couch so his older brother could sleep in the bed.
Said Gristick: "That tells you about his character."
As do fellow Raiders leaders Maxx Crosby, Davante Adams and AJ Cole.
Crosby, one of the first recipients of Garoppolo's spirited smack talk, called Garoppolo "a dog." And not just because he's Crosby's quarterback, but because they're wired with the same competitive circuits.
"He's just the same guy every single day. That's what I respect most about him," Crosby said. "Early on, a lot of people were giving him a lot of (crap), and it doesn't matter to him."
Adams said they've had "funny, interesting" conversations. Cole went into more detail, revealing Garoppolo joined backup tight end Jesper Horsted and reserve running back Ameer Abdullah in a conversation about aliens.
"A natural-born leader, through and through," 49ers linebacker Fred Warner said after relishing competition against Garoppolo last month during their joint practices.
But team chemistry and continuity are means to an end for Garoppolo, who wants nothing more to win a Super Bowl as a starter. The absence of his own ring drives him every day.
Through the benchings, the injuries, the change in city and circumstance.
"We talk about being smart, tough, dependable, being able to perform at a high level in pressure situations, and we think Jimmy embodies a lot of that, he's embodied that through his career," Raiders general manager Dave Ziegler said. "We've seen that as we've continued to grow together since we've signed him. And so we feel like he's a good leader for what we value at the position and what we value in terms of team building."
Contact Sam Gordon at sgordon@reviewjournal.com. Follow @BySamGordon on X.