New Raiders LB Derrick Johnson proves to be quick study
Updated June 5, 2018 - 10:43 pm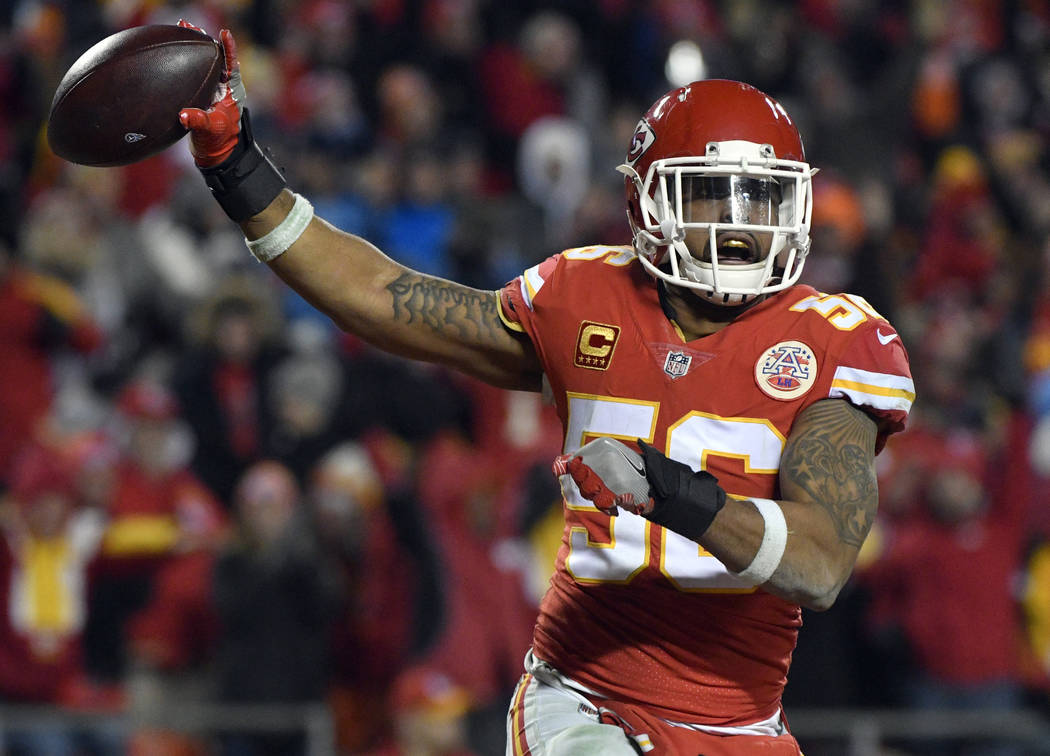 ALAMEDA, Calif. — Derrick Johnson waited for a week like this.
For the past month, the new Raiders inside linebacker has juggled between the past and present, working to obscure the playbook terminology he mastered during 13 seasons with the Kansas City Chiefs. What was called one thing in Missouri is another in the Bay Area under coordinator Paul Guenther.
Learn and replace. Learn and replace.
On Tuesday, Johnson smiled.
"I'm having fun with it now," he said. "The last couple days have been my best days."
Each Raiders defender is, of course, tasked with learning Guenther's scheme. But perhaps as much as anyone else, Johnson must develop an extreme command of it, given the nature of his position and mental responsibility it entails. He has proven a quick study since his early May arrival.
Johnson signed a one-year contract worth up to $2.25 million.
"He's just a guy that's played a lot of football, seen about everything there is to see in this league," Guenther said. "Coming in here and learning our system, he's picked it up real quick. He's able to get us in and out of defenses. When you're at that point, the guy has been here for what, two to three weeks now, and he's able to really understand what we're trying to get to.
"To have a veteran piece that can control the show out there is a big, important part for me."
Possessing that knowledge is critical to Johnson, too.
Ninety players are on the Raiders' active roster. At age 36, he is the oldest. He once ran the 40-yard dash in 4.52 seconds at the 2005 NFL Scouting Combine, two months before the Chiefs drafted him in the first round. That was 182 regular-season games and two torn Achilles' tendons ago.
Johnson's edge today is a mental one.
He is someone in whom the Raiders can trust to mentor young players, such as second-year linebacker Nicholas Morrow. He can lead a film-room breakdown of an opponent. In the huddle, he is comfortable with a speaker inside his helmet, receiving play calls from Guenther on the sideline and relaying them to teammates. He can check teammates' alignment and diagnose an upcoming play.
Learning a playbook comes first.
"I was telling the young guys, 'Once you get the system down really well, you're a lot faster on the field,'" Johnson said. "We all can run fast and jump high, but mentally, once you got it down, all your abilities and talents can show out there on the field. That's what we're doing now. We're not there yet, but we're getting there.
"It's slowing down for me, and that's a good feeling. Football is a hard sport to play. But when the game slows down for you and you know exactly what you need to do, then it's about, OK, thinking about what Derek Carr is going to do or what Marshawn Lynch's steps are when he's back there or if the linemen are light on their hands or if they're back, about to pass. There are a lot of things that go on through your head that you need to think about. That's why you need to have the defense down to a 'T,' so you can worry about what the offense does and make plays."
In recent weeks, Johnson was not at that level in the Raiders' defense.
He is now.
More Raiders: Follow all of our Raiders coverage online at reviewjournal.com/Raiders and @NFLinVegas on Twitter.
Contact reporter Michael Gehlken at mgehlken@reviewjournal.com. Follow @GehlkenNFL on Twitter.